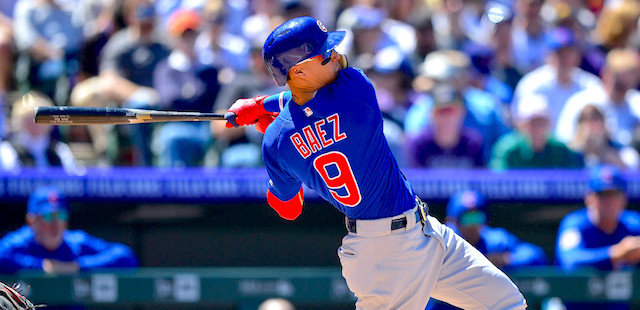 As the World Series, and therefore the 2018 season as a whole, comes to an end, fantasy owners can begin to plan their 2019 seasons. For owners in dynasty and keeper leagues, this is the time to rate and review players, move on from some, and double down on others. This article will help start that process, by recommending players that owners should look to jettison and cash in on following 2018 seasons that are too good to be true.
A few notes to begin. First, always take personal team context into account before making any move. If a player is on this list, and owners have that player on the cheap due to drafting rules, ignore what is written here. While the recommendation is to trade a player like Jesus Aguilar, if he is a $7 player on a team, then hang onto that value. At that point, even a down year could make him a surplus-value player. Rather, this article is aimed at players with auction and draft values at the market value. Second, always take league rules into account. What does your league value and how does this change the appeal of a player? The recommendation might move on from a starter, but if innings are a vital category, and this pitcher seems to be a lock to pitch 180 frames, take that into account as well.
With that, enjoy the read as owners begin to plan what and who they want to target in the offseason. At the same time, bookmark this page so you can remind me where I missed, and force me to eat crow on Twitter @jon_denzlerRB
Editor's Note: Get any full-season MLB Premium Pass for 50% off. Exclusive access to our Draft Kit, premium rankings, projections, player outlooks, top prospects, dynasty rankings, 15 in-season lineup tools, and over 200 days of expert DFS research.
Sign Up Now!
Sell-High Candidates
C - Wilson Ramos (C, PHI)
A free agent this offseason, it looks as if Ramos will be moving on from the Phillies, as he was only a short-term rental to support their 2018 playoff push. Still, Ramos will be a hot item on the open market, after a strong 2018 rebound from injury posting a .306/.358/.487 slash. Add that to 15 homers in 111 games, and this is a top fantasy option at catcher in terms of raw production. And yet, the red flags are there. First, he showed little to no power at the end of the season with no homers in September and October. Second, a .353 BABIP is close to 60 points higher than the career norm for the player. In addition, Ramos increased his swinging strike rate to 11.8% from 2017's 11%, and the numbers do not line up in his favor for a return to form. All of this, and the looming free agency uncertainty, points to owners selling Ramos coming off a top season and reaping the rewards now on a 32-year-old catcher.
1B - Jesus Aguilar (1B, MIL)
Aguilar might be the lazy option at first, but also the clear choice concerning players who might never come close to what they did in 2018. After hitting .298 with 24 homers in the first half, Aguilar slumped to .245 and 11 bombs in the second half. This is still decent production for a first baseman, but not close to what the name value might offer. Also, there will be owners willing to bank on the start to the season due to the park factors, and all the rest that makes hitting on the Brewers a good fantasy situation. To be honest, even his 2017 campaign was not a lost season, as Aguilar hit .265 with 16 homers in 111 games. Still, owners should expect 2019 to be closer to 2017 than the current year. One key reason? As 2018 progressed he started to see more sliders and fewer fastballs, which correlated with some struggles in the batting box. With only the second half as the sample size, this could be something he adjusts to, or could be something that turns him back into a pumpkin. At the very least, if Aguilar is a .270 hitter with 20 homers, this is easy to find at the position, and trade the player now for the surplus value.
2B - Ozzie Albies (2B, ATL)
One of the top rookies of the 2018 campaign, Albies lived up to the hype and rewarded owners willing to add him early in drafts. And yet, for all that success, owners should sell Albies as soon as they can before the wheels come off. The Braves second baseman ended 2018 as a top-five player at the position due to strong first half, but the second half should give owners some pause. For example, in the second half, he only batted .226 after posting a .281 line to start the year. The homers also dropped from 20 to four, and the steals from nine to five. The other concerning number? In the first half, Albies strtuck out in 17.5% of his at-bats, but in the second half, this rose to close to 20 percent. While owners cannot just compare minor league numbers to the first year and find a trend, the lack of power that Albies showed in the minors does stand out. He never hit more than nine in a season before his call-up, and while there are more homers in the Majors, the close to 140% jump is a bit fishy regarding sustainable, long-term production. When Albies also only walked in 5.3% of his chances, the sophomore slump seems to be already happening. There are enough holes in the profile that owners should move on before they are stuck with the real Albies long term.  
3B - Nicholas Castellanos (3B/OF, DET)
On a sad Tigers team, Castellanos was one of the lone bright spots for fantasy owners this past campaign. In 2018, the slugger posted career highs in runs, OBP and batting average while keeping the rest of the numbers close to career norms. He has shown himself to be a durable player with a second consecutive season of 157 games, and all of this adds to what will be a solid but not elite player. Why then is he on the list? First, the Tigers are not going to be any better next year, and when he has emerged as their best hitter, expect him to get even fewer options to swing the bat. Second, there was a marked drop-off in the second half, with a slower power pace and a 20 point drop in the batting line. Not enough to scare owners, but still a hint at what he looks like moving forward. Another negative is that Castellanos is losing positional flexibility as he didn't play a single game at third base in 2018. All in all, if owners are stuck with Castellanos it is not a lost cause, but selling now will get the most value for a young player without much more upside to show.
SS - Javier Baez (SS, CHC)
The 2018 breakout player in fantasy baseball, Baez is one of the hottest profiles moving into 2019 draft season. And yet, this writer is not sold on the breakout once the underlying numbers are looked at the second time. First, the walk rate is still way too low at 4.5% and coupled with a 25% floor on the K rate, this is a risky proposition, even if Baez has made it work so far in his career. To be fair, it only "worked" in 2018 after a few disappointing fantasy campaigns prior. Second, the 21 steals were great, but an 11 steal jump from 2017 bolsters most of that gain. On a Cubs team which is overall stealing fewer bases, this is not a stat to rely on for fantasy owners. Third, most of the fantasy value for Baez came from 30 extra runs and RBIs over 2017, which relies less on the player and more on the team for support. While no one is doubting the Cubs, when investing in or keeping a top fantasy player, owners should look to players who can produce on their own. The counterpoint was the 34 homers, but again, the 25% HR/FB leaves some questions on sustainability. Baez is a good player, but not the elite player that 2018 made him look like moving forward. Sell now and cash in while the iron is hot.
OF - Charlie Blackmon (OF, COL)
While he just signed a big contract extension, this could be the beginning of the slide for Blackmon. Rumors from Denver have him moving out of center, which does not hurt his fantasy value but does show that the speed and other skills are starting to decline. This means that Blackmon might not be a top-10 outfielder next year, and even if still top 20, owners should get value now while they can. A few other factors to take into account. First, the Rockies, while playing at Coors, were actually a below-average offensive team last year. With no new additions on the horizon due to the payroll and players like D.J. LeMahieu perhaps on their way out of town, this team will, at best, be the same, and at worst, be much worse offensively. All of this will hurt Blackmon, who gets most of his value from being on base in front of players who will drive him in. Second, Blackmon is showing other signs that will hurt his fantasy ceiling, as he walked less and struck out more than his rates in 2017. The runs were down to 119 from 137, and RBI from 104 to 70. In some ways, this might be a sell-low, but owners are still interested in getting an All-Star who plays at Coors, so current owners should sell him while there is still an MVP-like player to sell.  
OF - David Peralta (OF, ARI)
2018 was a long time coming for Peralta with a wRC+ of 130 after a 104 line in 2017, and 84 in 2016. That being said, there are enough reasons to doubt this continuing. First, he hit .341 at home and knowing that Chase will continue with the humidor next year, it will be hard to see that continuing. Even more, 16 homers at home were two more than on the road, so if owners were betting the averages, Peralta will regress a bit here as well. 30 homers are a bunch for this type of hitter profile, and 23.4 HR/FB% is well above the career average at 15.9%. The other thing to watch will be Hard Hit% as in 2018 Peralta posted a 48.6% line, up 17 points from 2017. If he keeps this up, then the gains might be sustainable, but also there is a bit of an outlier feel here. Finally, Peralta swung at two percent fewer pitches in 2018, but also, saw his swinging strike rate jump the same two percent. Peralta's line overall looks good, and this is more of a feel pick, but based on the career numbers, there is some data to back up the gut. Peralta looks to be a solid fantasy outfielder moving forward, but with an Arizona team entering a rebuild, this is not the type of player profile that fantasy owners should bet on to reproduce a 2018 career year.
OF - Mitch Haniger (OF, SEA)
Haniger is another on the list who posted a career year in 2018, but in reality, kept a strong 2017 campaign going. After missing some time with an injury, a full season in Seattle allowed him to flash his stuff for all to see. Why is he on the list in that case? First, at home, he hit only .261, while posting a .307 mark on the road. The good news is that his power numbers were much the same with 14 homers at home and 16 on the road. And yet, he posted 15 more RBI, 11 runs, and 18 doubles on the road. Second, the only thing he did more of at home? Strikeout. 81 punchouts at home, and 67 on the road. All of this comes in a very similar amount of games, so the comparison is fairly apt. This is concerning for fantasy owners. While park factors can only account for so much, when the player does close to 20% worse at the park he will play 81 games, there is an issue to be had. Haniger will be a solid player, but not the top-20 outfielder that many are mocking him as.  
SP - Miles Mikolas (SP, STL)
What a return to baseball in the States for Mikolas in 2018. To start the year he was an upside SP5 by most ranking, and by the end, might have been the Cardinal's ace. Why then should owners be looking to move on from the starter? First, the stuff is not there, with only 6.55 K/9. While that might be a solid pitcher in real life, for fantasy, in the era of the K, this is not enough to be a regular contributor. While his walks are low, 1.3 BB/9, the ratios that owners can get here are not worth it compared to others who might walk more but can rack up the counting numbers as well. Second, the 2.81 ERA is a bit deceiving, as the xFIP is close to a run a higher at 3.67. These are still good numbers, but not the elite line that the raw numbers might appear on the surface to hint at. This is also a player where the second half line is much different than the first, as batters added 28 points to their OBP versus Mikolas after the All-Star break. The other scary line is that Mikolas gave up eight homers in the second half in only 81.1 innings after only allowing eight bombs in 119.1 in the first half. When the numbers seem too good to be true and are turning in the wrong direction, and there is not enough of the stuff to make this a decent bet, owners should cash in now.   
SP - Zach Wheeler (SP, NYM)
2018 was the season from Wheeler that most had been expecting since be first broke into the Majors. Regrettably, injuries, bad luck, and the Mets being the Mets seem to have taken a few years out of his career. So then, do owners believe the breakout, or perhaps bank on a return to form? First, look to the home run rate. In 2018 Wheeler dropped his HR/FB rate to 8.1%, and this is two to three points lower than the starter's career best. When the GB% was also down in 2018 compared to the rest of the career line, this is a tricky connection. Can Wheeler give up more fly balls, and also keep more of them in the park? Assume not when looking to the career trends. Second, 8.84 K/9 is good, but also down compared to the career marks, especially the 9.08 mark in his best season in the majors. For Wheeler owners, while he did perform better than expected, the counting stats were not great from a top pitcher. While he is not likely to be an ace, his stat line makes him look like an upside SP3. Taking into account that the Mets are going to struggle next year, and the NL East will be improved, even over this year's healthy crop, Wheeler is a clear sell-high.
RP - Kenley Jansen (CL, LAD)
Jansen had a sharp drop-off in the second half, partially due to some health issues, and these red flags should be reasons that owners are looking to move on. This is a bit of a sell-low, as other owners can look at the same stats and see the change, but also, Jansen still has the name value. One more down season and he loses most of the value that a top closer can bring on the market. Digging in a bit more, the K/9 is down close to four punchouts, and BB/9 close to doubled over his past marks. Even more, Jansen gave up an extra homer per nine this year, which is a ton for a closer. Even taking into account the shortened sample due to time on the disabled list, that is not a good mark for a former top pick. Add that to a career-worst 3.01 ERA, and for any other name, this would be a sell-low. And yet, looking to mocks, he is still the second or third closer off the board. Sell, sell, sell.
RP - Sean Doolittle (CL, WAS)
This is another player on the list that the call relies more on team context as opposed to just the player's performance.  Will the Nationals be a contending team next year? Will they re-sign Bryce Harper? Will their starters be healthy? Can Juan Soto repeat? All of these questions hurt any bullpen arm on the team regarding fantasy value, especially one with an injury late in the season that might add some doubt already. And yet, owners can still get good value from other teams overlooking those pieces. A career-best 1.30 ERA with 25 saves and three wins make Doolittle one of the better closers in the game. And yet, injuries kept those saves low, and in 2019 a bad Washington team might limit those chances as well. If the Nationals struggle, Doolittle is on the move at the deadline, and will not be as a closer, but a set-up man if that happens. He can only lose value over the coming months, and this is from someone who thinks he might be the best closer in the National League.