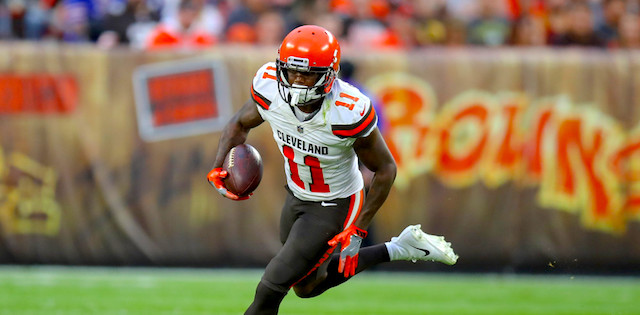 Players are supposed to make a leap in their second season, but the past few years have been littered with wide receivers who just...didn't. Kevin White. Devante Parker. Breshad Perriman. Corey Coleman. Josh Doctson. Laquon Treadwell. Without even looking past the first round, we've got a good list of disappointing football players.
The 2018 wide receiver class might be changing that narrative, though. I feel reasonably confident that the first five receivers drafted -- D.J. Moore, Calvin Ridley, Courtland Sutton, Dante Pettis, and Christian Kirk -- are going to have strong second seasons. But that doesn't mean there aren't some players in this class who struggled last year and will keep struggling this year.
Let's look at some second-year receivers who won't take that leap this season.
Editor's Note: Get any rest-of-season NFL Premium Pass for 50% off. Our exclusive DFS Tools, Lineup Optimizer and Premium DFS Research through the Super Bowl.
Sign Up Now!
Everyone seems to be penciling Washington in to fill JuJu Smith-Schuster's role now that Juju is filling Antonio Brown's new role, but there are a few complicating factors.
First, there's the fact that Ben Roethlisberger doesn't have a great track record of supporting multiple fantasy-relevant wide receivers. Brown and Smith-Schuster had the talent to make that a non-issue, but if you look back at the history of the Steelers, this is a team that usually supports one strong wide receiver and one guy who doesn't crack the top-30. If Mike Tomlin views Smith-Schuster as the kind of talented, top-tier receiver that he viewed Antonio Brown as, the pecking order in terms of who Ben Roethlisberger looks to will go, Juju, then whichever running back is in the game, then Vance McDonald, and then the second receiver.
The other issue is that the Steelers brought in someone who's arguably better than Washington in former Colt and Jaguar Donte Moncrief. Moncrief hasn't been a high-volume guy over the last couple of seasons, but he's put up impressive numbers in the time he's been on the field. His best year was 2015 when he caught 64 passes for 733 yards and six touchdowns. Last year with Jacksonville, Moncrief had 48 receptions for 668 yards and three touchdowns on a team that started Blake Bortles and Cody Kessler at quarterback.
Among all wide receivers, Moncrief was 75th in the percentage of his targets that were deemed as catchable last year. Smith-Schuster, operating mostly in the WR2 role with the Steelers, was 43rd. Not a huge increase, but anything helps with Moncrief, who had to make do with virtually nothing at quarterback last year. He'll improve with Roethlisberger, and if the Steelers want to make the postseason, they'll rely more on the veteran Moncrief than the largely untested Washington.
I like Chark, but the Jaguars have a lot of mouths to feed in an offense that won't have a super high passing volume.
Right now, it looks like the Jags are going to be locked into a five-receiver core of Chark, Dede Westbrook, Marqise Lee, Chris Conley, and Keelan Cole. Cole's probably going to be last of those guys in the pecking order. Westbrook will play in the slot and be the most active receiver they have. That leaves the other three fighting it out for snaps.
Lee missed all of last season with a knee injury, which left the Jaguars with a four-man group of Westbrook, Chark, Cole, and Donte Moncrief. Chark finished a distant fourth in targets among those players. Lee's return makes it even harder for Chark to carve out a role, as a healthy Lee almost has to be a started based on talent. Chark might get opportunities early on as Lee works back into shape, but reports out of training camp seem to indicate that while Chark looks good, Chris Conley looks better, so even those early opportunities might not be there.
Nick Foles is an upgrade over Blake Bortles at the quarterback position, but with Leonard Fournette at running back, this is still a run-first team that'll use the running game to set up the pass. That'll lower Chark's overall ceiling too. He's the third or fourth receiver on a run-heavy team. I can like him fine from a talent perspective, but I've also got to be honest about how sometimes talent just doesn't get the right opportunities.
It's not fair to call Callaway a bust last year, as he caught 43 passes for 586 yards and five touchdowns. But with the addition of Odell Beckham Jr., who'll dominate the team's target totals, and the continued presence of another target machine, Jarvis Landry, I don't see much room for Callaway to improve on his 2018 numbers. Cleveland's decision to trade for Beckham and unexpectedly enter contention mode is going to stunt Callaway's development.
Antonio Callaway is fast. Like, really fast:
Tyrod Taylor finds Antonio Callaway for SIX! 😱 pic.twitter.com/BCWPGQ7PWL

— Cleveland Browns (@Browns) September 16, 2018
I'm sure we all remember this play from early last season when Tyrod Taylor was still the quarterback in Cleveland. On a 4th and five, the team dialed up a streak route for Callaway. It was a risky play, but Taylor hits Callaway in stride in the end zone for the score.
Callaway's speed can still be useful for the Browns this year, but it's hard to see him used much as anything other than an occasional deep threat. He was 99th among wide receivers in catch rate last year. He's not someone you can trust to move the chains, especially with the team having a lot of better receiving options. It's hard to see a scenario where Callaway even reaches his target total from last season.
I know a lot of really smart people who like DaeSean Hamilton, but I'm just not sold on him being a breakout player in 2019.
The case for Hamilton seems to hinge on one key thing, which is the idea that Emmanuel Sanders won't be good this year. And sure, Sanders is coming off one of the worst injuries a player can have, a torn Achilles. But with Courtland Sutton entering his second year and looking ready to handle the job of being Denver's top receiver, Sanders can settle into a secondary role as a short-yardage, sure-handed receiver whose potential loss of speed from the Achilles injury won't be an issue.
Denver also signed running back Theo Riddick, who...well, should probably not even be considered a running back at this point. Riddick's a receiver who happens to line up in the backfield, and he's going to see a lot of third-down targets on this team.
Hamilton also has to contend with rookie tight end Noah Fant for targets. Fant is already one of the NFL's most promising young tight ends without having played a regular-season game yet, and we know that quarterback Joe Flacco is a fan of targeting his tight ends. Fant's got elite potential and while rookie tight ends have struggled in the past, Fant's got the skill to make an immediate impact.
Hamilton's going to be a decent way down the pecking order on a team whose quarterback is either Flacco or rookie Drew Lock all season. The Broncos will likely be a very run-reliant team with second-year backs Phillip Lindsay and Royce Freeman carrying the load. I can easily see Denver being one of the top-five teams this year in carries. If that happens, there will be even fewer opportunities available for Hamilton.
More ADP Busts and Avoids