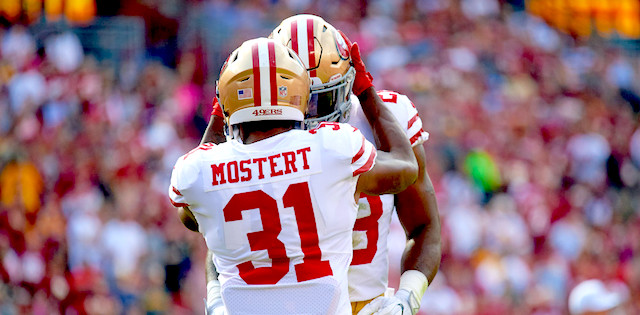 It is almost inconceivable that we are progressing into the second week of fantasy postseason matchups. Congratulations to those of you whose teams are still competing in the playoffs. Your meticulous planning during the draft process and the regular season has been rewarded with an opportunity to win your leagues' championships. This critical week provides the opportunity to focus on building lineups that will advance through the remainder of the postseason.
You can bolster your chances of capturing your leagues by examining the matchups in Weeks 15 and 16 for running backs that you are considering or currently own. This will maximize your planning process by establishing which backs will encounter formidable defensive units, and which runners will perform against vulnerable opponents. However, your focal point in this week's planning involves prevailing in your Week 15 matchups. That will provide the opportunity to win your leagues in Week 16.
This article will assist you in locating the players to target in order to fulfill your championship aspirations. These recommendations will appear in three tiers - beginning with the most enticing and progressing to runners that are available if you are contending with desperation. You will also find a group of backs that can be dropped in order for you to secure your replacements. Here are the most viable waiver wire options at the running back position. Good luck in Week 15.
Editor's Note: Get any rest-of-season NFL Premium Pass for 50% off. Our exclusive DFS Tools, Lineup Optimizer and Premium DFS Research through the Super Bowl.
Sign Up Now!
Frontrunners - Week 15 Waiver Wire Running Backs
These backs should be your top priorities among the runners that are available on most waiver wires. Some will be more beneficial in PPR formats than standard. All players have 60% or less ownership in typical fantasy leagues.
Raheem Mostert, San Francisco 49ers - 51% owned
Mostert has now accrued 330 total yards and four touchdowns during his last three matchups, after accumulating 109 yards and two scores against New Orleans in Week 14. His impressive performances have cleared a path toward sustaining the workload that he has attained since Week 13 (16.5 touches-per-game). There is always a legitimate reason for concern that Kyle Shanahan will alter the touch distribution of his running backs based upon in-game performances. This would leave Matt Breida and Tevin Coleman theoretically lurking as threats to confiscate opportunities in any given matchup. However, Breida only carried six times in Week 14, after averaging 12 attempts-per-game in eight of his previous nine contests. Coleman's erratic usage includes 11+ attempts in six of seven matchups from Weeks 5-12, which plummeted to eight carries in Weeks 13/14 combined. Mostert's recent effectiveness should combine with his big-play capabilities to keep him highly involved in the 49ers' attack. That elevates him among this week's top waiver wire options.
Alexander Mattison, Minnesota Vikings - 54% owned
The advantages of handcuffing Dalvin Cook with his talented backup has been a repetitive message in this column throughout the season. However, Mattison remained available on nearly 70% of all leagues, when Cook owners were impacted by his chest injury in Week 13. He returned as the Vikings' RBs in Week 14 and collected 75 total yards with his 20 touches. But Mattison was entrusted with a season-high 16 touches, and capitalized by generating 64 total yards. It is feasible that Minnesota will manage Cook's workload this week since he will function as the foundation of their offense during the postseason. That would propel Mattison into a touch total that exceeds the workload that he attained in Week 14. It could also vault Mattison into a feature back role if the Vikings protect Cook by resting him completely. This provides motivation for all owners to seize Mattison as a potential resource toward achieving your championship aspirations.
Adrian Peterson, Washington Redskins - 39% owned
The 34-year old Peterson produced respectable yardage totals throughout much of the regular season without generating a significant amount of accolades. Since Week 6 he has averaged 76.2 yards-per-game and has assembled 175 yards since Week 13. He has also remained productive as the Redskins' backfield became congested through the returns of Derrius Guice and Chris Thompson. Guice had accumulated 286 total yards since resurfacing in Week 11 before a sprained MCL forced him to the sideline in Week 14.  Now, Guice's injury should vault Peterson into lead back responsibilities for Washington's upcoming matchups with the Eagles and Giants. Chris Thompson collected seven of his eight targets for 43 yards in Week 14 and should continue functioning as Washington's pass-catching back. But Peterson will commandeer the vast majority of rushing attempts, which should result in yardage totals that are beneficial for his owners. This supplies the incentive to secure him for your rosters, as he can function as an effective flex option.
In The Running - Week 15 Waiver Wire Running Backs
These backs remain widely available on the waiver wire but are not necessarily must-adds.
Benny Snell Jr., Pittsburgh Steelers - 39% owned
James Conner has now been sidelined since Week 11, while his protracted shoulder issue has also limited him to just 13 snaps since Week 8. Conner's recurrent absence has created a weekly cycle of uncertainty for his owners, along with the need to locate alternative starting options for their lineups. Snell provides a safeguard if Conner is unavailable again this week, as he has repeatedly performed as Pittsburgh's most proficient rusher when Conner is inactive. He followed up his 75 yard-performance in Week 6 by rushing for 202 yards during his last three matchups. Jaylen Samuels remains effective as a receiver (41 receptions/252 yards) but has not been productive on the ground (2.8 yards-per-carry). This has elevated Snell into the role of primary back whenever Conner is relegated to spectator status. While Conner's situation will be monitored, Snell could garner another favorable workload this week against Buffalo.
Patrick Laird, Miami Dolphins - 20% owned
Enthusiasm for Laird's prospects of performing with a respectable workload emerged when he captured all six of his targets for 51 yards in Week 11. But interest in Laird has escalated considerably after the collection of subpar performances by Kalen Ballage finally reached a conclusion. Ballage had averaged an unsightly 1.8 yards-per-carry before being placed on injured reserve (concussion). That forgettable number actually dropped to 1.6 after he was entrusted with Miami's RB1 responsibilities in Week 10 (39 attempts/65 carries). But his absence has now elevated Laird into an expanded role. Even though Laird did not register his first snaps until Week 10, his count has risen steadily during his last four matchups (12%-60%). He also established new season highs in touches (19), rushing attempts (15), and total yards (86) in Week 14. The undrafted rookie is now worthy of consideration as a flex option and will collect more opportunities to deliver fantasy points against the Giants and Bengals.
Deandre Washington, Oakland Raiders - 5% owned
Josh Jacobs was fourth overall in rushing yardage from Weeks 1-13 (1,061) and was eighth with 218 attempts (18.2 per game). He had also been contending with a shoulder issue since Week 7, and the injury became more impactful as Oakland entered their Week 14 encounter with Tennessee. Jacobs was ultimately sidelined during the matchup, which lifted Washington and Jalen Richard into expanded roles. Washington easily captured the most extensive workload (20 touches), while accumulating 96 total yards and a touchdown. That included his 53 yards on the ground, which was Washington's highest total since Week 3 of 2016. Richard assembled 46 total yards on nine touches while Washington functioned as Oakland's primary back. Jacobs's protracted shoulder problem will be monitored this week. However, it would be logical for Oakland to rest him since the Raiders' playoff chances have evaporated. That would provide Washington with an opportunity to perform as the Raiders' lead back against Jacksonville. He would elevate become a low-end RB2 option if that scenario occurs.
Dark Horses - Week 15 Waiver Wire Running Backs 
This group consists of running backs that can be added if you are willing to wait for the possibility of a larger role during the year, or consider your situation to be desperate due to injuries or byes. 
Bo Scarbrough, (Detroit) - 41% owned
The concept of starting Scarborough in the flex might not elicit an enormous level of excitement. But owning the former seventh-round pick does present the opportunity of utilizing a workhorse back that will operate without any legitimate competition to siphon touches. Scarbrough has now accumulated 72 attempts since being promoted from Detroit's practice squad in Week 11, which is the fourth-highest among all backs during that span. His 301 rushing yards place him sixth during that four-game sequence, while he has also averaged 82 yards-per-game since Week 12.  Ty Johnson has averaged just 4,25 touches-per-game since Scarbrough confiscated lead back responsibilities, while J..D. McKissic has averaged 4,75 per game. Scarbrough's workload near the goal line is equally secure, as he has also carried five times in the red zone. This enhances Scarbrough's viability as a flex option.
Tony Pollard, Dallas Cowboys - 12% owned
The rookie was sidelined in Week 14 with an ankle issue. However, he should return to the Cowboys this week. Pollard's reemergence will serve as a reminder that he remains an outstanding insurance policy for anyone who owns Ezekiel Elliott. Pollard has accumulated 354 total yards with his 70 touches while possessing the ability to explode for significant yardage whenever he is operating as a runner or a receiving weapon. His enticing blend of speed and size has elevated him into premiere handcuff territory, and as he would function as an RB1 if Elliott would be unavailable for any reason. If you are an Elliott owner, you can escape the unnecessary risk of a devastating drop in scoring by pursuing Pollard this week. He could help secure fantasy championships if Elliott is sidelined for either of the Cowboys' remaining matchup  (Rams/Eagles).
Gus Edwards, Baltimore Ravens - 13% owned
Ingram owners still have an opportunity to confiscate Edwards from the waiver wire which will supply protection dring the postseason if Ingram is sidelined. Edwards is currently performing on 33% of Baltimore's snaps, with averages of 7.3 attempts-per-game, and 9.3 per game from Weeks 11-13. He has sustained a steady role throughout the season, even though it does not reach standalone value. He has also accumulated 21 red zone carries and would absorb a significant workload if Ingram's touches are managed during the next two weeks. The Ravens lead the league in run play percentage (55.1%) and will continue a heavy emphasis on the ground game. This provides the team's lead back with abundant opportunities, even with Lamar Jackson averaging 11.6 attempts per game. That also guarantees a favorable touch total for Edwards if his responsibilities increase. There is a complete justification for Ingram owners to make sure that they have protected their rosters by adding Edwards this week.
Also-Rans - Time To Say Goodbye
These backs can be dropped in order to secure an RB with greater potential to bolster your scoring during the year.
Tevin Coleman, San Francisco 49ers - 86% owned
As you approach your Week 15 decision-making process it is wise to avoid wasting a roster spot on any back that you absolutely do not trust in your lineup. This is important, regardless of the investment that you originally made during your drafts. It is equally critical that you ignore any inclination to consider a rusher due to any perception of productivity that simply has not occurred. Coleman has only assembled nine touches since Week 13 and has only manufactured 24 total yards. The concept of starting "the guys that got you there" will not be in effect with Coleman either, as his minuscule usage and production have not been beneficial in your team's progression through the postseason. It is wise to avoid Coleman and locate another back that you will improve your chances of prevailing this week.
Duke Johnson, Houston Texans - 55% owned
When you watch the Houston offense, you will witness Johnson delivering a burst that Carlos Hyde is incapable of providing to the Texans' backfield. It is justifiable to wonder why Johnson has not been entrusted with a larger workload as both a rusher (75 attempts/5,8 per-game) and receiver (36 receptions/2.8 per-game), as he still displays the same elusiveness that propelled him to 1,041 total yards, and an RB11 finish in PPR leagues during 2017. But the opinion of observers concerning the most effective touch distribution between Johnson and Hyde remains irrelevant. Bill O'Brien is Houston's architect of offensive strategy, and his reliance on Hyde as the Texans' lead back has been resolute. Hyde is averaging 15.5 attempts-per-game, including the 14 that he received in Week 14. Johnson only collected seven touches despite his proficiency in accruing 90 total yards during Week 13. The constraints that are placed on his workload should compel you to locate another roster option.
Jonathan Williams, Indianapolis Colts - 37% owned
Williams entered Week 11 with an infinitesimal total of just five rushing yards since 2016. But he exploded into temporary fantasy relevance by stockpiling 220 yards on the ground in Weeks 11-12. He also averaged 4.45 yards-per-carry with his 39 attempts while operating as the Colts' lead back. But anyone who trusted him in their Week 13 lineups watched in horror as he manufactured just 14 yards on eight attempts (1.8 per carry) while ceding touches to Jordan Wilkins and Nyheim Hines. Marlon Mack also resurfaced in Week 14 to seize RB1 responsibilities (13 carries), while Wilkins and Hines combined for nine touches. Williams has been jettisoned from the fantasy radar with the same swiftness with which he entered, as he is now buried in a bottommost region of Indy's depth chart. The Colts are not planning on using him during their remaining matchups, which leaves zero justification for retaining him on your roster.
More Waiver Wire Pickups and Advice