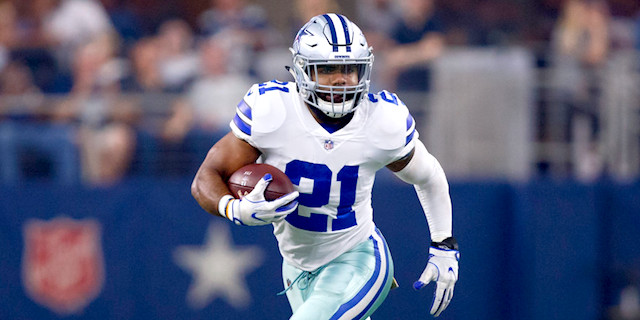 The 2018 fantasy football season is finally upon us! RotoBaller's expert rankers have released their latest round of rankings. I'll be dissecting some of the players in each group tier by tier to give you a bit more insights on who you'll be drafting.
The expert rankers at RotoBaller are committed to providing you with the detailed fantasy football draft rankings and analysis that you need to formulate a plan as you proceed through your drafts - regardless of whether you are participating in Dynasty, Redraft, or Best-Ball leagues. Our rankings also include tiers, that supply a more detailed breakdown on which players to target for your rosters, along with the performers that you should avoid. We will continue to deliver updated rankings and positional analysis as the regular season continues its relentless approach.
To view our PPR rankings at the running back position, click here.
Editor's Note: Get any rest-of-season NFL Premium Pass for 50% off. Our exclusive DFS Tools, Lineup Optimizer and Premium DFS Research through the Super Bowl.
Sign Up Now!
Running Backs - Standard Scoring Rankings
Tier 1
Le'Veon Bell, Ezekiel Elliott, Todd Gurley, David Johnson
Nobody should be surprised by the top tier of running backs. The group features 2017's top two position players in Bell and Gurley, along with 2016's top two position players in Elliott and Johnson.
Each of these four stud backs will be relied on heavily by their respective teams. Bell and Gurley play in loaded offenses, but the offenses don't work without them churning. A great offense needs to have a balance of passing and rushing. Both Bell and Gurley dominated defenses on the ground last season while also making plays in the passing game. Defenses can't hone in heavily on one aspect of the offense when the running back is dominant in both facets of the game. We saw what happened to Gurley when there was no passing game in 2016. There isn't a reason to expect anything like that again this offseason.
Elliott is in a different situation. They are their respective offenses. The Cowboys offense fell apart last season while Elliott served his six-game suspension. With the departures of Dez Bryant and Jason Witten in Dallas this offseason, Elliott will likely see more and more stacked boxes in 2018. Despite this, Elliott paired with the Cowboys offensive line is just too good to fail. If Dak Prescott can't make the passing game a legitimate threat this season, it's hard to imagine Elliott being the top running back in 2018. But it's also hard to imagine any scenario where he isn't a top 10 fantasy running back. He's going to be fed this season
And then there's David Johnson, who is easily the riskiest pick of the bunch. Johnson's 2016 season was even better than Todd Gurley's 2017 season and Johnson was a consensus top-two pick heading into last season. Johnson has undeniable talent and his injury shouldn't be worrisome long-term, but he enters 2018 having to shake off a year of rust, learn a new offensive system, and build chemistry with a new quarterback who might not even be the starter by midseason. The fact that Johnson is still in the top tier despite all of these red flags just shows how damn good of a football player he is. If Arizona wants to have a productive offense, it will go through Johnson. It's just that simple. (I went a bit more in-depth on DJ here.)
So who should be the number one overall running back? While RotoBaller's rankings certainly aren't wrong, there isn't really a right answer here. Bell has the highest floor of the floor, but you can argue he has the lowest ceiling. Elliott will likely get the most carries (by a fairly large margin) but a lack of production in the passing game could put him behind the other three in total yards. Gurley had a monster 2017 season, but expecting another 2,000 yard, 19 touchdown season from him might be asking too much. There's a case for all four of these guys going number one. The choice is up to you.
Tier 2
Alvin Kamara, Saquon Barkley, Dalvin Cook, Leonard Fournette, Kareem Hunt, Melvin Gordon
Alvin Kamara leads the second wave of running backs. Kamara has been the near consensus number five running back this preseason, with his tier varying by the format. Kamara led all running backs in scoring during weeks 5-12. Second during those weeks was his teammate, Mark Ingram, who the Saints will be without during the first four games of the season. There's a chance that the Saints let Kamara loose as a full three-down back and he enters the conversation for the number one running back. There's also a chance they keep Ingram's spot open and we get a similar situation to 2017. Either way, we know the Saints will find ways to get Kamara the ball in space, and he should continue to be one of the highest week-to-week ceiling players in fantasy.
This year's super-rookie is Giants running back Saquon Barkley, who finds himself as the sixth overall running back in standard. Barkley continues the trend of a running back going in the top four picks, with Elliott and Fournette going at number four in the years before him. The Giants didn't spend the second overall pick on Barkley so he could sit around and watch. He's going to get the ball and hopefully restore balance to the Giants offense alongside Odell Beckham Jr. Barkley belongs in this tier, but should an unproven rookie be placed ahead of the four guys after him, who have proven they can compete at a high level?
Barkley has to compete with a trio of second year running backs coming after him. Dalvin Cook comes with the most questions of the remaining four running backs. Cook shined in his first four games last season and was on pace for 1,416 yards and eight touchdowns. But he's coming off a devastating injury and has such a small sample size in the NFL. Still, Cook has proven that he can play at a high level at the highest level, and the loss of Jerick McKinnon means Cook will get a chance for more work in the passing game. Then there's Fournette and Kareem Hunt. Hunt may suffer from an offense with two many mouths to feed, while Fournette may suffer from not enough. Fournette's touchdown upside is undeniable, as is Hunt's upside in games where Andy Reid actually wants to give him a lot of work. Fournette has the highest week-to-week floor and Hunt has the highest week-to-week ceiling of the four guys in this discussion. Like the first tier, these guys are interchangeable.
As for Melvin Gordon, he suffers the most of the top running backs when switching from PPR to standard. Gordon is a high-floor, low-ceiling player, and is the safest pick in this tier.

Tier 3
Devonta Freeman, Jerick McKinnon, Joe Mixon, Jordan Howard, Christian McCaffrey, Derrius Guice
2015's number one overall running back leads the pack in 2015. Freeman was on pace for just under 1,000 yards and eight touchdowns last season had he not missed two games. It's hard to imagine a scenario where Freeman takes a major dip in volume or production. He's the safest pick in the tier, albeit the least exciting. Jordan Howard seems like a similarly safe pick with higher upside. Howard struggled in his sophomore season, but a struggling Howard still managed to finish as a top 10 running back. Howard doesn't have any health risks and a new system should benefit him greatly. He's the guy I want to target from this tier in standard leagues.
Jerick McKinnon has been one of the most polarizing players in the fantasy community this season. He's the center of the age-old "talent vs opportunity" debate this season. On one hand, McKinnon is going to get a chance to produce at a 2015 Freeman level under 49ers coach Kyle Shannahan. He's the clear number one in the 49ers rushing game and will likely get the chance to be an every-down back in San Francisco. On the other hand, this is Jerick McKinnon, a career backup in Minnesota who could never fully beat out Matt Asiata for the backup role in Minnesota. The opportunity will be there for McKinnon, but if you're taking him in the third round, you need to talk yourself into believing in him as a player.
Joe Mixon theoretically has the talent and the opportunity, but things just did not work out for him in Cincinnati last season. A ton of red flags pop up when you look into Mixon's value: he plays for Marvin Lewis, he shares the ball with Giovanni Bernard, and he didn't show a ton of flashes last year. Still, he's a guy that the Bengals invested a lot in and should give a ton of work to this season to find out what they really have in Mixon. But if we've learned anything from the history of the NFL, it's that the Bengals usually don't do what they should do.
Washington's Derrius Guice has the potential to be a breakout rookie in 2018, which is how he finds himself in this tier. All signs from camp point to Washington's staff being enamored with Guice and see him as a potential every-down back. Just remember this: Guice still has to beat out Semaje Perine Rob Kelley for the early down work, and then would need to beat out Chris Thompson for the passing work. His upside is massive, but like any rookie running back who hasn't been anointed as the starter early on, he comes with risks. He could easily wind up being as productive as Joe Mixon last season.
Tier 4
Alex Collins, Jay Ajayi, LeSean McCoy, Rashaad Penny, Kenyan Drake, Dion Lewis, Derrick Henry, Royce Freeman, Mark Ingram
The majority of backs in tier four are guys who will likely enter the season as starters, but will likely not receive three-down work or be used as a member of a committee. Jay Ajayi seems like the biggest example of this. While he seems to be the clear favorite for the starting job and early-down work in Philadelphia, the Eagles used a full-blown RBBC last season and it worked out pretty well. Ajayi will find himself once again in a crowded backfield, but looks to at least be the favorite for goal-line carries with the loss of LeGarrette Blount. He also is the favorite to finish the year with the least receptions out of the Eagles backfield. Having no real chance at receiving yards knocks down his value in standard and may knock it down even farther in PPR.
Then there's the mess in Tennessee. The Titans cut DeMarco Murray and paved the way for Derrick Henry to be the feature back in Tennessee... until they signed Dion Lewis. Henry and Lewis will play well off of each other on the field, but the Titans have no reason not to roll with the hot hand during games this year, which will hurt both of their values at times. Henry is the more likely of the two to lead the team in touches and should get the goal-line duties. I like Henry a bit more than Lewis in standard, but they hurt each other's value.
Despite not changing teams, the sixth and seventh best running backs in fantasy last year find themselves in Tier 4. Mark Ingram is suspended for the first four games, which will give Kamara a chance to emerge as the undisputed top dog in the New Orleans backfield. There's a good chance Ingram receives the same role as last year when he returns from his suspension, but owners who draft Ingram will be drafting a guy who can't play for the first four games and might come back to an offense that doesn't have a role for him. His tier reflects the risk of drafting him. The other top back from last year in this tier is LeSean McCoy, who received some serious allegations against him and could find himself suspended at any moment. Owners who draft McCoy can expect a situation similar to what Ezekiel Elliott dealt with last season, only McCoy's upside isn't nearly as high. McCoy enters his 10th season on an offense that may not find itself in the red zone very often. McCoy may not get many touchdown opportunities, he may regress due to his age, and he may be suspended at any point in the year. But the upside for McCoy is there: he'll be given plenty of work when he's on the field this season. He's the most volatile of any player we've talked about in this article and his ranking is reflective of it. Owners who draft McCoy will be aware of how risky the pick is.
The rookies in tier four, Rashaad Penny and Royce Freeman, both enter situations where they should get a ton of carries early, but also haven't been friendly to running backs in recent years. Seattle and Denver were wastelands for running backs last season. Both guys also have to compete with running backs that got a lot of work last season and may sneak in to take the starting job. Penny seems more likely to be a home-run out of the two, but both backs have a ton of upside if they get a chance to prove it in a productive offense. It remains to be seen if either of these offenses can be productive.
Tier 5
Lamar Miller, Ronald Jones II, Sony Michel, Marlon Mack, Isaiah Crowell, Tevin Coleman, CJ Anderson
Lamar Miller leads the way in the fifth tier. The veteran running back is coming off a season where he failed to cross the 80-yard mark in a single game despite averaging 15 touches per game and appearing in all 16 games. Still, Miller is likely to enter the season as Houston's de facto starting running back. If second-year back D'Onta Foreman finds himself on the PUP list to start the year, Miller will have a stranglehold on the job for at least the first six games of the year. The biggest knock on Miami during Miller's time there was that he didn't touch the ball enough. Just two years later, people are wondering if Miller touches the ball too much in Houston. There's no reason talk yourself into Lamar Miller's talent. But like I mentioned with McKinnon, opportunity holds similar weight to talent. Miller could make a solid placeholder back for owners betting on rookies this year given his low ranking.
Sony Michel may end up as the most volatile running back in the entire draft. The rookie was drafted in the first round by the New England Patriots, a team that doesn't like to waste draft picks. Bill Belichick likely has big plans for Michel, but New England's backfield is crowded. Expect James White and Rex Burkhead to handle pass-catching duties and newcomer Jeremy Hill to earn the red-zone carries to start the year. What exactly will Michel's role be? New England's backfield has been the hardest fantasy backfield to predict during most of the Belichick era. Their leading rusher in 2014 was a guy who got half of his yards in one game. There may be games this season where Michel snags 20 touches, and there may be games where he doesn't see any. The upside is clear given the offense around him and the draft capital the Patriots spent on him. But how high can you draft a Belichick running back that is yet to play a snap in the NFL? That's what fantasy owners will need to decide.
"Fool me once shame on you. Fool me twice, shame on me." This is how I felt after I drafted Isaiah Crowell at the top of the fourth round last season. The Browns gave Crowell just under 13 carries a game last season and allowed him to start in every single game. Crowell delivered by finishing as the 30th overall running back, just behind guys like Orleans Darkwa, Buck Allen, and Jamaal Williams. Crowell had 22 rushes in the red zone last season, including 14 inside the 10 and five inside the five. He scored one red zone touchdown. Can we blame Crowell for the Browns going 0-16? He sure as hell wasn't helping the Browns win any games. Crowell joins a Jets offense whose leading rusher from last season is still on the team. There's a strong chance Crowell is involved in an RRBC with Bilal Powell. Every running back in this tier has a higher ceiling than Crowell. If you draft Crowell, you're drafting him with the hopes that he can continue his magical run as the overall RB30 from last season.
Tier 6
Duke Johnson, Rex Burkhead, Kerryon Johnson, Jamaal Williams, Marshawn Lynch, Chris Thompson, Carlos Hyde, Nick Chubb
Tier six contains all three Cleveland running backs. The city of Cleveland took a soul-crushing blow when their most beloved athlete took his talents to the New York Jets. To replace Isaiah Crowell, the Browns signed Carlos Hyde and drafted Nick Chubb to play alongside Duke Johnson. Johnson's role isn't going anywhere. He's established himself as one of the league's top catching backs and posted a career-high 693 receiving yards last season. Johnson totaled over 1,000 yards and added seven touchdowns, both team highs amongst running backs (side note: I'll bet anyone that Johnson has more total yards in 2018 than Isaiah Crowell. Find me on twitter). Johnson's targets may take a slight dip due to the new bodies in the Cleveland passing game, but he'll still get a good amount of touches this year. He's a nice value in this tier, with his PPR upside being much higher.
The biggest question in the Cleveland backfield is whether or not Hyde or Chubb can secure enough touches to be a worthy start in fantasy. Hyde figures to be the starter heading into Week 1, but he'll have the rookie breathing down his neck all season. Chubb will likely take over the starting job when he's ready, but when we'll that be? There's also the possibility that the Browns split up the work in a classic RRBC. There are three outcomes when drafting Chubb or Hyde: they'll emerge as a sneaky RB2, they'll split work with each other and settle into a touchdown upside FLEX play, or they'll get buried in the depth chart while the other flourishes. I'd say Chubb has the higher upside, but Hyde may be a wise pick for owners who already invested in another rookie like Michel or Freeman.
If you're considering Marshawn Lynch by the time this tier rolls around in the draft, you must be desperate for a running back that is a guarantee to get touches week to week. Barring a Doug Martin renaissance, Lynch should be the Raiders lead back this season. He won't get all the touches, he won't rack up crazy yardage totals, but he'll consistently get carries and should be the Raiders red zone work. Lynch found the end zone on 50% of his carries inside the five last year and is capable of putting up touchdowns even at his age. If you need a running back who could be a week to week start and don't believe in Doug Martin, Lynch is actually a solid value in this tier. Just know that he has the lowest ceiling of everything in the group.
Tier 7
Tarik Cohen, Bilal Powell, Devontae Booker, Aaron Jones, Latavius Murray, Ty Montgomery, D'Onta Foreman, Peyton Barber, LeGarrette Blount, James White, Theo Riddick, Giovani Bernard, Frank Gore, Chris Ivory
If you don't have your RB2 by the time tier 7 rolls around, good luck to you. This group includes guys that are much more interesting in PPR (James White, Theo Riddick, Giovani Bernard), guys who are basically handcuffs (Latavius Murray, Chris Ivory), and guys that are just waiting for somebody to take their job from them (Peyton Barber, Devontae Booker, LeGarrette Blount).
If you're looking for somebody who doesn't have an incredibly high ceiling but should have a week to week roll, target one of the PPR guys, Bilal Powell, Tarik Cohen, or Frank Gore. As we mentioned earlier, Powell is competing for work with the marvelous Isaiah Crowell and should be good for at least 500 yards on the season. He's the most likely of the group to be the outright starting running back on their team. Cohen could see himself transition into a Duke Johnson type role in Chicago. I can't imagine Jordan Howard isn't the primary running back, but Cohen could sneak into the slot from time to time and find a ton of work in the passing game. And do I really need to say anything about Frank Gore? This guy will find carries in the NFL until he's in a wheelchair. The fact that Miami even signed Gore means they aren't fully invested in Kenyan Drake and that Gore should have a role in the offense.
D'Onta Foreman is the lottery ticket of this group. As mentioned in the Lamar Miller section earlier, he hasn't given the Texans a reason to keep him as the starter should Foreman emerge as a force. Foreman is dealing with injuries and hasn't fully proven he can produce starting numbers at running back, but the potential is there. He's the upside pick of this tier.
The Packers are set to roll with a full-blown committee at running back led by Jamaal Williams. Aaron Jones and Ty Montgomery should factor into that committee. Aaron Jones had two monster starts in 2017, but he'll be serving a two-game suspension to start the year and could see his role diminish if Williams plays well. Montgomery was a waiver wire savior back in 2016, but he was disappointing in 2017 and it's unclear how much he'll factor into both the running and passing games. There's a chance one member of this trio emerges as a legit RB2 this season, and there's a chance all three wind up as fringe FLEX plays. Drafting any member of the group is a risk.
More Draft Rankings Analysis
Check out all of RotoBaller's fantasy football rankings. Staff rankings are updated regularly for all positions and include standard formats, PPR scoring, tiered rankings and dynasty leagues.