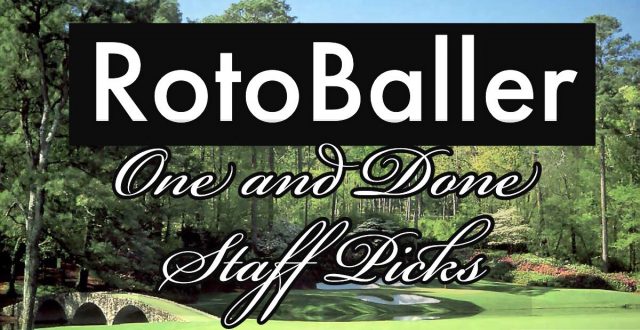 Here at RotoBaller, we are always searching for ways to give our readers the best fantasy sports content possible. With that goal in mind, we are very proud to announce the weekly PGA "One and Done" column will be back for a second season. In this feature, our golf staff of Joe Nicely, Spencer Aguiar and Josh Bennett will provide their weekly golf picks every Wednesday. The purpose of this article is to present you with alternative options to consider and hopefully make your selection a much easier process weekly. With that plan in mind, let's get started!
We are excited to be back with our second installment of the One and Done contest here at RotoBaller. Gianni Magliocco captured the inaugural title with his walk-off victory at the Tour Championship, narrowly outpacing Joe Nicely at the buzzer. Like every great champion should do, Gianni retired on top with his nearly 11 million dollar total and belt, but we are pleased to announce a new challenger in the ring this season. If last year's festivities were any indication, two of our combatants finished with over 10 million dollars earned, so you will not want to miss what 2020 has in store. Without further ado, let's get things rolling at the Sony Open.
For an in-depth breakdown of the top DraftKings and FanDuel plays, check out Joe Nicely's weekly Horse For The Course that highlights the best fits for the week's course. And you can also find out who the smart money is on by checking out Spencer Aguiar's PGA DFS: Vegas Report every week.
Editor's Note: Get our full-season PGA and DFS Premium Pass for 50% off. Our exclusive Lineup Optimizer, DFS Tools, and weekly Premium DFS Research.
Sign Up Now!
One and Done Selections
Alternate -  Collin Morikawa
As I learned last year, the PGA Tour season is a long one with lots of peaks and valleys. It's very tempting to come out of the gates firing with a player like Justin Thomas that's currently in "God Mode", but I just can't stomach using JT in the second week of January.
While I'm not going with Thomas, I still feel as though I'm kicking the season off aggressively with my selection of Webb Simpson this week...a player that has been often overlooked and vastly underrated for the past couple of years.
Simpson made 20 of 21 cuts last season and has looked sharp in a limited number of starts this fall. He's played extremely well in his previous Sony Open appearances and has the type of vanilla, fairways-and-greens game that we've seen work to perfection at Waialae Country Club time and again. So, while Simpson is a substantial piece to take off the board this early in our OAD competition, I feel very confident that he'll get me off to a strong start with a top-10 or better this week. -JN
Yearly Earnings - TBD
Yearly Cuts Made - TBD
Alternate - Marc Leishman
One and Done competitions are interesting because the level of aggressiveness needed will significantly change based on the number of entrants in your pool. A big contest, such as the one held over at GupsCorner, will require a much more volatile approach that puts you in many more boom-or-bust scenarios. However, that strategy changes when you are placed into a smaller group since the totals don't need to be as robust to find yourself in the lead.
That puts me into a slightly tricky spot when it comes to how I want to treat Rotoballer's second edition to this challenge. On the one hand, I want to provide information that benefits more than just my quest for victory here, but in the same breath, I do want to prevail and am not going to hand Joe or Josh a free conquest over me for the sake of being contrarian.
With all those factors coming into play, I've decided to release my actual selections for the Gups contest. I figure nearly 3,000 entrants are participating, and most readers of this article will be competing in larger-field tournaments. If I were playing amongst a few friends, I think Webb Simpson is the safest route to go this weekend since you can expect both a healthy floor and a strong start that won't put you right behind the eight-ball.
While the more conservative route is fine and dandy, we are still looking at a much more precise path that will be needed if you are trying to win a big event. I'd imagine we see most OAD entrants bypass Justin Thomas, and Webb's course history and stylistic fit for Waialae makes him a safe and secure start to the year. I believe he comes in as the highest owned player, and it immediately places you in a spot where you aren't able to separate yourself from the other competitors. That isn't a negative if you are competing with the hopes of being able to cash, but I am looking for glory, attempting to construct the ultimate against the grain strategy to increase my win equity - even if it means I decrease my consistency along the way.
For that reason, I have decided to roll with Abraham Ancer, a golfer who should generate no more than two to three percent of the total ownership but does have just about the same outright win percentage by my math as a player such as Webb Simpson. The big difference is that Ancer's floor is much lower, but that is a risk I am willing to take when we are looking at probably 300 fewer rivals being invested in the play.
Yearly Earnings - TBD
Yearly Cuts Made - TBD
Alternate - Charles Howell III
This is a tough pick for me to start. Joining my new friends at RotoBaller in this One and Done, I have to decide if I want to embarrass them right off the bat by picking the winner every week, or if I want to tank it a little bit so they don't kick me out right away. I'm leaning towards the embarrass route, so, insert Webb Simpson as my One and Done selection for the first week. Webb, being as good as he is, can and will be selective with his tournaments (as do all the other elite golfers out there). They all usually gravitate towards the same ones during the middle of the season when planning around the majors, and that's an important piece in my decision with Webb. The strength of field he's facing this weekend is not going to be nearly as good as what it will be towards the middle or end of the season, and I think it's a good idea to take advantage of the weaker fields while all the other top notch players are still on the practice greens getting ready for Augusta.
I am choosing Webb over the other handful of top notch golfers in this field mainly because his strengths are exactly the kind of strengths you need to score well on this course. I think Justin Thomas fits the mold too, but he does a lot of other places too that I'm saving him for. Plus, I think it's extremely hard to win two tournaments in a row even at his caliber, especially after the emotional ride he took at the end of the tournament last week. Webb hits it straight off the tee, is one of the best iron players around, and has been a really good putter recently. He's also proven that the way he plays is a successful recipe here by his history. He hasn't finished worse than 20th in this tournament since 2012 which includes a top 5 just two years ago. The last few real tournaments he's played in he has played extremely well, and I'm willing to look past his President's Cup performance because he was basically Patrick Reed's babysitter while fans crushed him all weekend for cheating.
 Looking forward to finding myself at the top of the leaderboard after week one, good luck guys! – Josh Bennett
Yearly Earnings - TBD
Yearly Cuts Made - TBD
Running Totals
Coming soon...
Golf DFS News and Player Outlooks