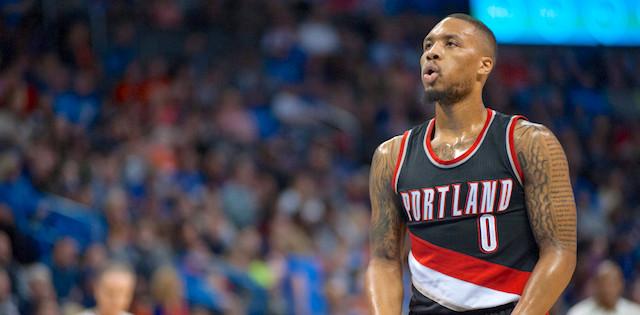 Fantasy basketball is inherently biased against point guards. This is not a complaint; it is just reality due to the scoring system used in fantasy basketball with rebounds being worth so much more than anything else. Plus, players earn often extra points for producing a double-double and with rebounds easier to obtain than assists, it makes sense that the top fantasy earners are bigger guys who can do a little bit of everything. Consider that there are 18 players who are currently averaging double-figure rebounds while just one guy, Russell Westbrook, is compiling 10 or more dimes a game. James Harden and Westbrook are the only two point guards that rank in the top-11 in fantasy points this year, according to NBA.com.
Saying all that, lead guards ruled the day on Wednesday, January 30th. Damian Lillard led the way with a night-high 65.1 fantasy points as he compiled 36 points along with 11 assists and a season high tying eight rebounds as well as two steals in the Trail Blazers 132-105 victory over the Jazz. Lillard was 12-for-21 from the field, 3-for-7 from beyond the arc, as well as 9-for-9 from the free throw line. Overall, six of the top-seven fantasy producers last night were point guards with the lone exception being Nikola Jokic.
Jerryd Bayless, Mike Conley, Terry Rozier, Monte Morris, and Dennis Smith Jr. were the point guards that thrived last night. In other news, Enes Kanter made just his second appearance in the last nine games as he played nine minutes in the Knicks 114-90 loss to the Mavericks. Also, LeBron James has already been ruled out for Thursday's game against the Clippers, meaning that he will miss his 18th straight contest.  The rest of the article will look at my top three fantasy basketball takeaways from Wednesday, January 30th.
Editor's Note: Our friends at Monkey Knife Fight have the best, most fun, fastest growing DFS props game! It's super simple to play and to win real money. Just choose your NBA, NHL or PGA game, and make your picks! Get a 100% instant deposit bonus up to $50 using promo code: BALLER. That's $50 for free - don't miss out!
Play Now!
Dennis Smith Jr. compiles second triple-double of career
The second-year pro by no means played a perfect game last night, but he did turn in his best performance of the season despite only playing 28 minutes as the Mavericks blew out the Knicks 114-90. Smith scored 13 points, grabbed 10 rebounds, and dished out a career-high 15 assists for his first triple-double of the campaign and the second of his career.
Smith's most memorable helper of the night perhaps came after he grabbed his 10th carom. The 21-year-old brought up the ball and then dribbled towards Dirk Nowitzki, who looked as if he was going to set a ball-screen. However, Nowitzki decided to make a shallow cut instead and Smith tossed the ball back to him and the 40-year-old calmly drained a three-pointer for his 12th of a season-high 14 points.
DSJ scores his second career triple-double, and Dirk drains another 3 in front of the Garden crowd! What a night in NYC! #MFFL pic.twitter.com/BFHx7aZPjc

— Dallas Mavericks (@dallasmavs) January 31, 2019
The former North Carolina State star, who tied his season high with five turnovers, has scored in double-figures and doled out at least four assists in each of his four games since coming back from a six-game absence. He is averaging 15.5 points, six rebounds, and 7.5 dimes along with 3.5 turnovers during this stretch.
It appears that Smith will be with the Mavericks for at least the rest of the season. With him playing well, fantasy owners should have no problem inserting him in their lineups.
Jerryd Bayless continues his resurgence
With apologies to Conley, who tallied 26 points along with eight assists and five rebounds, Bayless earns the superlatives here because he had a career night and the Timberwolves won the game (99-97) in overtime. He scored four of the Wolves' six overtime points with both of his field goals coming on layups.
Bayless finished the night with 19 points, seven rebounds, and a career-high 12 assists along with two steals in a season-best 43 minutes. He was 8-for-19 from the field, 1-for-6 from beyond the arc, and 2-for-4 from the free throw line. The 30-year-old, who has started each of the last three games, picked up his first double-double since 2015-16 when he was with the Bucks. He also finished tied with the Grizzlies' Ivan Raab with a game-high plus-17 rating.
The 11h-year pro has now played in seven straight games as the Timberwolves are currently short on point guards with Jeff Teague (foot), Derrick Rose (ankle) and Tyus Jones out with injuries. Which means Bayless, Josh Okogie, Jared Terrell, and Andrew Wiggins has had to be the main ball-handlers.
Bayless has played well the past five games scoring in double-figures and dishing out five or more assists in each of the last five contests. He is averaging 15.8 points, 7.6 assists, 4.8 rebounds, three triples and 1.2 steals over this stretch. The Arizona product also has registered a plus-22 rating during this period.
While his role will diminish once one of the Wolves three other point guards return to health, Bayless is a good short term option until then.
Monte Morris fills in nicely for the injured Jamal Murray
Again with apologies to the Celtics' Terry Rozier, who once again put up solid numbers in place of the injured Kyrie Irving, Morris gets the nod as the night's third star. The 23-year-old totaled 20 points, seven rebounds, and seven assists along with two steals in the Nuggets 105-99 victory over the Pelicans. He had a big third quarter tallying nine points, three rebounds, two assists, and a steal while making all three of his field goal attempts, which included two three-pointers, as the Nuggets outscored the Pelicans 33-19 in the frame.
Morris has played well as Murray's backup all season long, but he finally got his second start of the season. The 20 points tied his second highest total on the season and marked the fourth time that he reached the 20-point mark. Meanwhile, the seven rebounds were a season-high and the seven assists tied his second most this season. Morris has now scored in double-digits in five of his last six appearances as he has made 34 of 53 shots (64.1 percent), including 12 of 20 attempts (60 percent) from beyond the arc, during this stretch.
Morris is a streaming option as long as he is in the starting lineup and the former Iowa State star may be against the Rockets as Murray continues to struggle to recover from a nagging ankle injury.
More Fantasy Basketball Analysis