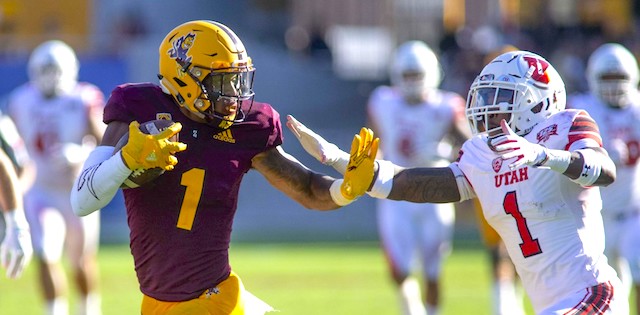 The 2019 NFL Draft saw 28 wide receivers find homes with NFL teams. A handful others were added as undrafted free agents. The influx of new talent into the league every year always has an effect on the players already there.
It goes without saying that most of the rookie WRs will have no impact whatsoever in their first seasons, many of which will never matter at all. 2018 fantasy drafts saw about 5-7 rookie WRs taken in redraft leagues and none in spots where fantasy owners were expecting any sort of immediate contribution beyond rotational bench player.
While the 2019 WR class is one of the deepest of all time in terms of quantity, it is severely lacking in top-end talent. That doesn't mean there isn't value to be had in this rookie class, though.
Editor's Note: Get any rest-of-season NFL Premium Pass for 50% off. Our exclusive DFS Tools, Lineup Optimizer and Premium DFS Research through the Super Bowl.
Sign Up Now!
The Best
*These rookie wide receivers have the best shot at immediate relevance and could be worth owning in re-draft leagues.
Rob Gronkowski retired. Chris Hogan is gone. Julian Edelman is 33 years old. The Patriots are a well-oiled machine and have been for years, but currently lack playmakers. N'Keal Harry comes with first-round draft capital and should step into an outside role immediately. Tom Brady is far from the prolific fantasy producer he once was and the Patriots are designed to do what's necessary to reach the postseason and go from there, but I would be surprised if Harry wasn't a useful fantasy asset as as rookie.
It all comes down to price. If you're drafting Harry to be an every-week WR2, you're going to be disappointed. There is no reason he can't be a WR3, though. At 6'2 with an 81st percentile catch radius, Harry has legitimate double-digit touchdown upside and could replace Gronk as Tom Brady's primary red zone target. If you can get Harry for the right price, he is the type of player that can win you a handful of weeks with multi-touchdown games.
This one is a little trickier. Parris Campbell landed in a great spot by going to the Colts in the second round. I love his long term outlook with T.Y. Hilton turning 30 this year. However, we cannot ignore that the Colts signed Devin Funchess and gave Chester Rogers a second-round tender. Campbell may very well open the season as the fourth WR on the depth chart. His ascendance to fantasy relevance may look more similar to that of JuJu Smith-Schuster in 2017 where Campbell is largely irrelevant for the beginning of the season until an injury or some other event propels him into action.
Although he wasn't used as a downfield threat in college, Campbell profiles as one given his elite burst and blazing speed. He is a great fit with Andrew Luck and definitely worth a late-round redraft selection. Fantasy owners just need to be aware that taking Campbell may require some patience. He could fit better as a late pick in best-ball drafts.
As we get further down the list, the likelihood of immediate fantasy impact decreases. Deebo Samuel is basically a better version of Dante Pettis. The pick, truthfully, made no sense. He is a redundant asset, or, rather, he makes Pettis a redundant asset. Given how highly the 49ers drafted Samuel, it is likely they push him into the starting lineup immediately. Pierre Garcon is gone and Marquise Goodwin can't stay healthy. Samuel and Pettis may be the second and third options in this passing game behind George Kittle.
The 49ers look to be building a quick-hitter west coast offense. Samuel fits in nicely, but I don't see much of a ceiling here. If he is anything more than a WR3 as a rookie, that would be a huge win.
The Next
*The next few players have a chance to make an impact as a rookie, but carry enough uncertainty that they aren't must-drafts in redraft leagues.
It is safe to say that Tyreek Hill will not be playing in the NFL in 2019. I wouldn't be surprised if he didn't play football ever again. The Chiefs had this bombshell dropped on them right before the draft and clearly sought to replace Hill. Unfortunately, Mecole Hardman is not Tyreek Hill. Hill may be a complete trash can of a human being, but there's no denying he is an elite wide receiver. Hardman is not going to replace him. That doesn't mean the Chiefs will not try, though. With Sammy Watkins overrated and never healthy, there are targets available on a shallow WR depth chart. Hardman could find himself in a very advantageous position playing 90% of the snaps receiving passes from Patrick Mahomes.
With elite straight line speed, Hardman will certainly have his moments. Unfortunately, the odds of a wide receiver that never eclipsed the 40 receptions mark in a single college season having any success at the NFL level are extremely low. Hardman played 29 games over his sophomore and junior seasons and managed a grand total of 60 receptions. How the Chiefs took him over Parris Cambell and Andy Isabella or even D.K. Metcalf is completely befuddling. Hardman may very well be gifted with immense opportunity and his draft day price will probably be cheap, making him at least a name to monitor.
Andy Isabella, Arizona Cardinals
The pre-draft evaluations of Andy Isabella were all over the place. I saw him ranked anywhere from the top five to outside the top 20. With second-round draft capital, it is clear that Kliff Kingsburg believes in Isabella. The problem is that Christian Kirk is very good at football and Larry Fitzgerald is around for one more year (I do think 2019 will be his final season). The Cardinals also spend a fourth-round pick on Hakeem Butler, for whatever that is worth.
The revamped Cardinals air raid offense led by Kyler Murray is going to be filled with fantasy goodness. Predicting where that goodness comes from is tricky. It may very well be a week-to-week thing between Kirk, Fitz, and Isabella. Once Fitz is gone, I like the looks of this offense with Butler stretching the field on the outside and Isabella and Kirk rotating in and out of the slot. In 2019, though, Isabella's target share is very much in question. He does have a plausible path to targets via an injury in front of him or if Fitz is finally done and gets phased out of the offense.
D.K. Metcalf, Seattle Seahawks
This one is entirely predicted upon Doug Baldwin retiring. If Baldwin is able to return, he and Tyler Lockett will resume their roles, relegating Metcalf to a WR3 role in a low volume passing offense. Even if Russell Wilson spikes to over 500 pass attempts, Metcalf has the same problem as Hardman with the lack of college production (no 40 reception season), dreadful agility, and limited route tree. He's a much better real life field stretcher than fantasy asset. However, if Baldwin retires, Metcalf will have no choice but to take on a bigger role, which could lead to some WR2 weeks (mixed with a whole bunch of WR5 weeks). He's nothing more than a name to monitor.
The Rest
*The remaining guys are players with day two draft capital that have either talent issues or landing spot issues.
Marquise "Hollywood" Brown, Baltimore Ravens
The Ravens drafted Marquise Brown because he can run really fast...at least we think. Hollywood didn't participate in the combine or his pro day due to a lisfranc injury. It is entirely possible he doesn't even play as a rookie. Combine that with Lamar Jackson's inability to make NFL throws and the Ravens low volume passing offense and Brown is highly unlikely to be a fantasy asset in year one (or as long as Jackson is the starter).
This was worst case scenario for A.J. Brown in terms of landing spot. The Titans already have Corey Davis and his top 10 selection draft capital. They signed Adam Humphries to a big contract. Marcus Mariota has been largely a bust. And the team thinks it's 1970 and wants to funnel their offense through Derrick Henry. Brown is a solid prospect, but was always going to be highly dependent on where he was selected. He is unlikely to matter in year one.
A lot of people like JJ Arcega-Whiteside. I don't have an issue with the landing spot. Alshon Jeffery is on the wrong side of 30 and Nelson Agholor is terrible/may be traded or cut. There's a plausible path to targets for JJAW. I just don't think he's very good. Arcega-Whiteside played four years at Stanford and was productive in his final two. He tested incredibly poorly at his pro day. He displayed excellent speed, but has a small catch radius and bottom percentile burst and agility. The path to targets isn't terribly muddy, I just don't trust JJAW to do much with them in the event he gets them.
It's early May and much will change between now and fantasy draft season, but if I had to predict the likely utility of the major rookie WRs, here it is.
WR3: Harry, Campbell, Samuel
WR4: Isabella, Metcalf, Hardman
Someone in this class will probably be a WR2 and someone not listed here will probably break out, but I am not expecting anything near a 2014-like impact from what is considered the best overall WR class since 2014.
More NFL Draft Analysis