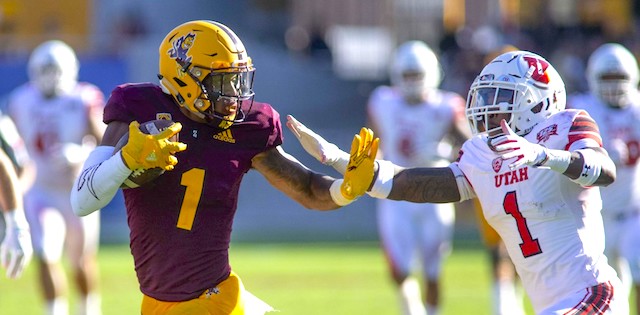 Referring to the NFL Draft as "highly anticipated" does not fully describe the monumental level of hype and excitement that is infused into this annual event. The fascination that surrounded this year's draft has now evolved into an unmistakable combination of excessive optimism and unbridled distress for the fan bases of all 32 franchises, while also causing a transformation in perceptions for the ever-attentive fantasy community.
That includes the potential owners who are now reevaluating various rookies, after some first-year players were drafted into environments that will present them with genuine opportunities to thrive, while other newcomers will be confronted with a collection of hurdles that could impede their production.
At RotoBaller, we will assist you with this process by providing our recommendations on which first-year receivers have landed in the most favorable situations from a fantasy standpoint. That includes this breakdown of rookie wide receivers, which will be based upon a blend of their strengths, the structure and philosophical preferences of their new offense, the level of competition for targets, and the attributes and shortcomings of their new quarterbacks.
Featured Promo: Get any full-season NFL Premium Pass for 50% off and win big in 2023. Exclusive access to our Premium articles, 15 lineup tools, new Team Sync platform, Lineup Optimizer, Premium DFS tools and cheat sheets, and much more!
Sign Up Now!
N'Keal Harry, New England Patriots
It appeared that we would complete the first round without witnessing any wide receivers being placed in a position to quickly achieve relevance. However, as the first night was on the threshold of its conclusion, New England secured Harry, who many observers (including myself) considered the best overall talent in this class of receivers.
The 6'2", 230-pound Harry accumulated nearly 2,899 yards and 22 touchdowns with his 213 receptions at Arizona State, including his output during 2018 (73 receptions/1,088 yards/9 touchdowns/14.9 yards-per-reception). You won't need to peruse an extensive amount of tape before you notice his proficiency in capturing contested throws. This ability to track passes that are launched near his vicinity should combine with his physical nature and self-confidence to help Harry procure an integral role with the Patriots.
Beyond Julian Edelman, Harry will be competing for snaps with a decidedly undistinguished consortium of receivers including Phillip Dorsett, Demaryius Thomas, Maurice Harris, and Bruce Ellington. Concerns about Harry's speed and his ability to gain separation have been a source of debate within the fantasy community. However, he should create enough space for Tom Brady to remain comfortable launching a respectable number of passes in his direction, and Harry has the strength, size, hands, and focus to prevail over opposing defenders when he does.
His strengths easily compensate for any imperfections, and Harry's landing spot could not possibly be more enticing. The Patriots should capitalize on his versatility by deploying him in multiple formations, which can boost the scoring potential of his owners during his first season. He is also an eventual candidate for WR1 consideration in future seasons, which further entrenches him atop the list of receivers who will be functioning in the most favorable situations.
Athleticism is not a concern regarding the 6'0" 200-pound Campbell, nor is his size or speed. His blend of desirable attributes was instrumental in his ability to compile career totals of 143 receptions, 1,768 yards and 15 touchdowns at Ohio State, while he also established school records in receptions (90), yardage (1,063) and touchdowns (12) during 2018.
Now, Campbell will be running routes in one of the most appealing environments for this class of first-year receivers, as he can emerge as a productive member of an Indianapolis passing attack that ranked sixth in 2018, while also finishing ninth in pass play percentage (61.6%).
Campbell will be joining Hilton, Devin Funchess, Deon Cain, Chester Rogers, tight ends Eric Ebron and Jack Doyle, and Nyheim Hines, who finished seventh among all backs with 63 receptions last season. However, Campbell will benefit from operating under head coach and offensive architect Frank Reich, along with his coordinator Nick Sirianni, who will design schemes that enable him to achieve high-quality production.
Reich's ability to concoct weekly game-specific strategies that keep opposing defenses scrambling will only add to the arduous task of contending with the Colt attack, although it will also cause a level of inconsistency in Campbell's weekly usage and output. Still, he is now a component within a potent offense that has the acumen to utilize his strengths. That will be beneficial to owners this season and as his career progresses. All of which vaults him into consideration during the middle of Round 1 in your drafts.
DeKaylin Zecharius Metcalf became the eighth wide receiver to be selected when Seattle opted to secure him at the conclusion of Round 2. This ended a protracted delay for the 6'3", 230-pound Metcalf, whose 4.33-40 and bench-pressing prowess (225 pounds/27 times) became frequent topics during and after the NFL combine.
But that did not translate into a first-round selection, and he was not remotely close to being the first receiver to be chosen. That had been the prediction by some observers amid the polarizing discussion surrounding Metcalf before the draft process began. His migration to Seattle certainly does not place him in a pass-happy offense, as the Seahawks' penchant for maintaining a relentless commitment to their ground game has been well-chronicled. But even though their pass play percentage was the NFL's lowest in 2018 (47.56%), Metcalf has surfaced in a promising situation.
He has been supplied with a chance to confiscate a significant snap count due to the Seahawks' shortage of wide receivers, and their dearth of weaponry has become more problematic with the increasing uncertainty surrounding Doug Baldwin's availability. That presents Metcalf with an opportunity to operate as the Seahawks' WR2 behind Tyler Lockett.
That role would supply the potential for Metcalf to become a viable fantasy option in his first season, even though the Seahawks will not consistently attack opponents with a sustained aerial assault. Because his capability of exploding for huge gains is enhanced considerably by having Russell Wilson as the signal caller who is launching passes in his direction. Few quarterbacks can replicate Wilson's adeptness in executing deep throws, and Metcalf's unquestioned straight-line speed should turn them into big plays.
Tyshun "Deebo" Samuel's production as a collegian does not replicate the output that other rookie receivers were able to assemble during their collegiate careers. However, that was partially a byproduct of the injuries that limited him to five in games in 2015 (hamstring) and just three games in 2017 (leg). The best numbers of his four seasons with South Carolina were generated in 2018 when he registered 11 of his 16 career touchdowns, collected 62 receptions, and produced 662 yards.
The 6'0", 210-pound Samuel also returned 42 kicks during his four years as a Gamecock and is a confident competitor who possesses no fear when he is battling for congested throws or being confronted by would-be tacklers. His selection satisfied a definite need for San Francisco to inject additional firepower into the wide receiver position, and he has now been presented with a tremendous opportunity to seize WR2 responsibilities in Kyle Shanahan's offense.
He should join Dante Pettis as the primary weapons at his position, which only garnered 50.4% of the 49ers' team target share in 2018. Health issues were a factor, as Marquise Goodwin (quad/calf/personal) and Pierre Garcon (shoulder/knee) combined to miss 13 games, while a late-season MCL injury also sidelined Pettis just as he was emerging as a viable and consistent weapon (Weeks 12-15 - 26 targets/17 receptions/338 yards/4 touchdowns).
As a result, Kendrick Bourne actually led San Francisco's wide receivers in targets (66), receptions (42), and yardage (487). However, the collection of health problems helped propel George Kittle's statistical explosion, which vaulted him to an inclusion among the league's top tier of tight ends (136 targets/88 receptions/1,377 yards).
It is reasonable to expect opposing defensive units to focus additional attention on Kittle after his breakout, although the majority of targets among wide receivers should be designated for Pettis. Still, Samuel should elevate beyond Goodwin on the depth chart and will be allotted enough opportunities to be worthy of selection late in Round 1 of rookie drafts.
It might be beneficial to provide a reminder that the intent of this article is to list the wide receivers who are in the most enticing situations, and that if you searching for updated rankings then you can locate them here.
With that objective now revisited, there is every justification for including Hardman on this particular list. Not only is he joining a Kansas City offense that generated 5,097 yards through the air in 2018, but Hardman can seamlessly attain a sizeable role within a prolific attack that suddenly is in need of an additional target at the wide receiver position.
During Patrick Mahomes' MVP season, 181 of his 383 completions were collected by four different wide receivers - Sammy Watkins (40), Chris Conley (32), Demarcus Robinson (22), and Tyreek Hill (87). Hill commandeered a 24.3% team target share, and the 137 targets that he confiscated were 82 more than any other Kansas City wide receiver (Watkins).
It has become increasingly likely that those opportunities are now destined for redistribution. Not only is Hill's future with the Chiefs currently tenuous, but Watkins has been sidelined for a total of 18 games since 2015, and his history of injuries is well-documented. Conley will also be running routes for Jacksonville, which leaves a massive pathway for the lightning-fast Hardman to procure targets and explode for sizable gains.
He does not possess the extensive experience as a receiver that other members of his class already acquired, as he manufactured 59 receptions for 950 yards during his two seasons as a wide receiver, although he did average 16.6 yards-per-reception. He also does not share Hill's propensity for tracking balls that are lofted in his vicinity. Still, he appears primed to receive a significant opportunity and has the burst to accumulate yardage while gaining experience in his new role.
It really didn't appear to be logical for the Cardinals to draft Kyler Murray, have him spearhead Kliff Kingsbury's customized derivative of the Air Raid offense, then fail to fortify their receiving weaponry beyond soon to be 36-year-old Larry Fitzgerald and promising second-year receiver Christian Kirk. This explains why Arizona obtained the 62nd overall pick in exchange for 2018 starting signal caller Josh Rosen, then promptly implemented it to attain the speedy and reliable Isabella.
He joins the Cardinals after accumulating 231 receptions, generating 3,526 yards, and producing 30 touchdowns during his four seasons at Massachusetts. In 2018 he stockpiled 102 receptions and 1,698 yards, averaged 16,65 yards-per-reception, and assembled 11 receptions of 40+ yards. Isabella proceeded to register a blistering 4.31 40 at the NFL Combine, and his second-round selection supplies him with an opportunity to remain highly productive with the Cardinals.
The installation of Kingsbury's offensive approach, coupled with the addition of Murray as the team's signal caller, easily makes Isabella the beneficiary of an encouraging scenario - even though his new team has also invested in Hakeem Butler. But both newcomers can co-exist in Kingbury's aerial attack, and Isabella should not encounter any difficulty with maintaining an integral role in the Cardinals evolving offensive approach. It is unlikely that he will become an embedded component to the same degree that he would have if Butler had been selected by a different franchise. But his ability to operate both outside and in the slot should allow him to remain among the most consistent point producers in this year's rookie class.
Hakeem Butler, Arizona Cardinals
Several of the more prominent rookie receivers were required to endure prolonged waits until their destinations were revealed. While Metcalf's eventual selection should result in an enticing opportunity with the Seahawks, his collegiate teammate A.J. Brown will not experience the degree of success with Marcus Mariota under center.
Butler's delay extended until Day 3, which surpassed all other receivers who appeared capable of selection in Round 1. But he ultimately landed with a franchise that is undergoing a much-needed transformation. The revitalized offense that should result provides an opportunity for Butler to utilize his exclusive blend of speed, strength, and a 6'5" frame to create matchup nightmares for overmatched defenders in four-receiver sets.
He is certainly not a finished product but he did accrue 1,318 yards and 22.0 yards-per-reception in 2018 and remains a formidable downfield runner. Even though Murray will also have Fitzgerald, Kirk, and Isabella available in his new arsenal of receiving weaponry, Butler and Isabella are very different receivers, and the tandem will be performing two distinct roles for the Cardinals.
Butler will not only function as an ongoing homerun threat who will overwhelm an increasing number of corners; he will supply Murray with a mammoth target in the red zone. Kingsbury is well-acquainted with Butler's capabilities, after witnessing them first-hand during his tenure at Texas Tech. That should cement the likelihood of Butler's distinctive strengths being utilized effectively.
More NFL Draft Coverage