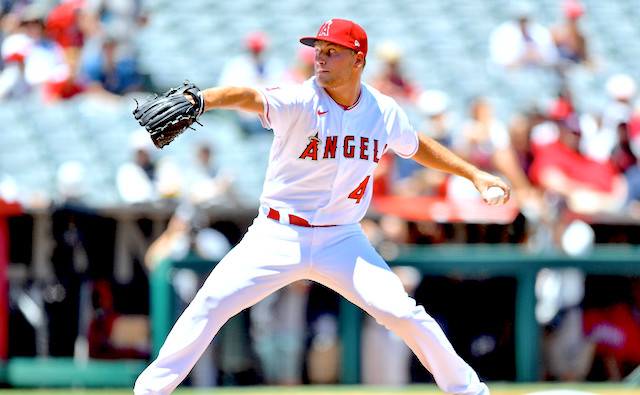 Welcome to Week 22 and our fantasy baseball waiver wire pitchers. We'll be doing this roundup of points leagues every week here at RotoBaller, with waiver wire targets and streaming pitchers being evaluated in terms of the different scoring systems of ESPN, Yahoo!, CBS, and Fantrax.
Player values can vary wildly from platform to platform, so we'll make sure to highlight where players are the best and worst fits. We know points league players get neglected and we're here to help with all of the best streams for the week.
These fantasy baseball waiver wire pickups are for the week of September 12 – September 18, looking at players below ~50% rostered for ESPN, Yahoo!, or Fantrax. Rankings are calculated using games through Saturday, September 10.
Editor's Note: Our incredible team of writers received 13 award nominations by the Fantasy Sports Writers Association including Baseball Writer of the Year, Football Writers of the Year, Golf Writer of the Year and many more! Be sure to follow their analysis, rankings and advice all year long, and win big with RotoBaller!
Read More!
Know Your Scoring System
You know what I'm going to say, right?  You must account for, as precisely as possible, how a player performs under your particular scoring system. Don't be fooled into believing you can just make rough adjustments in your head, bumping up guys with high on-base percentages and low strikeout rates. Every point, in every category, counts.
For example, ESPN and Fantrax are virtually identical in their scoring for hitters and roster size. The only difference is that stolen bases are worth one more point on Fantrax and ESPN subtracts one point per strikeout. That's the difference between Trea Turner being a top-five hitter versus a top-25 hitter.
If your league uses standard settings, then great! Turn to page 94 and you can skip ahead to the leaderboards. If you play with custom settings, it'll still be fine. Go back to page 43 and look below at the scoring systems of the four major platforms. I bet there's a chance that you'll find that your league's scoring is very similar to one of the four (well, not Yahoo!'s), even if it's not the platform you actually play on.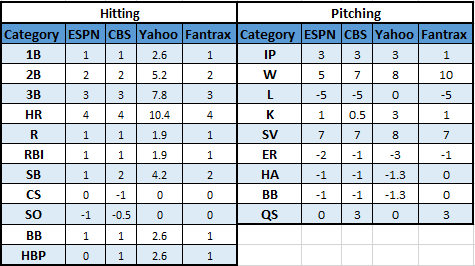 You'll likely find a suitable mirror to your own system if you look above. While every point counts, as long as they aren't seismic changes, you can get away with some "close enough" calls, i.e. If everything is the same except for HBP (or something similar), you're probably fine.
Week 23: Waiver Wire Leaderboards
I'll be honest; it's (still) super tough on these streaming streets in Week 23, as a lot of waiver-wire favorites are facing some matchups most won't want to mess with. So if you don't see someone you're used to seeing covered, the matchup is the likely culprit. To give you an idea of what we're facing, here are some bonus charts that show how everyone's opponents rank against their handedness in wOBA, xwOBA, and K%. Enjoy!
All charts are updated before Sunday's games, on stats and ownerships, and clicking on a chart will open a new page with a magnified version. Players on overall leaderboards are ordered according to their current Roster% on Yahoo.
*APR = Average Platform Ranking - the average platform ranking between ESPN, CBS, Yahoo, and Fantrax (standard point settings)
Week 23 Opponent Matchup Rankings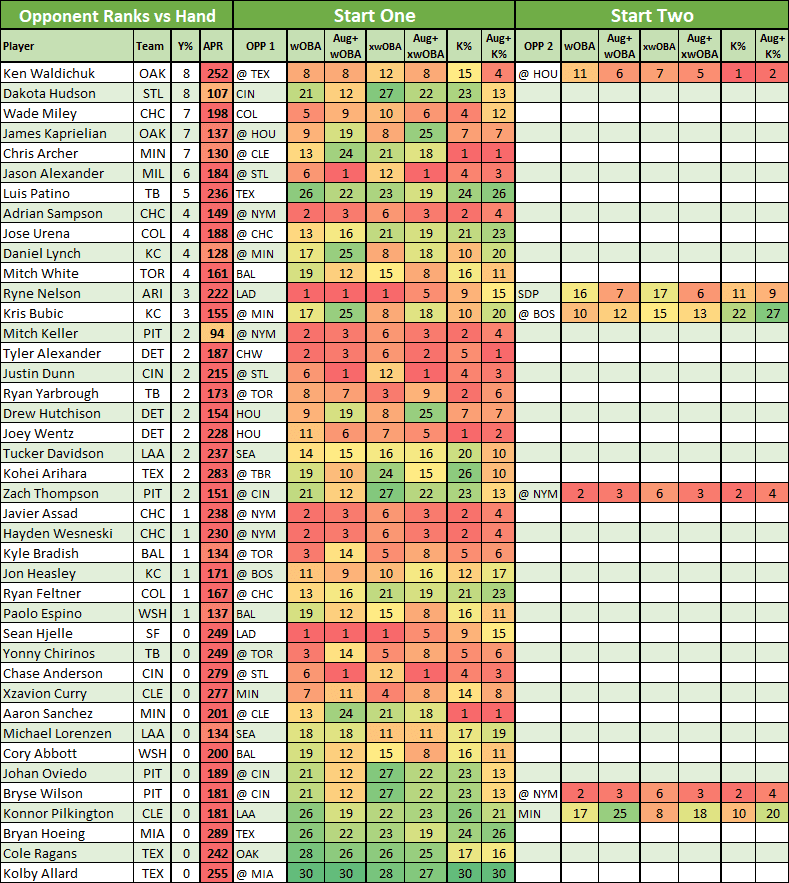 The 21-Day Leaderboard, Presented by Hansel
Overall Leaderboards
Starting Pitcher Waiver Wire - Best Choices
Nick Lodolo, CIN (vs PIT) - The rookie finally made me look smart, dominating the Brewers with 11 K in his last start. But you don't need many smarts to think that he can keep it going against a lowly Pirates offense that has been one of baseball's worst teams vs LHP, all season. The Pirates are 27th in wOBA, 30th  in xwOBA, and 29th in K% vs LHP in 2022.
Reid Detmers, LAA (@ CLE) - Detmers got roughed up a little in his last start against Houston (4.1 IP - 4 ER - 6 K) but gets a Cleveland offense that is of much lesser caliber. The Guardians are 29th in wOBA and 28th in xwOBA but more importantly, are only 25th in BB% vs LHP, so hopefully, Detmers can keep his walk issues in check.
Jose Suarez, LAA (@ CLE) - Jose Suarez SZN continues, with the Angels left-hander striking out seven Tigers over seven shutout innings in a win over Detroit. He'll get another softy in Week 23, as the Guardians are a significantly worse offense vs LHP, ranking 29th in wOBA and 28th in xwOBA against them.
Roansy Contreras, PIT (@ CIN) - Contreras has faced St. Louis, Toronto, Philadelphia, and Atlanta in his past four starts - over 23.1 IP, he's posted a 1.54 ERA. The stuff plays, regardless of the opponent.
Jose Quintana, STL (vs CIN) - The Cardinals' devil magic continues to flow strongly through Quintana, who hasn't allowed more than two earned runs in any of his seven starts with his new club (3.15 ERA/3.10 FIP). He'll get another chance to shine against a Reds offense that is 22nd in xwOBA and 26th in K% vs LHP since August 1.
Hunter Brown, HOU (@ DET) - Brown has a live arm and showed it off in his major league debut, averaging 96 mph on his fastball and striking out five over six shutout innings against the Rangers. The rookie will now take on a Detroit offense that is 30th in wOBA/xwOBA vs RHP, and 27th in K%.
Dane Dunning, TEX (vs OAK) - Dunning hasn't looked great in his last four starts (6.41 ERA/5.66 FIP) but also had to take on Toronto, Boston, Houston, and the Rockies at Coors. That's tough. The Athletics, however, are not, ranking near the bottom in most relevant offensive categories vs RHP.
Starting Pitcher Waiver Wire - Next Choices
Dean Kremer, BAL (@ WSH) - Kremer has now allowed two or fewer runs in his past five starts (2.30 ERA), with three of the starts coming against the top offenses of Toronto and Houston. His opponent in Week 23, is not a top offense, with the now Soto-less Nationals ranking 15th in wOBA vs RHP in 2022.
Nick Pivetta, BOS (vs NYY, vs KC) - Pitvetta looked sharp in his last outing, allowing 1 ER over 5 IP in a loss to the Rays. A matchup with the Royals is always nice but the Yankees have also been a much different offense in the second half, ranking just 28th in wOBA vs RHP since the start of August.
Cody Morris, CLE (vs LAA, vs MIN) - All of the degenerates (*cough* me) that picked Morris in the last rounds of deep draft-and-holds are finally getting a little action from someone who has run a 48.8% K% over 21.1 IP in the minors this season, and who had a 38.8% K% over 61 IP in 2021. The Angels, incidentally, have ranked 28th in K% vs RHP since the start of August. K-Town, let's go.
David Peterson, NYM (vs CHC) - Peterson has struck out at least six batters in each of his past four starts and takes on a Cubs offense that is 22nd in K% vs LHP in 2022, and 28th in wOBA/xwOBA since the start of August.
Glenn Otto, TEX (@ MIA, @ TB) - The Rays are a mid-level team vs RHP but the Marlins are decidedly not - Miami is 30th in wOBA and 24th in xwOBA since the start of August.
Marco Gonzales, SEA (@ LAA) - With few strikeouts likely, the ceiling might be low but the floor for facing an anemic offense like the Angels will always be high.
Bailey Falter, PHI (@ MIA, @ ATL) - Well, one of these starts is playable (psst...it's MIA). Atlanta, though, is 2nd in wOBA and 3rd in xwOBA vs LHP since the start of August, with the 5th-lowest K%.
Drew Smyly, CHC (vs COL) - After getting knocked around by the Cardinals, Smyly bounced back to dominate the Giants over seven innings (0 ER, 8 K). But in Week 23, he'll be facing a Colorado offense that has put up top-five numbers against LHP - but is also predictably much worse on the road.
Brayan Bello, BOS (vs NYY) - Bello has been up and down but has gotten plenty of whiffs lately, striking out a total of 21 over his past four starts. The Yankees are 8th in wOBA vs RHP for the season but are only 28th since the start of August.
Luis Cessa, CIN (vs PIT, @ STL) - Surely, you're not using Cessa against the Cardinals but a shot against the Pirates is usually viable. Pittsburgh is 28th in wOBA and xwOBA vs RHP in 2022
Starting Pitcher Waiver Wire - Desperate Choices
Patrick Corbin, WSH (vs MIA) - Corbin is apparently still capable of turning in a decent start and takes on a Marlins offense that he last locked up on July 4, allowing 1 ER over 7 IP, with 4 K. But also, it's Patrick Corbin, so you'll deserve what you get.
Josiah Gray, WSH (vs MIA) - Gray has really struggled in the second half but will have a chance to bounce back against a Miami offense that virtually struggles against everyone. In four starts and 22.1 IP vs MIA this season, Gray has 29 K.
Rich Hill, BOS (vs KC) - Since striking out 11 Rays over seven innings, Hill has only struck out five batters in his last two starts (8 IP). While starts against the Royals are usually playable, be aware that Kansas City's numbers vs LHP are much better, and they've been 11th in wOBA/xwOBA against them since the start of August.
Adrian Houser, MIL (vs NYY) - Houser has looked great in his last three appearances (two starts), posting a 1.38 ERA over 13 IP, though, with on four strikeouts. The Yankees are a scary offense but are only 28th in wOBA and 24th in xwOBA vs RHP since August 1.
Bailey Ober, MIN (@ CLE) - Ober is expected to make his return from the IL (assuming things go well in a Sunday rehab start) but it's tough to ask for much from someone who had trouble going deep into games even when he was a part of the regular rotation.
Mike Minor, CIN (vs PIT, @ STL) - Mike Minor is still Mike Minor but he's been serviceable, depending on the matchup. You should be avoiding the Cardinals but a tilt against the Pirates is almost always playable. Counterpoint: Mike Minor.
Matt Manning, DET (vs CHW) - Manning has gotten right in back-to-back starts against the Royals, allowing a total of 4 ER over 10.1, with seven strikeouts. But the White Sox have been an above-average offense vs RHP.
Dylan Bundy, MIN (vs KC) - For those that like to live dangerously, and for low ceilings, you can always roll with my sweet Dylan, who faces a Royals offense that is 26th in wOBA vs RHP in 2022.
Relief Pitchers Waiver Wire
Unless you're in a very deep league and/or have a lot of dedicated RP-only slots, most of the relievers you're going to want are the ones who are closers, have a chance to close, or are elite setup guys. I do mean elite because most scoring structures are weighted in a way that relievers almost necessarily have to get saves to be valuable. Although, long relievers whose usage you can reliably predict, can be useful in leagues with daily moves. But for a majority of leagues, sticking to closers is the way to go.
With that in mind, here are the best relievers on the wire for Week 23, ordered by Yahoo roster%:
Closers (and co-Closers) on the Wire
Chicago Cubs - Rowan Wick (1 appearance: 1 Blown Save)
Cincinnati Reds - Alexis Diaz (1 appearance: 1 Win), Hunter Strickland (1 appearance)
Los Angeles Angels - Jimmy Herget (3 appearances: 1 Blown Save, 1 Hold)
Miami Marlins - Tanner Scott (1 appearance: 1 Hold), Dylan Floro (2 appearances: 1 Save)
Oakland Athletics - A.J. Puk (1 appearance: 1 Blown Save)
Pittsburgh Pirates - Wil Crowe (2 appearances: 1 Loss)
San Diego Padres - Nick Martinez (3 appearances: 1 Win, 1 Hold)
Texas Rangers - Jonathan Hernandez (1 appearance: 1 Loss), Matt Moore (1 appearance: 1 Hold), Jose Leclerc (3 appearances: 1 Hold, 1 Loss)
Washington Nationals - Kyle Finnegan (2 appearances)
Committees on the Wire
Arizona Diamondbacks - Ian Kennedy (1 appearance: 1 Blown Save), Joe Mantiply (1 appearance)
Boston Red Sox - John Schreiber (1 appearance), Matt Barnes (1 appearance)
Philadelphia Phillies - Jose Alvarado (3 appearances: 3 Holds), Brad Hand (3 appearances: 3 Holds), Andrew Bellatti (3 appearances: 3 Holds)
Random Save Chances O' the Week
All of the players on the waiver wire who got a Save opportunity in Week 22 but aren't regular closers.
Reyes Moronta, ARI - Blew a Save on Friday
Dillon Tate, BAL - Save on Friday
Kaleb Ort, BOS - Blew a Save on Friday
Mark Leiter Jr., CHC - Blew a Save on Thursday
Aaron Bummer, CHW - Blew a Save on Wednesday
Ian Gibaut, CIN - Save on Thursday
Nick Sandlin, CLE - Blew a Save on Monday
James Karinchak, CLE - Save on Tuesday
Justin Lawrence, COL - Blew a Save on Monday
Andrew Chafin, DET - Blew a Save on Tuesday
Andrew Wantz, LAA - Blew a Save on Friday
Jaime Barria, LAA - Blew a Save on Wednesday
Jose Quijada, LAA - Blew a Save on Wednesday
Peter Strzelecki, MIL - Blew a Save on Tuesday
Trevor Megill, MIN - Blew a Save on Wednesday
Griffin Jax, MIN - Blew a Save on Wednesday
Michael Fulmer, MIN - Save on Thursday
Lucas Luetge, NYY - Save on Wednesday
Connor Brogdon, PHI - Blew a Save on Tuesday, Save on Wednesday
Nick Nelson, PHI - Save on Friday
Robert Stephenson, PIT - Blew a Save on Saturday
Shawn Armstrong, TB - Save on Friday
Tim Mayza, TOR - Blew a Save on Friday, Save on Saturday
Mason Thompson, WSH - Save on Monday
Download Our Free News & Alerts Mobile App
Like what you see? Download our updated fantasy baseball app for iPhone and Android with 24x7 player news, injury alerts, sleepers, prospects & more. All free!


More Fantasy Baseball Waiver Wire Advice