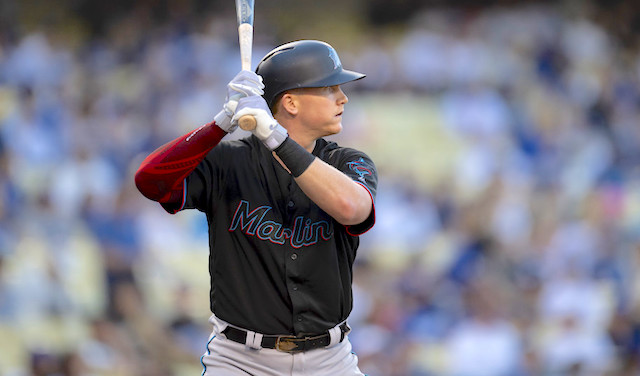 We'll be doing this roundup of points leagues every week here at RotoBaller, with waiver wire targets and streaming pitchers being evaluated in terms of the different scoring systems of ESPN, Yahoo!, CBS, and Fantrax.
Player values can vary wildly from platform to platform, so we'll make sure to highlight where players are the best and worst fits. We know points league players get neglected and we're here to help.
These fantasy baseball waiver wire pickups are for the week of June 27th - July 3, looking at players below ~50% rostered for ESPN, Yahoo!, or Fantrax. Position eligibility is taken from Fantrax and players are grouped by their most valuable fantasy position, using a hierarchy of: C > 2B > OF > 3B > 1B > SS. Stats and rankings for charts are calculated using games through Friday, June 24
Know Your Scoring System
You know what I'm going to say, right?  You must account for, as precisely as possible, how a player performs under your particular scoring system. Don't be fooled into believing you can just make rough adjustments in your head, bumping up guys with high on-base percentages and low strikeout rates. Every point, in every category, counts.
For example, ESPN and Fantrax are virtually identical in their scoring for hitters and roster size. The only difference is that stolen bases are worth one more point on Fantrax and ESPN subtracts one point per strikeout. That's the difference between Trea Turner being a top-five hitter versus a top-25 hitter.
If your league uses standard settings, then great! Turn to page 94 and you can skip ahead to the leaderboards. If you play with custom settings, it'll still be fine. Go back to page 43 and look below at the scoring systems of the four major platforms. I bet there's a chance that you'll find that your league's scoring is very similar to one of the four (well, not Yahoo!'s), even if it's not the platform you actually play on.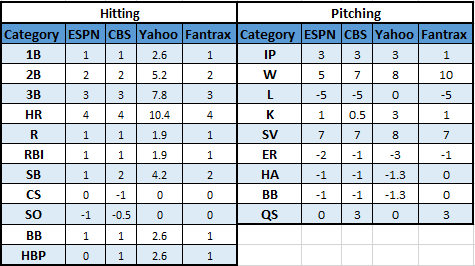 You'll likely find a suitable mirror to your own system if you look above. While every point counts, as long as they aren't seismic changes you can get away with some "close enough" calls. IE. You're probably fine if everything is the same except for HBP (or something similar).
Week 12: Waiver Wire Leaderboards
All charts are updated prior to Thursday's games, on stats and ownerships, and clicking on a chart will open a new page with a magnified version. Players on overall leaderboards are ordered according to their current Roster% on Yahoo.
*APR = Average Platform Ranking - the average platform ranking between ESPN, CBS, Yahoo, and Fantrax (standard point settings)
The 14-Day Leaderboard, Presented by Hansel
These players are so hot right now. Here are the players on the wire who are running inside the top-100 of APR over the past two weeks:
Overall Leaderboards
First Base Waiver Wire Pickups
Best Choices
Christian Walker, ARI - I mean, what else do you want me to say? Walker has a 39 APR for the season and a 33 APR over the past two weeks. He's hit three more home runs since we last talked and continues to murder the ball with high-end exit velocities. But hey, we're up to over 40% rostered on Yahoo and ESPN, so perhaps another handful of home runs will actually get him above 50%.
Next Choices
Rowdy Tellez, MIL - Tellez's production has continued to crater, running just a 179 APR over the past two weeks, with a .300 wOBA and .310 xwOBA. But premier plate discipline (20.8% K% for the season, 15.2% K% over two weeks) will keep him viable in points when (if?) the power returns. The bright side is that Tellez finally went deep again on June 22 after a 20-game drought but the dark side is that he'll need to fight his way back out of a platoon with Keston Hiura.
Nathaniel Lowe, TEX - With an 83 APR over the past two seasons, Lowe can continue to be a solid fill-in, if you need him. But that value is driven far more by PAs than it is by production, with Lowe producing per-PA scoring rates that are mundane, at best.
Desperate Choices
Brandon Belt, SF - Belt hasn't done much since returning from the IL but at least has a .387 OBP - although it comes with an unsightly 35.5% K%. But more concerningly, is how much time he's splitting with Darin Ruf at first base, as the Giants seem intent on limiting his playing time in order to actually keep him healthy, for once.
Jesus Aguilar, MIA - Aguilar is about as meh as it gets, posting a below-average strikeout rate but rarely walking - as in, he hasn't taken a walk since June 1.
Ji-Man Choi, TB - As we talked about last week, you have to ride that Choi train while you can because inevitably, it always slows down. Choi only has a 149 APR over the past two weeks (and for the season) but his double-digit walk rate bumps his value up and a .388 wOBA isn't anything to sneeze at. But not playing every day will continue to limit his value, even if you play in a league with daily moves.
Carlos Santana, KC - Santana continues to do Carlos Santana things, walking a lot, striking out a little, and not much else. And while a .435 wOBA (.432 xwOBA) over the past two weeks looks spicy, Santana would actually have to be playing every day in order to start cashing in the points.
On the IL
Second Base Waiver Wire Pickups
Goodness, second base has been doing its best imitation of shortstop these past few weeks, with nearly everyone available posting wOBAs and xwOBAs under .300. Hopefully, you picked up Brendan Donovan while he was still available - but even he's been a disaster lately, slashing just .160/.276/.160 over his past seven games.
Best Choices
Nico Hoerner, CHC - Hoerner has been an underrated asset in roto all season but his points value is also trending up, particularly excelling in leagues with a strikeout penalty, running an elite 9.4% K% for the season. He's been red-hot thus far in June, slashing .292/.342/.417 over 79 PA, with a .332 wOBA.
Luis Garcia, WSH - What he lacks in home runs, Garcia makes up for in point leagues by spraying the ball around and only striking out at a 20% clip. But that's not to say he's a slap hitter, as evidenced by a .465 SLG since getting called up on June 1, slashing .326/.337/.465 over 89 PA, with a .347 wOBA. His value in points is currently being held down by a refusal to take a walk and Washington's offense refusal to score runs but the 22-year-old's hit stick is for real.
Next Choices
Santiago Espinal, TOR - Espinal has hit the skids lately, running just a 228 APR over the past two weeks, slashing just .140/.189/.180, with a .170 wOBA and 0 (0!) wRC+. More concerning for his future production is that he's batting near the top of the lineup less often, with the times that he does bat second (as opposed to around 6th) seeming more random than regularly based off of the pitcher's handedness. But he is still playing every day with an excellent K% and is surrounded by a cast of stars.
Ha-Seong Kim, SD - Kim has gotten a lot more run at third base with Manny Machado remaining out after twisting his ankle last weekend and is currently on a seven-game hitting streak, over which he's slashed .320/.370/.400, with a .342 wOBA and 123 wRC+.
Desperate Choices
Isaac Paredes, TB - Paredes has gone on a home run binge lately, hitting three in one game vs the Yankees and following up with another on Wednesday night. But he still grabbed the pine on Friday (after an off day on Thursday) and still only has a 140 APR over the past two weeks. That, and a .414 wOBA over that time being backed by just a .240 xwOBA, doesn't yet inspire tons of confidence.
Cesar Hernandez, WSH - When things are dire, at least you can usually plug in Hernandez's unexciting blandness. He has a 107 APR for the year but a 142 APR over the past two weeks, over which he's run just a .294 wOBA - which, compared to most of the other available second baseman, is actually pretty good.
Jace Peterson, MIL - Peterson has excellent per-PA scoring rates but his platooness continues to limit his value. Milwaukee faces the Rays and Pirates this week, facing LHP in two of their six games.
Adam Frazier, SEA - When he's running well, Frazier is an excellent points asset but a lot of that is driven by the piles of PAs he picks up. But it doesn't matter how many times you come to the plate, a .149 wOBA over the past two weeks ain't going to cut it. And with the drop in production, so has come a drop in lineup spot, with Frazier batting leadoff for Seattle just twice in the June.
Josh Rojas, ARI - Rojas has 52 PA over the past two weeks. And with that, we end our coverage of positive things Rojas brings to the table in most point leagues because those PAs have come with a .192 wOBA and .204 xwOBA.
On the IL
Third Base Waiver Wire Pickups
Best Choices
Gio Urshela, MIN
Yandy Diaz, TB - Insert that Spiderman meme that my fellow kids love to use for Diaz and Urshela, both of whom you probably don't want to use but can be a band-aid in a pinch. Both play every day and have excellent plate discipline but bring little else to the points table. But forced to take one, I'd rather have Diaz, who continues to bat in the middle of Tampa's lineup and has a .377 xwOBA over the past two weeks that is 100-points above his paltry .270 wOBA over the same period.
Evan Longoria, SF - Longoria is playing almost every day and is slowly starting to heat up, currently on a modest five-game hitting streak, over which he's slashing .389/.476/.611, with a .469 wOBA and 207 wRC+. As long as he stays healthy (a big if!), Longoria has as much upside in points as anyone currently available.
Next Choices
Mike Moustakas, CIN - Moustakas is in a platoon with Donovan Solano but has at least been serviceable since returning from the IL, slashing .300/.333/.400 over 33 PA, with just a 12.1% K%. You could do worse, I guess?
Jake Burger, CHW - Burger is back to third base every day after Yoan Moncada went back to the IL. Unfortunately, Burger's power has also went back to the bench, failing to hit a home run since hitting three over four games a few weeks ago. Since going deep last on June 11, Burger is slashing just .200/.263/.314, with a .246 wOBA and 58 wRC+.
Desperate Choices
Spencer Torkelson, DET - Maybe it doesn't come all the way around in 2022 but I'm still a big believer in Tork's bat and as my guy Jordan Rosenblum notes, his hard contact is trending in the right direction:
On the IL
Shortstop Waiver Wire Pickups
Best Choices
Isiah Kiner-Falefa, NYY - Kiner-Falefa only has a 131 APR over the past two weeks but that number is partially held down by him missing a stretch with a balky hammy. His per-PA scoring rates actually aren't awful and getting even one of the lesser pieces from a juggernaut Yankees offense can offer you some value at a super-weak position.
Next Choices
Miguel Rojas, MIA - Rojas has come alive slightly, as of late, posting a 112 APR over the past two weeks, while slashing .350/.350/.475, with a .342 wOBA. As long as he's hitting even a little, his minuscule 11.3% K% and per-PA scoring rates will keep him viable in many leagues.
Ezequiel Duran, TEX - Duran has solid per-PA scoring rates but has started losing some playing time at third with the return of an injured Josh Smith. If he's not playing every day, his value will be limited.
Desperate Choices
C.J. Abrams, SD - Abrams was very popular in FAAB leagues last Sunday after Manny Machado twisted his ankle (including with me, as I had to pick him up as a defensive maneuver on my many Machado teams) but has yet to do anything with his second chance in the bigs, slashing .176/.222/.176 over his past five games.
On the IL
Catcher Waiver Wire Pickups
Best Choices
Jonah Heim, TEX - Heim only has a .300 wOBA over the past two weeks but is playing every day, while batting fifth. Sometimes that's enough at catcher.
Brian Serven/Elias Diaz, COL - They're splitting time but both Serven (.391 wOBA) and Diaz (.533 wOBA) have been productive the past two weeks and have a week worth of games in Colorado coming in Week 12. If you're streaming catchers in a daily league, this might the move for the week.
Next Choices
Jorge Alfaro, SD - Alfaro's 58 APR over the past two weeks is being driven by his unlikely power binge, hitting 3 HR over that time and 4 HR in the month of June. But while his recent hot streak has earned him some extra PAs at DH, Alfaro is still a part-timer and will be limited in his everyday viability.
Austin Nola, SD - Nola must be feeling Alfaro's heat, as he's also stepped his offense up, as of late, slashing .375/.432/.531 over his past 10 games, with a .415 wOBA and 172 wRC+ over 37 PA. But also like Alfaro, Nola is a part-timer that can't really be counted on for consistent production.
Christian Bethancourt, OAK - Looks like the Oakland backup is turning back into Christian Bethancourt, playing sporadically and only slashing .118/.167/.118 over his past five starts.
Gabriel Moreno, TOR - Moreno is an excellent hitter but right now the playing time just isn't there, having only started seven of Toronto's 13 games since being called up.
Desperate Choices
All catcher adds are desperate adds. Now and forever.
On the IL
Outfielder Waiver Wire Pickups
Best Choices
Randal Grichuk, COL - Grichuk has dropped back into waiver-wire land after only running a 151 APR over the past two weeks. But this is the week you'll want to grab him, with the Rockies staying at home all week with matchups against LHP in four of their six game - including one against home-run bingo machine, Dallas Keuchel, on Sunday. Trust me; if you're in a tight matchup on Sunday, your opponent should be shaking with fear if having to fade Keuchel's 85 mph "heater".
Edward Olivares, KC - Olivares is back (again) and has slid right back into right field in his two games coming off of the IL. It's a small sample but in his 41 PA this season, he's slashing .395/.439/.658, with a .470 wOBA and 214 wRC+. He should be a priority pickup.
AJ Pollock, CHW - Surely, we're entering the last call zone for Pollock, who continues to heat up, running a 46 APR over the past two weeks. But things are even better than they appear on paper, as his .338 wOBA over that period is backed by an elite .433 xwOBA. He's gone hitless in his last two games but prior to that had strung out a stretch of picking up at least one hit in 12 of 13 games, with multiple hits falling in eight of those.
Garrett Cooper, MIA - Cooper is currently on a nine-game hit streak (.297/.333/.405) and has collected at least one hit in every June game but two. In fact, he's only failed to get a hit in four of his past 25 games, slashing .378/.426/.551 over those 108 PA, with three home runs and 20 RBI.
Hunter Dozier, KC - Dozier is playing every day and has triple-eligibility (1B, 3B, OF), posting a 90 APR over the past two weeks, with a .368 wOBA and .395 xwOBA.
Alek Thomas, ARI - Thomas continues to impress in his rookie campaign but has also batted second in five of his past six games.
Yonathan Daza, COL - Daza has a 79 APR over the past two weeks but just as important is a recent move up the lineup, batting first or second for the past seven games. The recent bump is good timing for Week 12, as the Rockies will be at home all week.
Oscar Gonzalez, CLE - Gonzalez has started every game since getting called up in late May and is still batting 4th/5th even after the return of Franmil Reyes. And the power he always showed in the minors has finally started showing up in the big leagues, with the rookie collecting his first two home runs in the past week. He should be owned far more than ~10%.
Next Choices
Adam Duvall, ATL - After finally heating up on the home run tip, Duvall has gone back to being ice cold, going 2-for-20 since hitting his last round-tripper. But Atlanta goes on the road this week to two of the best hitting parks in MLB, with series in Philadelphia and Cincinnati.
Andrew McCutchen, MIL - McCutchen has been on a tear in his 20 games in June, slashing .319/.417/.444 over 20 games, with a .384 wOBA and 146 wRC+. But contributing in every category a little and with a tiny strikeout rate, he doesn't have to always go bonker in order to be worth a fifth-outfielder spot under most scoring formats.
Orlando Arcia, ATL - Arcia gets a chance to play every day with Ozzie Albies hitting the IL and has been successful so far, slashing .343/.385/.543, with a .396 wOBA and 154 wRC+. Maybe he starts faltering soon but the Arcia of 2020-2022 has a completely different swing than what he had prior and the power change is apparent. Given that, along with his playing time, Arcia should be added in most leagues, especially given the dual-eligibility at second base.
Trent Grisham, SD - Grisham has a 59 APR over the last two weeks but a .299 wOBA/.319 xwOBA says he's still not back the levels we've seen previous and is running per-PA scoring rates that are only average.
Desperate Choices
Ramon Laureano, OAK - Maybe, just maybe, Ramon Laureano without steroids isn't quite as good as with steroids? The bright side of his .293 wOBA over the past two weeks is an xwOBA that's over 100 points higher. But sporadic hitting on a bad offense doesn't tend to equal a great scoring profile.
Bligh Madris, PIT - The less heralded of the Pittsburgh call-ups, Madris hit the ground running for the Bucs, and has gone 5-for-17 over his first four games, with one home run and a .375 wOBA. But for points purposes, he might be really interesting, as he's shown excellent plate discipline at every stop in the minors and tore up Triple-A prior to his call-up, slashing .304/.385/.519, with a .397 wOBA and 141 wRC+ over 179 PA. While it's hard to immediately trust a call-up, Madris is worth keeping an eye on.
Juan Yepez, STL - With Tyler O'Neill back on the IL, Yepez has himself an everyday job back. In the five games since, he has a .294 AVG, with just a .267 wOBA and 73 wRC+ but as a part-timer the past two weeks, his .410 wOBA is much more impressive.
Josh Naylor, CLE - He only has one home run over the past two weeks but Naylor also has a 77 APR after slashing .308/.349/.538, with a .384 wOBA, with just a 20.9% K%.
Seth Brown, OAK - Brown has an 86 APR over the past two weeks but rarely starts vs LHP. So while Oakland does have seven games this week, don't expect to play in more than half, with the Athletics scheduled to face three lefties, with additional tough matchups against Luis Severino, Logan Gilbert, and George Kirby.
On the IL
Download Our Free News & Alerts Mobile App
Like what you see? Download our updated fantasy baseball app for iPhone and Android with 24x7 player news, injury alerts, sleepers, prospects & more. All free!


More Fantasy Baseball Waiver Wire Advice