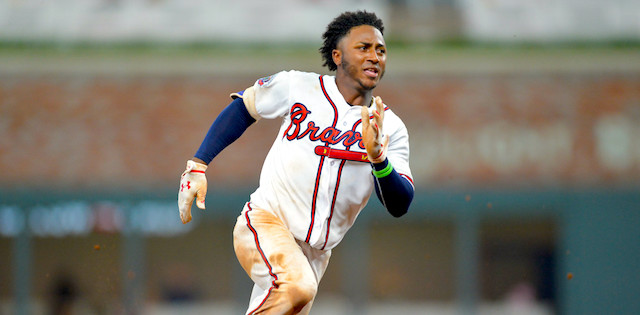 Second base has become a treasure chest full of talent in 2019. Seeing the position's deepest player pool in recent memory, each tier of hitters is overflowing with draft day targets. With a mixture of established veterans and a new crop of young talent that is beginning to flourish in the big leagues, the keystone position currently offers plenty of power and speed options.
Ozzie Albies of the Atlanta Braves is a player who offers both of these highly sought after tools. A heavily admired talent among baseball experts within MLB as well as the fantasy community, he's a superb young player who brings a dynamic energy to the diamond. Currently being selected as the fourth two-bagger off the board, is his ADP of 54 a good value?
With the newfound depth at the position, this selection might be a tad high for the 22-year-old. A comparable option who is going 34 picks later is Jonathan Villar. Although not nearly as sexy of a name to announce on draft day, the results that these two hitters will put up in 2019 could be remarkably similar. A close look at their respective skill sets will have you thinking twice on which player you'll want to target for your roster.
Editor's Note: Get any full-season MLB Premium Pass for 50% off, with exclusive access to our season-long articles, 15 in-season lineup tools and over 200 days of expert DFS research/tools.
Sign Up Now!
The Al-bies Knees
Albies' season as a whole was impressive for a 21-year-old in his first big league campaign. He smacked 24 home runs with 105 R, 72 RBI, and 14 stolen bases to go along with a .261 AVG. He profiled as more of a speed threat than a power threat as he made his way through the minor league ranks, so the results of his HR and SB totals were surprising.
What aided Albies' home run total was his profound ability to square up the baseball through the first three months of the year. He had a Barrel% of 5.9%, and a 33.2% Hard Hit% until the end of June that helped him get the ball out of the park. His 40.2% FB% and 14.8% HR/FB were both numbers he had never met in his entire professional career, which led to 17 HR in these months. Hitting only three more taters in July, he only hit four after July 11 as he didn't hit the ball with the same prowess that he had done earlier. Although the switch-hitter's FB% was nearly identical at 39.6%, his HR/FB cut almost in half to 7.5% from July to September. Albies could only maintain a 3.3% Barrel% and an underwhelming 24.6% Hard Hit% in this span, so the ball wasn't traveling off the bat hard enough to hit the bleachers.
It wasn't just his pop that suffered in the second half; it was his overall batting game. A .281 AVG pre-break was followed up by a dismal .226 AVG post-break. Albies was lighting it up on both sides of the plate early before faltering against right-handers in the second half. His batting average fell dramatically from .269 to .161 against these pitchers as a result of his BABIP also nosediving from .286 to .192. This drop was again due to the lack of hard hit balls that he was producing in the second half as well as his LD% dropping from 21.7% to 18.3%. Albies saw a heftier dose of off-speed and breaking pitches towards the end of the year as the league did a great job of keeping him off-balance. He will need to adapt to this new pitching approach in 2019 if he wants to return to his previous batting success of squaring up the baseball.
Since he wasn't finding the same batted-ball profits, the Braves moved him to the bottom half of the lineup for the majority of September. This new spot in the order held a significant impact on his counting stats with the lack of at-bats. Assuming that the demotion in the lineup would cause him to take more chances on the basepaths to create more run opportunities, this wasn't the case as he only stole two bags from the sixth spot in the Braves order.
Villar Radar
Villar doesn't offer as much upside as a player in comparison to Albies, but he is a compelling piece to any fantasy lineup. After an outstanding 2016, he fell back to Earth in 2017 and 2018 as he put up a modest 14 HR, 54 R, and 46 RBI to go along with a .260 AVG last year. Nothing too astonishing, but when you throw in the fact that he had 35 SB, he becomes a fantasy darling. With legitimate base path threats becoming more scarce in this day and age, Villar becomes very appealing. Despite his thrilling speed, he does offer more to the roto categories than we might initially anticipate going into 2019.
There is more to be desired with his career 8.9% BB% and 27.3% K%, but when Villar puts the ball in play, he tends to get on base. His .342 career BABIP has proven to be more than sustainable as he's maintained this level of production throughout all of his professional years. Using his speed to his advantage, he keeps the ball on the ground at a career 2.41 GB/FB. Also a switch-hitter, he's matchup proof with career LHH/RHH splits of .262/.254. While the 27-year-old is not a threat to win a batting title, his batting average has a safe floor with his approach and ability to be consistent on both sides of the dish.
Since being traded to the Baltimore Orioles at last year's trade deadline, Villar's ceiling as a home run hitter has expanded. Although his former confines of Miller Park were also hitter-friendly, Camden Yards is more balanced for all hitters and plays much better for right-handed batters. This move helps Villar as he's put up better power numbers on this side of the dish with a .414 SLG and .147 ISO compared to .374/.117 as a lefty. He also already saw an improved performance in his two-month sample size with his new club as he went yard eight times in 54 games. Villar is unlikely to change his GB/FB approach, but he's still managed to average 17 HR per 162 games over his last three seasons.
With the move to a less offensively talented team, he spent all of his games with the Orioles batting in the top three spots of the order. In Milwaukee, Villar spent the majority of his starts as the sixth or seventh batter, which limited his counting stats. The O's also gave him the green light more often as he stole 21 bags in 236 ABs compared to his 14 thefts in 279 ABs with the Brewers. With Baltimore searching for ways to score runs with a depreciated lineup in 2019, expect this trend to continue moving forward.
Where's The Value?
The primary factor we look at as a fantasy player is the return value. If you're taking Albies at his current ADP, he will have to meet or exceed all five of his roto categories from 2018 to achieve a positive return value. After his Jekyll/Hyde 2018 performance, it's far from a guarantee that this will happen. His batted-ball metrics in the final few months of the year are concerning but we are dealing with a player in his age 21 season after all. It's possible Albies will adjust to the pitching he saw in the second half, but it's still a risky bet to assume he will outproduce his ADP. With manager Brian Snitker already stating he prefers Ender Inciarte in the leadoff spot, Albies projects to remain the sixth batter in the Braves lineup. Undoubtedly a stacked offensive lineup, it remains a huge hit to all of his counting stats further damaging his fantasy potential.
Though he is in a worse offense with the Orioles, Villar will still see just as many opportunities on the bases to score runs and steal bases at the top of their lineup. He may not possess the same average and power potential that Albies does, but with the move to the AL East and their notoriously hitter-friendly parks, it will help balance out his pop. He does, however, carry a higher ceiling in the SB category as he's now averaged 40 thefts in the last three seasons. In re-draft leagues, Villar is the player to target with his return value being higher at his 88 ADP.
More Fantasy Baseball ADP Analysis