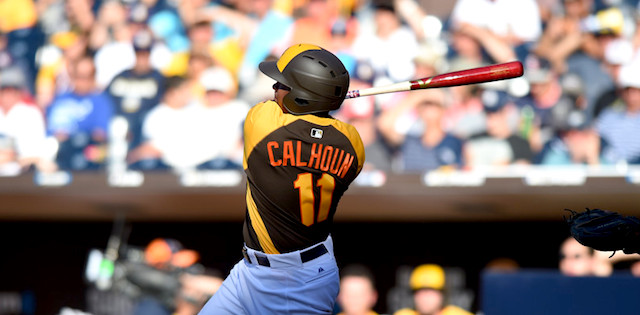 Managers can easily make decisions to affect their team positively, but often they're too hesitant, cautious, or even scared. Sometimes you have to make the hard choice to choose a player in the right circumstance to produce. These are the best players when we start streaming. We look at the matchups and other variables to put our team in the best position to succeed. That is the best we can do. There is no need to be scared about making these types of choices. No Fear, Just Fantasy.
Some outfielders would be better suited to stream for a hot bat. Others need to be replaced just because they are no longer on the field (IL). That is a situation that is affecting many owners, and there is nothing you can do except find a suitable replacement as quickly as possible or risk losing valuable counting stats. In this article, I'll discuss waiver wire targets for the outfield in week 8. This week we cover a few guys that are on a little hot streak while a couple of other players have enticing matchups.
Even in the first few weeks, ownership can change quickly. Be quick to check your leagues for their availability. Key points - this list will focus on players who are owned in less than 50% of Yahoo leagues. When you want to chat it up regarding outfielders, prospects, or dynasty leagues, message me directly on Twitter @EllisCan2.
Editor's Note: Get any full-season MLB Premium Pass for 50% off. Exclusive access to our Draft Kit, premium rankings, projections, player outlooks, top prospects, dynasty rankings, 15 in-season lineup tools, and over 200 days of expert DFS research.
Sign Up Now!
Outfield (OF) Waiver Wire Options
Raimel Tapia (OF, COL) — 18% Owned
The Rockies are notorious for yanking floor right out from under young players. Tapia has been no exception. He has yet to get consistent at-bats. During the last week, Tapia was able to play five straight games. Consider that a success when there are so many mouths to feed in Colorado. Tapia's been able to maximize the opportunity thus far with five homers, 18 RBI, and a .302/.341/.569 slash line. He is working with a .394 BABIP so expect the bubble to burst at some point. I don't envision this week being the time. Left-handed hitting Tapia gets to face five righties this week when the Rockies travel to Pittsburgh before hosting the Orioles in Coors. The venues themselves are a juicy matchup. The pitching splits aren't important as Tapia is able to find success against both sides.
Willie Calhoun (OF, TEX) — 22% Owned
Contrary to other players on this list, Calhoun is known for his power and his ability to utilize that power in the game. In previous years, he's been unable to completely translate those skills in the majors. In 20 plate appearances this season, he's made attempts to dissuade those notions with two bombs; he also generated six RBI. The biggest issue with Calhoun that has prevented him from getting more playing time is where he would be used on the diamond. He doesn't have a designated spot and is more suited for a designated hitter role. For the time being, he's getting opportunities at both DH and in the outfield. This week the Rangers have the benefit of three games at their hitter-friendly home park, against the Mariners. Then they'll travel to face the Angels. In all, Calhoun would face four right-handed starters and two southpaws if he ends up playing every day. He's licking his chops as he is a .290 hitter against righties. Make sure you slot him in the lineup.
David Fletcher (2B/3B/OF, LAA) — 16% Owned
Fletcher is the guy you get when you need stability for a week. You could easily risk it all, or you could put in a guy that will maintain your batting average and potentially get a few counting stats. In 141 at-bats, Fletcher has three homers, .305 batting average. Although it is not much, he does add three stolen bases. Fletcher has sound plate discipline that supports a high batting average. He has a 95% contact and only a 1.5% swinging strike rate. If that weren't enough support, he also has a better walk rate (6%), than he does strikeout (5.3%). Fletcher will enjoy the luxuries of his own home this week as the Angels host the Twins and Rangers. If he had his choice, he'd start against all right-handed pitchers (.360). Therefore, I'd recommend you start him against righties if you are able to stream him.
Stevie Wilkerson (2B/OF, BAL) — 1% Owned
Every once in a while you find a gem in a pile of rubble. You dust it off and sometimes reveal an aspect that appeals to you enough to give it more attention. We are in the first phase with Wilkerson. He's done well enough to garner attention with four homers and a .292 average in only 72 at-bats. Wilkerson is benefitting from whatever stitching they're using on the baseball as he's only two homers shy of his professional career-high. He's not an asset in OBP leagues, especially with only one walk this season. He'll also need to work on is his chase rate (34%) which is leading to a 30% strikeout rate. One of the biggest things going for him, on paper, this week is that he plays in Colorado for three games. Two of those games are against left-handed pitchers. In 14 at-bats against southpaws, he has yet to get a hit. Unfortunately, he'll face four total lefties during the seven-game slate. If you're able to stream him, use him against righties (.362).
Jarrod Dyson (OF, ARI) — 24% Owned
There are few decent options on the waiver wire for you to find speed. However, Dyson is widely available and has 25+ steal potential with a decent batting average. He is currently hitting .284 but it is buoyed by a .329 BABIP. The only other consideration is that Dyson is a part-time player. This is an easy fix for those that can stream daily. Find out when he is starting and play him. Your team will thank you for the steals later in the season.
Hunter Pence (OF, TEX)  — 38% Owned
Pence's onslaught at the plate has slowed but he still hit two homers in the last week. Unfortunately, it was accompanied by a .217 average. Calhoun will likely take starts away from him in the long run, but I'd roll with him while he's still smacking homers, especially with a series at home this week.
Kole Calhoun (OF, LAA) — 17% Owned
The bounce-back continues as Calhoun now has nine bombs and 50R+RBI for the season. He's hit a homer, stole a base and had a .350 batting average over the last two weeks. With Shohei Ohtani back, the lineup will rotate through more often giving Calhoun more chances to accrue stats. Though his seasonal batting average is .238, don't be swayed as his .257 BABIP will continue to correct the former.
More Waiver Wire Pickups and Streamers
Check out RotoBaller's entire fantasy baseball waiver wire pickups and sleepers list, updated daily!