There wasn't very much movement for outfielders on waivers over the past week, so most of the players listed in last week's article are still attractive pickups this week. Namely, Bryan Reynolds, Joc Pederson, Clint Frazier, and Brad Miller are all still rostered in fewer than 50% of leagues and remain worth a look from outfielder-hungry fantasy players.
To avoid repeating myself too much, I'll focus on other outfielders this week. That doesn't mean that the outfielders in this week's article are better than those listed above; instead, consider the four outfielders listed above to be recommendations this week as well.
With that in mind, below are some outfielders worth picking up on waivers this week. Roster rates for waiver wire pickups are based on Yahoo leagues with standard 5x5 scoring, and the cutoff is 50% rostered.
Featured Promo: Get your 2023 MLB Premium Pass for 50% off. Exclusive access to our preseason Draft Kit, #1 accuracy rankings, #1 ATC projections, Team Sync platform, Live Draft Assistant, 15 in-season lineup tools, customized rankings and much more!
Sign Up Now!
Shallow-League Pickups
31% rostered
Grossman paired his already elite contact skills with improved power this season, and that power has helped fuel his impressive .997 OPS. Between 2017 and 2019, Grossman posted an impressive 17.3% and 13.3% strikeout and walk rates, respectively, but they came with a paltry 1.4% home run rate and a .117 ISO. This year, Grossman has maintained his strong strikeout and walk rates thanks to a 22.9% o-swing rate and a 5.9% swinging-strike rate, but he's also posted a 3.9% home run rate and a .288 ISO.
Importantly, Grossman's power surge is well-supported by a .408 xwOBAcon, as well as career-highs in his hard-hit (36%) and barrel (8.2%) rates. None of those numbers on their own would make Grossman as a particularly exciting hitter, but he's in rare company when considering his contact skills as well. Only 10 hitters managed to post a strikeout rate below 21%, a walk rate of at least 12%, and an xwOBAcon above .380 last season (min. 150 PA), putting Grossman in an elite group.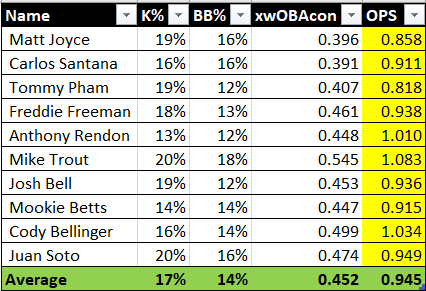 It's worth calling out that those hitters averaged a .452 xwOBAcon last season -- a mark that Grossman is unlikely to get within 40 points of -- but they illustrate just how good Grossman has been this year. With Grossman showing no signs of slowing down, he should be rostered in almost all leagues right now.
22% rostered
Belt said recently that his knees are back to full strength for the first time since 2018, a notion that's backed up by his impressive play to start the season. Belt has always had an advanced plate approach with an o-swing rate that hovers around 25% and a z-swing rate that tends to sit just below 80%. Combined with his solid contact skills (11.3% career swinging-strike rate), Belt's plate approach allows him to consistently post a strikeout rate around 23% with a walk rate of around 12%.
Belt's power has been lacking since the beginning of 2018 though, as his hard-hit rate averaged 33% over the past two seasons and his xwOBAcon sat below .400 for the first time since at least 2015 last season. That's not surprising considering that Belt's knees were bothering him during that time, and his power has come back in a big way now that he's back to full strength.
It's a small sample of games (26, to be exact), but Belt has posted a 54.7% hard-hit rate, a 20.8% barrel rate, and a .557 xwOBAcon so far this season, numbers that should put any lingering health concerns to rest. Belt posted a .845 OPS over his last three healthy seasons (2015-2017), so he should post an OPS above .830 for the rest of the season given that his knees are no longer an issue.
32% rostered
Calhoun has followed up his 33 home run 2019 season with a .846 OPS over his first 30 games this season, and it's come with a near 50-point bump in his xwOBAcon to .473. Encouragingly, Calhoun has tightened up his launch angle, cutting his ground ball rate down more than four points while seeing a similar increase in his line drive rate.
Calhoun is likely to post an OPS above .800 for the rest of the season as a result, and although his 18.6% HR:FB should fall towards 15% over the rest of the year, he should still hit at least five more home runs. 
Deeper-League Pickups
5% rostered
Tapia owns a .300 batting average, four stolen bases, and a 1.27 K:BB for the season so far, but is rostered in only five percent of leagues. For context, if Tapia were to have this level of production over a full 162-game season then he'd be worth a top-100 pick in drafts based on Nick Mariano's Expected Draft Values research.  The case against rostering Tapia would be that his strong early-season performance is unsustainable. While that's true to some extent, Tapia is still well worth rostering in more than five percent of leagues. 
Tapia's stolen bases are likely to fall off most significantly over the rest of the season; he's fast, but never stole more than 33 bases in a minor league season and is on pace for 28 over 162 games this year. On the other hand, Tapia should be able to maintain most of his .300 batting average and .398 OBP over the rest of the season. 
An aggressive plate approach (49% swing rate) combined with a career-low 9.3% swinging strike rate has helped Tapia post an impressive 16.7% strikeout rate this season, and it seems likely that his strikeout rate will stay below 18% for the rest of the season. Tapia's 13.1% walk rate is a little high based on his aggressive approach, but his 32.7% o-swing rate is a career-low and should allow him to maintain a walk rate of around 9% for the rest of the season. Additionally, Tapia's .330 xwOBAcon is reasonable based on last season's .366 mark, and his 0.013 wOBA-xwOBA is in line with his career average. As a result, fantasy players should expect Tapia to post something like a batting average around .300 with an OBP above .350 and three stolen bases for the rest of the season, making him worth picking up in many leagues
5% rostered
Margot was off to a slow start to the season before heating up in early August, and he's posted a .969 OPS since the beginning of the month. Margot has never been this hot since reaching the major leagues in 2016, with his wOBA sitting at .511 for his last 15 games.
Encouragingly, Margot's strong performance has come with a career-best .380 xwOBAcon, and although his 16.7% strikeout rate is a little low based on his 11.5% swinging-strike rate and 19% career average strikeout rate, Margot should manage to post a strikeout rate below 20% for the rest of the season. 
Margot will probably cool off over the rest of the season based on his .377 BABIP, but his 3% HR:FB is low even for him, and his .118 ISO should rise as he batting average falls and his slugging percentage remains flat with a potentially mild increase. As a result, Margot should post a batting average around .280 with an OPS around .800 for the rest of the season. Add in Margot's stolen bases (four so far this season, 20 last year), and he's worth rostering in more than five percent of leagues.
7% rostered
Markakis isn't the most exciting option, but he's about as close to a lock to post a batting average around .280 with an OPS around .800 as any hitter rostered in fewer than 10% of leagues. Markakis has slashed .292/.362/.432 over the past two seasons, and he's played well so far this year with a .920 OPS over his first 15 games.
Markakis isn't exceptional in any one category, but he's not going to hurt your fantasy team in any category (except stolen bases) either. Add in that Markakis hits in a top-10 offense, and he becomes an attractive fantasy outfielder for players in deep leagues.
Quick Hits
Estevan Florial (OF - NYY) - 1% rostered
The Yankees called Florial up to be their 29th man in Friday's doubleheader, and the rookie singled and struck out twice in his MLB debut before being sent back to the team's alternate site. Florial may not see consistent playing time this season, but the 22-year-old boasts exciting tools that make him worth keeping an eye on as he nears a major league role.
Ryan Mountcastle (OF - BAL) - 12% rostered
Mountcastle made his MLB debut on August 21, and he's been on a tear since then with a 1.000 OPS over his first six games. Mountcastle hit .295 with a 22 home run per 162 game pace over his five-year minor league career, and his hit tool and power make him worth a look from fantasy players. 
Jarred Kelenic (OF - SEA) - 7% rostered
Mariners general manager Jerry Dipoto tends to be one of the more active GMs, and the Mariners appear set to sell at the trade deadline after shipping out starting pitcher Taijuan Walker this week. Additional moves might open up playing time for Kelenic, who has a chance to be one of the better rookie fantasy outfielders in baseball if he plays.
Mike Tauchman (OF - NYY) - 11% rostered
The Yankees have been spreading playing time around in the outfield, but Tauchman should see close to everyday playing time with Aaron Judge (calf) sidelined for the next three to four weeks.
Download Our Free News & Alerts Mobile App
Like what you see? Download our updated fantasy baseball app for iPhone and Android with 24x7 player news, injury alerts, sleepers, prospects & more. All free!


More Fantasy Baseball Waiver Wire Advice