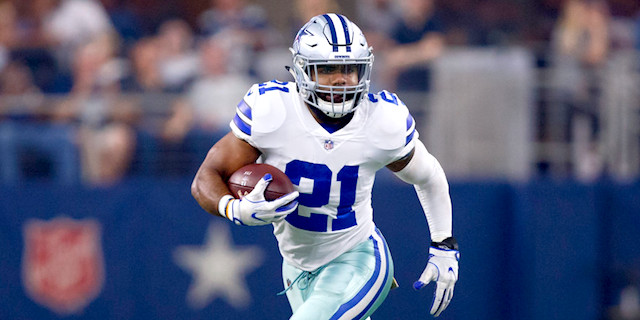 I've always considered myself to be really good at the waiver wire, which is part of the reason why I've avoided doing any Best Ball leagues until this year unless you count the three-person one I did for fun last year with my wife and one of our friends.
But if you want to evolve as a fantasy player and writer, you have to get outside of your comfort zone, which is why I jumped at the chance to do a Best Ball draft with our partner site, FFPC. This is my second Best Ball draft this year, but the first one was modified a little and wasn't really a true Best Ball league. This one is.
Here's a first-hand look at what my experience with prepping for and doing an FFPC Best Ball draft was like.
Editor's Note: For a limited time, we are offering all new FFPC players a $25-off coupon for any contest! You can play a $35 contest or a $70 contest, we'll give you $25 off either one! Whether you want to play a Best Ball challenge, join a Dynasty Startup, or try FFPC's unique Terminator challenge (best ball spin-off), there's a $25 discount waiting for you! All you have to do is be a new FFPC customer, sign-up for any game on FFPC through one of the above links, and the $25 discount will be automatically applied to your account!
Preparing For The Draft
Part of preparing for your first Best Ball draft is figuring out how to value players when the style of play is radically different than it is in a normal re-draft league. Usually, I value consistency and availability a lot. I'd rather play it safe with a high-floor guy than take a risk on someone who might not even show up this year. (Hence my zero percent ownership of Melvin Gordon in any re-draft league I'm in this year. I had Le'Veon Bell last year. I'm not taking that risk again so soon...even though I do have a couple shares of Ezekiel Elliott.)
But Best Ball drafts are a different beast, and with a lot more rounds, I spent a lot of my preparation thinking of how I could draft some of the riskier guys and then mitigate that risk with either A) safe picks later on or B) handcuffs.
Another thing I had to think about heading into this draft was how I valued different defenses and kickers. Look: I'll be the first to admit that in a non-IDP league, I don't value defense. In shallower season-long leagues, I'll literally drop my defense during the week, roster a position player I like just in case an injury happens, and then grab someone to stream on Sunday morning. I usually don't stream kickers, but I don't really think much about them on a weekly basis.
But for Best Ball, I knew I had to actually sit down, crunch some D/ST numbers and kicker numbers, and also figure out where to draft them. Could I wait until the last four rounds and just take two of each? Should I be aggressive in targeting those positions, knowing that at least 24 of each would be gone, would I want to be That Guy who jumps early and grabs the Bears Defense?
Observations From The Draft
So, you know the old saying that "the best-laid plans of mice and men often go awry?"
Yeah.
But before I get to that, it's worth mentioning that the level of competition on FFPC was a definite step above what I'm used to at other sites or in leagues with people I know from outside of the fantasy world. You can usually count on at least a person or two in a draft to make some mistakes, but everyone in this was completely on their game the whole time.
Anyway, here are a few things I observed:
The Ezekiel Elliott Uncertainty Wasn't That Bad
Zeke went sixth, after the main three running backs, Travis Kelce, and my pick of DeAndre Hopkins. (So much for my plan to take risks!) I was curious if the Le'Veon Bell situation last year would be big in people's minds as it has been in pretty much every draft I've done this year, but in the end, Elliott's stock took just a tiny hit. I've seen re-draft boards where Elliott fell into the late second, but people weren't that scared off here.
Where did Quarterbacks get Drafted?
Patrick Mahomes was the only quarterback drafted in the first five rounds. This is basically how all re-draft leagues seem to go: someone takes Mahomes early, while everyone else stockpiles position players early.
But once Deshaun Watson was taken in the sixth, things picked up rapidly. That makes sense: in a Best Ball league, virtually any quarterback with a modicum of value is going to be drafted, and once people start taking them you basically have to focus on the position, because otherwise you're left in a scary position. I took Baker Mayfield in the eighth and Josh Allen in the 11th. The only person to wait super late on quarterback took Sam Darnold in the 15th, Andy Dalton in the 17th, and Dwayne Haskins in the 23rd. That seems less than ideal.
So, About Kickers And Defense?
I went defense in the 16th and was the third person to get a defense. By the time I grabbed by second on in the 21st, a big chunk of the draft had already taken their second. So, that's the range to get good ones -- the late teens of the draft.
As for kicker, one or two went per round starting in the 15th. You can be a lot less aggressive in grabbing your kickers, since the separation as the position trails off isn't that bad.
Wide Receivers Can Last Awhile
Tight ends Will Dissly, Geoff Swaim, Blake Jarwin, and Ian Thomas all were drafted before wide receivers Randall Cobb, Devante Parker, Devin Funchess, Andy Isabella, and Jalen Hurd. The late value on receivers is definitely a cut above the late value at some other spots.
More Fantasy Football Analysis