It's a Saturday in March, which means a busy night on the ice in the National Hockey League, with a dozen games.
Playoff races are heating up and that means some games have major implications. Pittsburgh at Columbus and Carolina at Nashville come to mind as games with a chance to impact the playoff race, but there are also plenty of mismatches with playoff teams going up against teams that already appear to be playing out the string. Ottawa at Boston and Detroit at Tampa Bay stand out in this respect.
But, no mind, the prop plays are available for all, which means there are tons of opportunities to cash in if you make the right picks.
Here are some angles to consider before the puck drops tonight.
Editor's Note: Our friends at Monkey Knife Fight have released the best, most fun, fastest growing DFS props game! It's super simple to play and win real money. Just choose your NBA, NHL or PGA game, and make your picks! Get a 100% instant deposit bonus up to $50 using promo code: BALLER. That's $50 for free - don't miss out!
BUFFALO-COLORADO
OVER/UNDERS
Jack Eichel OVER 0.5 ASSISTS – Even though Eichel has been held without an assist in five of the past six road contests, he's been generating a bunch of chances and has scored four goals in that time so he can buck the recent trend.
Mikko Rantanen OVER 0.5 GOALS – The Avalanche have four 20-goal scorers, but one of them, Gabriel Landeskog is injured, so they will need Rantanen to continue producing and he has already scored a goal in four straight home games.
ST. LOUIS-SAN JOSE
OVER/UNDERS
Logan Couture UNDER 0.5 GOALS – The Sharks center is having a strong season, but he's also scored a goal in just two of the past 11 games at the Shark Tank. St. Louis is also strong enough opposition to complicate matters, too.
RAPID FIRE
Brent Burns -0.5 shots + blocks vs. Alex Pietrangelo – Even though Burns is coming off a game in which he failed to record a shot on goal or a blocked shot, he's still a worthy favorite here, mostly because of his high shot volume – he leads NHL defensemen with 3.7 per game.
NEW JERSEY-RANGERS
OVER/UNDERS
Kevin Shattenkirk UNDER 0.5 ASSISTS – As much as the veteran defenseman has picked up his play after a slow start to the season, and that includes assists in three of his past four home games, he also has assists in three of his past 12 home games.
RAPID FIRE
Mika Zibanejad -0.5 points vs. Travis Zajac – The Devils are having a hard time scoring, are on the second night of a back-to-back, and Zibanejad has 14 points in his past 12 games at MSG.
PHILADLEPHIA-ISLANDERS
OVER/UNDERS
Claude Giroux OVER 0.5 ASSISTS – Philadelphia's playmaker has assists in six straight games, including his last three road games, and he's playing a ton, averaging 22:26 of ice time per game over the past six.
Josh Bailey OVER 0.5 ASSISTS – The Isles veteran has recorded a helper in eight of the past 12 home games. That's enough to play the over against a suspect Flyers team.
TORONTO-EDMONTON
OVER/UNDERS
Kasperi Kapanen UNDER 0.5 GOALS – His speed always gives him a chance to get loose, but Kapanen has one goal in his past 10 home games. Even against Edmonton, it's tough to bank on Kapanen finding the net.
Morgan Rielly UNDER 4.5 SHOTS + BLOCKS – While Rielly has hit the over on this in three straight road games, the bigger picture isn't quite as glowing, finishing with five or more shots plus blocks seven times in his past 20 road games.
OTTAWA-BOSTON
OVER/UNDERS
Patrice Bergeron UNDER 4.5 SHOTS + BLOCKS – Even as the Bruins look like they will never lose, Bergeron has been productive without putting up a ton of shots. He's gone six straight home games with four or fewer shots plus blocks. Ottawa isn't exactly quality opposition, but that's also less reason to lay out and block shots, too.
DETROIT-TAMPA BAY
OVER/UNDERS
Anthony Mantha UNDER 0.5 GOALS – He's a talented player but going up against Tampa Bay is going to be extremely difficult to begin with and Mantha has scored a goal in one of his past nine road games.
Ryan McDonagh OVER 3.5 SHOTS + BLOCKS – The expectation is that the Lightning will dominate play against the Red Wings, and McDonagh has put up four or more shots plus blocks in four straight home games.
PITTSBURGH-COLUMBUS
OVER/UNDERS
Evgeni Malkin OVER 3.5 SHOTS + BLOCKS – The Penguins are heating up and Malkin is playing his typically productive part. He has at least four shots plus blocks in seven of the past 11 road contests.
Matt Duchene UNDER 0.5 GOALS – As much as I would like to see Duchene experience some success, he has one goal in eight games with the Blue Jackets, making it tough to expect a goal from him in any single game.
CHICAGO-DALLAS
OVER/UNDERS
Tyler Seguin UNDER 5.5 SHOTS + BLOCKS – That is a huge number! The Blackhawks are a train wreck defensively, of course, but Seguin has recorded six or more shots plus blocks in seven of his past 20 home games. Tough to bank on the over there.
Patrick Kane OVER 0.5 ASSISTS – Although he has gone four straight road games without an assist, Kane had assists in the previous seven road contests.
CAROLINA-NASHVILLE
OVER/UNDER
Roman Josi UNDER 5.5 SHOTS + BLOCKS – Need I mention, again, how this is a really big number? Josi is very productive and does block shots, which helps him in this combined category, but he has six or more combined shots and blocks in seven of his past 20 home games, and Carolina doesn't surrender shots easily.
RAPID FIRE
Ryan Johansen +0.5 points vs. Teuvo Teravainen – In 34 home games, Johansen has 27 points. In 34 road games, Teravainen has 27 points. Give me the dog plus the half point, please.
LOS ANGELES-ARIZONA
RAPID FIRE
Dustin Brown +0.5 points vs. Alex Galchenyuk – Both players tend to run hot and cold, but Brown's 18 points in 28 road games is a smidge better than Galchenyuk's 19 points in 32 home games, so taking the half-point advantage is the play.
VEGAS-VANCOUVER
OVER/UNDERS
Bo Horvat UNDER 0.5 GOALS – While he does put the puck in the net a bit, Horvat has no points in the past four games overall and this is a tough match-up for the Canucks.
Let's finish with a five-pack for 10x the payout:
Shea Theodore UNDER 4.5 SHOTS + BLOCKS
Bo Horvat UNDER 0.5 ASSISTS
Mark Stone UNDER 0.5 GOALS
Max Pacioretty UNDER 0.5 GOALS
Jonathan Marchessault OVER 3.5 SHOTS + BLOCKS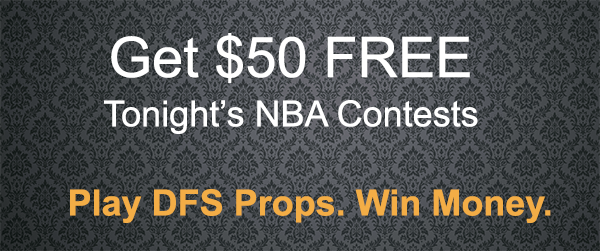 More Fantasy Basketball Analysis