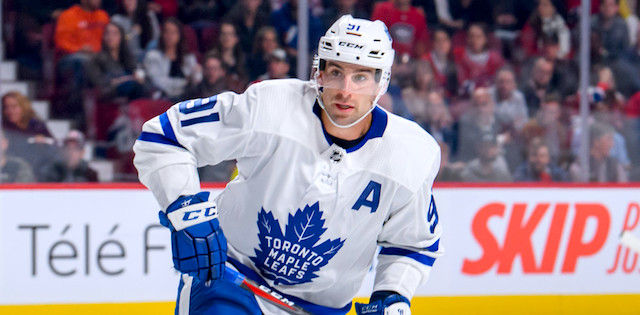 Hockey season is here and that means more opportunities to play props and win with Monkey Knife Fight.
There are four games on the NHL schedule Wednesday, including the Battle of Ontario, a matchup between the last two Stanley Cup winners, a rivalry game between San Jose and Vegas. Oh, and Vancouver and Edmonton meet up, too.
One thing to consider when playing props on MKF is the fantasy scoring system. Points are allocated as follows:
Offense:
Goals = 3
Assists = 2
Shots on Goal = 0.5
Blocked Shots = 0.5
Short Handed Goals = 1
Short Handed Assists = 1
Shootout Goals = 0.2
Goalie:
Goals against = -1
Save= 0.2 pts
That sure gets tempting when Toronto hosts an Ottawa team that could very well be the league's worst. Here are some angles to consider before making your picks on Monkey Knife Fight.
OTTAWA-TORONTO
OVER/UNDERS
Frederik Andersen UNDER 31.5 SAVES – At home last season, Andersen averaged 30.5 saves per 60 minutes which is already on the under but the Senators don't look like a team that is capable of generating a lot of shots, having averaged 29.5 shots per 60 last season, when they were probably a better team.
Craig Anderson OVER 28.5 SAVES – The Senators are going to be overmatched and are likely to surrender a lot of shots. The Maple Leafs averaged 33.1 shots per 60 minutes last season and Anderson averaged 31.9 saves per road game in 2018-2019 so even if the Sens lose, it's still reasonable to believe that Anderson can get at least 29 stops.
Auston Matthews UNDER 5.5 FANTASY POINTS – Maybe Matthew goes off for another four-goal game on opening night against the Senators, in which case he'd easily cover this number, but 5.5 fantasy points is a huge number if Matthews doesn't record multiple points. He very well may do that, because Ottawa isn't good, but it's a lot to task when he had multiple points in 10 of 34 home games last season.
John Tavares OVER 4.5 FANTASY POINTS – This number is a little more manageable. A goal with three shots on goal would be enough to generate 4.5 points so that's a reasonable target for Tavares in his first game as Maple Leafs captain (allegedly).
Brady Tkachuk UNDER 3.5 FANTASY POINTS – Ottawa's sophomore winger is a really good player, one of the Senators' best, but they are on the road facing a quality opponent so it's hard to like the Senators to score much.
RAPID FIRE
Mitch Marner -0.5 fantasy points vs. Thomas Chabot – Marner and Tavares are one of the league's most dangerous duos and should be able to get on the board in some fashion against Ottawa. Chabot, like Tkachuk, is a very good young player but he's a good young player on a bad team playing a road game against a superior team.
WASHINGTON-ST. LOUIS
OVER/UNDERS
Ryan O'Reilly OVER 3.5 FANTASY POINTS – The Blues' two-way pivot stepped up his already impressive game last season. In home games last season, O'Reilly averaged 0.4 goals, 0.6 assists and nearly 3.0 shots on goal per game. Certainly Washington is a quality opponent, but not one that should be assumed to lock down O'Reilly.
RAPID FIRE
Alex Ovechkin -0.5 fantasy points vs. Vladimir Tarasenko – Two great Russian snipers going head-to-head. The advantage for Ovi is that he was a beast on the road last season, scoring 32 goals in 41 road games last season, compared to Tarasenko managing 12 goals in 39 home games. On top of that, Ovechkin is a shot-generating machine, which gives him more room if he doesn't manage to score.
VANCOUVER-EDMONTON
PUTTING UP POINTS
This is a game that should see some goals scored and there are enough high-end talents that make it worth investing in three of them to score at least four points. Start with the Oilers and take Connor McDavid and Leon Draisaitl then round out the trio with Canucks sophomore star Elias Pettersson.
RAPID FIRE
Darnell Nurse +0.5 fantasy points vs. Alexander Edler – While Edler is a quietly productive veteran, he's also going to lose power play time to Canucks rookie defenseman Quinn Hughes, and Nurse is a solid enough contributor to like him as the underdog in this matchup.
SAN JOSE-VEGAS
OVER/UNDERS
Timo Meier OVER 3.5 FANTASY POINTS – Although he's more productive at home, Meier's ability to generate shots (3.2 per game on the road last season) gives him a chance to hit this number provided he can manage either a goal or assist along the way.
Mark Stone OVER 3.5 FANTASY POINTS – Although Stone managed just 11 points in 18 games for Vegas at the end of the regular season last year, he followed up with 12 points in seven playoff games (against San Jose), so he's a big enough offensive threat to like at this reasonable number.
RAPID FIRE
Brent Burns +0.5 fantasy points vs. Tomas Hertl – Hertl is a candidate for regression this season after capitalizing on high percentages last year and Burns is a lively underdog anyway because he is such a dynamic offensive presence.

More Weekly DFS Analysis