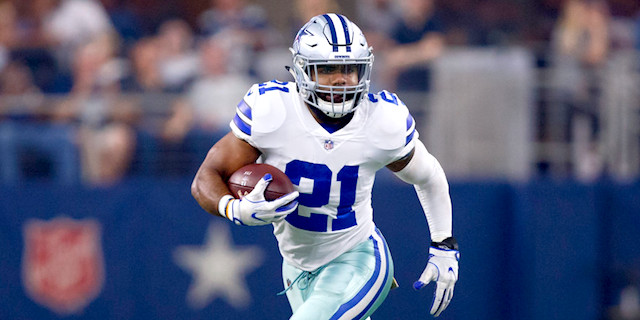 After a long and exciting season, it's finally playoff time! In this feature, our goal is to break down the Vegas betting lines and provide you with useful information that can help make your handicapping experience profitable and manageable. In theory, a limited betting card of four games should make it much more difficult to find an edge because the sportsbooks have fewer matchups that they need to focus in on for the week. And while that is true to an extent, there should be an ample amount of opportunities to find value since public money will be flocking to the windows to wager on the opening weekend of the playoffs.
In some situations, the casinos will mask a line ever so slightly to try and avoid being overweight on a particular side of a game. It is not like we get extreme changes when comparing the released betting price to what it should have been, but a point here and there (especially if it transfers through a key number) can sometimes be the difference between a win and a loss. With the early release of this article, the purpose is always to present statistical information for you to consider, while still touching on any critical injuries that could affect the eventual game.
There are a lot of moving pieces to begin any NFL week, so I will update this article as pertinent information comes to light. Without further ado, let's jump right into the NFL Wild Card round.
Editor's Note: Get any rest-of-season NFL Premium Pass for 50% off. Our exclusive DFS Tools, Lineup Optimizer and Premium DFS Research through the Super Bowl.
Sign Up Now!
Indianapolis Colts vs. Houston Texans (-2.5): O/U 47.0
For the third time this season, the (10-6) Indianapolis Colts will take on the (11-5) Houston Texans. Neither team was able to hold serve at home this year with the Texans stealing a Week 4 game in Indianapolis 37-34 in overtime, and the Colts returning the favor in Week 14 by a score of 24-21.
It is always interesting when you get two teams to meet up three times in one season. It rarely happens, but outcomes can be more extreme when it does. Despite it being a playoff game, there shouldn't be your classic feeling out process. I'd imagine that both units will be ready to go from the offset -- mainly considering the deficiencies that each team will face on defense.
Both Indianapolis and Houston rank inside the top-12 when it comes to defensive efficiency and are inside the top-five against the run, but neither is inside the top-15 when it comes to passing defense. On the flip side of the ball, both Houston and Indianapolis are outside the top-15 in rushing offense but inside the top-15 when it comes to passing. As you can tell, there is a steady pattern that is beginning to take form in this game.
No matter how you want to shake it, Houston is an overrated team that has overachieved this year. 11 wins in 13 games is impressive, but they have lost two of their past four and are not grading out how you would hope if you are Texans fan. Houston ranks dead last in the NFL in adjusted sack rate with their offensive line, 22nd in defensive passing efficiency and 27th in offensive success rate running the football at 44 percent.
On the other hand, the Colts appear to be slightly more complete, even though they have issues of their own. Indianapolis is third in adjusted sack rate with their offensive line, and they grade out eighth in the NFL in success rate rushing. However, they rank just 19th in defensive passing efficiency and 31st in success rate against the pass, allowing 51 percent of throws to be successful.
There is always a possibility that a weird dichotomy takes place during the game and one of the two teams decides to deviate from the expected gameplan on offense, but it does seem likely that both will attempt to beat the other through the air to advance to the divisional round. I know Houston has the game at home, but at the end of the day, I think quarterback Deshaun Watson will take too many sacks and halt drives from ending in touchdowns. Indianapolis hasn't been great in getting to the quarterback, ranking just 29th in the NFL, but they did bring Watson down five times during their Week 14 meeting, and I'd expect a similar type of performance on Saturday.
Prediction: Colts 31 – Texans 23 
Recommended Picks: Colts (+2.5), Over 47.0
I haven't placed a wager yet but will be monitoring where this spread goes as the week goes on. I'd rather hold off for the outside chance of grabbing plus-three, even though it is highly unlikely to ever get there. But there isn't a huge difference between +2.5 and zero and grabbing a moneyline wager wouldn't be the end of the world. The over/under shouldn't move all that much, so I don't think there is a rush to get that bet placed regardless of which way you like the game.
Seattle Seahawks vs. Dallas Cowboys (-2.5): O/U 41.5
A year removed from both teams not making the playoffs in 2017, the (10-6) Dallas Cowboys and (10-6) Seattle Seahawks will face off in Arlington, Texas at the AT&T Stadium. The Cowboys received the fourth seed, courtesy of winning the NFC East title, and the Seahawks wrapped up the fifth seed and first wild-card spot, following a run that saw them win six of their final seven games.
These two teams met during Week 3 of the NFL season, which saw the Seahawks capture a 24-13 home victory. Cowboys quarterback Dak Prescott finished the contest 19-for-34, adding 168 passing yards, one touchdown and two interceptions, but there are reasons to be optimistic if you are a Cowboys fan this weekend.
Dallas bludgeoned the Seahawks on the ground throughout the game, gaining 8.7 yards per carry en route to 166 total yards rushing. Ezekiel Elliott led the way with 16 carries for 127 yards but committed a crucial fumble in the second quarter that stunted a Dallas drive in Seattle territory. On the opposite side of the ball, Russell Wilson was his usual game-managing self, throwing for 192 yards and two touchdowns. His 109.8 passer rating featured no interceptions and a successful 61.5 percent completion percentage. Seattle rushed for 113 yards as a team, but it did take them 39 carries (2.9 average) to eclipse the 100-yard mark.
I don't want to get too hung up on a Week 3 meeting because both of these teams are completely different than they were to start the season, but Dallas outgained Seattle in yardage by eight yards (303 to 295) and averaged nearly a full yard more per play. The significant difference was Seattle committed zero turnovers, and Dallas coughed up the ball three times.
If we fast forward to the present, there are a few interesting statistics to decipher. If we remove Week 17 from the trackable data, both teams rank in the bottom five in the NFL for adjusted sack rate. Interestingly, though, neither side has found much success on the defensive side of the ball of getting to the quarterback either. The defensive unit that can apply pressure to the opposing quarterback will have a chance to take control of the game. For parity sake, the Seahawks forced five sacks in Week 3, three more than the Cowboys were able to manage.
Seattle has been impressive this season on offense, ranking eighth in total offensive efficiency, but there are reasons to be concerned when you take a deeper dive into how the team has been performing. The Seahawks grade out 12th in the NFL with a 49 percent success rate rushing the football but are just 24th overall in the league in success rate passing, recording a successful play only 44 percent of the time. The reason for the disparity in efficiency versus success has a lot to do with the explosive plays that Seattle has been able to connect on this season. The Seahawks rank 8th in the league in explosive rushes and 10th in passes. Being dependant on big-plays isn't necessarily a negative, but the Cowboys rank inside the top-six when it comes to preventing long plays of any kind. Without the ability to convert lengthy runs or passes, Seattle could find themselves in trouble if they fall behind early.
The biggest knock on the Cowboys this season has been their inability to pass the football. Through 16 weeks, they ranked 27th in efficiency through the air and 20th in success rate. However, when you condense the statistics to include only Week 9 through Week 16 -- which is when the Cowboys acquired wide receiver Amari Cooper -- they are 7th in the NFL in passing success rate. Dallas' defense isn't as effective as many make them out to be, and Seattle will have an opening through the air in the game. They most likely will struggle on the ground against a stout front-four, but Russell Wilson shouldn't be counted out of this by any means. I just think that Dallas has a substantial chance to control the tempo if they don't commit any turnovers, and Elliott should feast against a weak Seattle run defense once again.
Prediction: Cowboys 27 – Seahawks 20
Recommended Picks: Cowboys (-2.5), Over 41.5
Dallas -2.5 and over 41.5 are two of my favorite bets of the week. The Cowboys do appear to be dropping in price because of some rather large Seahawks wagers, which is never a great thing if you are on the other side of the game, but I believe that Dallas will see some sharp money come in as the game draws closer. If you do decide to back the Cowboys, you should be able to grab a better number than I did.
Los Angeles Chargers vs. Baltimore Ravens (-2.5): O/U 41.5
If you polled the other playoff teams in the AFC and asked who they would least like to face in the playoffs, the (12-4) Los Angeles Chargers and (10-6) Baltimore Ravens would probably have been the two front-runners on that list.
Outside of any statistical mismatches being included, the Chargers got the worst luck of the draw of any organization in the playoffs. There 12-4 record would have won any other division in the AFC, but instead, they are forced to travel on the road to take on a robust, hard-hitting Baltimore team. To make matters even worse, the NFL scheduled them as the early game on Sunday morning, which has historically been a massive disadvantage for west coast teams traveling on the road.
These two units faced off just two weeks ago in Los Angeles in what turned out to be a 22-10 defensive showcase from Baltimore. Chargers quarterback Phillip Rivers finished the game 23-for-37, throwing zero touchdowns and two interceptions en route to a paltry 30.2 quarterback rating. Baltimore took their usual approach of running the football, rushing 35 times as a team for 159 yards.
One of the most intriguing parts about this game to me is how much the spread and over/under has moved from their first meeting to now. During Week 16, the Chargers were 4.5 point favorites, and the total opened at 45 points. I was a fan of both the Ravens and the under in that contest, but I think a few factors may slightly change the style in which the game is played the second time around.
Chargers running back Melvin Gordon suffered an ankle sprain in Week 17 against the Denver Broncos and is currently listed as questionable for the first round of the playoffs. Early reports have Gordon as a likely participant for the contest, but it will remain a situation worth monitoring. Los Angeles would prefer to play slowly and methodically, but i do think adjustments will need to be made with their tempo if they want a different outcome during the second meeting.
Tight end Hunter Henry is shockingly listed as questionable for the game after missing the whole season with a torn ACL. The addition of Henry would give the Chargers another offensive weapon, and all statements have indicated that the 24-year-old will be available on Sunday. Someone should get a hold of Stephen A. Smith and congratulate him on being ahead of the Hunter Henry news this season. On second thoughts, maybe we should avoid his analysis. He might decide to hype up Ray Lewis as being a match-up nightmare for the Chargers.
Baltimore comes into the game as the fourth best team in the NFL rushing the football, having 54 percent of their runs grade out successfully on the year. The Chargers come into the week as the ninth-rated defense in run efficiency, but they are allowing 50 percent of carries to grade successfully -- which is only good for 23rd best in the league. I'd expect another hard-fought game on Sunday but do think some modifications will be made by both sides, allowing a little more offense to be produced. With the scheduling disadvantage that the Chargers received, it is hard to justify a wager on them, especially at less than three points.
Prediction: Ravens 24– Chargers 20
Recommended Picks: Ravens (-2.5), Over 41.5
The public appears to be backing Los Angeles, and I wouldn't be surprised to see this spread continue to drop. As someone that likes the Ravens in this contest, I will wait and see just how far this may go. I might not get involved in this game, but the numbers should continue to improve for the stance I have taken on the spread and over/under.
Philadelphia Eagles vs. Chicago Bears (-5.5): O/U 41.0
Nick Foles is at it again! After taking over for an injured Carson Wentz deep into last season --which eventually culminated in a Super Bowl title, Foles has run the table in the final three games of this season after replacing an injured Wentz once again.
The Eagles versus Bears game opened at most shops with the Bears installed as seven-point favorites, but that number has quickly been bet down to -5.5 and could drop around another point before Sunday. Foles did suffer an injury to his ribs late in Week 17's game against the Washington Redskins, but team sources have said he will be fine for the Wild-Card round and is only dealing with bruised ribs.
Before I get into my break down of the actual game, I would like to discuss not overreacting to the market. Regardless of which one of these two teams wins on Sunday, there is a big possibility that the market shifts way too far for the next game, particularly if the Bears win and have to take on the Rams. The same can be said for any of these teams that prevail during the weekend, but the Rams have been slightly more vulnerable in the eyes of the public. Situations like these allow value to be found on a side that remained idle the week before. It is one of those classic situations of being out of sight and out of mind. Let's try to not overreact to what we see this weekend.
The Eagles have become a different team in the last five weeks, trending from 18th in success rate rushing to 31st and from 13th in success rate passing to fifth. Part of that is incorporating a two-game stint of Wentz being at the helm, but it goes to show that they have changed their style of play. Eagles head coach Doug Pederson was smart enough to realize something needed to be done, and a lot of these changes took place to account for their anemic pass defense. During the same time span as mentioned above, the Eagles have dropped from 22nd in the league in defensive success rate against the pass to 29th. Injuries to the secondary have had a lot to do with this, but Philadelphia hasn't been as good as the public has perceived them to be.
The same could also be said about the Bears. They have dropped six spots in the last four weeks in success rate rushing, falling from 14th in the league to 20th. But one of the biggest concerns for Chicago has been their vaunted defense. While they still ranked inside the top-five from Weeks 13 to 16 in success against the run and pass, they graded out 10th in explosive pass plays allowed and 18th in explosive runs conceded, two statistics that they were ranked number one in from Week 1 to Week 12.
This is probably a more contrarian take because everyone wants to behead Bears quarterback Mitchell Trubisky for being a liability for the team --which is a fair assessment. But the value has been slightly depleted out of the Eagles, and I think if you haven't bet them already, you may have missed the mark. For as much as I don't trust Trubisky, I think Foles is suspect himself. Not counting Week 17's game, Foles has only graded out 17th in the league in success rate passing in his two other starts. Trubisky will most likely cost the Bears a chance at advancing as far as they should in the playoffs, but they should be able to find their way past the Eagles on Sunday. I anticipate a low scoring affair that will feature a few mistakes by Foles that will eventually cost them the game.
Prediction: Bears 24– Eagles 13
Recommended Picks: Bears (-5.5), Under 41.0
Turnovers scare me for the over/under. I most likely won't have any activity on the total and will let the spread play itself out in the next few days. The number is in a dead zone right now, but minus-six is where the first key number will come into play for Bears backers, meaning they shouldn't let the number get there if they wanted to take Chicago. Potential Eagles money has the opposite issue. If you have missed plus-six and plus-seven, you are better off waiting and hoping that goes back up to a key number.