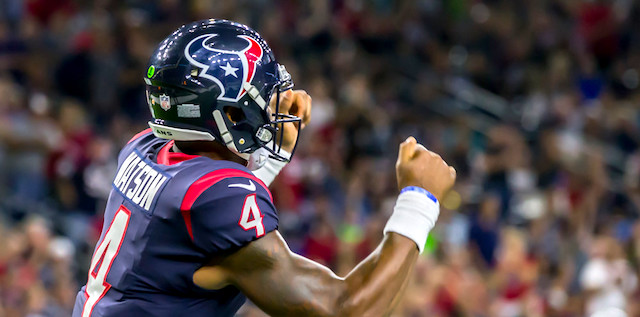 Heading into Week Four of the NFL season, trends are starting to emerge. New stars are starting to make their mark. Questions are being raised about whether this veteran or that veteran still has what it takes.
It's a long season and unexpected things can happen, but there are some players who have established what could be a new normal through the first three weeks.
Quarterbacks Lamar Jackson and Dak Prescott are throwing more than they have previously and getting positive results. Dalvin Cook and Marlon Mack ranks first and third in rushing yards, respectively. John Ross III and Marquise "Hollywood" Brown are both ranked among the top seven in receiving yards. Is this the new reality for these players?
Keep that in mind along with these angles to consider for Week Four NFL props on Monkey Knife Fight.
CAROLINA-HOUSTON
OVER/UNDERS
Kyle Allen OVER 263.5 PASSING YARDS – The Panthers have a passing game with Allen running the show and the Texans have allowed 277.5 passing yards per game. It's not an easy over but Allen's performance last week at Arizona is an indication that he can provide more.
Deshaun Watson UNDER 261.5 PASSING YARDS – While Watson has thrown for at least 262 yards in five of his past seven home games, he's going up against a Panthers team that has allowed 166.3 passing yards per game through the first three weeks of the season. Tough matchup swings this one under.
RAPID FIRE
D.J. Moore -8.5 receiving yards vs. Curtis Samuel – Both Panthers receivers are off to relatively strong starts but side with the more proven Moore, who is averaging 72.3 receiving yards per game compared to 58.7 receiving yards per game for Samuel.
CLEVELAND-BALTIMORE
OVER/UNDERS
Baker Mayfield OVER 256.5 PASSING YARDS – As underwhelming as Mayfield and the Browns have been this season, he has passed for at least 257 yards in four of his past five starts and surpassed 300 in both games against Baltimore last season.
Lamar Jackson OVER 249.5 PASSING YARDS – The Browns have surrendered 213 passing yards per game but Jackson, who came into the season with all kinds of questions about his ability to throw the ball, has thrown for more than 260 yards in each of his three starts this season.
RAPID FIRE
Odell Beckham -6.5 receiving yards vs. Marquise Brown – The edge through three weeks is only very slightly towards Beckham, who is averaging 96.0 yards per game while Ravens rookie Brown is averaging 94.0 receiving yards per game. However, Beckham has a longer track record to lean on and is therefore a viable candidate for the over.
KANSAS CITY-DETROIT
OVER/UNDERS
Patrick Mahomes OVER 345.5 PASSING YARDS – This is an outrageous number and yet Mahomes has beat it by more than 25 yards in each of the first three games. Detroit's defense has been relatively strong, too, but who feels comfortable going against Mahomes these days?
Matthew Stafford UNDER 289.5 PASSING YARDS – The Lions will likely end up in the position of needing to throw the ball to try to catch up to the Chiefs but it's asking a lot of Stafford to throw for at least 290 yards when he's crossed that threshold once in the past 12 games.
RAPID FIRE
Travis Kelce -1.5 receptions vs. Sammy Watkins – Watkins is getting more looks with Tyreek Hill out of the lineup but Kelce is a more consistent threat for the Chiefs. The tight end has seven catches in each of the past two games and has 25 targets overall.
NEW ENGLAND-BUFFALO
OVER/UNDERS
Tom Brady OVER 269.5 PASSING YARDS – At 42-years-old, Brady is averaging 303.7 passing yards per game, which would be his highest per-game average since 2011. The Bills have one of the best defenses in the league and are allowing 212 passing yards against per game so that does present some challenges but the Patriots are still more likely to move the ball through the air.
Josh Allen UNDER 217.5 PASSING YARDS – The Bills quarterback has taken positive steps this season and has averaged 250 passing yards per game but as good as Buffalo's pass defense has been, it's not at the level of New England's. The Patriots are allowing a league-low 162.3 passing yards per game and that's the hurdle that Allen is going to have to clear if he's going to find his way to the over.
RAPID FIRE
Cole Beasley -0.5 receptions vs. James White – As much as the Bills may have trouble throwing the ball against New England, Beasley should still be able to get open on underneath routes. He has 17 catches on 23 targets through three games which makes him a little more productive than White, who has eight catches on 11 targets in two games.
L.A. CHARGERS-MIAMI
OVER/UNDERS
Philip Rivers OVER 289.5 PASSING YARDS – Any game against Miami comes with the concern that it will be such a blowout that the opposing team will take its foot off the gas, and the quarterback won't be throwing as much. At the same time, the Dolphins have an abysmal defense and have allowed 291.3 passing yards per game. Coupled with Rivers topping 290 passing yards in all three games so far, the over makes the most sense here.
Josh Rosen OVER 191.5 PASSING YARDS – Although he wasn't remotely efficient, Rosen did throw for 200 yards in a start at Dallas last week, so it's not unreasonable to think that he could get there against a Chargers team that isn't very strong when it comes to pass defense.
RAPID FIRE
Preston Williams 5.5 receiving yards vs. Devante Parker – It's not easy for any Dolphins receivers to put up numbers but Williams has been targeted 23 times in three games, catching 11 for 155 yards. Parker has caught just six of 20 passes for 131 yards and it's tough to trust him when he's such a low percentage receiver.
OAKLAND-INDIANAPOLIS
OVER/UNDERS
Derek Carr OVER 255.5 PASSING YARDS – Facing a below average pass defense might be what Carr needs to get going. He has thrown for 255 yards or fewer in four of his past five starts but the Indianapolis defense is missing some key pieces so the Raiders could take advantage.
Jacoby Brissett OVER 225.5 PASSING YARDS – The Colts had been running a conservative passing offense before last week but he busted out for 310 passing yards and now faces a Raiders Defense that has allowed 286.3 passing yards per game.
RAPID FIRE
Josh Jacobs +18.5 rushing yards vs. Marlon Mack – While the rookie Jacobs has shown promise and gets a decent workload in the Oakland backfield, Mack is averaging nearly 100 rushing yards per game. The difference-making factor could be that the Raiders get to face a Colts Defense that is battling injuries.
TENNESSEE-ATLANTA
OVER/UNDERS
Matt Ryan UNDER 297.5 PASSING YARDS – Although Ryan has surpassed 300 passing yards in all three games this season, he is facing a Titans team that has allowed 189.7 passing yards per game, the fourth-lowest mark in the NFL.
Marcus Mariota OVER 214.5 PASSING YARDS – This is a relatively low number but it's also a threshold that Mariota has hit just once in his past six games.
RAPID FIRE
Derrick Henry -20.5 rushing yards vs. Devonta Freeman – The primary reason to like Henry, who has some consistency issues, is that he is more consistently featured in the Tennessee offense, at least relative to what is happening with Freeman so far this season.
WASHINGTON-N.Y. GIANTS
OVER/UNDERS
Daniel Jones OVER 253.5 PASSING YARDS – Who's in on Danny Dimes? He passed for 336 yards in a spectacular first start at Tampa Bay last week and while regression would seem obvious, maybe Washington isn't the team best-equipped to limit his production.
Case Keenum OVER 247.5 PASSING YARDS – While there is no great case to make for Keenum putting up big numbers with his relatively anonymous receiving corps, there is a benefit to facing a Giants Defense that has given up more than 332 passing yards per game.
RAPID FIRE
Wayne Gallman -5.5 rushing yards vs. Adrian Peterson – This is more about the mediocrity in Peterson's production than any great expectation for the rarely-used Gallman who is looking at a spike in opportunity in the wake of Saquon Barkley's injury.
TAMPA BAY-L.A. RAMS
OVER/UNDERS
Jared Goff UNDER 289.5 PASSING YARDS – This seems optimistic for Goff, who has been held to 289 or fewer passing yards in nine of his past 11 games, including last year's playoffs. The Bucs defense may not have a sterling reputation but they have allowed 261 passing yards per game.
Jameis Winston UNDER 275.5 PASSING YARDS – Although Winston broke out with a 380-yard passing performance last week, the Bucs attack has been inconsistent this season and the Rams Defense has allowed an average of 192.7 passing yards per game.
RAPID FIRE
Mike Evans -11.5 receiving yards vs. Brandin Cooks – After Evans was strangely under-utilized in the first two games, he had eight catches for 190 yards last week. It's that high ceiling that plays in his favor in this matchup, particularly when Cooks has enough competition for targets with teammates Robert Woods and Cooper Kupp.
SEATTLE-ARIZONA
OVER/UNDERS
Kyler Murray UNDER 277.5 PASSING YARDS – That Seattle secondary is no longer the Legion of Boom but the Seahawks are averaging 250.7 passing yards against and while Murray is averaging 276.7 passing yards in his first three NFL games, that includes a full overtime in Week One against Detroit.
Russell Wilson OVER 270.5 PASSING YARDS – Wilson is averaging more than 300 passing yards per game and the Cardinals Defense is, well, the Cardinals defense.
RAPID FIRE
Tyler Lockett -16.5 receiving yards vs. Christian Kirk – In the past two weeks, Lockett has 21 catches for 233 yards on 26 targets. As good and productive as Kirk has been, Lockett being such a focus for the Seahawks makes this a viable play.
MINNESOTA-CHICAGO
OVER/UNDERS
Mitchell Trubisky UNDER 227.5 PASSING YARDS – The early returns on Trubisky this season have not been encouraging and while this number is achievable, he's averaging 193 passing yards per game and the Vikings have allowed 225.7 passing yards per game so both sides suggest the under is the play.
Kirk Cousins UNDER 222.5 PASSING YARDS – There is something amiss with the Vikings passing game as Cousins has averaged 167.3 passing yards per game and going against a strong Bears Defense that can get after the quarterback doesn't seem like the week that it all gets magically fixed.
RAPID FIRE
Allen Robinson +0.5 receptions vs. Adam Thielen – In three games this season, Robinson has 17 receptions on 27 targets while Thielen has 11 receptions on 16 targets. As noted, there is something wrong with Minnesota's passing attack.
JACKSONVILLE-DENVER
OVER/UNDERS
Gardner Minshew UNDER 235.5 PASSING YARDS – After throwing for 275 yards in relief in Week One, Minshew has thrown for 213 and 204 yards in his next two starts. Denver's defense has been underwhelming but is still allowing just 204.7 passing yards per game.
Joe Flacco OVER 223.5 PASSING YARDS – Although he was limited to 213 passing yards last week, Flacco had passed for 560 yards in the previous two games.
RAPID FIRE
Leonard Fournette -7.5 rushing yards vs. Phillip Lindsay – The Broncos did give Lindsay more action last week, and he delivered 81 yards and two touchdowns on his 21 carries, but Fournette gets a few more carries on a regular basis and a couple of extra carries could net about eight yards.
DALLAS-NEW ORLEANS
OVER/UNDERS
Dak Prescott UNDER 278.5 PASSING YARDS – This is a different Cowboys offense, and Prescott is averaging 306.7 passing yards per game. With the Saints giving up 301.7 passing yards per game it should be an automatic over, right? Not so fast. With Ezekiel Elliott back in full effect the past two weeks, running for 236 yards on 42 carries, the Cowboys may turn to the ground game more than asking Prescott to air it out against the Saints.
Teddy Bridgewater UNDER 221.5 PASSING YARDS – He obviously hasn't started a lot of games in the meantime, but it was December, 2015 when Bridgewater last threw for at least 222 yards in a game.
RAPID FIRE
Ezekiel Elliott -20.5 rushing yards vs. Alvin Kamara – Two of the premier running backs in the game but they get to their end result using different methods. What's relevant to this matchup, in particular, is that Elliott gets more carries, which means more opportunities to gain yardage on the ground, and Kamara is an elite receiver out of the backfield, so he doesn't pile up all of his yardage as a runner.

More Weekly DFS Analysis