It's a big night in the NBA, with 10 games on the hardwood, including the reeling Los Angeles Lakers at home against the Denver Nuggets, the team with the second-best record in the Western Conference.
As unlikely as it might have seemed at the start of the year, the Lakers look like they aren't going to make the playoffs. They are 5.5 games behind the San Antonio Spurs, who hold the eighth playoff spot in the West and it doesn't look like they have the wherewithal to fix their problems in time.
That said, there is opportunity to get in on props. For all of the Lakers flaws, LeBron can score and Rajon Rondo can dish the rock. Keep that in mind when making your NBA plays on Wednesday night.
Editor's Note: Our friends at Monkey Knife Fight have released the best, most fun, fastest growing DFS props game! It's super simple to play and win real money. Just choose your NBA, NHL or PGA game, and make your picks! Get a 100% instant deposit bonus up to $50 using promo code: BALLER. That's $50 for free - don't miss out!
DENVER-LAKERS
OVER/UNDERS
LeBron James OVER 28.5 POINTS – Since coming back from injury, LeBron has scored 29 or more points in three of four home games. The Lakers are desperate and probably aren't looking at a favorable outcome either tonight or for the season, but LeBron has to be the offensive focal point if they are going to get it done.
Jamal Murray UNDER 2.5 THREES – Murray nailed six bombs at the Spurs Monday but had two or fewer threes in seven straight road games before that.
RAPID FIRE
Rajon Rondo -0.5 assists vs. LeBron James – Since returning to the Lakers lineup, Rondo has 79 assists in seven home games. If he can pull another double-digit assist game then that should be enough.
MINNESOTA-DETROIT
OVER/UNDERS
Karl-Anthony Towns OVER 25.5 POINTS – That's a big number, on the road, for a player averaging 24.2 points per game overall, but Towns has gone for at least 26 points in eight straight road games.
Blake Griffin OVER 5.5 ASSISTS – It's not easy for a power forward to put up six assists per game, but Griffin handles the ball a lot and the Timberwolves are suspect enough defensively, and playing their second night of a back-to-back, to give Griffin a shot at it. He's recorded at least six assists in nine of his past 15 home games.
DALLAS-WASHINGTON
OVER/UNDERS
Bradley Beal UNDER 27.5 POINTS – It's certainly not out of the realm of possibility for Beal to go off, but he has scored 28 or more points once in the past nine home games.
RAPID FIRE
Bobby Portis -0.5 rebounds vs. Dwight Powell – Both have taken on bigger roles, but Portis has gone for double digit rebounds in three straight games. Powell has played more than 30 minutes in each of the past four games, but he's rarely getting double-digit rebounds; it's happened twice all season.
MIAMI-CHARLOTTE
OVER/UNDERS
Josh Richardson OVER 16.5 POINTS – This isn't a strong play, but the edge is there. Richardson has 17 or more points in 15 of 29 home games and is averaging 18.2 points per game.
Nicolas Batum OVER 1.5 THREES – The veteran swingman has hit multiple threes in five straight home games, and plays a ton, more than 39 minutes per game in his past six overall.
SAN ANTONIO-ATLANTA
Trae Young OVER 20.5 POINTS – The Hawks rookie is heating up and has at least 21 points in five of his past six home games.
DeMar DeRozan UNDER 6.5 ASSISTS – While DeRozan has increased his playmaking this season, putting up a career-best 6.1 assists per game, he's had six or fewer in seven of his past eight road games.
CLEVELAND-BROOKLYN
OVER/UNDERS
Joe Harris UNDER 2.5 THREES – He might have won the three-point shootout, but Harris has two or fewer threes in four of his past five home games.
RAPID FIRE
Kevin Love +1.5 threes vs. D'Angelo Russell – While Love has only played 11 games this season, he's been bombing lately, making 18 threes in the past five games. Getting an extra 1.5 threes per game makes him the smart play here.
PHILADELPHIA-CHICAGO
OVER/UNDERS
Jimmy Butler UNDER 20.5 POINTS – I've been banging the under on Butler for a bit lately, and it's worked. He has 20 points or less in five of his past six road games.
Lauri Markkanen OVER 9.5 REBOUNDS – The Bulls forward has been crashing the boards, going for double digits in rebounds in six of his past eight home games, and the two that went under landed at nine.
UTAH-NEW ORLEANS
OVER/UNDERS
Julius Randle OVER 19.5 POINTS – With Anthony Davis playing limited minutes, Randle gets more touches and he has scored 20 or more points in five of the past six games overall.
Jrue Holiday OVER 19.5 POINTS – The Pelicans point guard is on a similarly good run, with 20 or more points in five of his past six games.
NEW YORK-PHOENIX
OVER/UNDERS
Devin Booker OVER 25.5 POINTS – It's a big ask, for a player who has 26 or more points in three of his past seven home games, but this is the Knicks, who can easily surrender 26 to a scoring guard.
Dennis Smith Jr. OVER 5.5 ASSISTS – By the same token, Smith has at least six assists in three of five road games, but the Suns are quite capable of giving up points to any team.
BOSTON-SACRAMENTO
OVER/UNDERS
Jayson Tatum OVER 15.5 POINTS – Even though his sophomore season has been somewhat disappointing, Tatum has scored at least 16 points in eight of his past 11 road contests.
RAPID FIRE
Buddy Hield -0.5 three-pointers vs. Kyrie Irving – Hield is crushingly consistent. It's possible that Kyrie goes off, but on a night-in, night-out basis, Hield is the right play. He's hit at least three triples in nine straight home games and is averaging 3.5 threes per home game. Kyrie is around 2.6 threes per game on the road, which makes it tough to think that he's going to get the better of Buddy.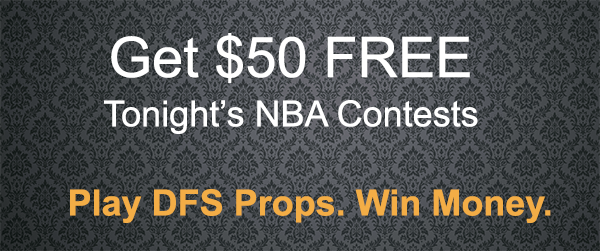 More Fantasy Basketball Analysis