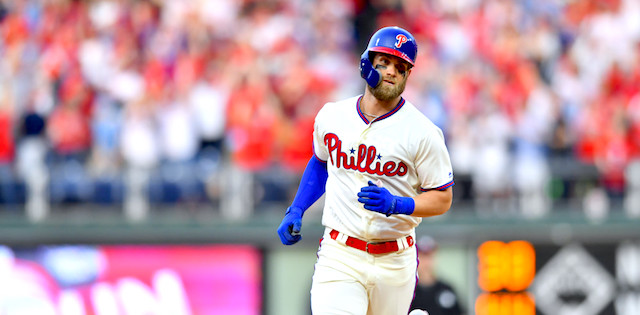 One of the interesting aspects of the ups and downs that come with a long Major League Baseball season is that production tends to fluctuate. For some players, their greatness lies in their consistency. Mike Trout, for example, has a .448 on-base percentage in August, which is excellent, yet only slightly better than the .438 on-base percentage that he posted through the end of July.
The leaders in on-base percentage this month include: Alex Bregman (.488), Jorge Soler (.486), Carlos Santana (.473), Michael Brantley (.468), J.D. Martinez (.464), Adam Eaton (.463), Anthony Rizzo (.463), Giovanny Urshela (.459), Trevor Story (.455), and Josh Donaldson (.452). Some of these players are OBP beasts and the numbers are not unexpected. On the other hand, there are a few players here, like Soler and Urshela, who have had unexpected breakout seasons and a few more, like Eaton and Donaldson, are surging late.
Riding the hot hand is one factor to consider when making your picks on Monkey Knife Fight, and here are some more angles to consider for Friday's Star Shootout MLB prop picks.
Editor's Note: Our friends at Monkey Knife Fight have released the best, most fun, fastest growing DFS props game! It's super simple to play and win real money. Just choose your MLB, NBA, NHL or PGA game, and make your picks! Get a 100% instant deposit bonus up to $50 using promo code: BALLER. That's $50 for free - don't miss out!
STAR SHOOTOUT - MAIN
OVER/UNDERS
Jacob deGrom UNDER 8.5 STRIKEOUTS – As brilliant as deGrom has been over the past couple of seasons, he's averaging 7.6 strikeouts per home start this season and faces a Braves team that has a relatively low road strikeout rate (22.2%), which is fifth best in the National League. Furthermore, deGrom has managed nine or more strikeouts in three of 12 home starts.
Alex Bregman UNDER 2.5 HITS + WALKS – The Astros third baseman is awesome and is facing 21-year-old Angels starting pitcher Jose Suarez, but this is a really big number to cover. Bregman has a .390 on-base percentage at home and a .384 OBP against left-handed starters, both of which are very good, neither of which says you should expect him to reach base three times! Bregman has recorded at least three hits plus walks in 30 of 123 games this season so even with favorable circumstances – at home against an overmatched rookie pitcher – it's a lot to ask.
Christian Yelich OVER 1.5 TOTAL BASES – Okay, time for some positivity. Yelich is slugging .794 at home and .765 against right-handed starting pitchers. Diamondbacks starting pitcher Merrill Kelly is allowing a slugging percentage of .468 on the road, which doesn't indicate that he's going to be able to keep Yelich under wraps.
RAPID FIRE
Bryce Harper -0.5 runs + RBI vs. Dexter Fowler – Harper is hot, with 36 runs plus RBI and a 1.121 OPS in his past 15 games and faces a Marlins team that is sending a pitcher, Hector Noesi, to the mound with a 9.39 ERA in his first three MLB starts. Fowler has returned to relevance and gets a favorable matchup, too, facing Rockies rookie starting pitcher Peter Lambert, who has a 6.55 ERA. In his past 15 games, as productive as he's been, Fowler has 23 runs plus RBI, so the edge still goes to Harper.
Bryce Harper +0.5 hits + walks vs. Mike Trout – Trout is relentlessly great and has a .451 on-base percentage in his past 20 games, but Harper has a .385 OBP in his past 15 games and, as noted, has a good matchup in Miami. At least it's good enough to like Harper as the underdog.
George Springer +0.5 hits + walks vs. Jose Altuve – Springer is solid, with a .374 home on-base percentage and .367 OBP against left-handed starters. Altuve has a .365 on-base percentage at home but his advantage in this matchup would figure to come from his .420 OBP against left-handed starters. That's not enough to prefer the favorite in this matchup, however.
STAR SHOOTOUT - LATE
OVER/UNDERS
Lance Lynn OVER 7.5 STRIKEOUTS – The Rangers' surprising ace is putting up 7.8 strikeouts per road start and faces a White Sox lineup that is among the worst at making contact, with a home strikeout rate of 25.1%. Lynn has also recorded at least eight strikeouts in nine of 13 road starts.
Jack Flaherty OVER 6.5 STRIKEOUTS – Not only does the Cardinals starter average seven strikeouts per home start but he gets to face a Rockies team that is abysmal on the road, striking out 26.4% of the time, the worst mark in the National League.
Zack Greinke UNDER 5.5 STRIKEOUTS – As effective as the veteran starter has been this season, he's not especially overpowering, averaging 5.8 strikeouts per home start and recording 14 strikeouts in his first three starts for the Astros. The biggest issue is that Greinke is facing an Angels lineup that makes contact, striking out just 19.2% of the time on the road, the second-best mark in baseball (behind only the Astros).
Dylan Cease OVER 5.5 STRIKEOUTS – The White Sox rookie has had some ups and downs but is showing promise, and that includes recording at least six strikeouts in three of his past four starts. More importantly, though, he gets to face a Rangers team that has the highest road strikeout rate (27.7%) in baseball.
RAPID FIRE
Ketel Marte +0.5 total bases vs. Charlie Blackmon – Blackmon is much more dominant at home, slugging .430 on the road, and gets a difficult matchup against Cardinals starting pitcher Jack Flaherty. Marte, on the other hand, is slugging .558 on the road and goes against Brewers starting pitcher Jordan Lyles. That makes him a good value underdog.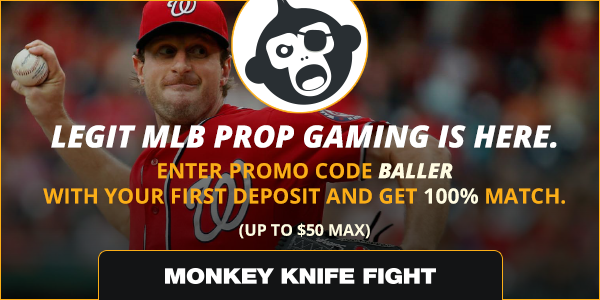 More 2019 Fantasy Baseball Advice