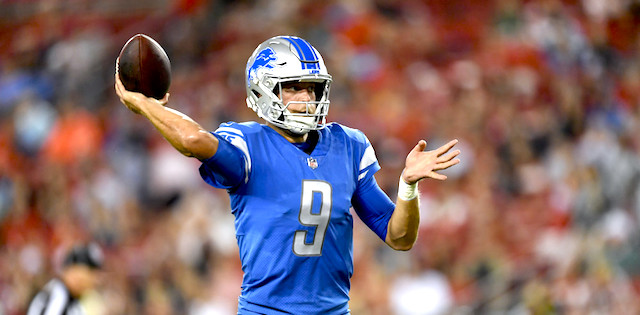 What Appears In This Article?
hide
During draft season, Matthew Stafford was looked at as one of a handful of decent quarterbacks to select if you were waiting at the position. Stafford has long been viewed as being a consistent but unspectacular quarterback, but one that could get the job done. He had been instilled in the offense a number of years, and while there was a new coach in town he wouldn't try and change things too much.
However, at this point of the season, we know that isn't the case. Stafford has struggled this season, and this article is to try and give that some context, looking at the major factors as to why owners will continue to be disappointed by him.
We will also advise how Stafford owners should handle him for the rest of the season and who might be a viable replacement down the stretch.
Editor's Note: Our incredible team of writers received 13 award nominations by the Fantasy Sports Writers Association including Baseball Writer of the Year, Football Writers of the Year, Golf Writer of the Year and many more! Be sure to follow their analysis, rankings and advice all year long, and win big with RotoBaller!
Read More!
Reasons to Doubt Stafford
Changing Backfield
One of the reasons why Stafford was always looked at as a reliable fantasy quarterback was that there had never been an effective running back in Detroit in recent years. The team was always a running back by committee with various players taking different roles from the backfield. Theo Riddick was the pass catcher and a combination of Ameer Abdullah, Dwayne Washington, and Zach Zenner were the backs who took the ball on first and second down.
However, that changed this season. The team drafted rookie Kerryon Johnson and signed LeGarrette Blount. Johnson was one of the most highly-rated running backs in the draft class able to catch the ball and be an effective runner it gave the team a reliable option in the backfield. That was evidenced in week 3 of this season where Johnson became the first running back for the Lions to rush for over 100 yards in what feels like forever but stretches back to before the 2013 season. Signing Blount, while not spectacular, meant the mentality of the team changed. Having a goal-line specialist on the team meant that they were going to take the ball out of their quarterback's hands and put it in their veteran running back.
Changing Receivers
Over the past few seasons, the Lions have had two main receivers- Golden Tate and Marvin Jones. The attack was relatively straightforward, Jones would run downfield while Tate would stay shallow and let his feet net his big gains. However, this season a new threat emerged and that is the impressive Kenny Golladay.
Golladay looked impressive in parts last season but has really taken a step forward this season. Golladay has already had more yards, receptions, and touchdowns than he did last year. Ultimately that is why the team determined that they could let Golden Tate go- and in doing so lose a large part of their offense overnight.
In the games that he has played since 2016 he has had a target share of over 20% in each season, and over 1,000 yards (except 2018, but he was on target to have over 1,000 yards still) that shows his importance to the team, and the fact that Stafford would look to him when under pressure. While Kenny Golladay has been impressive and will likely become a very effective NFL receiver he doesn't yet have the rapport with Stafford, and that has come to bear in the games since Tate has left town.
Tate's last game was against the Seattle Seahawks- and since then Stafford has amassed 16 sacks in two weeks! Even with the emergence of Golladay- Stafford looks as though he is feeling the pressure in the pocket and while time will tell if that trend continues in matchups against the Chicago Bears & Los Angeles Rams won't have Stafford breathing easy.
The Effectiveness of Quarterbacks
Last year quarterback scoring was low- looking at Pro Football Reference at scoring between 2017 and the current year shows the gap clearly, while pro-rating scoring isn't an exact science it is the easiest way to analyze scoring year to year.
In 2017 the top scoring quarterback was Russell Wilson, who scored 348 points. That would amount to being the 9th in the current season, while the Jared Goff as the QB12 scored 255 points, which would be 18th in the current season. With a lot of games still remaining there have been just under 10,500 passes attempted this season, amounting to a full season total of just under 23,000 there were just 17,283 attempts last season. The NFL has bounced back from the previous season seeing a return of teams using running backs to control the flow of the game and in some style.
We also have a new generation of talent both quarterbacks and play callers who have shown themselves to be aggressive scorers this season- Patrick Mahomes is a prime example of this, stepping in at the start of the season he has taken the Kansas City Chiefs to new heights this season.
Quarterbacks to Pivot
If you are a Stafford owner looking for options, fortunately, there are plenty out there.  Here are some players to target who are available in the majority of leagues:
Baker Mayfield - Since taking over the Browns offense, Mayfield has been a player who has been streamable. With two matchups against the Cincinnati Bengals coming up, he is a great addition. The offense in Cleveland is getting better each week under new OC Freddie Kitchens.
Lamar Jackson - If Joe Flacco is to miss more time, then Jackson is a great player to consider. His rushing ability gives him a really high floor, having rushed for 117 yards on his starting debut. The Ravens have one of the easier schedules for quarterback in the lead-up to the fantasy championship week, with matchups against the Oakland Raiders, Atlanta Falcons, Kansas City Chiefs, and the Tampa Bay Buccanneers.
Jameis Winston - This is the riskiest player to add, given the way the coaching staff has moved between Winston and Ryan Fitzpatrick but whoever the quarterback is will need to throw the ball in order to try and win games, as their defense can't handle much. Winston may now be without tight end OJ Howard, but his relationship with Cameron Brate and a talented receiver corps should pay dividends going forward.
Conclusion
Overall, Stafford has performed on a par with where he has been in previous seasons. While Stafford came into the season looking like he would be surrounded by familiar settings, that isn't the case at the midpoint of the season. There has been a change of attacking philosophy with the running backs that are currently rostered, and with Tate leaving town and injuries at wideout, there is some uncertainty of how the offense will look going forward. All of that in a changing quarterback landscape amounts to one thing- the feeling of disappointment with Matthew Stafford.