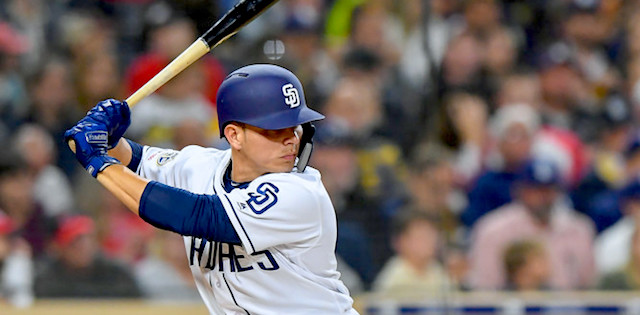 What Appears In This Article?
hide
It's hot stove time and there's already been more activity on the market than we've seen in the past couple of offseasons, with more big signings on the horizon.
One of the first and more surprising offseason deals to get done was a trade between the Brewers and Padres that sent infielder Luis Urias and left-handed pitcher Eric Lauer to Milwaukee in exchange for outfielder Trent Grisham and right-handed pitcher Zach Davies, who will head to San Diego.
On the surface, this seems like a fairly even trade with each team giving up and acquiring an MLB-ready prospect and a back-of-the-rotation starting pitcher. Both Urias and Grisham have put up solid minor league numbers and have had their first taste of the Major Leagues, albeit without much success at the highest level. As we dive deeper, it may be more complicated.
Editor's Note: Our incredible team of writers received five total writing awards and 13 award nominations by the Fantasy Sports Writers Association, tops in the industry! Congrats to all the award winners and nominees including Best MLB Series, NFL Series, NBA Writer, PGA Writer and Player Notes writer of the year. Be sure to follow their analysis, rankings and advice all year long, and win big with RotoBaller!
Read More!
Who Profits Most?
As far as initial fantasy impact for 2020, the move is better for Urias who has a clearer path to playing time on his new club and will play half his games in hitter-friendly Miller Park. Grisham should get his shot as well, but will need to fight for at-bats in a crowded San Diego outfield on a team that appears to be done with its youth movement.
As for the pitchers, both are serviceable starting pitcher options for their respective teams, but won't move the needle much in fantasy. There's a chance a change of scenery leads to a level we've yet to see from Davies or Lauer, but they are not the type of pitchers you need to spend draft capital on. In this space, we'll be focusing on how this trade affects the value of Urias and Grisham in their new homes.
Anyone who spends any amount of time following MLB prospects has heard of Urias, who has been one of the top prospects in a loaded Padres farm system for some time. He was ranked in the top-20 of MLB's Top-100 prospects list going into 2019 before destroying Triple-A pitching to the tune of a .998 OPS and getting another look in the bigs.
It feels like Urias has been a prospect forever, but he signed as an international free agent when he was 16 years old and will be just 22 on Opening Day 2020. He still has plenty of time to develop into the player that scouts project him to become and should be able to stick in the Majors now that he is in Milwaukee.
Urias has been a second baseman for most of his professional career but has also played shortstop and some third base. Milwaukee already has their own stud second base prospect in Keston Huira, who slashed .303/.368/.570 with 19 home runs in 84 MLB games last season. He's not going anywhere, leaving shortstop as the most likely destination for Urias.
Milwaukee did bring back incumbent shortstop Orlando Arcia on a one-year deal. He's mainly known for his defense and struggled mightily with the bat last year, however, so Milwaukee will give Urias every attempt to be their everyday shortstop. Arcia batted just .223 last season with a sub-300 on-base percentage. He may slide over to third base or play a utility role, but Arcia shouldn't be much of a roadblock for Urias getting regular playing time.
Assuming Urias gets close to every day playing time, he has high fantasy upside at the middle infield positions, especially in OBP leagues or those that reward walks. Urias hasn't done much in parts of two seasons in the Majors, he has just a .649 OPS in 83 career games with San Diego. But he has a great track record of success in the minors and, to reiterate, will only be 22 this season. He is a career .308 hitter in the minors with a .397 OBP.
He's not much of a power hitter but did club 19 homers in 73 games in Triple-A last season. His numbers do need to be taken with a grain of salt as he played in the notoriously hitter-friendly Pacific Coast League, but he was still clearly too good for Triple-A and he comes highly regarded by the scouting community.
Where Urias really shines is his plate discipline, especially at such a young age. Urias walked at a 10 percent rate in the Majors last season which lines up with strong walk rates he posted at each stop in the minors. On the other end of the spectrum, his strikeout rate has been around 20 percent most of his recent stops so he makes plenty of contact and gets on base.
If Urias is to take the next step he'll need to work on elevating the ball more as he hit the ball on the ground 49 percent of the time last season. However, given his age and prospect pedigree Urias will continue to improve as he gets more experience facing MLB pitching. He should have an everyday role with the Brewers or why else would they make the trade for him. He'll likely start the season batting near the bottom of the order but he has the on-base skills to be a leadoff-type hitter which would drastically increase his fantasy value in a stacked Brewers lineup if that were to happen.
Urias will be one of the most interesting names to monitor during Spring Training. If all goes well he should wind up with an everyday starting role in a great hitter's park. Urias is an interesting sleeper to draft late with multi-position eligibility.
Don't Forget Trent
As for Grisham, his path to playing time is a bit murkier moving to Southern California. Grisham should be viewed as a potential Opening Day starter, but the Padres have a logjam of outfielders that have gotten regular MLB playing time for them in the past. The Padres still have Wil Myers, Manuel Margot, and Franchy Cordero on their 40-man roster and just traded for Tommy Pham, who will also occupy a starting role in the outfield.
Grisham is not the caliber of prospect Urias is but he is still just 23 and has shown promise in the minors. Last season, across Double-A and Triple-A, Grisham batted an even .300 with 26 homers in 97 games. He struggled in 183 MLB plate appearances batting just .231, but he did post a .328 OBP thanks to a solid walk rate. He had a walk rate in the teens at every minor league stop so he has the on-base ability to thrive near the top of an MLB lineup, assuming he can seize this opportunity.
The San Diego outfield will also be one to monitor this March. If Grisham is assured close to an everyday role he could be a sneaky sleeper, especially in OBP leagues. As it stands, he should be drafted as a starter in leagues where you must play five outfielders but in a standard mixed-league, he is someone that can be drafted in the later rounds as a bench player with upside if he takes the next step in his development.
More 2020 Fantasy Baseball Advice