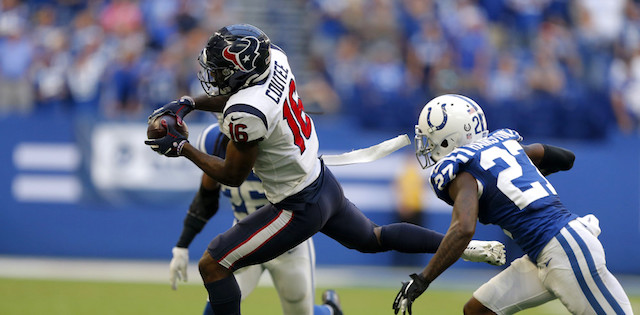 Keke Coutee (WR, Houston Texans)
Height/Weight - 5'9" 180 lbs
College - Texas Tech
Heading into the 2018 NFL Draft, Keke Coutee wasn't exactly a name on everyone's radar. For you fellow dynasty football fans, he was a guy looking like a third-round pick or so in your dynasty rookie drafts. Landing with the Houston Texans puts a bit of a damper on his fantasy outlook, as DeAndre Hopkins and Will Fuller have both been valuable fantasy assets and neither are going anywhere.
Deshaun Watson hasn't been quite what he was in 2017 for the fantasy community, but his long-term outlook hasn't changed. This offense looks like it will be electric for years to come, and it's always worth grabbing a piece of it where you can.
Editor's Note: Get any rest-of-season NFL Premium Pass for 50% off. Our exclusive DFS Tools, Lineup Optimizer and Premium DFS Research through the Super Bowl.
Sign Up Now!
The Profile
The 21-year old out of Texas Tech has a very intriguing skill set that could quickly translate to the NFL level. At 5'9" 180 pounds, Coutee is an undersized receiver who makes up for his size with his speed and his quickness. If you go back and watch his film at Texas Tech, the first thing you'll notice is how quick he is. Our own Justin Carter broke down his tape from last week as well. When he gets in open space, he is dangerous with the ball. He's also very shifty and is tough to bring down at times. For someone that is as quick and shifty as he is, he's one of those players that can take a quick slant, make a defender miss, and take it to the end zone.
If you check out Coutee's metrics over at PlayerProfiler, you'll notice that he doesn't have a crazy 40-yard dash time or standout burst numbers. His SPARQ score isn't anything ridiculous either. Coutee is one of those guys that simply looks much faster in his actual gameplay than he did at the combine. One of the games that shows just how lethal Coutee can be is in 2017 against Arizona State. He makes defenders miss, he scores out of the backfield on a handoff, and he's making several deep plays. He tracks the ball down very well and this is shown in his games against Kansas State and South Florida. You won't have to look far to find some crazy plays from Coutee, and the promising thing about him is that he appears as he can be more than just a deep threat guy. In many of his college games, you can just see that he is clearly the fastest player on the field.
Player comparisons are always fun to do, and Coutee sizes up with some very interesting names. Obviously, these all need to be taken with a grain of salt. Antonio Brown, TY Hilton, and DeSean Jackson are three fun names to compare his size to. The skillset that Coutee possesses doesn't compare to Brown or Hilton, and the downhill speed isn't quite Jackson. However, when you're looking at strictly the size, they're very comparable. There are so many different factors that need to be taken into account when analyzing prospects, but as I said, it is always fun to look at players of similar stature when analyzing rookies. The main point here is that we shouldn't discount Coutee for his size. Many receivers have proven that you can be successful at the NFL level even if they're undersized.
College Production
If you look back at Coutee's college production, it's important to remember that he was in a very pass-heavy offense with Texas Tech. His numbers did increase each season, but that is typically expected with most NFL prospects. One of the most promising takeaways from his college numbers was his market share. His market share of receiving yards for Texas Tech was 32.9% and his market share of receptions was 26.3%.
One of the ways that I expect Coutee to get involved early on for the Texans is through the return game. In 2017, Coutee's kick return numbers were very impressive. The first three weeks of the season, Coutee was inactive, and Tyler Ervin has been handling the kick returns to start the season. I don't expect this to change immediately, but I would definitely expect to see Coutee being used on special teams moving forward. If you're in a dynasty league that gives players points and yards for returning stats, this should give Coutee a boost in the long run.
Rookie Debut
If you're a Coutee owner in your dynasty leagues, there's a good chance you're very excited about owning him. Despite being inactive for the first three games, he came out in his season debut against the Indianapolis Colts and saw a whopping 15 targets. He caught 11 of his 15 targets for 109 yards, good for 9.9 YPR. This was more than any fantasy owner could've asked for in a rookie's season debut. Especially in a game where Fuller and Hopkins were both active.
Dynasty Outlook
When looking at Coutee from a dynasty perspective, there are many positives to look at. You've got Watson looking like a future stud in the NFL throwing him the ball. You've got arguably the top dynasty wide receiver in the league in DeAndre Hopkins opposite of him getting most of the attention of opposing defensive backs, which is always nice. One of the biggest reasons to be wary of Coutee is Fuller. We've seen Fuller put up WR1 numbers in fantasy, and as long as he is in play, Coutee's fantasy ceiling is limited. In deeper leagues, Coutee can be a flex option but don't expect those 15 targets to be a regular thing by any means. He should remain on your bench in most leagues, but again, could be a flex option for those of you in deeper leagues.
At this moment in time, it will be tough to buy or sell Coutee in your dynasty leagues. If you do own him, I would say your best bet right now is to hold or sell high if possible. Going out and buying a receiver, or any player for that matter, after a breakout game, is not recommended. You're likely paying top dollar for a player who has yet to prove himself to be a long-term asset. On the other hand, selling a player after a breakout game isn't a bad idea.
If you're selling Coutee right now, you've got a great deal of leverage on your side. You can use the argument that Coutee is young, talented, on an explosive offense, and maybe even throw in Fuller's hamstring or soft-tissue issues. There's almost always an owner or two in your dynasty leagues that is higher on certain players than the rest of your league. Maybe, in this case, they're a Texas Tech fan and they have high hopes for Coutee. Or maybe, that owner doesn't have any part of that Texans offense on their dynasty team and wants to get in on it. It can be difficult to sell rookies after investing a draft pick on them, especially this early in the season, but don't be afraid to sell him if you get someone that is clearly comfortable with overpaying.
More Dynasty League Strategy