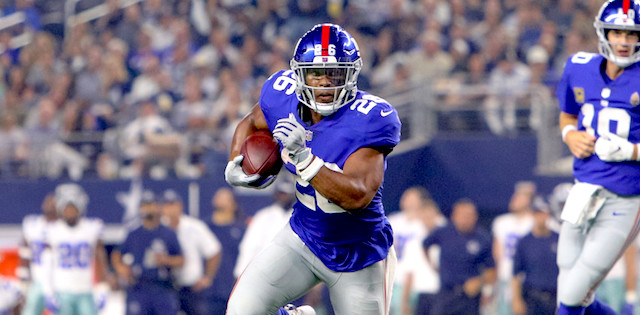 Who will be crowned champ of the RotoBaller Challenge?
We are happy to announce that as of August 1st, drafts are officially underway for the third annual RotoBaller Fantasy Football Challenge 🍾
Fight for the title in 12-team head-to-head leagues. Also compete for the crown against all teams and leagues for a chance to win $1,500 in cash prizes.
Drafts will take place from August 1st through September 5th.
Triple The Fun in 2019
This year we are continuing the RotoBaller Challenge on three different platforms: Fleaflicker, RealTime Fantasy Sports and Fantrax... more fun for everyone. That means you can compete on all three sites and show off your skills.
That also means triple the chances for you to win triple the prizes. We're giving away $500 for the Fleaflicker winner, $500 to the RT Sports winner, and $500 for the Fantrax winner. The same person can win all three!
Join Your Leagues Now
Head to the Fleaflicker draft lobby.
Head to the RT Sports draft lobby.
Head to the Fantrax draft lobby.
Choose your draft days/times, and sign up to join your leagues.
Only one team is allowed on Fleaflicker, one RT Sports, and one on Fantrax.
Tournament Rules & Prizes
All leagues are free to join. You can join a league on Fleaflicker, RT Sports and Fantrax.
Only ONE team per host site is allowed.
Each league winner gets one free year of RotoBaller Premium access for all sports ($99 value). Grand prize of $500 for the overall winner of the RotoBaller Football Challenge for Fleaflicker leagues, $500 for the champ of the RT Sports leagues, and $500 for the champ of the Fantrax leagues. The same person can theoretically win all three challenges for a total of $1,500.
Any individuals found to have multiple teams on Fleaflicker, multiple teams on RT Sports or multiple teams on Fantrax are automatically disqualified from any prizes.
League winners compared via this formula - [Regular season points scored average * 0.95] + Week 15 score + [Week 16 score * 1.05].
Read even more on the RotoBaller Challenge Homepage.
League Settings
Click here to see all league settings.
Good luck RotoBallers!