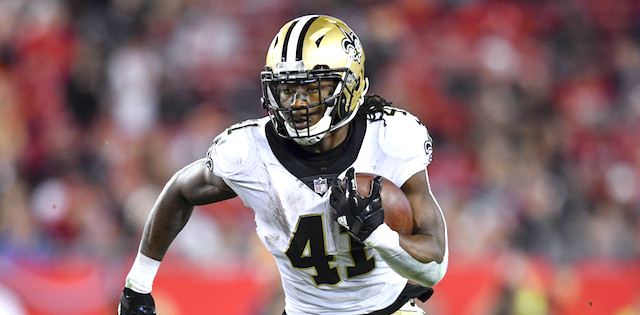 At RotoBaller, we can't stress enough the importance of keeping up with injuries and playing your best lineup week after week. Players are going to get injured, that's an unavoidable fact. What's avoidable though is making the wrong roster decisions based on the injuries surrounding your fantasy squad. If you want to dominate your leagues and win some dough in daily contests, you have to be proactive with injury research.
That's where I come in to serve you, the readers! I'm Aaron Burger, a Doctor of Physical Therapy in Pittsburgh, PA. About a year ago, I decided to combine my love, fantasy football, with what I've been learning for years now, injuries and the human body. Each week, I'll be checking in on fantasy's biggest injuries to keep you informed.
Be sure you also have RotoBaller bookmarked and follow us on social media to catch all the latest NFL news and updates.
Editor's Note: Get any full-season NFL Premium Pass for 50% off. Our exclusive In-Season Lineup Tools, Lineup Optimizer and over 150 days of Premium DFS Research.
Sign Up Now!
Inside the Tent Updates
Todd Gurley, RB - Los Angeles Rams
According to Sean McVay, Gurley is good to go for Week 7 after missing Week 6 with a quadriceps contusion. We may see Gurley with some extra thigh pads to protect the area but he should be ready to roll against an Atlanta defense that is soft against the pass. If Jared Goff is able to make some good reads and move the ball, we may see a 2+ TD game for Gurley.
Saquon Barkley, RB - New York Giants
All rejoice... Saquon Barkley will be playing in Week 7. Barkley recovered very well from his high ankle sprain sustained in Week 3. The Giants (thankfully) didn't rush him back for their game against the Patriots and after practicing in full all week it's all systems go for the young playmaker.
David Johnson, RB - Arizona Cardinals
Johnson was limited in practice leading up to Week 6 with a back injury but this week he's ailing with an ankle injury. One can speculate between a low and high ankle sprain but he's a game time decision this week after missing practice on Wednesday but turning in back to back limited practices Thursday and Friday. The fact that he's even being considered to play lends to the belief that it's a low ankle sprain. Kliff Kingsbury told media that if the game was on Friday, he wouldn't have played so that's certainly indictive of Johnson's status at this time. Please tread with caution this week and if he's not about to suit up Chase Edmunds becomes a high end RB2.
Davante Adams, WR - Green Bay Packers
Adams is dealing with turf toe in his right big toe. He didn't play in Week 6 and he will also be sidelined for Week 7. It may be frustrating for the fantasy community but this is better than trusting him and the injury being re-aggravated. Anytime the toe is bent upward, like during sprinting, this injury could flare back up.
Christian Kirk, WR - Arizona Cardinals
Kirk is recovering from an ankle sprain sustained in Week 4. He missed Weeks 5 and 6 and is now a game-time decision for Week 7. He was able to practice in a limited fashion on Wednesday, Thursday, and Friday which is certainly a good sign. He should be able to give it a go but his involvement may be limited this week. As with all sot tissue injuries, there's certainly a chance of re-injury. If he's able to make it out of this week unscathed, he's good to go as long as he stays healthy for the rest of  the 2019 season.
Week 7 Injury Updates
Patrick Mahomes, QB - Kansas City Chiefs
Injury: This update is a little early and I would usually write this heading into Week 8 considering this happened in Week 7 but it was Thursday night and it's Patrick Mahomes we're talking about here. From video analysis and reports, it's been determined that Mahomes sustained a lateral patellar dislocation. The patella is obviously the knee cap and lateral means towards the outside of the knee. The patella was relocated by slowly extending, or straightening, the knee. This sounds awful but considering there was no structural damage via MRI, Mahomes certainly dodged a bullet.
News: As was stated above, there was no structural damage to the ligaments that hold the patella in place and there was no fracture. 
Outlook: With Mahomes sidelined anywhere from 3-5 weeks, Matt Moore will be under center for the Chiefs. This is an obvious downgrade for guys like Travis Kelce, Tyreek Hill, Demarcus Robinson, LeSean McCoy, and Damien Williams going forward.
Alvin Kamara, RB - New Orleans Saints
Injury: Kamara is dealing with a high ankle sprain. A high ankle sprain is different than a low ankle sprain in that it involves the connection (syndesmosis) between the tibia and fibula. These are the two lower leg bones and there is a sheet of connective tissue between them. With a high ankle sprain, this tissue is stretched and the joint becomes unstable. This is concerning considering Kamara's shiftiness and balance with the ball in his hands.
News: Kamara has unfortunately been ruled OUT for Week 7. He wasn't able to practice all week so this was a foregone conclusion. Hopefully the sprain isn't serious and this rest will help him be ready for Week 8. 
Outlook: With Kamara out, one has to believe that Latavius Murray will see the majority of the work in the Saints' backfield. They also signed Zach Zenner to handle short yardage and goal-line work but who knows how involved he will be in his first week with the team. Murray is a fine flex play this week but expectation should be tempered as the Saints face a tough Chicago defense and points will be hard to come by for either team. 
Amari Cooper, WR - Dallas Cowboys
Injury: Cooper is dealing with a quadriceps contusion. This is the same injury that kept Todd Gurley out last week. Cooper played a few snaps in Week 6 but re-aggravated his quad. A quadriceps contusion is simply a bruise along the muscle belly, most likely from a helmet to the front of the thigh. They can be very painful obviously and linger for a few weeks.
News: Cooper practiced in a limited fashion on Friday and is likely to suit up against the Eagles.
Outlook: The Eagles' weakness on defense is certainly their secondary and although they will be getting Jalen Mills back, things still aren't looking good for the Philly pass D. If Cooper is able to play a full game without re-aggravating his quad, he should have a nice day if Dak Prescott has time to throw.
Will Dissly, TE - Seattle Seahawks
Injury: Dissly unfortunately tore the Achilles tendon in his left leg on Sunday against the Browns. The Achilles tendon attaches at the heel and serves as the means of attachment for the gastrocnemius and soleus muscles. These are otherwise known as the calf muscles (ode to Phil Mickelson) and help athletes with acceleration and jumping.
News: He was placed on injured reserve and is done for the 2019 season. A 2020 Week 1 return is certainly on the table for Dissly as he came back from a torn patellar tendon that he sustained in 2018 beautifully.
Outlook: With Dissly out, the Seahawks will have to utilize Luke Wilson in the redzone or find a way to get Chris Carson more involved in the passing game. Another outcome that is certainly possible is that D.K. Metcalf could see his red zone targets increase significantly.
More Fantasy Football Analysis