Whether you are learning the rules of a new league, experimenting with new strategies, or just gearing up for the regular season, participating in mock drafts is an essential process of fantasy sports. However, it can be time-consuming to sit through multiple mock drafts, which may not have the exact configurations you want. Fortunately, there is now a solution available at RotoBaller. The Fantasy Baseball Mock Draft Simulator and Draft Assistant Tool allows you to quickly complete a fantasy baseball mock draft in any format, at any pace, from any draft slot.
While one perk of the tool is that you can quickly complete many mock drafts, you can also specify the time between all draft picks to simulate a realistic draft speed. You can customize draft type, league size, draft slot, and roster construction for each mock draft. Having the ability to practice different draft strategies numerous times before your actual drafts presents a huge advantage over your competitors.
The tool also provides value during the live draft process with the "Draft Assistant." Using a second tab or screen, the tool helps you with picks at every point in the draft. Let's take a look at both pieces of the Fantasy Baseball Mock Draft Simulator and Draft Assistant Tool.
Featured Promo: Get your 2023 MLB Premium Pass for 50% off. Exclusive access to our preseason Draft Kit, #1 accuracy rankings, #1 ATC projections, Team Sync platform, Live Draft Assistant, 15 in-season lineup tools, customized rankings and much more!
Sign Up Now!
Fantasy Baseball Mock Draft Simulator
As mentioned above, there are many configuration options for the Mock Draft Simulator tool, and you can complete as many mock drafts as a single participant for free. The RotoBaller advanced AI guarantees that the rest of the simulated picks will be realistic and unique every time. You even have the option to include position weighing to reflect your league's draft tendencies. At the end of every mock draft, we provide comprehensive feedback with a draft report and recommendations for improvements.
In-draft options/tabs
Pick the "Mock Draft" option from the Draft Mode pulldown menu. On the right, you can select a number of different options from the League Emulation menu, including simulations of drafts on major platforms such as ESPN, CBSSports.com, Yahoo!, Fantrax, and Fleaflicker.
I chose the default Fantrax setting, which opened up multiple menus to customize my mock drafting experience. One of the best features of the tool is it allows you to choose the speed of automated picks and your own picks. I recommend an auto-pick time of 5-10 seconds and a user-pick time of 60 seconds for a quick, yet not rushed mock draft simulation. There are options for the computer and the user to take up to 90 seconds per selection. I recommend using 60 seconds or more for your own picks for the most realistic experience.
However, you can have the ultimate "fast draft" experience by choosing the "Quick Simulation" mode from the auto picks menu. This is for when you feel totally comfortable with the tool, as each round of automated picks is made within a matter of seconds.
During the draft, you will receive expert draft pick recommendations based on your team's needs and overall player value. You can also access a number of helpful tabs during your drafts, such as roto category projections, total projected points, and cheat sheets where you can take notes on any player.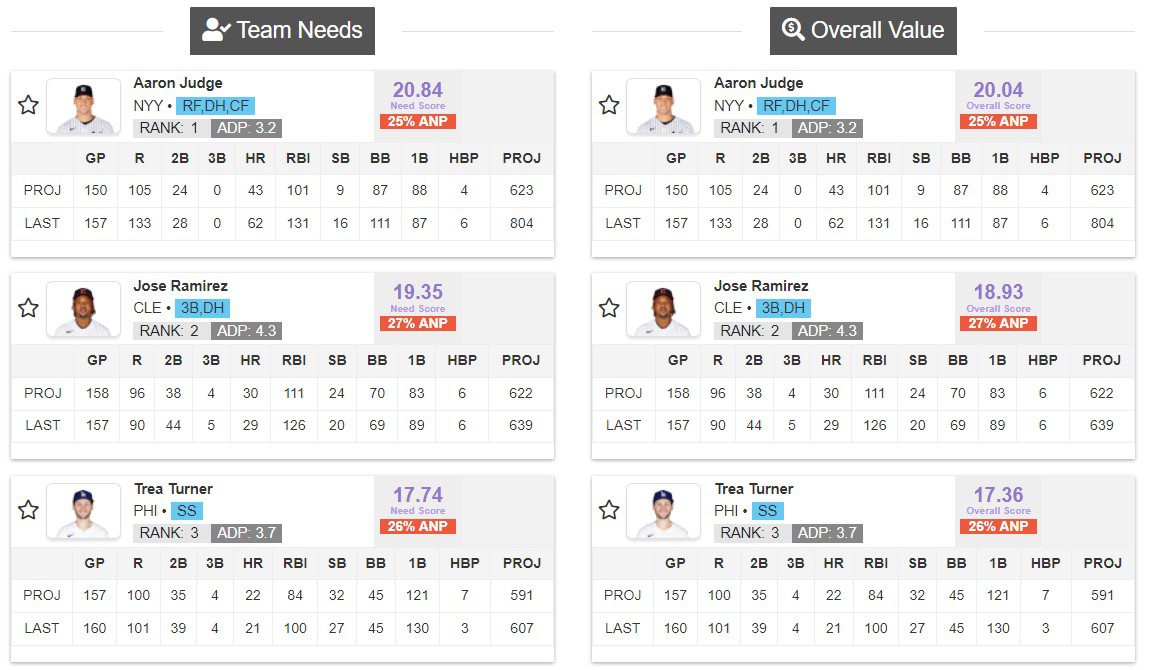 In-draft expert recommendations
My RotoBaller Mock Draft Simulator Results
For my mock draft, I customized a 12-team mock draft with a frequently-used roto lineup of two C, one 1B, one 2B, one 3B, one SS, one CI, one MI, five OF, five SP, two RP, and five bench spots. For my draft position, I picked Spot 7. Every spot has its benefits and downsides, and personal preference certainly comes into play. I prefer drafting towards the middle of the pack to optimize waiting time between my picks while also having the opportunity to select players from each relative skill tier.
Mock draft customizable settings
I frequently referenced the Expert Picks tab, which suggests RotoBaller's top picks for you based on your team's current needs and overall values as well as the Projections tab, which allows for easy sorting by any category projection or overall fantasy point projections. I could also easily navigate to the Draft Board tab to get a snapshot of the draft overview as well as the Results tab, which provides final standing projections for teams in the mock draft as well as performance for each team by position.
Allowing myself 60 seconds per pick with a five-second clock for each computer pick gave me plenty of time to comfortably navigate the tabs in the tool while still drafting at a speed that is overall faster than most normal live drafts.
Post-draft team rankings
The Mock Draft Simulator provides several "feedback" and grading tabs once your draft has been completed. I could see how my team ranked through final projections against others, view a projections breakdown, see how the team ranked by category, and review the rosters and draft boards with draft value grades for all of my picks.
A fun added bonus of the tool: the AI team names. If a team name like "Bartolo Colonoscopy" doesn't have you shaking in your boots, I don't know what will!
Here were the first 10 picks from my drafted roster from the seventh spot.
More Pick Notes – RP went very late in this mock draft (I was able to get the brothers Diaz both after the 10th round), but the draft tool helped me adapt my typical strategies to this particular draft.
Final roster and color analysis
Each player gets color-coded based on their Draft Value Grade compared to all other players drafted at that position.
The Fantasy Baseball Draft Assistant
The Draft Assistant feature operates the same way as the Mock Draft Simulator and is a terrific feature for in-draft help as you consult it on another tab or second screen. You can manually enter draft picks made by every team in your league as it happens, with the advantage of the tabs and menus showcased in the Mock Draft tool.
Prior to the draft, you can use the deep customization options to set up and replicate draft trading and also enter keeper and dynasty picks to properly alter rosters and available selections. Then, at the end of the draft, you can share all the feedback results with the entire league for insight and review.
The Mock Draft Simulator and Draft Assistant Tool is an essential partner on your journey from preseason mock drafts to the end of your real drafts. It's an all-in-one companion for expert preparation throughout the all-important prep and actual draft processes.
Team Sync
Everything that we've discussed so far is free - these are free tools that you can use as often as you'd like. And if you'd like a more advanced version of these tools, you can try the Premium version within Team Sync.
The Team Sync platform will automatically sync your leagues and rosters -- pulling in your league settings and scoring -- and import any players rostered or keepers. Once that initial sync is complete, you then get a full suite of tools that are customized and tailored to your specific teams, rosters, and league scoring settings.
Within the Team Sync platform, you will find the Mock Draft Simulator and Draft Assistant module, and also the Live Draft Sync module.
Within Team Sync, the Mock Draft Simulator and Draft Assistant tool will automatically adjust its recommendations on who to draft based on your specific rosters, players drafted so far, and team needs (positions needed, categories or stats needed). You can also utilize your custom cheat sheets, rankings, and projections to power the Mock Draft Simulator and Draft Assistant tool.
Within Team Sync, there is also the Live Draft Sync. It's the same thing as the the Mock Draft Simulator and Draft Assistant tool, except during your live draft it will automatically remove players from your queue and manage that process in an automated fashion.
You can sign up for the MLB Premium Pass to get access to Team Sync, these advanced features, and much more. Win big with RotoBaller!
Download Our Free News & Alerts Mobile App
Like what you see? Download our updated fantasy baseball app for
iPhone
and
Android
with 24x7 player news, injury alerts, sleepers, prospects & more. All free!
More Fantasy Baseball Analysis