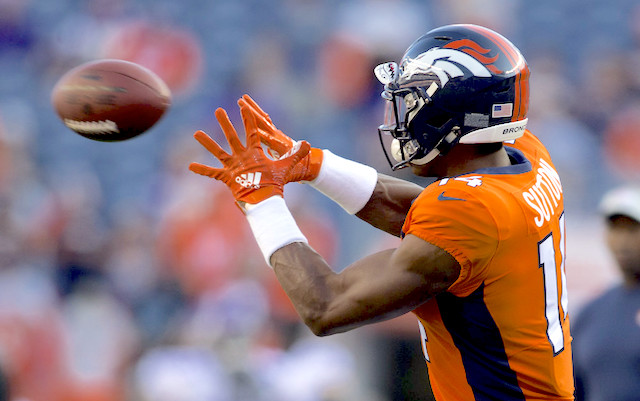 I have decided to make an updated version for the fantasy draft season. I have projected each player's stat lines and this is where they line up. In this article, I share my top 60 receivers, with a detailed analysis of most players. 
Get ready as I break down why I have moved some players since my projections. I went through each team and projected statistics for each player and updated my rankings to reflect them. Here is the link to all of my rankings and projections for each position.
My projections are created based on the number of passing yards, completions, and touchdowns that I believe each team will get. Using previous year's data and the curent betting lines for players' individual yards and touchdowns, I collected the data and made my projections
Featured Promo: Our friends at RIVAL Fantasy have created fun and unique DFS games including over/under contests and Fantasy Bingo. Use promo code BALLER to get a free year of RotoBaller Premium access ($199 value), and a $50 risk-free deposit.
Play Now!
Top 10 - Fantasy Football Wide Receiver Rankings
August 2022 update: I have included my pre-projection ranking in brackets
1. (2) Justin Jefferson (WR, MIN): Jefferson is unbelievable. Last season, his WR4 finish seemed to go relatively under the radar, finishing with over 1600 yards and double-digit touchdowns. Adam Thielen and Irv Smith Jr. should be back and healthy; however, neither pose much of a threat to Jefferson's target share.
2. (4) Davante Adams (WR, LV): As the offseason goes on, I find myself more bought into Adams. Not many players could go from Aaron Rodgers to Derek Carr and still find themselves among fantasy royalty. Of course, when you're arguably the best receiver in the game, the quarterback impact is less powerful. Adams made sure he was playing with his best friend Carr and should receive enormous volume and red zone looks to keep him in the top five. Previously, I mentioned how Carr has never had 30 passing touchdowns, but I'm confident that changes this year, increasing Adams' upside.
3. (1) Cooper Kupp (WR, LAR): I always try to avoid predicting players to repeat a #1 finish in fantasy, as historically it just doesn't happen. However, there is no reason Kupp should be anywhere lower than #1. I am a little weary of this elbow pain that Mathew Stafford has been having, however, reports seem to believe that it won't be an issue. I think any of my top-five WRs could dethrone him, but I would be disrespecting his incredible 2021 campaign to predict otherwise.
4. (3) Ja'Marr Chase (WR, CIN): Yes, Chase moved down a spot to no detriment of his own. I am just as excited about Chase as I was in May, I have just heated up on Tee Higgins since then. If this wasn't PPR, Chase could easily be ranked as the WR1 overall. However, I think Jefferson's and Adam's target share will put them ahead. Either way, Chase is electric and would be my pick of this top-five to dethrone Kupp. Although he may not be as consistent as Jefferson, he could easily top 15 touchdowns as the main weapon (and best friend) for Joe Burrow.
5. (12) A.J. Brown (WR, PHI): I am very excited for Brown and think he'll be a touchdown and target machine. Before I was devastated after this trade. The Eagles were bottom of the league in passing yards, passing attempts, and passing touchdowns in 2021. As a result, the new Philadelphia Eagle fell five spots in my rankings; however, I've come to terms with his new landing spot. Neither the Titans nor the Eagles are pass-heavy, and we have seen Brown utilize his efficiency to consistently produce for fantasy. I think this will continue in his new home and potentially see an increase in targets as the undisputed alpha on this team. My largest concern is Jalen Hurts' abysmal 16 passing touchdowns last season. For Brown to remain a WR1, he'll need Hurts to at least crack 20+. The more I think about the situation, the more faith I have in the chemistry between these two players. Not many players possess the talent and attributes to be a superstar in this league, but A.J. Brown is one of them.
6. (6) Deebo Samuel (WR, SF): Finally, the most dynamic player in the league got paid and is staying as a Niner. Regardless of Trey Lance being under center, this entire offense will run through their Wide Back. People seemed skeptical of Deebo, but after last year, I don't see why you wouldn't be confident that he'll have another great season.
7. (12) Mike Williams (WR, LAC): When I last wrote this, I was unsure Williams was going to remain a Charger. Now that he has secured the bag, it's time to get excited. It's easy to forget that through the first weeks of last season, he and Kupp were exchanging blows at the top of the position. A big play WR, tied to Herbert, it's not hard to see that the sky is the limit. Unfortunately, his injury history makes me worried to have him as my WR1 on a team, but much like Pittman, it's hard to rank him lower.
8. (13) Courtland Sutton (WR, DEN): Between Evans, Brown, and Sutton, it was hard to determine who should be first. After Tim Patrick's devastating injury (wishing him a speedy recovery), it's easy to be super excited about Sutton. I'm in the camp that thinks Russell Wilson will quickly find Sutton to be his next D.K. Metcalf. By far the largest receiver on the team at  6'4", Sutton thrives in contested catch situations. I am sure Jeudy will have his own big games (much like Lockett), but Sutton is the one with the potential to be a top fantasy player in 2022. 
9. (5) CeeDee Lamb (WR, DAL): My change in ranking has nothing to do with Lamb and everything to do with rising on Deebo. I don't think Lamb will ever be a "sleeper" but he certainly fits "post-hype" this season. Everyone (including myself) got too excited the last offseason, placing him way above his WR19 end-of-season ranking. However, now that Cooper is gone and Michael Gallup is coming off a torn ACL, it's full steam ahead for Lamb. As always, Dallas will be one of the more potent offenses in the league, paving the way for double-digit touchdowns and a high target volume.
10. (7) Mike Evans (WR, TB): Every single year, Evans is elite. Being the first player to top 1000 yards in each of his first eight seasons, Tom Brady declared Evans to be a Hall of Famer already. With Chris Godwin recovering from a torn ACL, this will be the Evans and Brady show to start the season. He has back-to-back 13+ touchdown seasons that will continue to make him a WR1 for fantasy.
Fantasy Football Wide Receiver Rankings #11-20
11. (9) Stefon Diggs (WR, BUF): Yes, this is low for Diggs. Despite having a huge ceiling, I have my concerns. I understand that being linked to a great QB, the sky is the limit. However, despite Josh Allen's amazing last two seasons, Diggs hasn't shown top-of-the-position greatness. Last season, he might have had one of the quietest WR7 seasons in 2021. If you rostered him, it did not feel like he was the WR1 you drafted him to be. With only two games over 100 yards and only one multi-touchdown game, Diggs failed to bring the week-winning upside of other top WRs. I expect Diggs to bounce back and regain some of the weekly upside that comes from playing on one of the league's best offenses, but I see a similar fantasy finish to last season.
12. (15) Michael Pittman Jr. (WR, IND): I'll be honest, there's something about Pittman that I'm scared of. I'm not sure if it's an inconsistent 2021 season or the fact that he has yet another change at QB. Either way, there's no denying that the breakout finally happened for Pittman last season. The Colts have been desperately looking for a WR to take over from the veteran T.Y. Hilton, and Pittman seems to be that guy. The WR17 from 2021 remains practically alone on the WR depth chart. Now with the presumed upgrade of Matt Ryan under center, Pittman will be the focal point of this team's passing attack. I don't love having him as my WR1 on my fantasy team, but it's hard not to rank him here.
13. (17) Tee Higgins (WR, CIN): Arguably the best WR1-2 combination finishes with Higgins. Chase is electric and can make the big play; however, Higgins would be the top guy on the majority of current NFL depth charts. He has been great ever since the Bengals drafted him in the second round in 2020. His 6'4," 215 lb frame allows him to thrive in contested catch situations and could easily take advantage of playing across from Chase. This offense should produce two top-20 receivers, and if the NFL can stop Chase in the red zone, Burrow won't hesitate to turn Higgins' way raising his ceiling.
14. (14) D.J. Moore (WR, CAR): One of these years Moore has to break out… right? Year after year, Moore has proven to be one of the best young players in the NFL but lacks the QB to make it happen. If Baker Mayfield can beat out Sam Darnold to be the starter, we will finally have hope. Regardless, we at least know the volume will be there for Moore, as last season he had the sixth-most targets in the league. With Mayfield on a mission to prove to the NFL that he is a starting QB, it would make sense for him to hyper-target Moore and Christian McCaffery. After all, Mayfield has to be an upgrade from Darnold… right?
15. (39.) Elijah Moore (WR, NYJ)
16. (20) Brandin Cooks (WR, HOU): Cooks producing for fantasy might make it eight wonders of the world. I have him ranked right where he finished last year. The Texans appear to be turning a corner; however, they are still considered the worst team in the league. With their new defensive-minded head coach and Davis Mills under center, Cooks is unlikely to be a fantasy star but could be an incredible value if you can select him as your WR3 or late-round WR2.
17. (16) Tyreek Hill (WR, MIA): Miami paid a large price and sacrificed their 2022 draft to bring in the cheetah. Now that they have lost a 2023 first-round pick, this was huge capital to give up. Despite the price tag, I see a 1A-1B situation with Waddle. So far in camp, it appears that Hill and Tua have built some chemistry, and we can only hope there is enough to go around for both receivers. Hill always has the ability to return to the top-10 at the position, but the split with Waddle worries me.
18. (34) Marquise Brown (WR, ARI): Hollywood Brown is another WR I've been steadily rising on throughout the offseason. As mentioned above, Brown was a top-10 fantasy WR over the first eight weeks of the season. Although I think Lamar Jackson's passing game is underrated, it's clear that Kyler Murray should be an upgrade. Together, these two electric players will try and spark the connection they had in college. Plus, with DeAndre Hopkins suspended for the first six games, this spark could easily set the world on fire to start the season and possibly well into January.
19. (29) Darnell Mooney (WR, CHI): It's starting to become no secret that Mooney is one of the more talented young WRs in the league. Usually, being on a bad Bears team, this is when I say the team around him limits his upside. Although that may be partly true, it's being on this team that should guarantee his fantasy success. Seriously, who else is going to catch passes on this offense? This team should be playing from behind frequently and will have to pass the ball more than they would like. It might be a little gross, but Mooney could find his way into the top-24 this season.
20. (17) Jaylen Waddle (WR, MIA): If it wasn't for the record-breaking rookie seasons of Chase and Jefferson, the dynasty community would be losing their mind over Jaylen Waddle and his WR13 finish in 2021. Since May, I have cooled a little on Waddle and started to believe Hill can build chemistry and produce with Tua. However, I wouldn't be surprised if Waddle managed to out-target Hill and produce similarly for fantasy. In the words of his QB, get ready for Waddle to "YAC the heck out of teams" and could be the perfect mix of safety and upside as a WR2.
Fantasy Football Wide Receiver Rankings #21-30
21. (22) Amari Cooper (WR, CLE): Cooper's ranking is directly linked to what will happen to Deshaun Watson. Currently, Watson is going to be suspended for at least six games and could be the whole year if the NFL wins its appeal. What we do know is that Jacoby Brissett will be under center for any time that Watson misses. Brissett is a very serviceable NFL QB and should manage to support Cooper as a WR3 for fantasy. However, once Watson is back, Cooper could become a top-12 option. It's all about what you think Watson's suspension will be, so, I'll let you make the call on this one. 
22. (8) Keenan Allen (WR, LAC): In classic changing of the guard fashion, Allen finds himself right behind his teammate. Perennially one of the most underrated receivers, Allen is elite. Last season, Allen was sixth in the league in receptions and finished as the WR11. In fact, Allen has been a top-12 fantasy WR each of the last five seasons. That's remarkable. He is already a bonafide WR1, but If Allen can find his way to double-digit touchdowns, he could be a top-five WR. With Herbert under center, that could easily happen. With the recent buzz around Williams, I think Allen is becoming an excellent value in drafts.
23. (36) Brandon Aiyuk (WR, SF)
24. (26) Robert Woods (WR, TEN): There are four guarantees in life; death, taxes, Ochocinco will always be open, and Borreal Bobby will be underrated in fantasy leagues. I am shocked how few people have discussed the impact A.J. Brown leaving will have on Woods. Last season, Woods was the WR12 through the first nine weeks of the season. Although Treylon Burks is a great prospect, I don't expect an immediate impact, leaving Woods to be Tannehill's guy. Don't sleep (again) on the perennial WR2 this year.
25. (24) Rashod Bateman (WR, BAL): Touted to be one of the more talented receivers of the 2021 class, Bateman gets his shot in 2022. With an injury-plagued 2021 season, Bateman failed to statistically impress; however, if you watched him, you know he has what it takes to produce in the NFL. Although he has a very different skillset from Hollywood Brown, Lamar Jackson supported Brown as a top-10 fantasy WR for the first eight weeks of the season. With Brown now a Cardinal, the targets and opportunities will be there for Bateman to play a big role. Defenses should focus on Mark Andrews as the top option, which will leave Bateman primed for solid volume and fantasy production for 2022. 
26. (26) Michael Thomas (WR, NOS): There is nothing I can say to convince you that Thomas is still elite. That's the inherent risk of making this pick. Thankfully, he remains the undisputed WR1 on the team even with Chris Olave joining the mix. The real question with Thomas is what we think of Jamies Winston and their new head coach. Vintage Winston was nowhere to be found last season, as he failed to crack 300 yards in a game and only threw three interceptions in eight games. Unless they unleash Winston and completely change from last year, this conservative play will limit Thomas' ceiling and make him a volume-based WR2. 
27. (21) Terry McLaurin (WR, WAS): 1000+ yards and four-plus touchdowns, you might as well hand these stats to McLaurin, because that is what he does. The ultra-talented WR is another player brought down by the team around them. Thankfully, this season, he finally has a starter from Week 1 that should be there all season. Unfortunately, that QB is Carson Wentz. The good news is that we just saw Wentz carry Pittman to a WR17 finish in 2021. WR17 sounds right about where Terry could finish, and unless he scores a career-high in touchdowns, that might be his ceiling as well. McLaurin, Cooks, and Woods round out the veteran receivers that I love as a consistent WR2 in 2022.
28. (23) Allen Robinson (WR, LAR): Usually I am not a fan of aging receivers on new teams. However, everything from camp this offseason has been positive around Robinson. Not only is he looking good at practice and developing chemistry with Stafford, but the team has not managed to re-sign Odell Beckham Jr. (at least not yet). Plus, with Van Jefferson currently recovering from an injury, Robinson should cement himself as the clear second option to Kupp. 
29. (35) Allen Lazard (WR, GB)
30. (26) Jerry Jeudy (WR, DEN): This might be the year of receiver duos on the same team producing for fantasy. The Bengals, Dolphins, and Broncos are all primed to have two top-24 options at WR. Especially with the injury to Tim Patrick, Jeudy and Sutton are primed for a big season. Although I see Sutton being the clear 1A on this team, this offense can easily support both stars.
Download Our Free News & Alerts Mobile App
Like what you see? Download our updated fantasy football app for iPhone and Android with 24x7 player news, injury alerts, rankings, starts/sits & more. All free!


Win Big With RotoBaller
Be sure to also check out all of our other daily fantasy football articles and analysis to help you set those winning lineups, including this new RotoBaller YouTube video:


More Fantasy Football Analysis
Check out all of RotoBaller's fantasy football rankings. Staff rankings are updated regularly for all positions and include standard formats, PPR scoring, tiered rankings and dynasty leagues.