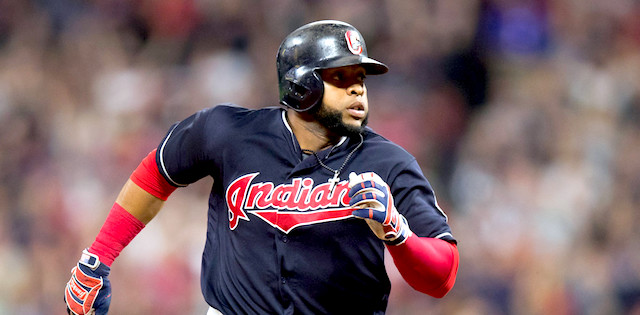 For those fantasy enthusiasts that love the head-to-head competition and being able to trash talk their friends every week, the points league is the ideal setup. For the casual player in this format, it's common to unknowingly draft using a standard top-300 list from a magazine or website. These lists base themselves on roto formats, and depending on which league you are participating in, there is a contradiction in value.
For batters, the roto leagues value hitters more for their stolen base ability, while they generally disregard some aspects of plate discipline. Strikeouts and walks are crucial to recognize in a points league because they will count as a point for, or against your team. In a roto format, it's irrelevant if a batter strikes out 200 times, as long as they attain their 40 homers.
There is a significant difference between these leagues, and today we'll go through some first basemen who carry a very different value in a points format.
Editor's Note: Get any full-season MLB Premium Pass for 50% off, with exclusive access to our season-long articles, 15 in-season lineup tools and over 200 days of expert DFS research/tools.
Sign Up Now!
Overvalued First Basemen - H2H Points Leagues
Paul Goldschmidt (STL) - 19 ADP
Now a member of the St. Louis Cardinals, Paul Goldschmidt remains a safe option at the other hot corner, but he may not be worth the fee of the first one-bagger off the board in points leagues. Goldschmidt's walk rate has hit a new low in each of the last four seasons as it finished at a 13.0% BB% in 2018. A respectable number, but his K-rate has trended the opposite way that we want to see. His 25.1% K% helped him reach a 12.1% K-BB% in 2018, the worst number that he has encountered since his debut 48 game sample in 2011. Entering his age-31 season, Goldschmidt will return excellent numbers in 5x5 roto scoring that still translates well to a points format. Caution should be warranted, however, that there may be better options at his position in this specific format, especially given his declining plate discipline numbers.
Edwin Encarnacion (SEA) - 129 ADP
For the fifth-consecutive season, Edwin Encarnacion's K-rate rose as it sat at a 22.8% K% a year ago. Not only did his strikeout rate soar, but his walk rate seen it's lowest number since 2011 as it plummeted to a 10.9% BB%. His power has deteriorated as well with a seven-year low in HR (32), and he may not return the counting stats that he had as a member of prolific Blue Jays and Indians teams. At age 36, Encarnacion has more considerable health risks than ever before, and playing time may also be a concern in 2019. The Mariners have a plethora of 1B/DH players on their roster, so if any minor issue comes up, he'll be sure to sit out a few games. Volume is a key in points leagues, and Encarnacion will lack it in 2019.
Luke Voit (NYY) - 179 ADP
Many people fell in love with Luke Voit's power surge in the final months of the 2018 season. Now that he's ready to embark on a full season in the hitter-friendly AL East, his power potential screams breakout. An aspect overlooked in Voit's game is his high strikeout total. He held an uninspiring 26.7% K% due to his 15.2% SwStr% that would have finished in the leagues bottom-10 among qualified bats. The Yankees also have a wealth of infield options, and he may be platooning more often than expected with Greg Bird still in town and Miguel Andujar profiling better on that side of the diamond defensively. Voit may not accumulate enough at-bats to fulfill his ADP in points leagues, especially if his K-rate continues on his 2018 course.
Undervalued First Basemen - H2H Points Leagues
Joey Votto (CIN) - 67 ADP
After a down year in 2018, Joey Votto's price has dropped significantly making him a perfect target for points leagues. Votto may have the best eye in all of baseball as he has now walked more times than he's struck out in three of the last four seasons. His 17.3% walk rate finished third-best in the majors last year as his K-rate came in at a well above-average 16.2% mark a season ago. It's a distinct advantage for Votto over all the other first baseman when he has no negative points working against him. He's primed for some positive regression in his baffling 9.5% HR/FB from last year, and a boost in RBI and run numbers with an improved lineup around him. Votto can easily finish as a top-three first baseman in points leagues, and could even push for that number one seed with a recovery in his home run bat.
Carlos Santana (CLE) - 197 ADP
In his only season away from the Cleveland Indians, it appeared Carlos Santana had a sub-par season. This perception was far from the truth as the switch-hitter played in 161 games racking up 168 R+RBI in his year with the Phillies. He's now played in 152 games or more in six-straight years proving to be one of the most durable position players in baseball. This fact is crucial in points leagues as we want our players out there virtually every day accumulating points. Santana also led all first baseman in 2018 with a -2.5% K-BB%, further entrenching him as a sleeper in this format. Santana only carries a .247 career batting average which doesn't play that well in roto leagues, but this stat inserts Santana much lower in general rankings and is worth grabbing at least a round or two above his ADP in a points setup.
Josh Bell (PIT) - 255 ADP
Josh Bell was a boring player in roto leagues last season. He failed to make a significant impact in any roto category, but there's much more value in his skill set in a points league. Bell finished his sophomore season as the fourth-best first baseman in K-BB% with a 4.6% mark. An outstanding figure for a 26-year-old, with some more big league seasoning this rate is sure to improve. Bell, like Votto, suffered a power outage as well in 2018 as he could only muster 12 big flys compared to 26 in his rookie campaign. His HR/FB fell nearly 10% to 9.2%, and it's sure to see some positive regression to get him back up to the 20 homer range in 2019. Far from a sexy pick in roto leagues, Bell is very serviceable in your corner infield spot in a points league.
More 2019 Fantasy Baseball Advice