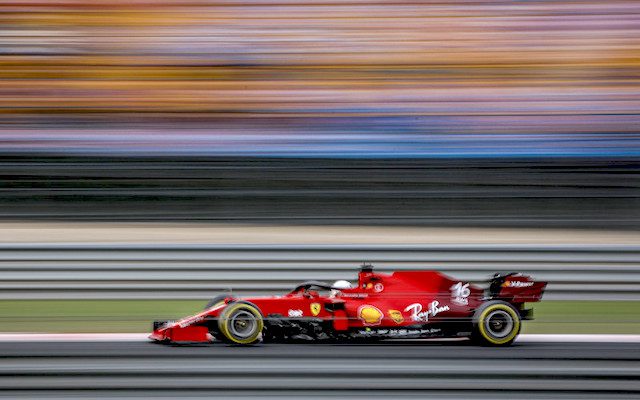 Formula 1 heads to Autodromo Nazionale Monza on Saturday for the Italian Grand Prix. Last week, Max Verstappen won for the fourth race in a row. Will that change this week?
Maybe! Grid penalties have this field in an interesting shape, as Charles Leclerc is on pole and Verstappen starts seventh due to a grid penalty, while Sergio Perez starts 13th, Carlos Sainz starts 18th and Lewis Hamilton starts 19th.
Below you will find our Formula 1 DraftKings DFS lineup picks for 9/11/22, with the slate locking at 9:00 a.m. ET. If you have any questions or want to talk about Formula 1, you can find me on Twitter at @juscarts.
Featured Promo: Get our full-season NASCAR DFS Premium Pass for 50% off! Win big with RotoBaller in 2022 and join in on the fun with our other NASCAR DFS winners. Get exclusive access to our DFS Cheat Sheets, weekly rankings, Research Station, and Lineup Optimizer for NASCAR Cup, Xfinity and Trucks contests.
VIEW TOOLS
How Does Formula 1 Fantasy Work?
If you're familiar with using DraftKings for NASCAR, this Formula 1 format is going to feel really, really different from what you're used to. It's a lot closer to the NFL single-game showdown slates than it is to anything on the NASCAR side.
So, here's how the scoring and format work. You'll pick five drivers and a constructor. One of those drivers will be your captain, who earns you 1.5-times the points but also costs 1.5-times as much as they usually cost. For the constructor, you're choosing one of the F1 teams.
So, here's how the scoring works. Your driver only gets points if they finish in the top 10. Here's a chart for how that breaks down.
| Finishing Spot | DraftKings Points |
| --- | --- |
| 1 | 25 |
| 2 | 18 |
| 3 | 15 |
| 4 | 12 |
| 5 | 10 |
| 6 | 8 |
| 7 | 6 |
| 8 | 4 |
| 9 | 2 |
| 10 | 1 |
In addition, the driver with the fastest lap of the race gets three points. You get 0.1 points per lap led, five points for beating your teammate, one point for being classified at the finish (finished 90% of the race, essentially), and points for place differential. Finish three spots higher than your grid position and you get two points. Finish five better and you get three points. Finish 10 better to get five points. You also lose points for negative place differential, starting at three spots.
The constructor points work the same way, with some added points if both cars do well.
It's confusing, but for Formula 1 DFS to work, it probably had to be confusing.
Now that we've gone over that, let's talk drivers.
Captain: Charles Leclerc ($16,500)
Starts 1st
Here we go. The win streak for Verstappen falls on Sunday when Charles Leclerc dominates at Monza.
Leclerc was fastest in FP1. He was third fastest in FP2. He was second fastest in FP3. And he was fastest in Q2 and Q3 qualifying.
He also has five cars between him and Max Verstappen to begin Sunday's race. I know Verstappen has won from farther back twice already, but Monza is also a track where Verstappen has been weirdly not good at. His best finish here is fifth, and he had DNFs the last two years.
Constructor: McLaren ($5,100)
Alright, this is where we get weird.
The top teams—Red Bull, Ferrari and Mercedes—all have one driver starting outside of the top 10. Two of those drivers are their team's No. 2 guys. The other is Lewis Hamilton, who starts the deepest of all of them.
Putting any of those three as your constructor at their price point is risky, because you could end up with one driver from each team struggling. That's why I like McLaren.
Lando Norris starts third. Daniel Ricciardo starts fourth. They'll likely lose some spots...but maybe not? Sainz and Hamilton in particular seem ill-positioned to make it into the top five, so really, the only constructor who I feel confident in of the big ones is Red Bull. Because of how pricy Red Bull is, I think taking this risk is an interesting move, as it also allows you to fit Leclerc and Verstappen in your lineup.
Max Verstappen ($12,200)
Starts 7th
I really think this is the week that Verstappen's run of wins ends. Leclerc will have a clean track in front of him at the start and should have the speed to build a lead.
But that doesn't mean I think Verstappen struggles. His track record here is iffy, but he's been the best driver in F1 by a mile this year. He's going to finish first or second if he keeps it clean. I think there's more of an edge for DFS if you captain Leclerc and believe that Verstappen won't make it past him, but honestly—if you can squeeze both guys in, this is the time to do it, since so many of the other competitive cars are buried on the grid.
(You could make an argument for Sainz and Hamilton as place differential plays, but I don't think this scoring system necessarily makes that worth it.)
Fernando Alonso ($7,200)
Starts 6th
Alonso has finished in the points in 10 consecutive races and has defeated his teammate in four straight.
The veteran driver starts sixth, while teammate Esteban Ocon starts 14th, giving Alonso an early edge on earning those points.
Alonso also knows his way around Monza. He's run 18 F1 races here, winning twice. His finishes haven't gone as well lately, but he was eighth here last year.
Daniel Ricciardo ($5,000)
Starts 4th
Look: we're taking risks this week, because playing it safe just hasn't been gone our way. So, that means that since we're playing McLaren, we should stack them with a McLaren driver.
The smart money then is on stacking McLaren with Lando Norris. But if we want to fit Leclerc and Verstappen both in our lineup, we have to save in other places, and one way is by taking Ricciardo over Norris.
And it's not like that's the worst idea or anything. Ricciardo has had three rough races in a row, but he has beaten Norris a few times this season.
Also of note, though: Ricciardo won this race last year! Yes, McLaren was running better last season, but he led 48 laps. He's finished in the points in all but three of his starts here. Ricciardo can be competitive on Sunday.
Nick de Vries ($3,400)
Starts 8th
Alexander Albon is ill and has been replaced by Nick de Vries this week. de Vries is a solid driver—and he'll start two spots ahead of Williams teammate Nicholas Latifi.
Latifi has been the worst driver on the grid this season. He's finished 17th or worse in five consecutive races. He almost never beats his teammate.
de Vries is no Albon, but he's still a better option than Latifi. You can get those points for beating a teammate for $1,200 less than they'd usually cost you with Albon.
While de Vries has never made an F1 start, he's won championships in Formula 2 and Formula E.
The Keys to Weekly NASCAR DFS Success
NASCAR is back, and it's time for you to win big with RotoBaller!
Our DFS NASCAR Premium Package
 features several heavy hitters and proven winners.
Sean Engel recently won his 7th career DFS tournament, and had the top lineup in seven contests and 10 top-two finishes. Be sure to use his weekly NASCAR DFS rankings and DFS lineup picks, updated regularly.
Three-time NASCAR Racing Writer of the Year finalist and fantasy industry legend Scott "The King" Engel is also in the crew, bringing you his weekly strategies and lineup picks. Set your winning DFS lineups with our award-winning team.