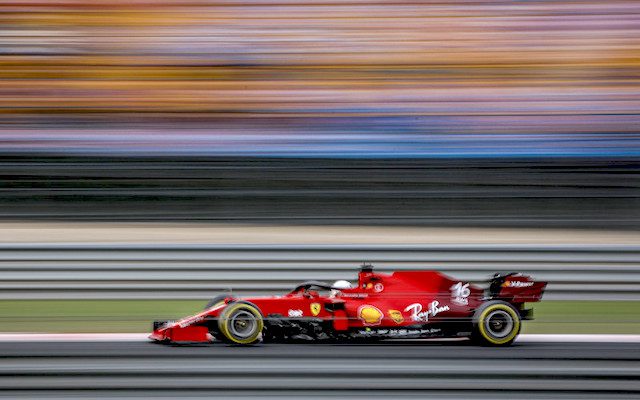 Who's ready to stay up extremely late for some Formula 1 action? Because F1 heads to Australia this weekend, with the race beginning at 1:00 a.m. ET. But hey—you don't have to stay up until the wee hours of the morning to play Formula 1 DFS on DraftKings. You can make some lineups, fall asleep, and check your score in the morning.
This season has gone about how last season did, with Red Bull winning the first two races of the season. Max Verstappen took victory in Bahrain, then Sergio Perez in Saudi Arabia. It looks like another dominant year from Red Bull is on the horizon. But there's also been some good surprises, like Aston Martin having speed.
Below you will find our Formula 1 DraftKings DFS lineup picks for the Australian Grand Prix on 4/2/23, with the slate locking at 1:00 a.m. ET. If you have any questions or want to talk about Formula 1, you can find me on Twitter at @juscarts.
How Does Formula 1 Fantasy Work?
Here's how the scoring and format work for F1 DFS on DraftKings. You'll pick five drivers and a constructor. One of those drivers will be your captain, who earns you 1.5 times the points but also costs 1.5 times as much as they usually cost. For the constructor, you're choosing one of the F1 teams.
So, here's how the scoring works. Your driver only gets points if they finish in the top 10. Here's a chart for how that breaks down:
| Finishing Spot | DraftKings Points |
| --- | --- |
| 1 | 25 |
| 2 | 18 |
| 3 | 15 |
| 4 | 12 |
| 5 | 10 |
| 6 | 8 |
| 7 | 6 |
| 8 | 4 |
| 9 | 2 |
| 10 | 1 |
In addition, the driver with the fastest lap of the race gets three points. You get 0.1 points per lap led, five points for beating your teammate, one point for being classified at the finish (finished 90% of the race, essentially), and points for place differential. Finish three spots higher than your grid position and you get two points. Finish five better and you get three points. Finish 10 better to get five points. You also lose points for a negative place differential, starting at three spots.
The constructor points work the same way, with some added points if both cars do well.
It's confusing, but for Formula 1 DFS to work, it probably had to be confusing.
Now that we've gone over that, let's talk drivers. Here's what I've put together as a kind of base lineup.
Captain: Max Verstappen ($21,000)
Starts 1st
Yes, it's almost prohibitively expensive to make Max Verstappen your captain. But when his biggest competitors start fifth, seventh and 20th, it's hard to pivot off of him. While the Mercedes cars have made some gains this weekend, this still feels like a race where Verstappen rolls easily, barring mechanical failure or a first lap collision with one of the Mercedes cars.
Last season, this was one of Verstappen's worst races, as a mechanical issue doomed him to an 18th-place finish. But a deeper dive into things shows why I like Verstappen so much: polesitter Charles Leclerc led every lap. In 2019, Valtteri Bottas started on the front row: he led 56 of 58 laps. The last time a driver won this race while starting worse than third was in 2013. Verstappen should dominate this one.
Constructor: Mercedes ($8,700)
But while Verstappen should be dominant, the difficulty of passing here makes me fade Red Bull at constructor, because Perez is starting 20th.
While Verstappen should win, I feel better playing the much-cheaper Mercedes, because their two drivers start second and third, and Mercedes has had a lot of success here.
If Perez can make a push up into the top five, then maybe I'll regret this, but the starting grid screams that there's value on Mercedes, especially at $8,700 when Red Bull is $13,300 and Aston Martin is now over $1,000
Lewis Hamilton ($8,200)
Starts 3rd
Hamilton starts one spot back of teammate George Russell, and while Russell is probably the "better" play, I think Hamilton's going to go under the radar. The way I see it is that Hamilton being $600 cheaper helps just enough with lineup building for me to prefer playing him. Hamilton's trending toward being Mercede's top driver, but I don't think that's set in stone.
Hamilton's also won here twice, though Russell finished a spot ahead of him here last year.
Alexander Albon ($4,600)
Starts 8th
If you captain Verstappen and also play someone in the Hamilton tier, then you've got to hit on your value plays, so for the rest of this article, I'll be looking at some value options, starting with Alexander Albon.
Williams has looked solid this season. Last in the constructor standings last season, Williams is eighth through two races, ahead of AlphaTauri and McLaren. At Bahrain, Albon finished 10th and teammate Logan Sargeant 12th, and at Saudi Arabia, Albon turned some good laps before a brake failure ended his day.
For this one, Albon starts 10 spots on the grid ahead of Sargeant. Barring mechanical issues or crashes, he seems like a guarantee to get the defeated teammate points.
Yuki Tsunoda ($4,400)
Starts 12th
Yuki Tsunoda has run some solid laps this season, finishing 11th in both races this season, and gaining positions from his starting spot in both races. He defeated teammate Nyck De Vries in both of those races, with De Vries finishing 14th in both races. Tsunoda's trending up, and while AlphaTauri hasn't had a lot of speed in qualifying this year, both cars have shown steady improvement on race day. I think at some point De Vries surpasses Tsunoda, but I'll bet on Tsunoda every race until we see De Vries put a better run together.
Nico Hulkenberg ($3,000)
Starts 10th
Hulkenberg's return to F1 hasn't gone great. He's made it to the final round of qualifying in every race, starting 10th this week for the third consecutive time, but he's faded during the races, finishing 15th in Bahrain and 12th in Saudi Arabia, behind teammate Kevin Magnussen both times.
But I really think Hulkenberg just needs to keep logging laps and he'll figure something out. He starts four spots ahead of Magnussen this week and costs $1,200 less, so I think playing him and hoping for the defeated teammate points is a viable strategy.
The Keys to Weekly NASCAR DFS Success
NASCAR is back, and it's time for you to win big with RotoBaller!
Our DFS NASCAR Premium Package
 features several heavy hitters and proven winners.
Jordan McAbee joins the team in 2023 with his exclusive NASCAR DFS projections and algorithm-predicted finishing order! In 2022 DFS contests, Jordan had a +33.92% profit margin good for +$10,467.06 profit and qualified for the Fantasy Racing World Championship.
Four-time NASCAR Racing Writer of the Year finalist and fantasy industry legend Scott "The King" Engel is also in the crew, bringing you his weekly strategies and lineup picks. Set your winning DFS lineups with our award-winning team.