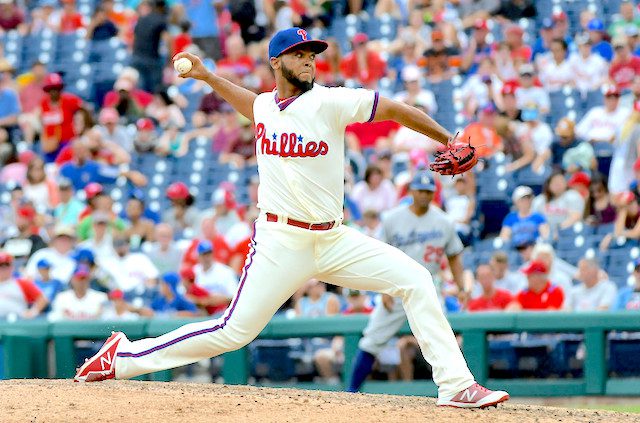 There is no more time to keep a close eye on bullpens than right now. We are just a little over a month away from the trade deadline and this is around the time we start to see some trades being made. I have emphasized this weekly for well over the last month, but no position gets shook up more from trades than relievers. 
With teams starting to clarify themselves as either buyers or sellers, it is important to get ahead of teams that could deal their current closer. Some candidates who could be dealt include Jorge Lopez, Gregory Soto (and Michael Fulmer), Joe Barlow, Mark Melancon and Ian Kennedy, David Robertson (plus Mychal Givens and Rowan Wick), Daniel Bard and Alex Colome, David Bednar and Tanner Rainey. If any of these arms are traded it will lead to there being a new closer on these teams.
There are many teams with a set closer who could trade for relievers but who already have a set closer. But, there are some who could make a deal for a more proven arm and we could see the incumbent pushed out the role, such as the Phillies, Twins, Giants, Marlins and perhaps even the Yankees. While you have to keep a close eye on the trade market, and its smart to stash an arm in one of these potentially changing pens, there have also been changes around baseball to keep a close eye on. 
Featured Promo: Get any full-season MLB and DFS Premium Pass for 50% off. Exclusive access to our Team Sync platform, Premium articles, daily Matchup Rating projections, 15 lineup tools, DFS cheat sheets, Research Stations, Lineup Optimizers and much more!
Sign Up Now!
Changing Bullpens for Fantasy Baseball
In the past two weeks, the Phillies have picked up three saves - each going to a different pitcher. Seranthony Dominguez, Corey Knebel and Brad Hand each picked up a save in that span. The Phillies announced late last week that they would be going with a committee approach at the closer spot. While Knebel was certainly demoted, he is not fully out of the picture, as they said they would be going with a committee until Knebel returned to form. If you are a save needy team, bench him, but do not cut just yet. If someone does drop him, he is worth a flier in deeper leagues. Dominguez is the most dominant reliever in this pen and is certainly worth rostering. Not only will he get save chances at times, but he provides dominant ratios and strikeouts. But, as we have seen when Hand got his save, the Phillies will not always save him for the ninth. While that hurts Dominguez value a bit, it makes Hand a flier for save needy teams, as he has closing experience and could see more chances. Those in deeper leagues can also take a flier on Connor Brogdon, who may also be involved in this committee. 
Not only have the White Sox only picked up one save in the past two weeks, but closer Liam Hendriks was placed on the 15-day injured list late last week with a forearm injury. He has thrown earlier this week and is trying to convince the team to let him come back sooner than the July 1st target they have set. He will once again return to the closer role when he is healthy, but in the meantime, Kendall Graveman should be expected to handle the majority of closing duties. Not only does he have past closing experience, but he has been his dominant self both this season and as of late. But, the White Sox do like using Graveman in high leverage situations, like they did earlier this week against the Blue Jays. They then turned to Joe Kelly for the save, who picked it up, but allowed two-runs. While Graveman is the preferred option, he is more highly rostered. Kelly is worth a flier for save needy teams until Hendriks returns from injury. 
Dany Jimenez has been the preferred closing option for the A's, but he has landed on the 15-day Injured List with a shoulder strain. Oakland is not a team that will provide a bunch of save chances, and now having an unclear option who will get the saves makes it even tougher to trust anyone. We need to see some clarity from this bullpen before we know who to fully trust, but I would guess Lou Trivino has the leg up for the next save chance, just because he has closer experience with the A's. He did open the season as their closer. A.J. Puk and Zach Jackson are also worth taking a flier on. 
Speculative Saves for Fantasy Baseball
The Reds have picked up three saves in the past two weeks, with a different pitcher picking up each one. Hunter Strickland, Joel Kuhnel and Alexis Diaz have each picked up a save in that span - but Diaz recently landed on the IL due to bicep tendonitis. He did play catch earlier this week, but for the immediate future, he will not be an option. Diaz joins other closer options Tony Santillan and Lucas Sims on the IL. That leaves Strickland and Kuhnel as the top options here. Luis Cessa and Art Warren are deeper options, but as always, this bullpen is one of the most unpredictable in baseball and is only left for the desperate. 
The Rays bullpen is always inconsistent when it comes to save opportunities, but in the past two weeks we have seen Colin Poch pick up two and Jason Adam pick up one. Adam struggled on Monday against the Yankees and picked up a loss. Adam has pitched to a 3.86 ERA, 5.24 xFIP, 5.89 SIERA, with a 0.86 WHIP and a seven percent strikeout rate. Compared to Poche pitching to a 5.79 ERA, 5.24 xFIP, 4.91 SIERA, 107 WHIP with a 21 percent strikeout rate. Both have struggled a bit, but Poche seems like the top option right now. Both can be rostered though in anything deeper than a 10-team league. 
The Mariners have not picked up a save in the last two weeks, but we did see the return of Ken Giles from the IL. While Diego Castillo, Paul Sewald and Andres Munoz have done a solid job in the late innings, Giles is a threat to steal the closer job away. He is certainly worth a flier right now. 
Elite Ratios and Strikeouts 
Reynaldo Lopez has pitched to a 50 percent strikeout rate in the past two weeks. The only relievers to throw multiple innings and have a higher strikeout rate in that span are Josh Hader, Edwin Diaz and Raisel Iglesias. And Lopez has thrown more innings than them all at 6.2. He can give multiple innings per outing as he is a former starter. In that span he has pitched to a 0.00 ERA, 0.20 xFIP, 0.60 WHIP with a 0.42 SIERA. 
Bryan Abreu is in the same group as Lopez, pitching to a 50 percent strikeout rate in five innings in the past two weeks. He has pitched to a 0.00 ERA, -0.17 xFIP, 0.60 WHIP and a -0.02 SIERA. 
Ryan Brasier pitched to a 1.29 ERA, 0.43 WHIP with a 2.97 xFIP and 2.60 SIERA, with a 22 percent strikeout rate in his last seven innings pitched in the last two weeks. He has been a great source of WHIP for those who need to improve the ratios. 
While these relievers are useful, if you are in need of saves, the best way to use your bench spots would be to take fliers on relievers who could get boosted into a closer role if a trade was to occur. 
Make sure to follow Michael on Twitter, @MichaelFFlorio.
Download Our Free News & Alerts Mobile App
Like what you see? Download our updated fantasy baseball app for iPhone and Android with 24x7 player news, injury alerts, sleepers, prospects & more. All free!


More Fantasy Baseball Advice