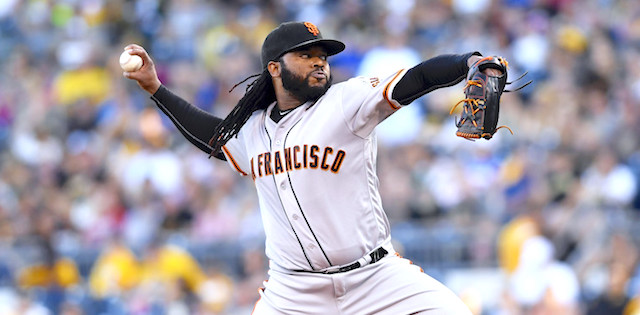 The first advanced pitching stat most fantasy owners encounter is FIP. FIP stands for Fielding Independent Pitching, and attempts to measure a pitcher's actual skill instead of the effects of luck or his supporting cast. According to the DIPS theory, pitchers control only Ks, BBs, and home runs allowed. Therefore, Ks, walks, and dingers are the only inputs to determine the number.
For fantasy purposes, it is sufficient to understand the three primary inputs listed above and the fact that the stat is on the ERA scale. That means that if a FIP would be a good ERA, it is a strong FIP. The math is perfect, meaning that the league average FIP and ERA are identical (4.51 in 2019, 4.45 last year).
Sometimes xFIP is cited instead of FIP. The "x" stands for expected, and the stat is rooted in the fact that HR/FB varies for pitchers just as much as hitters. While FIP uses a player's actual homers allowed, xFIP charges him with a league-average amount of homers based on his fly balls allowed. Some pitchers are consistently more or less homer-prone than average, but studies show xFIP is a more reliable predictor of future ERA than regular FIP.
Editor's Note: Our incredible team of writers received 13 award nominations by the Fantasy Sports Writers Association including Baseball Writer of the Year, Football Writers of the Year, Golf Writer of the Year and many more! Be sure to follow their analysis, rankings and advice all year long, and win big with RotoBaller!
Read More!
How to Use FIP and xFIP
This predictive nature of FIP and xFIP is the reason fantasy owners should care about them. Both metrics predict future ERA more reliably than ERA itself, making them a good go-to stat to determine if an early breakout may be for real or if a struggling superstar is likely to rebound. All things being equal, it is generally expected that a pitcher's ERA will regress towards his current FIP and xFIP over the long season.
For example, Marcus Stroman began the 2019 season on fire, posting a 1.43 ERA in March and April. However, his 3.90 xFIP suggested that he was nowhere near as good as he looked. Sure enough, his ERA ballooned to 4.31 in May (4.55 xFIP) and continued to fluctuate wildly throughout the year, including both highs (1.80 ERA in July) and lows (4.91 in August). If you started counting on him based on his hot start in April, you likely ended up disappointed.
Certain types of pitchers may consistently defy FIP. The first is knuckleball guys, who have challenged DIPS theory since its introduction. Sadly, nobody really threw a knuckleball in 2019 or 2020, nor are any expected to make a fantasy impact in 2021.
The other type is simply called a "FIP-beater" that manages to control the quality of contact against him to the point that he outperforms his peripheral stats. Johnny Cueto has been a poster boy for this group for a while. He posted a sterling 2.25 ERA in 2014 before following it up with a solid 3.44 mark the next year. The 2016 season saw Cueto return to ace status with an ERA of 2.79.
Sabermetricians never saw Cueto that highly, however. His 3.30 FIP and 3.21 xFIP in 2014 made that campaign's 2.25 ERA look like a fluke, while his regression in 2015 (3.44 ERA, but 3.53 FIP and 3.78 xFIP) seemed like a harbinger of things to come. His sterling ERA in 2016 (2.79 ERA) was again undermined by considerably larger FIP (2.96) and xFIP (3.42) marks. Many analysts projected his demise in each of these years only to be proven wrong.
In 2017, they were proven correct. Cueto struggled to a 4.52 ERA, with a FIP (4.49) and xFIP (4.45) to match. His ERA rebounded to 3.23 in 2018 in an injury-shortened campaign (53 IP), but his underlying metrics (4.37 FIP, 4.67 xFIP) suggested that he was actually as bad as the previous year. Injuries limited him to 16 ineffective innings in 2019, and he struggled throughout 2020 (5.40 ERA, 4.64 FIP, 4.78 xFIP over 63 1/3 IP.
Pitchers like this rarely make good fantasy investments. Strikeouts are a key component of FIP, so pitchers who defy it are still lacking in a common fantasy category. Why risk a poor ERA for two-category upside? There is an ongoing debate in the sabermetric community though, so this author's word is not gospel on the subject.
What is SIERA?
SIERA stands for Skill-Interactive ERA and attempts to measure a pitcher's true talent more accurately than FIP and xFIP. It is marginally more accurate than xFIP, but its increased complexity may not be worth it. The stat assumes that ground ball pitchers will have a lower BABIP on grounders than other pitchers, while fly ball pitchers will have lower HR/FB marks. It is also adjusted for the overall run-scoring environment and a pitcher's home park.
That may sound good, but remember that those adjustments won't affect your fantasy team's bottom line. Jon Gray posted an atrocious 6.69 ERA for the Rockies last year, but his SIERA was "only" 5.58 in part to correct for Coors Field. Obviously, pitching at Coors will not improve your ERA, so you can't count on Gray regressing to his SIERA the same way you can with xFIP. SIERA is also not on the ERA scale, with a league average of 4.34 to the 4.45 of the other metrics last season.
Conclusion
To conclude, FIP and xFIP are metrics that try to determine the ERA a given pitcher deserves based only on the outcomes he actually controls: Ks, BBs, and home runs allowed. While FIP uses the pitcher's actual homers allowed, xFIP regresses it to the league average figure. Both metrics are on the ERA scale and may be used to predict future ERA with more accuracy than ERA alone. Check out these articles if you want to learn more about applying sabermetrics within a fantasy context.
Download Our Free News & Alerts Mobile App
Like what you see? Download our updated fantasy baseball app for
iPhone
and
Android
with 24x7 player news, injury alerts, sleepers, prospects & more. All free!