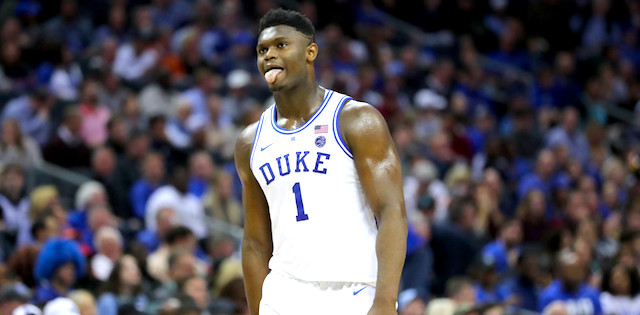 The NBA Draft has come and gone. Fortunately, we now get to incessantly talk about it all weekend until the eventual free agent rumors reemerge and take over the news cycle. There were not too many shocking selections in the first round, and while plenty of picks were spoiled prior to the draft's start, it was as entertaining as ever. The trade-a-palooza was very much appreciated by myself and most other fans who love chaos and analyzing changing scenarios in real-time. Every other pick felt like it was traded or acquired via a trade previously and was not heading to the team in the current slot.
While the picks felt fairly predictable throughout the night, there were a lot of good fits found for the freshly-minted professional ballers. A team like Minnesota only had one selection but made the most of it by trading up to draft Jarrett Culver, arguably the second-best prospect, who can be thrown right into the fire on the wing (with only one pick though, it was hard to justify adding them into the winners' category).
The criteria used to select my winners here was simple. Who got the best value, along with the best fit. Indiana, for instance, got great value in Goga Bitadze, however, they now clogged their center position even further and likely cannot play him as much as a team like the Cavaliers or Grizzlies could. Same goes for the losers. For the losers, the criteria's about the same but on the opposite end of the spectrum. Without further ado, here are the winners and losers of the 2019 NBA Draft.
Editor's Note: Our friends at Monkey Knife Fight have the best, most fun, fastest growing DFS props game! It's super simple to play and to win real money. Just choose your NBA, NHL or PGA game, and make your picks! Get a 100% instant deposit bonus up to $50 using promo code: BALLER. That's $50 for free - don't miss out!
Play Now!
Draft Winners
New Orleans Pelicans
The biggest winners of the night, mostly because they got Zion Williamson. Not much more can, or even needs to be said about Zion. There's a reason the entire draft media cycle basically plastered his face everywhere. Dude is the real deal and has an entire arsenal of translatable NBA skills that will terrorize the league for the next decade.
Nevertheless, the Pelicans did have other picks in the draft, and they maximized each. They traded the fourth overall pick acquired from the Lakers to receive two first rounders this year (8 and 17) along with a future Cleveland first and pick 35. In the process, they also managed to dump Solomon Hill's albatross contract onto the Hawks. With the eighth overall pick, the Pelicans selected Texas big man Jaxson Hayes to pair in the frontcourt with Zion. Although both can protect the rim at a high level, Hayes can play as a cohesive partner going forward as his game continues to develop. His high free throw and two-point jumper percentage indicate that his shot could come along and potentially even stretch out beyond-the-arch in due time. Hayes's body is still growing and he likely will not bear a heavy workload in his rookie year, but he has all the makings of a franchise center.
Their seventeenth pick was spent on Virginia Tech guard Nickeil Alexander-Walker, the cousin of Shai Gilgeous-Alexander. NAW is a very talented combo-guard who could be plugged right into a starting lineup today. He has great touch on his shot and can play both guard spots. Not a guy that needs the ball to be effective, which is huge given the talent NOP has acquired this offseason. He fits well next to Lonzo Ball and Jrue Holiday, just an absolute find at a proper value.
Boston Celtics
As a Lakers' fan, it pains me to say that the Celtics had a fantastic draft night. The additions of Romeo Langford, Grant Williams, and Carsen Edwards could potentially fill in a youthful roster with lots of wiggle room. Langford was a highly-touted prospect coming into this past season but failed to meet expectations at Indiana. He was dealing with an injured thumb throughout the year that limited his shooting, and just recently had surgery to repair the ligament that was torn. If he can properly heal, and display some perimeter shooting acumen even in the Summer League, this pick could end up a huge steal.
The potential exits of Al Horford and Kyrie Irving have left a lot of minutes on the table for this new Celtics core. Edwards and Williams are older prospects who might not require much of a transitional period coming into the year and could slide right into the additional playtime. Edwards was unconscious throughout the NCAA Tournament, and nearly took down eventual champion Virginia on his own. He has natural scoring instincts and a shot that could translate to the NBA three. Despite his short stature, he should be a solid shooting guard in the league and paired with defensive maestro Marcus Smart, there might not be too much to worry about on that end when they're on the floor together.
Williams was the catalyst for the Tennessee Volunteers on both sides of the ball this past season. He is a welcome addition to a big-starved Celtics roster. His improvements over the past three years brought him to where he is today, as a first-round pick in the NBA. Williams is not a prototypical player with his girthy size and questionable shooting. In the past, he would be regarded as a tweener forward, but now, he's solidly a four who can play the five in small-ball situations. Williams has shown solid rim-protecting ability throughout his time in college and his size should allow him to hold his own against most NBA bigs. If the three-point shooting comes along as well as his free throw shooting did in college, this pick could end up as even more of a steal.
Memphis Grizzlies
The Ja Morant pick was fairly obvious, especially after the Mike Conley trade this week. Morant fits right in as their starting PG of the future and can basically have full control of the offense. He played up the street at Murray State and should not have a tough time reviving the Grizzlies' fanbase. Although there are concerns over his defense and three-point shooting, Morant should develop as an excellent playmaker and scorer.
The most impressive selection of the first round and the reason why Memphis is a big winner here is the Brandon Clarke selection at 21 overall. Memphis had the wherewithal to trade up with Oklahoma City to acquire Clarke and make sure Boston would not snipe them at 23. This was genius drafting/trading for Memphis's new front office. The post-Chris Wallace era is off to a fine start. Clarke is the ideal PF to play next to Jaren Jackson Jr. as they can play off of each other on both offense and defense. Either can rebound/defend inside while the other is lurking the perimeter and both can play excellent help-side defense to cover for any potential miscues. While Clarke is not much of a shooter, he does not clog the lane and can operate around the floor and take a 16-footer if need be or roll to the rim with Morant.  There is so much fun to be had with this roster. This new core is excellent.
Honorable Mention: Atlanta Hawks
The trade to move up to four was pretty bad, especially considering that they took De'Andre Hunter over Jarrett Culver. However, Hunter is still a talented prospect who showed out in the NCAA tournament and should have a lengthy NBA career. He is fundamentally sound and fits in the Hawks' system as a spot-up shooter and slasher on O and potential shut-down wing on D. Some have concerns about his mobility this past season, but given that he was just coming off of an ACL tear from late in 2018, I will give him the benefit of the doubt. There is room to grow and his floor remains high.
Cam Reddish is one of the more polarizing prospects in this draft. He was a top-three recruit coming into the season but failed to meet expectations while playing alongside Zion Williamson and R.J. Barrett. Reddish's shots came sporadically throughout games and he never really had the opportunity to get into a rhythm during games. For the first time in his life, he was not the guys on a team, and it looked ugly. That is a bad sign to how he will fit in as a complementary player in the league, but my feeling is that he had this tumultuous year to grow and be humbled a bit. His free throw and steal percentages were solid and remain good indicators on future shooting/defensive success. His floor remains as a decent three-and-D player and that is perfect for what Atlanta has in place with Trae Young, Kevin Huerter, John Collins and now De'Andre Hunter.
Draft Losers
Miami Heat
Is Tyler Herro bad? No. Was Tyler Herro worth a lottery pick? Absolutely not. Herro's saving grace is his shooting ability. While that may play in the league, he really does not offer much more than that. Miami possibly made this move out of desperation for any semblance of hope on the perimeter, but it was likely short-sighted. They are currently touting a poorly-constructed roster with a few talented young players and very many old, useless ones on bad contracts. They should have gone for more of an upside play (Goga Bitadze, Romeo Langford, Sekou Doubouya) here to maximize the pick instead of banking of a one-dimensional prospect. Herro's wingspan is at a negative ratio to his height (bad) and he does not provide much on offense outside of shooting/scoring. Nevertheless, if that one true skill (shooting) turns out to be elite and he can hit at a 40-plus percent clip from three, then nothing else will matter. His 93.5 percent free throw percentage is indicative of future shooting success as he has a very pure form, but will he be able to get enough open looks outside? Especially on a poorly spaced Miami team, good shots are going to be hard to come by.
Miami also, unfortunately, spent three second-round picks for the rights to draft KZ Okpala. Many view Okpala as a bad prospect, mostly because he cannot really shoot...or defend. His college numbers leave a lot to be desired, and his tape displayed a lack of instincts on the floor. Okpala is a decent project pick given his size/ability to play on the wing, but not one worth three second-round picks, no matter how meaningless they typically are.
The worst transgression of Miami's night may have come even later when they drafted Bol Bol and promptly traded him to Denver for a future second-round pick and cash. Bol may be a concerning player given his medical issues and reportedly poor interviews, but he is talented. Bol's shooting ability at his size is impeccable. The only person that can compare is Kristaps Porzingis. Although the term "unicorn" has been beaten to death in recent years, Bol may be of that tier. Miami not even giving him a shot is sad, especially given the lack of upside on their roster.
Washington Wizards
The Wizards do not have a general manager at the moment and it was evident on draft night. With the ninth pick in the first round, they over-drafted Rui Hachimura, someone who should not have been considered in the top-20, let alone the lottery. Hachimura's advanced numbers look impressive over the past few seasons; however, they do not tell the full story. He is a tweener forward who can't really shoot from the perimeter and does not defend well. He has a low IQ on the floor and constantly misses cues. There's just a lot to fix, and it might be fixable, but at pick nine the risk should not have been worthwhile.
They even bought a pick in the second round to take another player in Admiral Schofield who does not present much potential and can't do anything at a high-level. Schofield really does not have even one good skill to bank on. He took some tough shots in college that were impressive but overall lacks the talent to play in the NBA to a good degree. Washington should have drafted for potential
Oklahoma City Thunder
The Thunder made one pick during the draft, and it was on an extremely OKC player. Darius Bazley does not do anything that Thunder need. He is an interesting wing prospect who had been out of basketball for a year but he can't shoot. The Thunder need shooters wherever they can get them. The fact that they did not draft one is a major L. They are in win-now mode with Russell Westbrook and Paul George in the midst of their respective primes and yet the front office failed to fill one of the biggest needs on the roster. Even if Bazley was the best player available, the margin could not have been that far off from the next best prospect who might have some sort of perimeter shooting ability. Ty Jerome, Dylan Windler, Keldon Johnson, and Kevin Porter Jr were all selected soon after and would have been much more fitting picks for their current roster.
Honorable Mention: Phoenix Suns
I'm a bit tepid on this Suns' draft day. Cam Johnson is good, but he was over-drafted. Dario Saric is also good, but he was not worth the difference in value from pick six to eleven that it took to trade for him. The worst deal may have been trading TJ Warren and the 32nd pick for...nothing. The Phoenix Suns dumped Warren's salary to open up even more cap space to disappoint their fans this summer. It is an odd move, but nothing should surprise Suns fans while Robert Sarver is in control.
The Ty Jerome pick was very solid, as he should be a valuable NBA player, but nothing more than a combo back-up guard who spot-starts throughout his career. Fun fact about Cam Johnson while we're here, he's older than Devin Booker who is going into year FIVE in the league. A reason he may have been taken this early is due to the connection between him and Suns' VP of Operations, Jeff Bower, who recruited him initially. It's just so Suns-y it hurts. If Johnson can shoot half as well (not literally) as he did in college though, it should be fine.