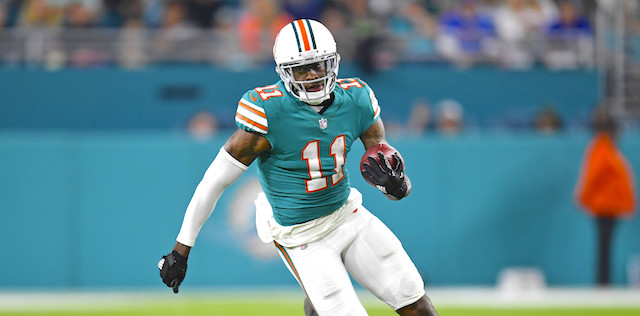 Welcome to our Week 16 matchup analysis and start/sit column for fantasy football. We'll be covering every single contest from the Sunday slate in one convenient location, helping you make the best decisions for your fantasy lineups. Be sure to check back regularly because this article will be updated as news comes in regarding injuries and other important information.
Pierre Camus will start off by covering the first set of games that begin at 1:00 PM ET on Sunday, and Chris O'Reilly will take you home with his analysis of the late afternoon and evening games. You can also read about the three Saturday games, broken down by Taylor Maxton, and the Monday Night game by Dominick Petrillo.
If you have any additional lineup questions, follow us on Twitter @Roto_Chef and @cjoreillyCLE and feel free to ask away! Without further ado, let's get started.
Editor's Note: Get any rest-of-season NFL Premium Pass for 50% off. Our exclusive DFS Tools, Lineup Optimizer and Premium DFS Research through the Super Bowl.
Sign Up Now!
Matchups Analysis - 1:00 PM ET Games
New Orleans Saints at Tennessee Titans
Matchups We Love:
Drew Brees (QB, NO) - It's no surprise that Brees is leading the league in completion rate but his current 75.8% mark is just ridiculous. He keeps breaking his own single-season record and could keep that success going in Week 16. The Titans are a middle-of-the-pack pass defense but have been susceptible to big games by opposing QBs at times. We don't expect Brees to deliver another four-TD performance necessarily but he is solidly among the top-10 fantasy quarterbacks and must be started.
Michael Thomas (WR, NO) - Overshadowed a bit by Brees' achievements, Thomas is a large reason why his completion rate remains so high the last four seasons. He leads the league in targets (159), receptions (133), and yards per game (110.9), along with an 83.6% catch rate. Celebrate the fact you selected him instead of Odell Beckham or Antonio Brown and enjoy the points rolling in.
A.J. Brown (WR, TEN) - Is there any doubt that Brown is a weekly must-start? He's gone over 100 yards in consecutive games and in three of the last four. He's also scored four touchdowns over that span. His 12.1 yards per target is second among all receivers with at least 25 targets. Brown is set as a fantasy WR2 against a Saints Defense that is bottom-10 in fantasy points allowed to receivers.
Jared Cook (TE, NO) - After a very slow start that had him looking like a bust in New Orleans, Cook has come on to score six TD in the last eight games along with an average of 60.9 yards. When healthy, it would be hard to imagine him sitting for anyone outside of the top-three or possibly a tight end like Austin Hooper or Darren Waller. The Titans allow the eighth-most fantasy points to tight ends, which makes this matchup ideal too.
Matchups We Hate:
Ted Ginn / Tre'Quan Smith (WR, NO) - Is Smith finally becoming a valuable fantasy asset? Not really. He has scored in three of the last four games but that's about it. He's only caught six passes for a combined 77 yards in those games. He could sneak into the end zone again but that just makes him a boom/bust WR4 in standard leagues. Ginn doesn't have a great individual matchup, going against Logan Ryan. He is also a desperation flex at best, seeing as how he hasn't topped 50 yards in a game since Week 1.
Corey Davis (WR, TEN) - Davis is questionable at best. Also, he has an ankle injury. Kidding aside, Davis has been tormenting fantasy owners for three years now as we wait for him to live up to his potential as a first-round pick. The fact that this offense is clicking on all cylinders, A.J. Brown is dominating, yet Davis has averaged less than three receptions and 40 yards, with only one game over 60 yards since Tannehill took over pretty much proves that he's a bust. Add in the injury designation and he has no business on fantasy teams this week.
Other Matchups:
Ryan Tannehill (QB, TEN) - We live in a world where Ryan Tannehill, who wasn't good enough to keep his starting job for the 7-9 Dolphins last year, is a weekly must-start. His 9.5 yards per pass attempt leads the league and is a full yard higher than Patrick Mahomes. He's thrown at least two touchdown passes in five straight games along with three rushing scores. Even in a tough matchup, you'd have to stick with Tanny. In this case, the Saints are 22nd in fantasy points allowed to QBs, making Tannehill a top-1o fantasy QB once again.
Alvin Kamara (RB, NO) - Sorry, but we just can't love Kamara anymore. He hasn't rushed for 100 yards in a game all year and has gone three straight games without totaling 100 scrimmage yards. In fact, he only has four carries of 20+ yards, the same as Chase Edmonds, Alexander Mattison, and LeSean McCoy. On the surface, his numbers are all remarkably similar to last season so it appears that his rookie season, which set the bar so high, may prove to be the outlier in his career.
The matchup is simply average, so Kamara figures to be a low-end RB2 in full PPR leagues.
Latavius Murray (RB, NO) - Murray has been solid as the RB2 supporting Kamara, averaging 4.6 yards per carry. The Titans only allow 3.96 yards per carry to running backs, eight-best. Without a big play or a touchdown, both of which are unpredictable, Murray is a desperation flex.
Derrick Henry (RB, TEN) - In standard scoring formats, Henry is now the second-best fantasy running back of the year. In half-PPR, he is fourth. There's no way you aren't relying on him to carry you to a championship this week. Just be warned that the Saints have allowed the fourth-fewest rushing yards and ninth-fewest rushing scores of any defense. They just locked down the Colts to 46 total rushing yards and have held three of their last five opponents under 100. That makes Henry simply a high-end RB2. Needless to say, Dion Lewis has no place in fantasy lineups this week.
Update: After getting a questionable tag, Henry is not expected to play in Week 16.
Jonnu Smith (TE, TEN) - It's tempting to overreact to last week's big game where he totaled 117 scrimmage yards, especially when the Titans have been playing so well. That said, Smith gained much of his yardage on a big run (an actual rush attempt) and has only had two games over 60 receiving yards along with two TD on the season. In Week 12 and 13, he totaled zero receptions. You're just as likely to get nothing as a big game from Smith, so he's a huge risk that is big-play dependent.
Carolina Panthers at Indianapolis Colts
Matchups We Love:
Christian McCaffrey (RB, CAR) - The most unnecessary sentence that will be uttered in this entire column: start McCaffrey this week and enjoy your trophy.
Marlon Mack (RB, IND) - It was a rough return for Mack in Week 14, as he ran for just 38 yards against Tampa. He was even worse in Week 15, barely scraping for 19 rushing yards on 11 carries. Does this mean he's done being a fantasy contributor this season, especially with the Colts out of the playoff race? Hardly. He simply had two tough matchups against the #3 and #6 run defenses in the league. This week, he gets to face the unit that has allowed more fantasy points to running backs than any other. Mack is an absolute must-start everywhere.
D.J. Moore (WR, CAR) - Moore has emerged as an elite wideout in his second year, even with Kyle Allen as his QB most of the time. He is fifth in receiving yards per game with 83.9. Any concerns you have about Will Grier must be overridden by Moore's excellence.
Matchups We Hate:
Jacoby Brissett (QB, IND) - As you can see, I get the general sense this game will be played out mostly on the ground for Indy. Brissett hasn't been a fantasy asset outside of two-QB leagues for a while now; he's thrown a total of four touchdown passes in his last seven games. You can do better.
Zach Pascal (WR, IND) - When Hilton is out, Pascal has value. If Hilton plays, Pascal is not worth the roster spot. While the Panthers do have a generous secondary in terms of yardage allowed, they've only given up 12 TD to wide receivers. Pascal doesn't have the floor to give him standalone value with Hilton on the field.
Jack Doyle (TE, IND) - The absence of Eric Ebron and T.Y. Hilton should have generated more volume for Doyle but it didn't. He caught two passes in each of the last two games and has only broken the 50-yard mark once since Week 8. The Panthers allow the second-fewest fantasy points to tight ends, so this isn't a spot to trust him.
Other Matchups:
Will Grier (QB, CAR) - Daniel Jones, Gardner Minshew, David Blough, Brandon Allen... all of these rookie quarterbacks had unexpectedly successful debuts this year, not to mention a decent game by Kyle Allen in his first NFL start last year. You don't want to trust Grier in your fantasy lineup at this point in the season but he may not be the worst passer in deep two-QB or Superflex leagues if your other options include Baker Mayfield, Sam Darnold, or a guy named Duck.
Curtis Samuel (WR, CAR) - Some are immediately putting Samuel as a must-sit because he will have a rookie throwing to him. He doesn't figure to be a high-end option but don't dismiss him outright so soon. In Kyle Allen's first start last year, Samuel went for 72 yards and a TD. Grier could even be an upgrade. Samuel always has a shot to score based on his elite speed and the fact he is targeted in the end zone more often than Moore. His six targets inside the five-yard line rank him third among all receivers. I'd prefer him in a standard league but he is still in the WR4 discussion in PPR.
T.Y. Hilton (WR, IND) - It appears Hilton will once again play but the question is: how much? He saw just 52% of the team's offensive snaps last week and came away with just 25 yards despite being targeted nine times. The Colts should have an easy time running the ball, so Hilton is more of a risk-reward WR3 than a WR1 as he typically would be.
Marcus Johnson (WR, IND) - He's played the role of deep threat, posting 17.4 yards per reception, albeit over a small sample of 14 catches, along with a 17.0 aDoT. The good news is that he played 80% of the team's offensive snaps last week, even with Hilton back. If Hilton is limited or has a pre-game setback, Johnson is a streaming option in standard or half-PPR leagues.
Greg Olsen (TE, CAR) - It looks like the 13-year vet is probable for Week 16 after missing the past two games with a concussion. That puts an end to any value Ian Thomas might have had. It makes Olsen an interesting high-end TE2 since the Colts allow the second-highest catch rate to tight ends (74.3%) and rookie Will Grier might look to his tight end as a safety outlet frequently.
Pittsburgh Steelers at New York Jets
Matchups We Love:
Jamison Crowder (WR, NYJ) - His ownership shot back up to 72% after last week's 90-yard, two-touchdown game. If you are in a shallow-enough league and looking for a streamer still, Crowder could deliver. The Steelers are generally tough against receivers but less so against the slot where Crowder resides. He is a strong WR3 in what would appear to be a bad spot but actually isn't.
Matchups We Hate:
Sam Darnold (QB, NYJ) - It's over. The cushy stretch of schedule where Darnold was a waiver wire and streaming darling has ended and he didn't come out of it looking too great. Facing the likes of Miami (twice), Cincinnati, Washington, Oakland, and the Giants, he averaged 267 passing yards and posted a 10/3 TD/INT rate in six games. Now, he gets the Steelers Defense that is top-1o against the pass and leads the NFL in sacks. You can't count on garbage time production either, as the Steelers offense isn't clicking too well. Darnold's 16 pass attempts inside the 10-yard line averages out to 1.45 per game, among the lowest in the league, so even when the Jets approach the goal-line, he can't be trusted to convert. Darnold is one of the worst QB options of the week.
Devlin Hodges (QB, PIT) - The Duck is still nesting behind center for Pittsburgh but may not even last through the second half if he keeps throwing wobbly du... passes. He was picked off four times by Buffalo and while the Jets Defense isn't quite that stout, they won't roll over either. Hodges has yet to throw more than one TD in a game all year so there is no reason to have considered him in the first place. Don't get cute and play Mason Rudolph either.
Le'Veon Bell (RB, NYJ) - Bell ran for a season-high 87 yards last week in a blowout loss to the Ravens. That's right, he has yet to even reach 90, much less 100, in a game as a Jet. His pass-catching floor isn't too impressive either - he averages 31.1 receiving yards per game. In his first game on the other side of the field with the Steelers, this makes for a revenge-game narrative. Guess who will be looking for revenge? It may be going out on a limb but I expect the Steelers defense to be in full attack mode and shut Bell down every chance they get. He can still be flexed in full PPR leagues but expect very little.
Robby Anderson / Demaryius Thomas (WR, NYJ) - It stands to reason that hating Darnold means hating his receivers. This is mainly true for the outside options. They are both touchdown-dependent for value this week.
JuJu Smith-Schuster / Diontae Johnson / James Washington (WR, PIT) - If the Pittsburgh backfield has been a headache, their receiving corps can be considered an even bigger one. It appears Smith-Schuster will play but between a concussion and knee injury, there's no guarantee of full playing time. If he does, that eats into the targets of the other receivers. This is a situation best avoided.
Other Matchups:
James Conner (RB, PIT) - You ideally would avoid this backfield altogether, which is not what we thought we'd be saying at any point in the season. Conner has been in and out of the lineup all year and can't be trusted to finish four quarters. He only carried it eight times last week with a 52% snap count and could be limited again. Flex only if necessary. Ignore Jaylen Samuels as well - he's averaging two targets per game over the last four.
Baltimore Ravens at Cleveland Browns
Matchups We Love:
Lamar Jackson (QB, BAL) - The first time these teams met, Jackson had yet to truly kick off his MVP campaign. His Week 1 explosion was dismissed as a case of the Dolphins tanking and he didn't throw a single touchdown in a Week 3 loss to Kansas City. He then threw three TD and ran for 66 yards against the Browns but it came largely in garbage time of a blowout loss. Don't be surprised if he and the Ravens are out for revenge and roll out this hapless team, as they did the Jets last week.
Nick Chubb (RB, CLE) - First of all, Chubb is matchup-proof. The Ravens are dominating and the Browns are struggling but that means nothing in this case. He leads the league in rushing yards, has the second-most broken tackles (40), and the most yards after contact by far (978). If the Browns score, there's a good chance it'll be Chubb in the end zone for a ninth time.
Mark Andrews (TE, BAL) - He's healthy again so he's a top-10 TE for fantasy purposes. He scored his eighth touchdown of the year in Week 15 along with 52 yards on four receptions. He could post similar numbers this week. Neither Hayden Hurst nor Nick Boyle need to be considered.
Matchups We Hate:
Baker Mayfield (QB, CLE) - How bad has it gotten? Mayfield's 23.5% Bad Pass% is worse than deposed starters Kyle Allen, Marcus Mariota, and Case Keenum. He will remain behind center all year, except possibly Week 17, but don't expect better results. He hasn't been worth starting all season and his 342-yard Week 4 win over the Ravens is clearly looking like a fluke. Expect far worse results and don't consider Mayfield, even in two-QB leagues.
Kareem Hunt (RB, CLE) - The Ravens will probably be winning which means that Hunt could catch several passes, right? Not so, in this case. The Ravens have allowed the fewest receptions to running backs of any defense, the third-fewest yards, and just one touchdown reception. All of Hunt's value stems from his receiving ability, as he hasn't even carried it 10 times in a game as a member of the Browns. Hunt's floor just isn't there this week.
Jarvis Landry (WR, CLE) - It's tough to sit him in full PPR leagues given his 123 targets rank 10th among all receivers and his 18 red-zone targets that rank fifth. Still, it's hard to trust a man that is apparently asking off his team and has been as inconsistent as his team's offense. He is on the lower end of the WR3 spectrum as he faces newly-anointed Pro Bowl CB Marlon Humphrey.
David Njoku / Ricky Seals-Jones / Demetrius Harris (TE, CLE) - Both Njoku and Seals-Jones are questionable for this game, so we have no idea who will even play among this trio. Avoid and find value elsewhere at TE.
Update: David Njoku is officially inactive this week.
Other Matchups:
Mark Ingram (RB, BAL) - If only Lamar Jackson weren't so dynamic, that might help Ingram's fantasy numbers. Having a quarterback who just broke the single-season mark for rushing yards at his position cuts into his running backs' touches. In Ingram's case, he is averaging just under 14 carries and 69 yards per game. He has gone over the 100-yard mark four times but not since Week 12. Earlier this year, he ran 12 times for 71 yards against Cleveland and could put up a similar line here. Keep him as your RB3 and hope for a touchdown.
Marquise Brown (WR, BAL) - He was shut down for 22 yards in Week 4 versus the Browns and has continued his trend of being a touchdown-or-bust option any given week. This week is no different - roll the dice in standard leagues if you don't have a better option.
Odell Beckham Jr. (WR, CLE) - Let's ignore the drama and stick to fantasy here. OBJ actually had one of his better days as a Brown in Week 15, catching a season-high eight passes on 13 targets. He'll square off with Pro Bowl corner Marcus Peters but we know Peters likes to gamble and could leave him open for a big play. You also have to wonder if Beckham will be fed the ball in order to spite the media reports swirling around him. Beckham is a decent start in a game where the Browns should be playing catch-up for much of it.
Jacksonville Jaguars at Atlanta Falcons
Matchups We Love:
Matt Ryan (QB, ATL) - Ryan is second in the NFL behind only Jameis Winston with nine 300+ yard passing games and he's bounced back from a midseason lull to post strong weekly numbers. Last week's total of 210 yards came on the road vs the 49ers, so it can be excused. This will be a strong performance from a reliable passer.
Devonta Freeman (RB, ATL) - Freeman is averaging an unhealthy 1.9 yards after contact, which is fifth-lowest among all RBs with at least 100 YAC. He doesn't have a 100-yard game this season, has fallen under 52 rushing yards in five of his last six games, and ran for just 39 last week. So why the love? Easy - he plays the Jags. Not only is this team making vacation plans already, they are the second-worst run defense in terms of fantasy points vs the running back position. Don't expect an RB1 week necessarily but find a way to get him in your lineup.
Leonard Fournette (RB, JAX) - Even if the game doesn't go Jacksonville's way (it probably won't), their workhorse should get his. Win, lose, or blowout, they keep feeding him the ball. Fournette is sixth in red zone rushing attempts with 45 and there is no vulture looming to threaten his 79% RZ team share. He is fifth in yards after contact among running backs.
Chris Conley (WR, JAX) - Conley is averaging a healthy 16.2 yards per catch and has parlayed his 4.4 speed into production finally. The touchdowns won't always be there like they were last week but Conley has seen a steady stream of targets much of the year. He has been targeted at least five times in seven of the last eight games. With Chark playing, Conley can still be considered a fantasy WR4, especially now that Desmond Trufant is out.
Austin Hooper (TE, ATL) - The matchup is neither here nor there for Hooper individually, as the Jags are simply mediocre defending the tight end. In these times, Hooper's season-long production and the lack of many better options makes him one of the stronger TE options out there. If Jones is out, Hooper shoots up the rankings even more.
Matchups We Hate:
D.J. Chark (WR, JAX) - It is surprising to see the Jaguars roll him out this week for no viable reason. His ankle sprain has been described as substantial but apparently it got better in a hurry. You may still want to keep him benched if you're playing for a championship because he may see limited snaps.
Nick O'Leary (TE, JAX) - Stop, no, and don't. He's questionable with a shoulder injury and may not even play. Not like you have any reason to trust a Jags tight end anyway.
Other Matchups:
Julio Jones (WR, ATL) - Of course Jones has to be listed as questionable for the fantasy championship... If he plays, you start him. Coming off a 13-catch game where he was targeted 20 times (the only player to do so this year), he would seem likely to play in this one so keep him inserted until you hear otherwise.
Russell Gage / Christian Blake (WR, ATL) - If, and only if, Jones doesn't suit up, each of these young receivers becomes intriguing. The Falcons would most likely keep it on the ground more but they've thrown the fifth-most red-zone passes, which bodes well for any receiver now that Calvin Ridley is on IR. Be ready to pivot to one of these players if you need a desperation last-minute replacement in deeper leagues.
Dede Westbrook / Keelan Cole (WR, JAX) - Is there a more frustrating pair of receivers than these two? Each has flashed at moments and then disappears like a shooting star. You'd like to keep them off your radar completely except that the Falcons' secondary is so banged up that one of these receivers could exploit an inexperienced CB like Isaiah Oliver or Kendall Sheffield. If you are willing to take a chance on a WR5 or Flex play that is pure boom or bust, try Cole.
Cincinnati Bengals at Miami Dolphins
Matchups We Love:
Ryan Fitzpatrick (QB, MIA) - I said it before and said it again, Fitzmagic might just win some folks their fantasy league this week. It's not that the Dolphins are playing that great on offense or that the Bengals are... well, they are pretty bad on defense. The Dolphins basically have no running game, they have Albert Wilson back healthy, and they are going to keep airing it out to try to win for some inexplicable reason. He's attempting nearly 38 passes per game as the starter and is averaging 285 yards over the last five contests. He isn't an automatic QB1 but he is a strong consideration for those still streaming the position.
Joe Mixon (RB, CIN) - If he can run for 136 yards in New England, imagine what he can do against Miami... It doesn't always work out that way but he does seem to be getting better as the year goes on. Mixon is now 12th in total rushing yards and ninth among RBs with 27 broken tackles on the year. It won't be hard to rack up more against a Dolphins Defense that resembles a skeleton crew.
John Ross (WR, CIN) - Don't laugh. Ross is back in the starting lineup with Auden Tate on IR and A.J. Green ending his season before it ever started. Ross hasn't played much since his early-season explosion when he combined for 270 yards and three TD in the first two games. He hasn't done much either, combining for four receptions and 52 yards in Weeks 13-14. This could be the week to take a chance on him as a streamer though, as the Dolphins have allowed more touchdowns to wide receivers (25) than any other team.
Devante Parker (WR, MIA) - It took four NFL seasons, but the former first-round pick has finally morphed into a weekly must-start. Parker grabbed two more touchdown passes last week, giving him eight on the year. He is by far the top target on the team and should have an easy time against cornerback B.W. Webb.
Matchups We Hate:
Andy Dalton (QB, CIN) - This seems counterintuitive but there are plenty of reasons to hate Dalton this week, even if you aren't a Bengals fan. As bad as Miami is, they've only allowed two 300-yard passers since their Week 5 bye. The Bengals just lost Auden Tate for the year. Joe Mixon has been great as of late, which means the Bengals are likely to keep it on the ground as much as possible. There's also the chance that Dalton gets the hook if he struggles early so the team can get another look at Ryan Finley before the season is up. Don't be tempted by this matchup - Dalton has an 11/13 TD/INT rate on the year, hasn't thrown more than one TD since Week 5, and has almost no upside at this point.
Tyler Eifert (TE, CIN) - The Bengals may be ready to move on from injury-prone Eifert, who is finishing up a one-year deal and set to be an unrestricted free agent. Cethan Carter caught his first NFL passes (and touchdown) last week and could be looked at instead. Eifert can be ignored as usual.
Other Matchups:
Patrick Laird / Myles Gaskin (RB, MIA) - Normally there would be tremendous fantasy value with any running back facing the Bengals. This is an exception. Laird has become the RB pickup to own in Miami due to his usage and pass-catching (18 receptions on 24 targets over the last six games). It could be Gaskin that delivers unexpected value in this game, however. The Dolphins may want to give him a longer look and it appears they are doing so. Last week, he carried nine times for 43 yards and saw his snap rate jump to 48%. You hopefully have better options but Gaskin could at least be a DFS tourney play, if not a deep-league flier, against the Bengals Defense that allows the fifth-most fantasy points to RBs.
Albert Wilson / Allen Hurns / Isaiah Ford (WR, MIA) - One of these players could turn in a strong performance as the WR2 du jour in Miami. The others will probably bust completely. Best guess is that a now-healthy Wilson gets the highest target share while Ford takes a backseat. Fantasy owners are best left avoiding this guessing game though.
Mike Gesicki (TE, MIA) - Follow the targets. Gesicki keeps getting looks, with seven straight games of at least five targets. It doesn't always translate into production but Gesicki is at least a high-end TE2 against Cincy, even if they only simply average in defending tight ends. Be warned that they've only allowed four touchdowns to tight ends all year, so Gesicki is strictly a PPR option.
New York Giants at Washington Redskins
Matchups We Love:
Terry McLaurin (WR, WSH)
Here's a rundown of what the number-one receiving options on the Giants' last four opponents have done against them:
Allen Robinson - six receptions, 131 yards, one touchdown
Davante Adams - six receptions, 64 yards, two touchdowns
Zach Ertz - nine receptions, 91 yards, two touchdowns
DeVante Parker - four receptions, 72 yards, two touchdowns
You have to take Terry McLaurin's potential to follow up on this recent success with a grain of salt given his quarterback and the offense around him, but he's clearly the most talented and productive pass-catcher the Redskins have, and his opportunity has reflected that most weeks. Moreover, with the WR pool having been absolutely decimated by injuries over the last two weeks, you may be looking for a replacement. If so, you can do much worse than McLaurin as a flex or low-end WR2 with the potential for a big day.
Saquon Barkley (RB, NYG)
Saquon Barkley is coming off his best fantasy performance of the entire season, and not a moment too soon if you've managed to withstand his ups and downs en route to championship week. He's averaging just over 19 carries per game in his last four, with a target share just under five in the same span that should provide just enough PPR work to lift his floor slightly higher. The Redskins have allowed back-to-back games of at least 172 all-purpose yards and at least one touchdown to running backs. That's a high bar to reach, but Barkley is capable of getting there.
Matchups We Hate:
None
Other Matchups:
Dwayne Haskins (QB, WSH)
The Giants have been shredded for eight passing touchdowns in their last three games, but Dwayne Haskins has had all of one quality fantasy outing this season. Needless to say, this is not the time to experiment at quarterback. The theme of championship week is to make the safe decision unless the reward drastically outweighs the risk, and that's far from being the case with Haskins.
Adrian Peterson (RB, WSH)
One thing that's been true of Adrian Peterson this season is that when he touches the ball frequently, he produces in fantasy lineups. Peterson has carried the ball at least 13 times in seven of nine games dating back to Week 6, and has gone for at least 66 yards in each. The veteran has also scored a touchdown in three straight games. He's a sure bet to see his customary high workload on Sunday against the Giants, with touchdown-dependent RB2 upside and a flex floor.
Chris Thompson (RB, WSH)
Injury has greatly impacted Chris Thompson's ability to carve out a fantasy-friendly role for himself in Washington, but the big takeaway here is that there hasn't been any rhyme or reason to his usage rates in the few games he's played. In his three games since returning from a prolonged injury absence, he's seen two, eight, and three targets, respectively. There's too much risk and not nearly enough upside here.
Kelvin Harmon / Steven Sims Jr. (WR, WSH)
Kelvin Harmon and Steven Sims Jr. have stepped into marginal roles with both Paul Richardson and Trey Quinn injured, but neither is a safe bet to see enough work to return fantasy value. The Redskins offense clearly runs through Peterson and McLaurin, and the rest of Washington's skill players are left to contend for minimal opportunity--with an unproven quarterback distributing the ball around, no less.
Daniel Jones (QB, NYG)
Before last week's disappointment in which an Eagles team deploying practice squad players at wide receiver somehow put on an offensive clinic, the Redskins Defense was beginning to establish itself as a tough out for opposing quarterbacks. In the three games prior to Week 15, the Redskins had recorded 17 sacks and forced seven turnovers. The Giants have committed a turnover on a league-high 19.5% of their possessions, and are middle-of-the-road in pass protection. Washington isn't without its fair share of red flags defensively, but none of them are enough for me to trust Daniel Jones with my championship match fresh off an injury.

Sterling Shepard / Darius Slayton / Golden Tate (WR, NYG)
No matter which Giants wideout you rolled with in Week 15, it panned out to a degree. Darius Slayton and Golden Tate scored touchdowns, while Sterling Shepard rumbled for 111 yards on nine catches. Shepard's is the only output that can't be categorized as lucky, however, as Slayton and Tate put up their numbers on three combined catches. Banking on another across-the-board solid day from all three this week would be a dicey venture. Tate appears to be the odd man out in the volume department of late, having seen just nine total targets in his last two games. It's no small coincidence that this trend has reared its head with Shepard back in the fold, as the Giants' number-one has averaged more than eight targets in four games since returning from injury in November. Unlike Tate, Slayton has managed to avoid drifting into the background; he's averaging just under seven targets per game since Shepard came back. Because of the potential for this to be a weekly game of musical chairs in which one receiver sees more chances than the others, it's hard to raise expectations very high on any one wideout in this trio. That said, it's fair to view both Shepard and Slayton as relatively dependable flex plays with an obvious shot at much higher ceilings based on their target shares in recent games. Tate has PPR upside if he returns to a more prominent role, but he's best treated as a low-end flex, and there may be safer options on the board.
Matchups Analysis - 4:00 PM ET Games
Dallas Cowboys at Philadelphia Eagles
Matchups We Love:
Amari Cooper (WR, DAL)
The one thing the Eagles have been consistently terrible at this year is defending wide receivers, and if anything, they've gotten worse in recent weeks. Darius Slayton, DeVante Parker, and Terry McLaurin have all gone for at least 130 yards and at least one touchdown against the Philly secondary over the last three games. The Rams held Amari Cooper in check last week, but the Eagles are in no position to do the same. Cooper ranks 10th in receiving yards per game and sixth in yards per target. Only three WRs have more receiving touchdowns than him. The Cowboys will likely need a big game from Cooper to win this one and keep their playoff hopes intact.
Ezekiel Elliott (RB, DAL)
Any qualms you have with the matchup here have to be put aside in favor of what we know Ezekiel Elliott is capable of. He has as much of a stranglehold on his team's backfield as any player in the league, is coming off back-to-back two-touchdown performances, and has rumbled for at least 93 yards from scrimmage in each of his last four. You didn't gamble back in August that he'd end his holdout just to wind up worrying about him with the championship at stake.
Zach Ertz (TE, PHI)
Only the Chiefs and Seahawks have allowed more receptions to the tight end position than Dallas. Only Travis Kelce has caught more passes than Zach Ertz at the position. Ertz has been the recipient of a ludicrous target share over his last six games, averaging just south of 11 per week. I don't see any reason for that to change against the Cowboys this week. Anyway, I'm just telling you what you've known all along. Ertz is a TE1.
Matchups We Hate:
None
Other Matchups:
Dak Prescott (QB, DAL)
I'm concerned about Dak Prescott's sprained shoulder, but a matchup with the Eagles is too promising to pass up. Despite rostering one of the league's better running backs, the Cowboys have attempted over 100 more passes than rushes this season. That formula should continue against the Eagles, who have been tough to run against and less challenging to throw on. Philly owns the league's 11th-lowest turnover rate on defense and is giving up touchdowns on 5.4% of opposing pass attempts, which ranks seventh-highest. If you've come this far with Prescott as your guy, don't jump off the wagon now.
Jason Witten (TE, DAL)
Opposing tight ends are averaging fewer than four receptions per game against the Eagles, and Jason Witten's recent production wouldn't be all that attention-grabbing if not for the fact that it includes two touchdowns in his last three outings. The veteran has seen just five red zone targets in his last 10 games after opening the season with just as many in his first three. Without a more dependable role in scoring position, I'm not comfortable banking on another TD, so Witten is a fringe starter for me this week with a reasonable shot at a high PPR floor if his recent target share holds up.
Michael Gallup (WR, DAL)
Michael Gallup has too wide a range of outcomes to list him among the loves, but this matchup figures to yield the more positive end of the spectrum. Only the Buccaneers represent a more favorable opponent for WRs than Philly, and as we touched on in the Cooper segment, the Eagles are giving that number-one spot a serious run of late. In the four games before last week's win in which Gallup only saw three balls thrown his way, he was averaging nine targets per contest, and had gone over 100 receiving yards twice. He should be able to get back on track and then some against the Eagles, and I'd be fine rolling him in as a flex play with upside.
Randall Cobb (WR, DAL)
It's been weeks since Randall Cobb saw a target count that could reasonably be expected to provide him with a PPR floor, and as soft a matchup as the Eagles secondary is, it's not worth it to hope for a drastic turnaround on that front. Remember, the key this week is not to take unnecessary risks.
Tony Pollard (RB, DAL)
Tony Pollard's breakout Week 15 performance shouldn't be casually dismissed, but here are a couple of reasons I'm not viewing it as incentive to throw a dart at him this Sunday. The Cowboys were up by as many as 30 points in that game against the Rams, and Ezekiel Elliott still carried the ball 24 times. The Eagles are a quality run defense, and this game is most likely going to determine who wins the NFC East. Pollard's 14 touches last Sunday were the most he'd seen since Week 3, and I'm not expecting a repeat unless the Cowboys jump out to another insurmountable lead--a tough task on the road in Philadelphia.
Carson Wentz (QB, DAL)
Things have been working out alright for Carson Wentz despite his injury-depleted WR corps lately, but the Cowboys are (supposed to be) a tougher defense than the Dolphins, Giants, or Redskins. Dallas is holding opponents to 6.8 yards gained per pass attempt, tied for the fifth-lowest mark in the league. The Cowboys' 3.9% touchdown rate against on pass plays is the 10th-lowest. On a positive note, the Cowboys are tied with the Lions for the fewest interceptions in the league, and Wentz is sure-handed in that regard. I'm not ecstatic if my championship hopes come down to Wentz, but I'm not running for the hills to give someone else the responsibility, either.
Greg Ward Jr. (WR, PHI)
Greg Ward has been targeted nine times in each of his last two games, with 28 total targets in the four he's played since joining the Eagles amid their injury troubles. It wasn't until last week against the Redskins that any of this amounted to fantasy-friendly output, when Ward went for 61 yards and a touchdown on seven catches. The fact that Ward appears to have earned Wentz's trust enough to be viewed as "the guy I'm going to throw the ball to on the rare occasion I don't throw to Zach Ertz" is promising, but there are also plenty of ways for it to go wrong against a Cowboys Defense holding WRs to the seventh-fewest yards per game.
Dallas Goedert (TE, PHI)
Dallas Goedert has managed to maintain a half-decent PPR profile despite Zach Ertz reestablishing himself as one of the league's premier tight ends. This is due in large part to the fact that Philly has suffered one injury after another to an already underwhelming collection of WRs, but the ends justify the means, or something like that. In any case, Dallas is giving up the third-most catches per game (six) to tight ends, so consider Goedert and his sustainable target share a candidate to flirt with that total regardless of how many Ertz hauls in for himself.
Miles Sanders (RB, PHI)
As has been the case for most of the second half of this season, we have to prepare as though Miles Sanders is the guy in Philly's backfield. He's more than made good on the RB1-levels of opportunity in recent weeks, having racked up 346 yards from scrimmage in his last three games. His recent form also includes a season-high six receptions on as many targets in last Sunday's outing, and Sanders has added three touchdowns in this three-week stretch for good measure. The Cowboys are one of the less favorable matchups for running backs, but they have allowed the position to average nearly six receptions per game.
Boston Scott (RB, PHI)
Boston Scott has factored in as a pass-catcher in both of the Eagles' last two games, catching all 13 of his targets for 108 yards. There are plenty of running backs with similar roles who can't claim to have had as much success in recent weeks, making Scott a sneaky PPR flex option in a matchup conducive to production from a player with his role.
Jordan Howard / Nelson Agholor (RB/WR, PHI)
Both Jordan Howard and Nelson Agholor appear poised to miss Sunday's game, with the former logging a limited practice on Thursday and the latter not practicing at all. Howard would shake up the outlook for this offense more than Agholor would, as I'd have to be in a serious bind to consider Agholor in this game regardless. Howard would probably not factor in as a start-worthy fantasy option considering he hasn't been cleared for full contact as of 72 hours prior to kickoff, but he would presumably cut into the workload of Miles Sanders and could dampen the forecast for Boston Scott as well.
Update: both Howard and Agholor are expected to sit again in Week 16.
Detroit Lions at Denver Broncos
Matchups We Love:
Drew Lock (QB, DEN)
Before we get all carried away, I'm not suggesting you should do something crazy like bench Aaron Rodgers in favor of Drew Lock this week. But I will allow for the possibility that somewhere out there among the millions of fantasy football owners, there might be a handful of people who find themselves in a position where they're legitimately forced to consider Drew Lock as their quarterback. If this pertains to you, don't be too afraid. The Lions pressure the quarterback at the league's sixth-lowest rate. They're tied for the fourth-most passing touchdowns surrendered, and are tied for the fewest interceptions. Only the Cardinals are allowing more passing yards per game. Lock played poorly against a good Kansas City pass defense last week, but the Lions aren't that. Again, if you somehow wound up at this crossroads or, more realistically, are in a 16-team league, Lock should at least be able to keep your team above water.
Courtland Sutton (WR, DEN)
Despite his quarterback completing under 50% of his passes and the Broncos only scoring three points last week, Courtland Sutton was able to give you double-digit PPR numbers. Hopefully you survived, because he's in line for a much more lucrative outing against the Lions on Sunday. Detroit is allowing the fifth-most catches and the second-most yards per game to wideouts, and have permitted 17 touchdowns to the position to boot. Lock him in for what could potentially be a championship-clinching performance.
Matchups We Hate:
Lions Running Backs (All RB, DET)
The Lions backfield is, to put it lightly, a mess. Kerryon Johnson might return from IR this week, but even if he does, there's no reason for the Lions to push a heavy workload on him right out of the gate. Bo Scarbrough is also questionable to play after missing last week's game with a rib injury. That leaves J.D. McKissic, Ty Johnson, and Wes Hills. Hills scored two touchdowns last week, but only racked up 21 yards on 10 carries altogether. Even in a perfect world in which the Lions have their two best options available in Johnson and Scarbrough, I'm not anticipating anyone seeing enough opportunity to warrant gambling on this group with championship hopes on the line.
Update: Johnson is expected to play, and see a solid amount of snaps and volume.
Other Matchups:
David Blough (QB, DET)
I can't imagine you actually need to be talked out of David Blough this week, but here it goes. In his three starts, he's got a completion rate under 60%, has thrown five picks to just three touchdowns, and has hit his target on just six of 12 red zone attempts. The Broncos are statistically the toughest red zone defense in the league.
Logan Thomas / Jesse James (TE, DET)
Because the Lions are tied for the fifth-most receiving yards and are alone in giving up the seventh-most receptions to tight ends, Logan Thomas and Jesse James are included here as the longest of shots. But regardless of who has suited up at tight end for Detroit this year, they've largely fallen short in even the most favorable of matchups.
Kenny Golladay (WR, DET)
I'll stop short of hating Kenny Golladay this week because he's a proven WR1, but there are plenty of reasons to worry about him in Week 16. For one thing, it's not as though his third-string quarterback has taken any remarkable strides in the right direction. For another, the Broncos are holding opposing wideouts to the fifth-fewest receptions per game and the eighth-fewest yards per game. Last but not least, Denver's opponents have scored a touchdown on a league-low 41% of their red zone possessions. Half of Golladay's 10 touchdowns have come inside the 10-yard line, where he leads the league with 12 targets. It may take that level of scoring position opportunity to bail out his fantasy owners, as he doesn't own a particularly high PPR floor.
Danny Amendola (WR, DET)
Danny Amendola is averaging nearly 10 targets in his last three games, which would normally have you feeling pretty optimistic about him for Week 16. Unfortunately it wasn't until last week that he actually capitalized on these chances, hauling in eight of 13 targets for 102 yards. It should be noted that that performance came against a nearly nonexistent Buccaneers pass defense, and that the Broncos, as we discussed, are much less friendly to wide receivers. Recent history suggests there should be room for a PPR flex outing here, but Amendola's actual production on his chances has fluctuated enough to give me pause.
Phillip Lindsay (RB, DEN)
I'd like Phillip Lindsay better this week if he had any role in the passing game. He hasn't seen more than three targets in a game since the last week of October, and has collected just 19 total receiving yards in his last four. It's a shame he can't be counted on in this capacity, because the Lions have given up the second-most receiving yards and the most receiving touchdowns to running backs. Against the ground game, they're not quite as there for the taking, holding RBs under four yards per carry. Lindsay should be handled with care in fantasy lineups.
Royce Freeman (RB, DEN)
Similar story, different player. Whatever microscopic advantage Royce Freeman has over Lindsay in terms of his passing-game role is canceled out by the fact that he has gone six straight games without recording double-digit carries on the ground. I see no good reason to believe he'll suddenly go off in Week 16.
Daesean Hamilton / Tim Patrick (WR, DEN)
DaeSean Hamilton and Tim Patrick were targeted a combined 16 times in Week 15, but it shouldn't go ignored that the Broncos were down early in that game and threw the ball 40 times. What's more, it's not like either Hamilton or Patrick did much with the increased volume, combining for five catches and 39 yards between the two of them. With these factors in mind, I'm not willing to weigh the favorable matchup more heavily than the evidence at hand. 
Noah Fant (TE, DEN)
Noah Fant is once again on the Broncos' injury report, and he's a risky option at tight end to begin with. He hasn't seen more than five targets in a game in over a month, and his production in this span has been limited to big plays and touchdowns.
Oakland Raiders at Los Angeles Chargers
Matchups We Love:
Keenan Allen / Mike Williams (WR, LAC)
Where the Raiders succeed in preventing wide receivers from catching passes, they totally nullify it by giving up chunk yardage pretty much any time a wideout does haul one in. Oakland is giving up nearly 16 yards per catch to wide receivers, along with 17 touchdowns. Keenan Allen and his massive target share remain in WR1 territory. Moreover, this is precisely the type of matchup in which a big-play threat like Mike Williams can do some serious damage. Williams is averaging the highest yards-per-catch rate of any player in the league at 20.7. His level of opportunity doesn't quite rival that of Allen, but he's been producing all season long in spite of that. Rock him with confidence in Week 16.
Philip Rivers (QB, LAC)
I never thought I'd say this, but Philip Rivers has become a poor man's Jameis Winston. He's never more than a few pass attempts away from his next interception, but he's also capable of putting up lofty yardage and touchdown totals as well. You unfortunately can't ever totally discount the turnovers with Rivers, but the Raiders and their seventh-lowest turnover rate aren't the most ball-hawking defense out there. Only four teams pressure the quarterback at a lower clip than Oakland, only the Cardinals represent a softer overall fantasy matchup for QBs, and only the Texans are easier to score on in the red zone. Rivers has attempted the fourth-most passes inside the 20 this year, and I like him to light the Raiders up everywhere else on the field this week as well.
Darren Waller (TE, OAK)
The Chargers are one of the league's least friendly PPR matchups for tight ends, but this is Darren Waller we're talking about. Even after enduring a suspect stretch in which he appeared to be drifting from the high-end TE1 conversation, Waller still ranks 13th among all players with 80 receptions and is one of 18 players with 1,000 receiving yards on the year. We don't need to painstakingly analyze the Raiders to know that Waller is the best pass-catcher they have, and he should be in line yet again for more than enough volume to overcome a dicey matchup.
Matchups We Hate:
None
Other Matchups:
Hunter Henry (TE, LAC)
The Raiders are a dreadful red zone defense, and have allowed the second-most touchdowns to tight ends. If ever there was a time for Hunter Henry to bounce back from what has been a pedestrian December, this is it. Henry hasn't seen a red zone target in over a month, nor has he seen more than four targets in a game in the same stretch. I'd feel much better about him if not for this disconcerting lack of involvement, but the matchup should assist him in getting back on the map.
Melvin Gordon (RB, LAC)
The Chargers have been on both sides of blowouts in back-to-back games, which has minimized the need to lean heavily on Melvin Gordon in the ground game. If you own him, you're very much hoping for a more tightly contested matchup this week, and you're especially hoping that if it does devolve into a blowout, the Raiders aren't on the winning end. Oakland is holding opposing running backs under four yards per carry, and has allowed just nine rushing touchdowns to the position. You don't want Gordon fighting an uphill volume battle on top of that. If you need something to hang your hat on, consider that the Raiders are the second-worst red zone defense in the league, and that Gordon holds a commanding share (49.1%) of the Chargers' rushing work inside the 20. A couple of touchdowns is not outside the realm of possibility here, keeping Gordon within range of an RB2 day.
Austin Ekeler (RB, LAC)
Austin Ekeler might be the safer of the Chargers' two running backs this week despite not seeing enough carries on a weekly basis to give him a high rushing floor. Because this game could go any of a number of ways on the scoreboard, I'm more comfortable betting that Ekeler will see his customary high volume in the passing game regardless of game flow. Here are his PPR numbers in his last four outings: 21 catches, 29 targets, 333 yards, two touchdowns. If you're still alive at this point in the season, Ekeler is a huge reason why. Trust him to finish the job.
Raiders Wide Receivers (All WR, OAK)
Tyrell Williams rewarded anyone brave enough to start him with a touchdown last week, but don't let that distract you from the overarching theme of Oakland's receiving corps: this isn't a dependable bunch. The Chargers are holding opposing WRs to the seventh-fewest catches and fourth-fewest yards per game.
Deandre Washington / Jalen Richard (RB, OAK)
Oakland ranks closer to the bottom than to the top of the league in yards before first contact on rushing attempts, which forces you to wonder if Josh Jacobs' success this year is more a product of him just being really good than anything else. I'm leaning toward yes. With that in mind, I don't know that we're looking at anywhere near the same level of production from DeAndre Washington. Los Angeles hasn't allowed a 100-yard rusher since Week 8, and has given up just five rushing touchdowns in the same span. On the PPR front, the Chargers are a middling matchup for running backs. I envision the potential for a split between Washington and Jalen Richard, with the latter presumably taking on a pass-catching role the Raiders don't normally utilize when Jacobs is healthy, but I'm not seeing much upside here. View Washington as a volume-dependent, emergency flex option, especially if you're the person in your league who just lost Jacobs. Richard is a more dangerous play.
Derek Carr (QB, OAK)
There's not much need for in-depth discussion on Derek Carr. He just kind of is what he is. The Chargers are one of four teams holding opponents under 200 yards passing per game. In fact, the last quarterback to throw for more than 200 yards and multiple touchdowns against the Chargers was Ryan Tannehill all the way back in Week 7. That's more than half the season ago, boys and girls.
Arizona Cardinals at Seattle Seahawks
Matchups We Love:
Jacob Hollister (TE, SEA)
Jacob Hollister has the distinction of being the tight end who gets to face the Cardinals this week. If you've managed to make it to championship Sunday by playing the matchups each week at tight end--first of all, congratulations--you're not going to find anyone on the streaming heap with much higher upside this week than Hollister. The detriment is a recent lack of usage, but if any opponent is worth scheming up a play package for your tight end, it's Arizona.
Russell Wilson (QB, SEA)
In addition to struggling against tight ends, just blanketing the Cardinals under the label of "bad pass defense" seems fair. No team has allowed more passing touchdowns or yards to quarterbacks than Arizona. And if that's not enough, this is, after all, Russell Wilson.
Matchups We Hate:
None
Other Matchups:
Tyler Lockett / D.K. Metcalf (WR, SEA)
There's opportunity for both of Tyler Lockett and D.K. Metcalf to put up numbers in this one, but the problem is if it's just one of them, I don't know who it will be. Metcalf had seemed to take the reins for a relatively extended stretch in which Lockett was mysteriously a non-factor, but the latter returned to prominence last week with an eight-catch, 120-yard performance on nine targets. Metcalf drifted from the forefront in the same contest, seeing only four targets but managing to stay above water with a touchdown on two receptions. Arizona's pass defense, as we know, isn't any good. But lately the Seahawks haven't been sustaining two star-caliber wideouts at the same time, so I have to view these guys somewhere in the mid-range flex to mid-range WR2 conversation.
Chris Carson (RB, SEA)
Running backs are averaging just south of 4.3 yards per tote against Arizona, which isn't through the roof, but is more than enough for me to have faith in Chris Carson this week. The Seahawks' now unchallenged number-one back is averaging a healthy five yards per carry in his last three games, and continues to be a volume workhorse to boot. I'd list him among the loves if not for the fact that I'm envisioning a signature Russell Wilson game.
Kyler Murray (QB, ARI)
There are ways in which the Seahawks are a favorable matchup for a quarterback, starting with the fact that they're allowing the fourth-most passing yards per game. Additionally, they pressure the quarterback at the league's fourth-lowest rate. There's also a ton of shootout potential here, which could lead to Kyler Murray attempting more than 35 passes for the first time in a month. But the Seahawks allow touchdowns on pass plays at the fifth-lowest clip in the NFL, and are the third-best team at creating turnovers, which Murray is no stranger to falling victim to. If he's my quarterback, I'm hoping for a high-scoring affair.
Christian Kirk / Larry Fitzgerald (WR, ARI)
For many of the reasons listed above, I would be cautious with Christian Kirk this week. I'd also be concerned about the ups and downs in his production over the last month. He's averaging 7.5 targets in his last four games, but has gone over 41 yards receiving just once and hasn't scored a touchdown. Larry Fitzgerald isn't any safer in terms of recent form, averaging six targets per game in his last four but posting similarly mediocre stat lines. Kirk has been the more productive overall player on a per-game basis, and I'm not opposed to trotting him out there as a flex option in a game that, again, could feature a ton of scoring. The Seahawks are allowing the seventh-most receptions per game to WRs, which lifts the floors of both Kirk and Fitzgerald provided the volume is there.
Kenyan Drake (RB, ARI)
The Seahawks have allowed the fifth-fewest rushing yards per game to running backs, albeit on the fourth-fewest attempts. The Cardinals, who have reverted to a far more balanced offensive approach since Kenyan Drake joined the team, are a good bet to hit the over on 18.78 rushing attempts, which is what opponents are averaging against Seattle. In any case, Drake has completely stolen this backfield from David Johnson, and has served a viable PPR role in games in which the Cardinals found themselves in high-scoring duels. If he's in your lineup this week, he should stay there.
David Johnson (RB, ARI)
It would be the most 2019 Arizona Cardinals thing ever if David Johnson somehow goes for 135 yards and two touchdowns on 20 touches this week, but let them and their social media team handle the funny business. You've seen enough by now to know Johnson is not a dependable fantasy option with your league trophy on the line.
Matchups Analysis - Sunday Night Football, 8:20 PM ET
Kansas City Chiefs at Chicago Bears
Matchups We Love:
David Montgomery (RB, CHI)
At my own peril, I'm listing David Montgomery as a love again this week despite the fact that, very much in line with how his rookie season as a whole has gone, he failed to capitalize on an equally favorable matchup last Sunday. In any case, the Chiefs are surrendering nearly five yards per rushing attempt to opposing backs, and their pass defense is going to demand that the Bears don't rely too heavily on Mitch Trubisky on Sunday night. The one facet of fantasy football in which Montgomery has been consistent is volume, and he should see a ton of it in Week 16 against a beatable run defense.
Travis Kelce (TE, KC)
Only two teams are allowing more receptions per game to tight ends than the Bears, and that alone is almost all I need to know going into this one that Travis Kelce is poised for another high-end TE1 day. If you need anything else to feel good about, here are his numbers over his last four games: 30 catches, 41 targets, 390 yards, one touchdown.
Matchups We Hate:
Mitch Trubisky (QB, CHI)
Kansas City has held all of the last three opposing QBs it faced to 222 or fewer yards through the air and one or zero touchdowns, while recording four interceptions in this span. The Chiefs have taken on some pretty underwhelming passers during this span, but Mitch Trubisky falls right in line with that description.
Damien Williams / LeSean McCoy / Darwin Thompson (RB, KC)
If you're a weekly visitor to this column, you know I can't stand the Kansas City backfield for fantasy purposes. Here's something to mull over: in my half-point PPR home league, Chiefs kicker Harrison Butker is projected to outscore all of his running back teammates individually. Opposing backs are averaging an unsightly 3.68 yards per carry against the Bears, and the fact that Chicago has permitted the second-most rushing touchdowns to the position isn't enough for me to hang my hopes on anyone from this inconsistent group.
Update: Damien Williams will make his return from injury in Week 16. LeSean McCoy is officially inactive.
Other Matchups:
Tarik Cohen (RB, CHI)
If you're scrambling for a flex option in PPR formats, consider that Tarik Cohen has hauled in 24 of 29 targets in his last four games. Kansas City is allowing slightly under six receptions per game to RBs, and no team has permitted more receiving yards to the position. Cohen could be particularly useful if I'm wrong about Montgomery this week, because the Bears are likely to have a tough time moving the ball through the air.
Allen Robinson (WR, CHI)
No team has allowed wide receivers to catch fewer passes than the Chiefs, and only two teams are allowing fewer yards. You certainly didn't come all this way just to bench Allen Robinson in the most important game of the season, but he wouldn't be the first number-one receiver to have a rough day against Kansas City. This is just one of those instances in which you have to trust the volume and hope for the best.
Anthony Miller (WR, CHI)
For the same reasons discussed above, I'm lowering expectations for Anthony Miller on Sunday night. He's carved out an undeniably lucrative role for himself in the Bears offense over the last month and change, but the matchup could cap his upside here. You can't straight-up bench a guy averaging over 10 targets a game in his last five, especially with injuries having thinned the league-wide WR herd. Just try to hang your hat on Miller's opportunity, and believe that it yields a flex outing in PPR formats.
Patrick Mahomes (QB, KC)
As advertised, the Bears have been a less-than-ideal matchup for quarterbacks this year. You still have to like Patrick Mahomes, if for no other reason than it's hard to imagine you have a better option, but he simply hasn't been the prolific fantasy threat he was last season. Prior to a much-needed bounce-back game last week, Mahomes had completed 65% or less of his passes and thrown just one touchdown per game in his last three. The Bears are a quality enough pass defense that I don't feel comfortable banking on a week-winning performance out of Mahomes on the road Sunday night, so keep him in high-floor territory.
Tyreek Hill (WR, KC)
Tyreek Hill remains a must-start based on his volume, as well as the fact that he hasn't dipped below 55 yards receiving in any game in which he's seen at least five targets. He's also come through on the touchdown front often enough to keep his ceiling up, including a two-score outing last week against Denver. The Bears are an all-around middling matchup for wide receivers, though it should be noted they're among the league's best at keeping the position out of the endzone.
Sammy Watkins / Demarcus Robinson / Mecole Hardman (WR, KC)
You know the drill by now. Any one of the Chiefs secondary pass-catchers could go off for 85 yards and multiple scores under the right circumstances. And any one of them could put up a line like two catches on four targets for 17 yards. Lately for Sammy Watkins, Demarcus Robinson, and Mecole Hardman, it's been more of the latter. I can't trust these target shares in a matchup that already limits the upside of this bunch.
More Start/Sit Advice