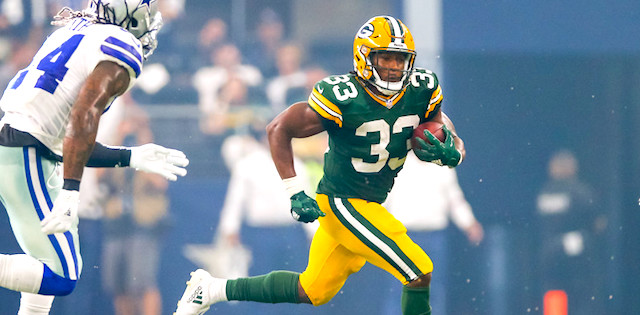 Running back is the most volatile position in fantasy football. It's possible to put together a winning team while going "zero RB" (not picking a running back in the early rounds), proving how much change there can be in many running backs' value over the course of a year. I don't recommend doing this, for what it's worth.
This year we have a pretty well-established "big four" at the position, although that is contingent on Ezekiel Elliott's holdout situation--and it may be five if not for Melvin Gordon's holdout situation. After that there is a pretty clear second tier...and then it gets dicey.
Given how strong the first couple of tiers are this year, my advice is to jump on one relatively early this draft season to secure a solid floor/ceiling combo for the 2019 season.
Editor's Note: Our incredible team of writers received five total writing awards and 13 award nominations by the Fantasy Sports Writers Association, tops in the industry! Congrats to all the award winners and nominees including Best NFL Series, MLB Series, NBA Writer, PGA Writer and Player Notes writer of the year. Be sure to follow their analysis, rankings and advice all year long, and win big with RotoBaller!
Read More!
Half-PPR Fantasy Football Rankings - Running Backs
Below are RotoBaller's consensus staff rankings for the 2019 fantasy football season. These rankings are compiled by Nick Mariano, Pierre Camus, Scott Engel, Bill Dubiel, Dominick Petrillo and Spencer Aguiar.
In case you missed it, our very own "Big Pick Nick" Mariano was the #11 overall most accurate industry expert ranker for the 2018 season, and #9 overall in 2017. Additionally, industry legend Scott Engel recently joined the RotoBaller team and provides his insights as well. Scott is an FSWA Hall Of Famer and award winner.
Tier 1
This is a pretty typical top tier, with the feature back dual threats taking the top four spots. If we knew they were going to play 16 games, Ezekiel Elliott and Melvin Gordon would likely find themselves in this spot, but obviously they're both a complete question mark until they sign somewhere.
Personally, I like David Johnson as maybe the third back in the group (behind McCaffrey and Kamara) given how different his circumstances are this year versus in 2018. Johnson proved he could be an elite player in 2016, then unfortunately lost his entire 2017 to injury. His 2018 season was a mess thanks to the incompetence of former offensive coordinator Mike McCoy, brutal offensive line play and a quarterback in Josh Rosen who simply didn't represent an aerial threat. With Kyler Murray and Kliff Kingsbury now in place, Johnson should be able to find (and be delivered the ball in) space and get back to his running and gunning ways of 2016.
Tier 2
I love Nick Chubb heading into 2019 and would not argue with anybody who put him in that first tier to be honest. The Browns have an improving offensive line, an offense positively loaded with weapons, and the departure of Duke Johnson should free up some receptions out of the backfield for Chubb. At the very least I like him better than Mixon in the early goings.
A healthy Dalvin Cook has sky-high potential in the Vikings offense that should lean on the run a bit more given that Gary Kubiak is now influencing the decision-making. The obvious risk factor is his injury history, and that has to be factored into your draft strategy. Understand what the upside is but don't necessarily count on 16 games from him
Tier 3
Kerryon Johnson represents an interesting case heading into 2019, and he's one of my top breakout targets for 2019. Johnson was immediately effective for the Lions, averaging 5.4 yards per carry on 12.5 carries per game along with four targets per game. With Theo Riddick now gone, I expect Johnson to maintain that carry average while adding more targets, which should allow him to be a true dual-threat feature back. C.J. Anderson will certainly be in the mix, but it's the Kerryon Johnson show in 2019.
Aaron Jones is criminally underrated here, and I know that's become a popular opinion in many fantasy circles. Jones has averaged 5.5 yards per carry over the last two years, but has suffered from limited playing time and some minor injuries. Jones should be the leader in the backfield this season and get enough work in the passing game to make him a solid value at his current ADP.
Tier 4
The hate on Marlon Mack due to the Thanos-like disappearance of Andrew Luck has gone way too far. Mack averaged a healthy 4.66 yards per carry and found pay-dirt 10 times in just 12 games in 2018. Although it's now Jacoby Brissett under center instead of MVP-caliber Andrew Luck, the Colts offensive line is one of the best in football heading into the season, and there will obviously be a renewed focus on the run game. Mack is a strong RB2 and should provide consistent value every week.
I'm not sure why Mark Ingram is widely regarded as a low-end RB2 going into this season. The bruising Alabama product will have the clear lead in the Baltimore backfield, which should be one of the most run-heavy offenses in football. We've seen from his time in New Orleans that Ingram is also a capable pass-catcher, and with Lamar Jackson still adjusting to NFL defenses Ingram will be an integral part of the offense on all three downs. I love him as a top-15 back and I think he's a steal at his current ADP.
Tier 5
Tevin Coleman may also be an excellent value given that Jerick McKinnon appears to be out of the picture for the time being. He should receive the healthy portion of the split between him and Matt Breida, and his reunion with Kyle Shanahan can be nothing but good news.  Coleman's best season (2016) came under Kyle Shanahan's guidance in Atlanta, and it saw him score 11 touchdowns as a secondary back to Devonta Freeman. As the 1A he should be a top-20 back in an improving 49ers offense.
James White is possibly the premier pass-catching back in the NFL, putting up an 87-751-7 receiving line in 2018 while adding 425 yards and five touchdowns on the ground. He was ticketed for a RB1 season until Sony Michel was finally unleashed, and White regressed to more of a change-of-pace option. That time share should return for 2019, rendering White no more than an every-week flex option with RB3 upside.
Tier 6 and Lower
The above rankings don't reflect the LeSean McCoy release (McCoy has been removed but no other changes have been made yet). The obvious change is going to occur with Frank Gore and rookie Devin Singletary. What I'm picturing is the sort of 1A/1B setup that the Saints had with Alvin Kamara and Mark Ingram. Note: I am not comparing them in skill or production, merely the opportunity that will be presented. Both backs should start the season with RB3 value in the run-heavy Bills offense, but Singletary obviously has the upside of the two.
Jaylen Samuels may very well have stand-alone flex value even if James Conner is fully healthy all year. Samuels will be deployed like Ty Montgomery was with the Packers--he may be a running back in some situations and act as a wideout in others. In the high-powered Steelers offense that means he should be startable in most weeks, and should Conner go down he would immediately become a RB2 for me.
More Fantasy Football Analysis
Check out all of RotoBaller's fantasy football rankings. Staff rankings are updated regularly for all positions and include standard formats, PPR scoring, tiered rankings and dynasty leagues.