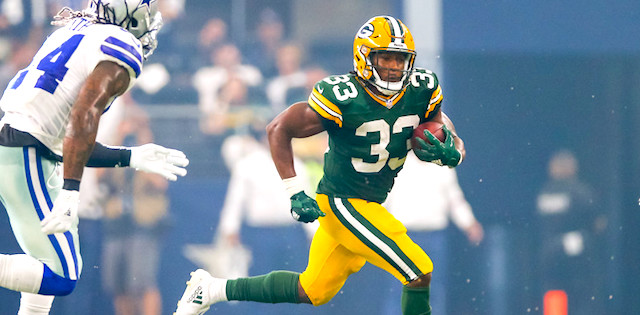 In fantasy football dynasty leagues, there is always tomorrow. That is what makes the format so compelling. Yes, your team may be out of it this year, but your season is never really over.
If your team has four wins, one more defeat and you are likely done for the season. If you have less than that, it's time to start looking to 2020 and start shipping off some prime assets to get alluring pieces for the future. If you're not going to win this season, you definitely want to enter the next year looking like a contender. It is also ideal to get younger players with the goal of staying highly competitive for a while.
While operating in the present, running backs will be very hot commodities in the dynasty market as the 2019 fantasy football playoffs approach. Selling off a top one to a contending team could bring back a handsome return. Of course, not every top RB should be traded if you have one. If you are going to deal a superstar, you better get a hefty haul in return.
Editor's Note: Get any rest-of-season NFL Premium Pass for 50% off. Our exclusive DFS Tools, Lineup Optimizer and Premium DFS Research through the Super Bowl.
Sign Up Now!
Fantasy Football Dynasty Trades: Running Backs
Here's the guide on top players you can possibly deal at RB in dynasty leagues, and what you should get in return. Those trading for RBs in this format can also use this as a guide for what to expect to give up.
We are only discussing the top guys at the position here. This exercise is all about procuring a bountiful return, not dealing Phillip Lindsay for a third round pick.
Christian McCaffrey – You should not part with him unless you get a major return. He can be the crux of your team for years and has shown so no signs of durability issues to this point. Demand a first-round pick and another standout player at the very least. If you can get a third player, such as a promising flex type, ask for that too. As the owner of the best RB in fantasy football, you have all the leverage. You can just keep McCaffrey if you don't move him. Rebuild around him.
Dalvin Cook – He is arguably the best RB in fantasy right now and is staying healthy. He could be a key piece to a title run for another team. Demand a first-round pick and a top player for the future, such as a David Montgomery or Lamar Jackson.
Saquon Barkley – He is getting banged up, but he's a very attractive piece to keep, much like McCaffrey. It should take a first rounder and a promising star player at another position, such as a Chris Godwin. Or as in the case of many of these RBs we have already mentioned, a Godwin/Montgomery package could work as well.
Ezekiel Elliott – He's seen as a small notch below the very elite at the position by some, and has more wear on him than some of the younger guys at this point. But you can still demand that first rounder and get a future standout such as a D.K. Metcalf. Or, be wiling to take Lamar Jackson and a second rounder.
Alvin Kamara – He was injured this year and the Latavius Murray factor has dinged his overall value a bit, as Murray has played better than Mark Ingram ever did as the second RB/handcuff in New Orleans. But he should return to his better form soon and you should require at least a first-rounder and another promising player such as a Miles Sanders in return. Trust me on Sanders. He is an all-around future star and you should target him in deals in which you are eyeing the future.
Aaron Jones – His value may never be higher as he heads into a bye with an incredible 14 total TDs. Use that number as heavy leverage and don't settle at all in trade talks for Jones. You should not accept anything less than a first-rounder plus another guy who can be a standout for years to come. Or demand a package of two future stars such as Montgomery and Metcalf.
Chris Carson – He is not perceived to be an elite RB, but he is staying healthy and is very solid at a high level. I could see asking for a Patrick Mahomes or Kenny Golladay and a first-rounder and seeing what the response would be. Or I would ask for a first-rounder and a Miles Sanders as the least I would consider.
Leonard Fournette – Another guy with an injury history who is staying healthy, his value may be at a peak as well. I would want a first-rounder and another guy who is on the verge of possible stardom like a Devin Singletary or a prime QB or TE such as Deshaun Watson or Mark Andrews.
Josh Jacobs – I would really want to keep him. He's too young and has too much upside. Unless you have two first-rounders and a Miles Sanders for me I'm not dealing Jacobs. I will demand a ridiculous return just to make you give me everything possible in return or just go away.
Derrick Henry – He does not carry the name value of the guys we have already mentioned, but Henry is more reliable than ever and the TD production is terrific. I would want a Godwin and a second-rounder or a Singletary and a first-rounder. I just acquired him in a dynasty league trade last week, sending the other owner Singletary and Adam Thielen for Henry and Allen Robinson.
Melvin Gordon – He should be a preferred target for a team in contention. Gordon is just starting to round back into his best form and can help push another team towards a championship. Plus, his future is uncertain, so you don't know what his total value may be for next year. But ask for at least high-end RB2 value in return. That means not settling for less than a second-rounder and a possible future star. Or I would trade him straight up for a Godwin.
Nick Chubb – The return of Kareem Hunt has already cut into his appeal. But he still has a very bright future. A package of Courtland Sutton and Miles Sanders would be enticing.
James Conner – He is perceived as damaged goods and you're likely not going to get a proper return.
Top Trade Targets By Position
Here is a short list of the types of guys you want to get in return for dealing away a superstar or top RB. You should ask for one of these with a top draft pick or combine these in a return package. Demand top performers at QB or TE, and young upside types at RB and WR. Of course, this is not an exclusive list, and additional pieces such as Curtis Samuel or Darwin Thompson should be acquired as well if possible.
Consult my full list of key dynasty trade targets here.
RB – David Montgomery, Miles Sanders, Devin Singletary
WRs – Cooper Kupp, Chris Godwin, Kenny Golladay, DK Metcalf, Courtland Sutton, D.J. Moore
QB – Patrick Mahomes, Lamar Jackson, Deshaun Watson, Russell Wilson (he is not old for a QB), Kyler Murray
TE – Mark Andrews, Noah Fant, T.J. Hockenson
More Fantasy Football Dynasty Analysis