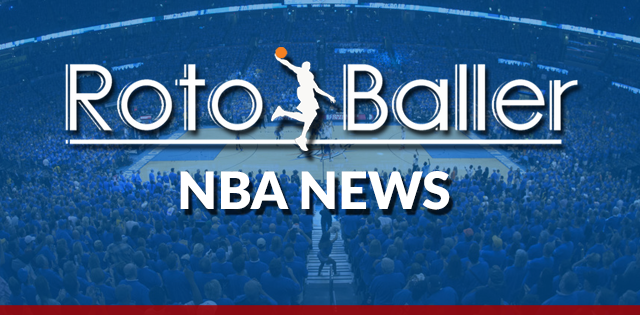 Welcome to the RotoBaller NBA Recap. In this feature, we will highlight one key fantasy basketball takeaway from each night during the past week. These viewpoints can be both positive and negative and will hopefully help to provide insight into different roster moves you should consider making.
Fantasy basketball has a lot of moving pieces with all the different scoring settings that are possible to play under, so I will always do my best to spotlight where players gain or lose value in certain game types.
Without further ado, let's get right into the seventh week of the season and try to figure out how to take advantage of what we saw transpire.
Editor's Note: Our friends at Monkey Knife Fight have the best, most fun, fastest growing DFS props game! It's super simple to play and to win real money. Just choose your NBA, NHL or PGA game, and make your picks! Get a 100% instant deposit bonus up to $50 using promo code: BALLER. That's $50 for free - don't miss out!
Play Now!
Monday, December 2nd
Kelly Oubre Jr. Slams Phoenix Past New Orleans 
It is amazing that the Phoenix Suns were able to get Kelly Oubre Jr. from the Washington Wizards in exchange for Trevor Ariza last season. The trade looked bad on paper at the time it was made but has gotten progressively worse as Oubre has taken the next step with his game.
On Monday, the former Kansas product tallied 23 points to go along with three rebounds, two steals, one block and two three-pointers, but it was his emphatic slam over Brandon Ingram that stole the show and eventually the contest. 
If you own the 23-year-old, I would stand pat. This is far from a sell-high situation, as Oubre has returned fifth-round value in nine-category leagues so far this year. We have seen this level of production out of him since the All-Star break last season, and I would imagine we will continue to see additional growth as this year progresses. Oubre shot up draft boards in Yahoo leagues during the final few weeks before the season, but this level of production has far exceeded his ADP of 77th overall.
Tuesday, December 3rd
Andre Drummond Might Be The Best Rebounder We have Seen Since Dennis Rodman
Andre Drummond rarely gets the credit he deserves for the unique way he plays the game of basketball. In a day and age where scoring and three-point baskets are sometimes all fans care to see, Drummond has moved to a different beat with his stellar rebounding nature.
His 17.1 boards per contest give him the highest amount of any player in the NBA since Dennis Rodman secured 17.3 during the 1993-1994 season, and there appears to be no end in sight for Drummond, who has raised his average in almost every season he has been in the NBA.
While his rebounding prowess will always be the first thing we think of when discussing the big man, Drummond's 17.3 points per game, 2.0 blocks, 1.7 steals and 3.0 assists currently has him ranked 12th in nine-category leagues and seventh in points settings. Assuming you drafted the University of Connecticut product in the second round of your league, you shouldn't have too much to complain about in 2019.
Wednesday, December 4th
Carmelo Anthony Continues To Produce Points
I talked last week about how Carmelo Anthony should begin to score more points once he gets settled into his role on the Portland Trail Blazers, but my original sentiments remain that he is a prime sell-high candidate because of his lack of contributions across the board.
After scoring 20 points on Wednesday night, Melo has now tallied 19 or more points in four of his past five games and has also averaged 6.8 boards during that same stretch. Those two numbers are no doubt respectable, but we still aren't seeing the 35-year-old produce in fantasy quite the way it may seem.
Anthony is currently ranked 95th in points settings and 130th in category leagues. If you own him in a points group, his value will be slightly better because of his ability to score buckets, but I believe we are looking at a player whose name is larger than his actual contributions. Nothing has changed in my mind, and I would be looking to move the 10-time All-Star to an owner who believes he is getting more worthwhile production than has been the case
Thursday, December 5th
Rui Hachimura Continues Recent Surge 
Rui Hachimura posted 43 minutes against the Philadelphia 76ers, making 11-of-18 shots from the field for 27 points, seven rebounds, two steals and one three-pointer.
Injuries have opened up playing time for the rookie, and Hachimura has done the most with his opportunity, earning trust from his teammates and head coach Scott Brooks. His transformation of playing closer to the basket has allowed him to produce a few more rebounds nightly, and the extra boost in non-scoring categories is beginning to have him approach top-100 value in most settings.
If you are participating in a 12-man league, Hachimura needs to be scooped up off the waiver wire if he is not currently owned. He will still need to add a little more substance across the board to reach the next level, but he is worth a chance because of his immense upside.
Friday, December 6th
Devonte' Graham Remains A Hold
Devonte' Graham scored 29 points during the Charlotte Hornets 111-104 loss to the Brooklyn Nets, adding eight assists, three rebounds, one steal and six three-pointers in 33 minutes.
Graham's success in 2019 has been astonishing, as the former Kansas product currently ranks inside the top-10 in assists, threes and touches per game. With top-75 production in all settings, Graham remains a hold if you were lucky enough to scoop him off your waiver wire early in the season.
More Fantasy Basketball Analysis