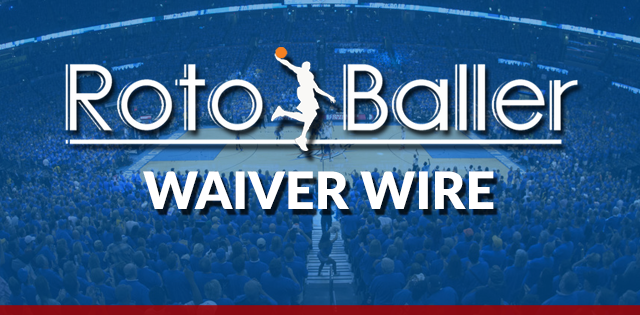 Welcome to Rotation Watch, Rotoballers! Each week, this article will highlight the players that are gaining minutes in their team's rotation. Fantasy managers want to roster the players that are accumulating stats and racking up the minutes. They want to avoid the players falling out of favor and watching the action from the sidelines.
It's exhilarating to see the NBA off and running for the 2020-21 season. Unfortunately, real-life injuries are already affecting fantasy rosters across the board, and Kawhi Leonard and Ja Morant's injuries have some managers scrambling to fill those absences. Luckily, you'll find some of the best candidates in the association to fill those minutes in the article below.
So without further ado, let's start searching those box scores from Dec. 22 to Dec. 27 and look for those hidden gems that are grabbing the minutes to help your fantasy basketball team achieve the ultimate prize: a championship. These suggestions are the cream of the crop, and if you ever need an extra slice of advice, feel free to reach out to me on Twitter @EuanOrYouOut, and I'll happily talk about some fantasy basketball with you all.
Editor's Note: Our incredible team of writers received five total writing awards and 13 award nominations by the Fantasy Sports Writers Association, tops in the industry! Congrats to all the award winners and nominees including NBA Writer of the Year, Best NFL Series, MLB Series, PGA Writer and Player Notes writer of the year. Be sure to follow their analysis, rankings and advice all year long, and win big with RotoBaller!
Read More!
NBA Playing Time Changes
George Hill, PG - Oklahoma City Thunder
Last Season: 21.5 Minutes per Game (w/ Milwaukee Bucks)
Week 1: 24.0 Minutes per Game
It may be a short-lived stay in Oklahoma City for George Hill, but there's no reason why he can't put up some good fantasy performances while he's playing in the Sooner State. Through two games with his new team, the veteran is averaging 17.5 points, 4.5 rebounds, 3.5 assists, 1.5 steals and shooting 59.1 percent from the floor. His first game in the blue and orange saw the guard go 8-for-9 with 21 points against the Charlotte Hornets while making all four of his three-point shots.
Chris Paul moved to warmer pastures in Phoenix and left a Hall of Fame-sized hole in the Thunder's offense. Hill can't replicate what CP3 brought to this team, but he can do his best to fill the gap as much as possible. His 24 minutes per game would be the highest since the 2017-18 season, and the 11 shots per game would be the most since the 2016-17 campaign with the Utah Jazz. The 2008 draft pick is on 30 percent of Yahoo rosters, but his dual eligibility at point and shooting guard makes him a worthy pickup in 14-team leagues to begin the season.
Last Season: N/A 
Week 1: 37.0 Minutes per Game
The rookie came off the bench in his NBA debut and had an admirable performance in his first professional game. Against the Portland Trail Blazers, Tate played 37 minutes and flashed the ability that got him his contract with the Rockets in the first place. The lefty went 5-for-9 with 13 points, four rebounds, two assists, and one steal. Also, he made both of his attempts from the charity stripe and went 1-for-4 from downtown.
The performance comes with the caveat that John Wall and Eric Gordon both missed the contest due to COVID-19 protocols, but there is still enough here to be encouraged for the future. His teammate's absences may be the break that Tate needs to continue earning minutes for this team. While one lefty in Houston is trying to find a new home, this team may have found another one to gladly inherit some of his shots and minutes if the opportunity comes along.
Last Season: 17.7 Minutes per Game
Week 1: 30.3 Minutes per Game
Everyone in the fantasy basketball world is talking about the early-season breakout Johnson is showing. The sophomore has received the starting nod in all three games so far this season and played 28 minutes in each contest. The second-year forward is averaging 14 points on 42.9 percent shooting to go along with 8.3 rebounds,  2.7 assists, 1.7 steals, and one block per game. The 2019 first-round pick isn't showing any fear in his shooting ability either because he's taken at least 10 shots in every game this year.
The former-Kentucky man contributes all over the box score and seems to be the clubhouse leader for early-season difference-maker. Johnson is available in 50 percent of Yahoo leagues as of Monday night, but that number will plummet if this form and workload continue in Week 2 of the new season.
Kyle Anderson, SF/PF - Memphis Grizzlies
Last Season: 19.9 Minutes per Game
Week 1: 32.5 Minutes per Game
It's not common for NBA players to break out in their seventh year and on their second team, but it seems to be happening to Kyle Anderson. The forward was added in 37 percent of those leagues over the last seven days but is still available in half of all Yahoo leagues. It's with good cause because the former-San Antonio Spur is thriving in the Memphis Grizzlies offense, and his role seems set to grow. The 27-year old was already playing 32.5 minutes per game in the Grizzlies' first three contests, but now, with Ja Morant facing a potentially lengthy recovery, Anderson could be in line for 35 minutes per night.
Over the first week of the new season, Anderson is averaging 18.3 points on 50 percent shooting, with 10.3 rebounds, two assists, and 2.3 makes from downtown. He's recorded back-to-back performances with at least 20 points and is settling in as a go-to option for Memphis. Add him while you still can because he deserves to be on a roster in a league of any shape, size, and format.
Last Season: 21.1 Minutes per Game (w/ New York Knicks)
Week 1: 22.7 Minutes per Game
The final recommendation is a potential one-week wonder at it's finest. However, while the Milwaukee Bucks remain in an early-season funk, it should lead to Bobby Portis accumulating a bunch of fantasy production. The sixth-year forward has played 26 minutes in each of the last two games for the Bucks and is prospering as the garbage time man. One performance came in a massive 39-point blowout over the Golden State Warriors, and the other came in a 20-point loss to the New York Knicks.
The fact is that Portis has produced back-to-back noteworthy performances. In the last two games, he has tallied 27 points, 19 rebounds, four assists, two blocks, two steals, and one three-pointer. The Bucks have two games against the Miami Heat this week and one against the Chicago Bulls. All three of those games have the potential to be blowouts if the early-season stink stays on Milwaukee. At least take a chance on Portis in Saturday's contest against the Chicago Bulls. Fantasy managers can even lean on the "revenge game" narrative for that matchup to ease the hesitation when clicking the add button net to Portis' name.
Download Our Free News & Alerts Mobile App
Like what you see? Download our updated fantasy basketball mobile app for
iPhone
and
Android
with 24x7 player news, injury alerts, lineup notifications & DFS articles. All free!
More Fantasy Basketball Analysis