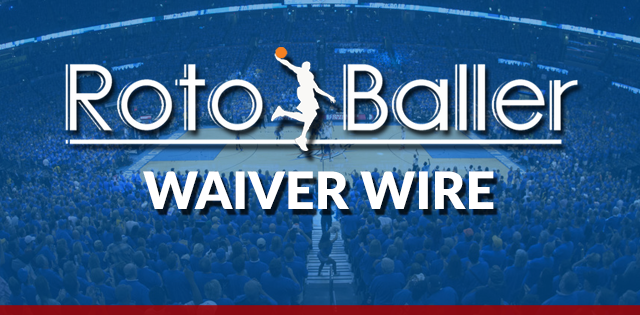 While fans and analysts work hard to discover the reason behind the decreased ratings for the NBA, it's important to remember all that still makes the league so great. For the first time in league history, two international players took home the respective Player of the Month awards in Giannis Antetokounmpo and Luka Doncic. The overall talent pool of the league is laughably deep, providing must-see tv and debatable theatrics on a near-nightly basis.
The ratings discussion is an interesting one given how supposedly popular the NBA is worldwide, but it shouldn't take away from the actual on-court product that continues to impress with incredible feats of statistical production.
Most of those stat lines come from the best of the best, but plenty of others are playing well. For fantasy owners, figuring out who those players are and will be is another challenge, one this article hopes to be in service of.
Editor's Note: Our friends at Monkey Knife Fight have the best, most fun, fastest growing DFS props game! It's super simple to play and to win real money. Just choose your NBA, NHL or PGA game, and make your picks! Get a 100% instant deposit bonus up to $50 using promo code: BALLER. That's $50 for free - don't miss out!
Play Now!
Week 7 Mid-Week Waiver Wire Pickups
Norman Powell - SG/SF - Toronto Raptors - 29% owned
On the heels of the team's first-ever championship, the Toronto Raptors have afforded Norman Powell a greater role, and the fifth-year forward has taken advantage to help the Raptors off to a hot 15-5 start.
He's averaging career-highs across the board with 13.4 points, 4.1 rebounds, and 1.6 assists per game. Additionally, Powell is shooting 38.1 percent from downtown on nearly five attempts per game.
Powell had been starting in the absence of Kyle Lowry, leading some to attribute his early-season play to that spot in the starting lineup. Lowry returned to action Tuesday and played 41 minutes but Powell still managed 34 minutes off the bench as well.
Even as part of the second unit, Powell has an important role on this Raptors squad. After some inconsistencies early in his career, Toronto's title run seems to have worked wonders for Powell's production and could do the same for fantasy owners looking for some help on the wing.
Tim Hardaway Jr. - SG/SF - Dallas Mavericks - 40% owned
Luka Doncic has been lighting up the NBA and Kristaps Porzingis is working his way back from an extended absence. The Mavericks have the league's top offense, but those two cannot carry the team alone. They need more help, and Tim Hardaway Jr. seems like the ideal candidate.
Hardaway has made his way into the Mavericks' starting lineup over the last seven games and has averaged 17.3 points while shooting a scorching 46.8 on 6.7 three-point attempts per game.
He's been consistent with his scoring for the most part with just two single-digit scoring outings during that stretch. The majority of Hardaway's career, however, has been plagued by a level of up-and-down that's made him difficult for fantasy owners to trust for prolonged stretches.
Perhaps the presence of two star talents has elevated Hardaway's level of play and will continue to do so throughout the season. He's a risky addition for the aforementioned reasons, but the complementary role he's found in Dallas seems to suit him well and could help him string together a quality fantasy season.
Moritz Wagner - PF/C - Washington Wizards - 26% owned
Moritz Wagner was already in the midst of a breakout season by averaging 12.0 points and 5.6 rebounds per game while shooting 60.8 from the field and 43.2 percent from deep, all in less than 20 minutes a night.
Then Washington's starting center Thomas Bryant went down with a stress fracture in his right foot and will miss at least three weeks, opening the door for Wagner to see an increase in his opportunities at the offensive end.
The Wizards have one of the best offenses in the NBA and love to push the pace, the perfect recipe for a big man whose 43.2 three-point percentage ranks No. 2 among players 6-foot-11 or taller.
Having missed Tuesday's game against Orlando with an ankle injury himself, Wagner first has to make his way back onto the court before any increase in his numbers can take place. Assuming his body is near 100%, he's an ideal short-term pick up for those hurt by Bryant's injury and those in need of help upfront as well.
Isaiah Thomas - PG - Washington Wizards - 36% owned
Isaiah Thomas' comeback story has been well documented with stops in several locations to rediscover his All-Star form. The latest stop has been the nation's capital, where the Washington Wizards have afforded IT a spot in the starting lineup and the point guard has responded with impressive levels of production.
In just 24.9 minutes a night, Thomas is averaging 12.6 points and 5.1 assists per game. He's also shooting a respectable 44.6 percent from the field along with a career-high 41.0 percent from the three-point line.
His defensive limitations matter little in the realm of fantasy and he currently operates for a Wizards team surprisingly ranked fourth in offensive rating with the fastest pace in the NBA.
The sub-25 minutes seem low, but that should be on the rise as Thomas continues his play.
At 6-13, Washington isn't playing for much these days, but they'll still throw Thomas in the fire to help him as best they can, and the numbers will likely follow.
Duncan Robinson - SG/SF/PF - Miami Heat - 22% owned
One of the many unexpected contributors for the Miami Heat this season, Duncan Robinson has carved out a spot in the rotation as a knockdown three-point shooter.
Of the players attempting more than six three-pointers a game, Robinsons' 43.9 percentage ranks sixth overall with 2.9 makes per game.
He's particularly found the mark over Miami's last four games, averaging 15.5 points per game along with 4.3 makes a game from beyond the arc.
Three-point shooters aren't hard to come by in today's NBA, but Robinson has risen above many of them, whose spacing is of vital importance on a team ranked 16th in three-point attempts per game.
He's gone through several cold streaks to start the season yet has just six outings with fewer than two three-point makes. Throw in the versatility that allows fantasy owners to slot him in three positions and Robinson could serve well provided the minutes on a deep Heat team hold steady.
More Fantasy Basketball Analysis