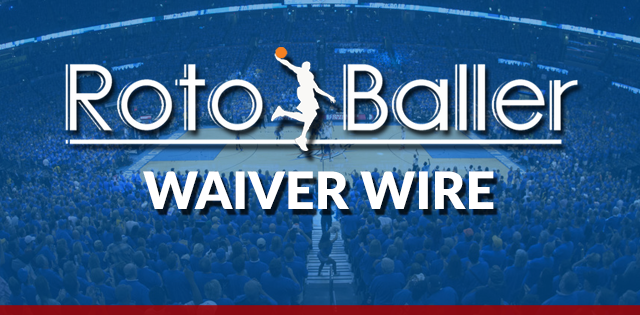 The deeper a fantasy basketball league, the harder it is to hit a winner with your last few picks. It is also harder to find decent help from the waiver wire if your late-round picks don't do you justice. If you picked up a few stinkers, don't lose hope just yet. I will try to help you pick up a winner.
Here are my deeper league fantasy basketball waiver wire pickups for your fantasy basketball teams this upcoming week. These NBA players should be available in most leagues and they might just help you out, whether it's a few weeks rental or a long-term fix to a problem your team is having.
If a guy on your team is frustrating you with his weak performances, give some of them a go. They might just be worth it.
Editor's Note: Our incredible team of writers received five total writing awards and 13 award nominations by the Fantasy Sports Writers Association, tops in the industry! Congrats to all the award winners and nominees including NBA Writer of the Year, Best NFL Series, MLB Series, PGA Writer and Player Notes writer of the year. Be sure to follow their analysis, rankings and advice all year long, and win big with RotoBaller!
Read More!
Fantasy Basketball Waiver Wire Targets For Week 23
Rookie Mark Williams returned to the Charlotte Hornets' rotation on Friday and logged 21 minutes coming off the pine. Nick Richards started at center for the seventh consecutive time, but keep in mind Williams had done so for 12 straight games before he got injured, so it's reasonable to expect Richards to get moved to the second unit ROS.
That's definitely not a reason for concern, mind you, as Richards has started games but it's not that his usage nor playing time has changed that much compared to what might be ahead of him going forward.
Richards has played an average of 26 MPG in this recent seven-game stretch, so maybe that goes down to around 22 MPG, but not fewer than that considering his fantastic production. In his last eight games, Richards has logged four double-doubles while finishing 9-8, 7-8, and 9-14 in three of the other four games.
The center is the typical big man in terms of his production, considering he will just help you on the classic points, rebounds, FG%, and blocks departments as he doesn't stretch the floor at all and has a very low-volume diet of shots no matter the unit he runs with.
Before entering the starting lineup, Richards was averaging 7.0 PPG and 5.0 RPG to go with 1.0 BPG in a low 18 MPG. If the Hornets raise that playing time a bit, into the 22+ MPG nightly while even leaving him on the bench, Richards shouldn't have much trouble hitting 8-6 lines with a block nightly and still bag a couple of dub-dubs ROS.
Deni Avdija (SF, WAS) - 8% rostered
The surge of Deni Avdija in all fantasy leaderboards has a very easy-to-grasp reason and that's Kyle Kuzma missing time with an injury. Ruled out Sunday, that made it four consecutive outings missed by the Kuz, which has clearly opened the door for Avdija to play a much larger role with the Wiz of late. So much so that he's even made it to the starting five after not appearing in one (almost) for the last three months.
Although Avdija started 29 of the first 32 games played by the Wiz through December 20, he only had five starts in the following 38 matches up until last week when he grabbed back-to-back starts against Denver and San Antonio on Wednesday and Friday (I'm writing this before Sunday's game, though Kuzma is out and Deni should be in the starting unit once more).
Avdija also played 28 minutes on March 18 and 34 three days later before getting into the starting lineup, which ultimately might be the right move because of his extraordinary production. In Deni's last four matches through Saturday, he's averaged a 14-10-5-1 per-game stat line. He's scored 15+ points in three consecutive games, shooting 83%, 77%, and 64% from the floor on increasing diets of six, nine, and 14 FGA.
The third-year wing is entering a developmental zone in which he's seemingly stuck and not moving that much. In other words, this Avdija is probably what he is going to be for the remainder of his career unless he becomes the face of the franchise in a rebuilding effort and gets the benefit of playing the classic "somebody has to do something" boosting role.
Avdija is scoring a lot on a little bit of an unsustainably-high FG% while also grabbing tons of boards and contributing a bunch of dimes nightly. The turnovers are very hurting, though, with 11 total possessions lost in his last four games alone. As long as Kuz keeps missing time, and even coming off the pine, Avdija is worth roster spot ROS in most deeper formats.
With just a week and a half remaining in the regular season and Memphis sitting pretty in the no. 2 seed in the Western Conference, it's hard to envision Steven Adams returning before the playoffs and risking any sort of setback in his recovery. Let alone getting re-injured before the real part of the basketball campaign starts later in April.
Xavier Tillman Sr. has been the main beneficiary of the Kiwi's absence, racking up starts after the All-Star Break, although with varying results and bouncy levels of production. Right now, it could be said that Tillman is going through a bit of a rough spell. It's been three games in a row for him scoring in single digits and grabbing four rebounds tops.
Looking at it from a positive angle, this stretch of play might have left the door open for needy GMs to land a proper asset with a clear starting role in one of the best teams in the NBA. Yes, the usage rate is not good and that means Tillman needs to be perfect in his 25 MPG of playing time to produce enough fantasy goodies. However, this man was a per-minute machine before these three games, so there is not much reason for concern.
Tillman has, in fact, an average of 0.88 FP/min in March (league average at 0.90) but prior to this his last three games (through Sunday morning), he was an above-average asset, generating 0.98 FP/min.
From February 23 on, Tillman has scored 8+ points in 13 of 16 games and 10+ in nine of 16. He's averaged a 10-7-2-1 per-game stat line in that span while also shooting nearly 55% from the field without turnover issues.
According to Shams Charania of The Athletic (reporting on Sunday morning), the Portland Trail Blazers are leaning toward shutting down Damian Lillard for the remainder of the season. The Blazers, mind you, have been without Jerami Grant, Anfernee Simons, Lillard, and Jusuf Nurkic for a while now because of different injuries/load-managing/tanking. At this point with the season lost, everything points toward running with the kids, including Trendon Watford.
Watford and Shaedon Sharpe have turned into late-season fantasy bloomers because of that. Watford in particular has started four of Portland's last five games through Sunday morning while playing 29 minutes in the one he didn't start.
Since playing 29 minutes back on March 6, Watford has never dropped below 23 minutes in any of the following games while always scoring at least 10+ points and averaging an actual 13-6-3-1 per-game stat line in that eight-game span. Talk about a change of role boosting one's production.
Watford is a must-roster, must-start player ROS for those managing in deeper leagues and formats. He will hit the eventual three-point shot (0.66 3MP per game in the last nine games) but his calling card is outright scoring (virtual guarantee for 10+ points these days).
He can provide nice rebounds and some assists (basically because Portland seemingly is refusing to play any sort of usable guard these days). He also comes with a steals upside, which is always welcomed. Even if just for a week and a half, grabbing some shares of Sharpe/Watford looks like a proper move to make.
Cory Joseph (PG, DET) - 2% rostered
For someone that has been around forever, Cory Joseph is still "only" 31 years old. Earlier this season, even as recently as last month, you would have thought this man was playing at age-37 if not more. If you've only been watching him play for the last four weeks, though, you might have thought he's just 24.
The Pistons have turned Joseph into the main leader of their second unit, a role he's gladly taken and made the most of. Starting in the last game of February and through Saturday (he missed Friday's game with a non-COVID illness), Joseph has played at least 24+ minutes in all 12 games he's appeared in throughout this span.
Joseph has scored 11+ points in each of his last nine outings, averaging 14.3 PPG and hitting at least one three-point shot in 11 consecutive games. He's hitting 2+ 3PM per game in March (11 games) while still keeping up a field-goal percentage above 50 percent (50.3) this month, with three-point shots already factored into it.
The vet is doing a little bit of everything these days, from scoring and spot-up shooting (his calling card) to grabbing rebounds (2.7+ RPG this month), dishing out dimes (4.0 APG), and stealing possessions (0.9 SPG) with relative ease.
The leading duties have brought some turnover issues to his stat lines, but nothing he's not making up for with the combination of all statistics. A good option for those in deeper leagues is looking for some help at the point throughout the final weeks of the season.
Download Our Free News & Alerts Mobile App
Like what you see? Download our updated fantasy basketball mobile app for
iPhone
and
Android
with 24x7 player news, injury alerts, lineup notifications & DFS articles. All free!
More Fantasy Basketball Analysis