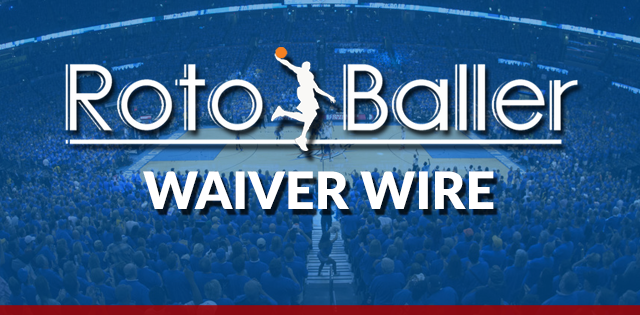 The deeper a fantasy basketball league, the harder it is to hit a winner with your last few picks. It is also harder to find decent help from the waiver wire if your late-round picks don't do you justice. If you picked up a few stinkers, don't lose hope just yet. I will try to help you pick up a winner.
Here are my deeper league fantasy basketball waiver wire pickups for your fantasy basketball teams this upcoming week. These NBA players should be available in most leagues and they might just help you out, whether it's a few weeks rental or a long-term fix to a problem your team is having.
If a guy on your team is frustrating you with his weak performances, give some of them a go. They might just be worth it.
Featured Promo: Get any full-season NBA Premium Pass for 50% off. Win big with our exclusive DFS lineup tools, matchup rating projections, powerful Research Station, Lineup Optimizer, daily DFS lineup picks/cheat sheets and more!
Sign Up Now!
Fantasy Basketball Waiver Wire Targets For Week 21
Even though the ceiling seems to be lower than the one we expected after a scorching hot start to the season, the truth is that Killian Hayes has kept on going and improving his season-long results as the campaign has advanced and he's kept getting reps in the Pistons' backcourt.
Hayes' average production went down a notch after his 40th game (more or less) this season, but that drop also coincided with the end of a staggering run between Christmas and late January in which the Frenchman averaged 31+ FPPG.
After getting injured and coming from the bench in six games after January 19, Hayes has now started 10 of the last 11 matchups, all of them from February 8 onwards. Since the start of that run of games, Hayes has played 29 MPG, producing 8-3-7 per-game stat lines to go with 1.5 SPG and 0.5 BPG.
The numbers aren't gaudy but it's hard to find players so unrostered putting up such a solid, all-across-the-board type of contribution nightly. In fact, when looking at season-long stats, there are only 13 players (all of them legitimate superstars) keeping up an 8-3-7 per-game line.
Even dropping that to a more manageable 8-3-5, only 43 guys are doing it this season and just 28 are adding 1+ SPG to that. Not saying Hayes is a bonafide performer on those levels every day, but he's closer than not to averaging those numbers this season than he was ever before.
Malik Monk (SG, SAC) - 8% rostered
The Kings keep winning, the playoffs are (nearly) a reality in Sacramento, and none of that is surprising at all... right? Man, how times have changed around the lesser parts of California this season and after 20 years of mighty struggles in the Kingdom.
Just months ago, the Kings signed Malik Monk as a free agent to make him their starting SG...only for them to trade for now-starting SG Kevin Huerter days after that, letting all of us know they were still the Kangz. How wrong we were back then! Monk is a bonafide top reserve and he has cooked from the bench all season long.
Monk is coming off his best two games of the year since the end of January, putting up back-to-back 36+ FP outings against the Knicks and Suns last week. He also had an 11-point outing right before those two outings, in a low-volume preview of what was coming: a 19-5-5 (with a block) against New York and then an 18-4-5-2-1 performance against Phoenix.
The guard has scored four three-point shots in back-to-back games and is averaging 2+ 3PM per game since the start of February (15 games played). He's putting up nightly 15-3-4 stat lines even though he's only playing 23 MPG. In fact, Monk has played less than 23 minutes nine times compared to getting 23+ MP in six of the other 15 in that span.
The best weapon in Monk's arsenal is his shooting prowess from long range and his microwave tendencies, which can fluctuate a bit from time to time. Even then, though, Monk is a solid contributor on the glass and dishing out dimes. Watch out for the turnovers, though, as they are kind of high at 2.2 TOPG since the start of February, making the AST:TO lower than 2:1.
While Bennedict Mathurin (sixth overall pick) has been the legitimate rookie story of Indy's first true rebuilding season, the truth is that the Pacers might have actually struck gold in drafting a much less coveted player in Andrew Nembhard, the first pick of last year's second round.
Nembhard has started 49 of 61 games this season for the Pacers at either the one or the two. He's been far from terrific, but also nothing remotely close to terrible even in his freshman campaign, let alone being part of one of the most mediocre teams in the league.
While he did miss starting the final game before the All-Star break, Nembhard returned to the starting lineup right after it, starting the next eight games played by the Pacers. He's averaged 25 MPG since then with a per-game stat line at 8-2-3-1.
Again, that's not a league-winning type of production but something to give a shot if you're a deep-league fantasy GM looking for help with the guarantee that the minutes and playing time will stay there.
Nembhard seems to have usurped Chris Duarte from the starting role even though the rookie's usage percentages are tiny and he might be a better fantasy option if he was running with the second unit.
Jonathan Kuminga has not played in the last two Warriors games and is doubtful for Monday's clash against Phoenix. That said, he's nearing a return while most fantasy GMs have seemingly forgotten about him and how explosive he looked after the All-Star break.
Kuminga returned from the break and started a couple of games in late February to go with four outings off the pine, ultimately followed by another start in the last game he played nearly a week ago, on March 7 against OKC.
From February 23 through Sunday, Kuminga has averaged a 14-5-2-1 per-game line in eight games, staying on the court for an average of around 25 MPG. Whether he played as a starter or off the pine, the usage rate has been steadily high and solid at 23% through that eight-game span, which is nothing to joke at considering the context and how loaded GSW is with shooters.
Kuminga has most of his appeal on his scoring (10+ points in six of his last eight games) as he tends to operate inside. He comes with some three-point upside, having hit at least one three-point shot in four consecutive games (he's averaged 1.0 3PM per game since the start of February), but that's not his calling card. Bank on him for solid points and FG% but not many long-range bangers.
Not a lot of production outside of that, although the rebounds seem to fall his way to a certain extent (nearly four RPG in the last month and change), along with nice steal/rebound numbers on a per-game basis (1.3+ stocks per game since the start of February).
Terrence Ross (SG/SF, PHO) - 2% rostered
The Magic didn't play veteran guard Terrence Ross at all after January 21 and the Suns acquired him before the trade deadline, with the guy debuting in Phoenix as recently as February 16, right before the All-Star break. He's now appeared in five more games, including three in the past seven days.
Ross has logged 13, 24, and 23 minutes off the pine in his last three games with the Suns with wildly diverging results. In the first outing of those three, he finished with a ridiculous 0-1-1 line, shooting 0-for-1 and getting a usage rate of 3.4% (no typo).
In the following two games, though, Ross went bananas for 24 and 18 points, hitting six and four three-point shots, respectively. Those last two games saw the vet reach 36.5 and 25.8 FP against OKC and the Kings, averaging a full 21-1-1-2 stat line with 13 FGA in each of those games, connecting on 57.6% of all of his 26 FGA and also going 2-for-2 from the charity stripe.
Ross missed a couple of games with a foot issue between late February/early March but he's now back available and fully fit. Of course, the Suns have a stud SG in Devin Booker but Josh Okogie is the only viable alternative they have at SF now other than Ross with KD out for at least a few more weeks.
In other words: Ross will get minutes whether the Suns like that or not, so you'd do well grabbing some shares of the veteran wing for the remainder of the season if only because of his extraordinary scoring/three-point shot prowess. Not a lot to like outside of that, but that's not a reason to fade him entirely considering his bombastic shooting.
Download Our Free News & Alerts Mobile App
Like what you see? Download our updated fantasy basketball mobile app for
iPhone
and
Android
with 24x7 player news, injury alerts, lineup notifications & DFS articles. All free!
More Fantasy Basketball Analysis