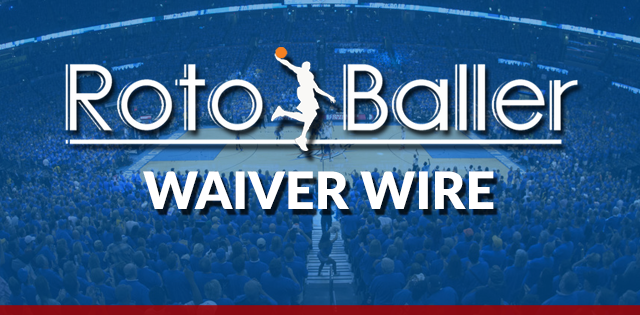 The deeper a fantasy basketball league, the harder it is to hit a winner with your last few picks. It is also harder to find decent help from the waiver wire if your late-round picks don't do you justice. If you picked up a few stinkers, don't lose hope just yet. I will try to help you pick up a winner.
Here are my deeper league fantasy basketball waiver wire pickups for the upcoming week and your fantasy basketball teams. These NBA players should be available in most leagues and they might just help you out, whether it's a few weeks rental or a long-term fix to a problem your team is having.
If a guy on your team is frustrating you with his weak performances, give some of them a go. They might just be worth it.
Editor's Note: Our incredible team of writers received five total writing awards and 13 award nominations by the Fantasy Sports Writers Association, tops in the industry! Congrats to all the award winners and nominees including NBA Writer of the Year, Best NFL Series, MLB Series, PGA Writer and Player Notes writer of the year. Be sure to follow their analysis, rankings and advice all year long, and win big with RotoBaller!
Read More!
Fantasy Basketball Waiver Wire Targets for Week 14
Max Strus (SF, MIA) - 12% rostered
With the Miami Heat struggling all season long in terms of finding results and, perhaps more worryingly, finding a proper rotation given the multiple injuries issues of their players, the types like Max Strus keep putting on bulky reps and logging starts after starts.
Strus is coming off three consecutive starts, in fact, including a pair of games against the Bucks last Thursday and Saturday in which he played 41 and 42 minutes. In the game held immediately before those two, Strus also started (against OKC) and logged a massive 43 minutes, bringing his total tally to a ridiculous 126 MP in the last three games.
This month alone, in seven games played, Strus has started four matchups and averaged 34 MPG in the past two weeks of play spanning back to January 2. Obviously, under such a heavy dose of playing time, Strus' per-minute efficiency is very ugly at 0.83 FP/min, which is below the average line league-wide (0.90).
Strus, though, is benefitting from the large diet of minutes by putting up numbers on pure brute force. In the last nine games he's played (all but one with at least 26 MP), Strus has averaged a per-game 14-5-3-1 stat line. He's hit at least one 3-point shot in 17 consecutive games getting all the way back to December 12 and he's actually connecting on 2.5+ 3PM per game.
Not missing a free-throw shot since he went 1-of-2 on December 20, Strus has hit 15 freebies from then on while also shooting at a 42% clip from the field after Christmas. Strus is a steady 3+ RPG, 3+ APG guy if given his minutes, and he also has some steals upside. The problem, of course, is the volatility and the fact that you never know what the hell is going on in Miami with the rotation and the injuries popping up (or not) nightly.
Malik Monk (SG, SAC) - 11% rostered
It's been a wild month for Malik Monk's shooting stroke. In the past 30 days and through Saturday, Monk has appeared in 13 games and he's hoisted a total of 137 shots from the field. The outcome: 53 FGM to 84 missed field goals for a putrid 38.6% from the floor. Ugh...
That's not very good, I know, and there is no way I can fool or trick you into seeing that as a positive. But that's not everything to look for when trying to find some upside in a potential addition of Malik Monk to your squad.
Monk has still found a way to score 12+ PPG in the last month of play and he's scored at least 11 points in his last three games through Saturday. He's connected on six three-point attempts in the past two games combined, too, while getting some of his rebounding and diming back.
In January alone, Monk is average a daily 11-3-3 line even though he's struggled at shooting the ball mightily. His minutes have gone down a bit, too, which doesn't help on a pure counting basis, but on the other hand, allowed him to prove his excellent per-minute production.
Monk is putting up an extraordinary 1.08 FP/min this month (league average at just 0.90), so it's reasonable to expect Sacramento to increase his MPG at least a bit and to his early season numbers. Monk merits many more than his current 20 MPG, and in the early stages of the season (first two months), he was getting a more palatable 25 MPG that he should earn soon enough.
Now they are improving, now they are not. Now they look good, now they do not. It's the Wolves season for you, just in case. One thing has stayed the same for a bunch of weeks now, though, and that's Kyle Anderson starting games nightly for Minny, a run that started all the way back on December 7 and that has stayed the same since then.
That doesn't mean Anderson has started every Wolves game (he missed time from December 18 to December 30) but he's started all games he's played since that day (and another one on November 30 before coming off the pine on December 3).
Slow Mo might not be the quickest guy out there but he's a steady producer. Anderson is putting up 20+ FPPG nightly and he's done so in all games from New Year's Eve on. He's actually averaging a few more points than those overall, sitting at an average of 28 FPPG in the same span, including a 43-DKFP explosion back on January 2 when he lit up the Nuggets to the tune of 19 points (three 3-pointers made), four boards, eight dimes, and three steals.
Anderson is adept at shooting the ball at gaudy percentages (49/39/78 season-long splits on a low-volume six FGA per game, one of just 26 players doing it in the NBA) and his 4+ RPG and 3.5+ APG are also good for what he is asked to do in a team full of "fake superstars" and ball-hogging lads.
The blocks and the steals are a surprisingly steady bonus, too, with KA swatting at least one shot in his last five games and stealing 1+ SPG over the full season.
Alec Burks (SG, DET) - 6% rostered
Alec Burks does what Alec Burks does, no matter what. Of course, that wasn't entirely the case last year because 1) he played for the Knicks and you never know what's around the corner in New York, and 2) his coach was Thibs and Thibs doesn't follow any rhyme nor reason, and turned Burks into the Knicks' starting PG because nobody knows why.
This season in Detroit, though, Burks has brought his years-past tendencies back to the table. He's playing 24 MPG off the pine and it's been like that for nearly a month now. He's hoisting some 8-to-11 shots per game, hitting them at a nice 44% clip. He's handing his fantasy GMs at least 1+ 3PM per game (actually, he's averaging 2.2 3PM per game in his last 10 games).
Burks doesn't provide many stats in all other cats but he's neat at scoring the rock, hitting triples, and bagging freebies at a reasonably high volume for a reserve. He goes to the line more than four times per game and his averages are fantastic from the charity stripe (81% on the season, 93% in January alone).
The role won't change ROS but there might be a trade if Detroit decides to tank the tank, because they're already trailing all living souls in the NBA at this little thing called winning. They most probably decide to just hold onto him because it's not that they will get a bounty in exchange for the vet via trade, so at least you know what you're getting for your fantasy squad.
Josh Richardson's season has been split into two similarly long parts to date. He appeared in 17 games before November 21 and then missed time until re-appearing on December 8. He started two games in the first half, and one in the second half. He averaged 23 MPG in the first one... and the same 23 MPG in the second one. In other words, there aren't many assets out there as easy to project ROS as Josh.
Richardson, of course, is more than a probable trade target for some teams in contention looking for veteran two-guard help ahead of the postseason and into the playoffs. That might change his numbers a bit here and there, but those would most probably be just marginal changes all things considered.
J-Rich has played an off-the-pine role for the young Spurs and he'd do the same anywhere else. His production was limited for the most part of the early season but he's been improving lately, though, averaging 24+ FPPG from Christmas Day on.
Richardson is a fantastic provider of points, shooting percentages, and assists. He comes with some upside on the boards for a small guard, but at the end of the day, he's not going to help you a lot on that front overall.
Just this month, Richardson is averaging 13.5 PPG (including 1.8+ 3PM per game), shooting a ridiculous 52.7% from the field. He's also adding 3.0 RPG, 4.0 APG, and 1.0 SPG to those points on a nightly basis, which is more than what most players available in nearly 95% of ESPN leagues can offer you.
Download Our Free News & Alerts Mobile App
Like what you see? Download our updated fantasy basketball mobile app for
iPhone
and
Android
with 24x7 player news, injury alerts, lineup notifications & DFS articles. All free!
More Fantasy Basketball Analysis
By popular demand, RotoBaller has aggregated all of our fantasy basketball NBA waiver wire pickups into a running list of NBA waiver options, so bookmark the page and check back often for updates.