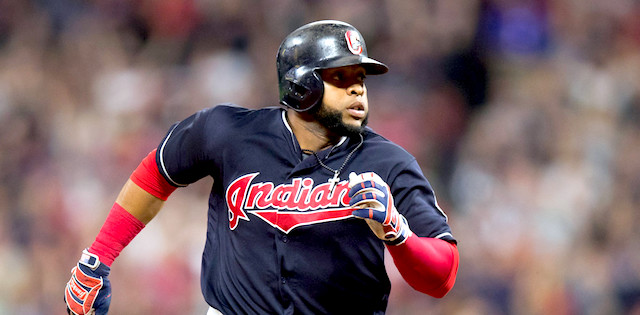 The most accessible of the fantasy-relevant advanced stats is BABIP, or Batting Average on Balls In Play. It simply measures a player's batting average on balls in play, with outcomes such as strikeouts and home runs removed from consideration. In general, the league average hovers around .300, a nice round number to remember.
Many know BABIP as an approximation of luck, with either a very high or very low number indicative of a major batting average regression in the future. That is partially correct--the stat can be used to predict batting average fluctuations. However, a player's skills may allow him to run a better than average BABIP, or doom him to a consistently below-average figure.
There are two primary sources to look up a player's BABIP: FanGraphs and Baseball-Reference. They don't always have the same figures, and FanGraphs tends to be preferred because the site lets you look at BABIP by batted ball type (more on that below). Just type in a player's name in the search bar provided and his BABIP is displayed in the first chart that pops up. Now that you know where to find BABIP, let's explore how to use it.
Editor's Note: Our incredible team of writers received 13 award nominations by the Fantasy Sports Writers Association including Baseball Writer of the Year, Football Writers of the Year, Golf Writer of the Year and many more! Be sure to follow their analysis, rankings and advice all year long, and win big with RotoBaller!
Read More!
The Above-Average BABIP Formula
Starling Marte put in a tremendous season that won fantasy leagues in 2021, slashing .310/.383/.458 with 47 SB for the Marlins and Athletics. One of the reasons for his success was a .372 BABIP, so Marte loses a lot of value if we regress that all the way to .300. Should we really do that?
Marte's career BABIP is .344. Hiss 2021 BABIP was considerably higher than his career average, so we don't want to bank on a full repeat. Still, his career mark is closer to his 2021 performance than the league's. What skills does Marte possess that allow him to crush the average player?
Marte's game-changing speed is one key point in his favor. You have to be fast to steal 47 bags, and that same speed allows Marte to leg out hits consistently on batted balls that other players would get nothing out of.
Looking at BABIP by batted ball type can be a great tool for examining this. Marte gets his speedster hits exclusively on grounders, as running really fast does nothing to prevent a fielder from catching a ball in the air. While the league averaged a .236 BABIP on grounders in 2021, Marte posted a .315 mark on them. His career rate is only .290. Therefore, we can conclude that Marte should continue to outperform the league average on ground balls because his .290 career BABIP is much higher than the league average. However, he is unlikely to do so to the same extent he did in 2021.
Comparing BABIPs for the other batted-ball types year over year is something of a mixed bag for Marte. His fly balls found pay dirt much less frequently, posting a BABIP of .105 against a career mark of .146. However, his line drives fared considerably better (.766 BABIP last year) than they have in the past (.675 career). Overall, both figures should be expected to regress to the mean and roughly cancel each other out. When we factor in slight regression based on ground balls above, we should probably expect Marte to fall shy of last season's BABIP while still clearing .300 easily.
BABIP takes multiple seasons to stabilize (or become predictive), and you need to avoid rushing to conclusions when using it. A rookie who posts a .380 BABIP should not be expected to keep it up because that's suddenly his baseline.
The Below-Average BABIP Formula
The same trend is possible in a negative way. For example, fantasy managers know Carlos Santana as a potential power source who will drain your roster's batting average thanks in large part to a consistently low BABIP. Last season, Santana posted a BABIP of just .227, creating batting average upside if you think it will regress to .300. Unfortunately for Santana, that isn't happening.
While Marte's speed grants him extra base hits, Santana's lack of it means that he is retired on grounders that average players can beat out. He also hit just 6.1% of his ground balls to the opposite field, allowing opposing defenders to cheat to one side with an infield shift. The result was a .221 BABIP on grounders that was actually better than his career mark of .196.
That's not the end of Santana's problems though. He also hits an above-average number of pop-ups with a 14.6 infield fly ball (or IFFB%) rate last season and 13.7% for his career. Pop-ups are nearly always caught with minimal difficulty, so players who hit a ton of them tend to run low BABIPs. Sure enough, Santana's career BABIP on flies of .117 looks great compared to the .066 he put up last season. It's easy to see why the 35-year-old Santana has only one season with an above-average BABIP, and it came back in 2013.
Conclusion
To conclude, BABIP can be used to indirectly measure a player's batting average luck by comparing it not to the league average of .300 but to an established player's career number. Younger players without an established baseline are generally regressed to the league average, but these predictions are less reliable than those based on a player's personal history.
Foot speed, batted ball authority, line drive rate, and defensive positioning all give players some ability to manipulate BABIP. Players with these skills may still overachieve, and this regression can be predicted by examining BABIP by batted ball type. Review these additional concepts to learn more about how sabermetrics can give you an advantage as a fantasy baseball manager!
More Sabermetrics & Fantasy Baseball Strategy