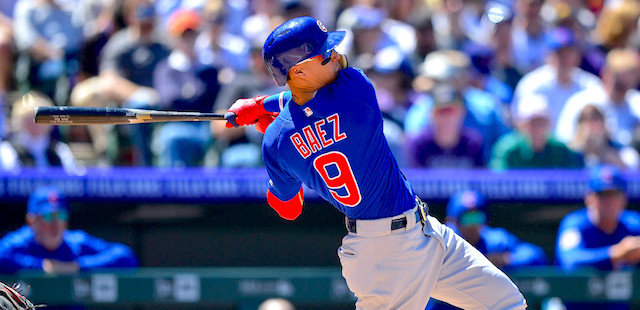 We have a split slate of Major League Baseball games, with five games on the early slate and five games on the main slate. We'll have selections today for the main slate contests.
In this article, I will be providing you with my daily fantasy baseball lineup picks for FanDuel on 4/11/2019. The lineup picks will range from some of the elite players to mid-priced options and value plays.
You can also read more DFS lineup picks for DraftKings and other sports too. If you have any questions or comments, feel free to reach out to me on Twitter @Roto_Nate.
Editor's Note: Get any full-season MLB Premium Pass for 50% off, with exclusive access to our season-long articles, 15 in-season lineup tools and over 200 days of expert DFS research/tools.
Sign Up Now!
Weather Outlook
There seems to be no risk of delays tonight as the only precipitation in the forecast is a slight rain shower in Chicago which should be starting after the conclusion of the game. The wind will not be hindering the hitters at Wrigley as it will be blowing toward the left field bleachers, matching up perfectly for the right-handed lineups.
The wind will be blowing in at 11 mph tonight at SunTrust Park in Atlanta which could slow down these two high-powered lineups. In San Francisco, the wind is blowing towards McCovey Cove at 19 mph. I suggest that the people of San Francisco should load up their kayaks in anticipation of a trip to the Cove for a souvenir. The weather will not be playing a factor in Boston or the domed field in Arizona.
FanDuel DFS Pitchers
Nathan Eovaldi – P, BOS vs TOR ($6,800)
Eovaldi's price has dropped significantly from the beginning of the year after two below-average starts against OAK and SEA. However, a pitcher of his calibre with this salary against a Blue Jays team that has had numerous no-hit watches already this season feels too good to be true. It is no secret that the Red Sox have been struggling, but on a night where there seems to be potential for many high-scoring games, Eovaldi feels like the safest bet at his salary.
Kevin Gausman – P, ATL vs NYM ($8,600)
At this price, I don't have as strong of a lean towards Gausman in this matchup against a strong-hitting New York Mets team. If you believe that the Mets hitting has to come back to the level ground soon, or if you have a strong belief in wind factor then Gausman could be a valuable contrarian play for you. Not many people will be willing to go against the Mets offense at this point so you could find an edge against your opponents if we can get a strong outing from him.
FanDuel DFS Infielders
Mitch Moreland – 1B, BOS vs TOR ($3,700)
Despite their high implied run total, the Red Sox could come in a bit under-owned on tonight's slate. They have been struggling to string together runs and an intriguing start to the season for the Blue Jays starting rotation could turn some people off. A bright spot of the Red Sox season has been the hitting of Moreland who comes in with a 0.438 wOBA and 4 home runs against right-handed pitching. At his price, Moreland is too hard to ignore against a pitcher that is known to have trouble at Fenway Park.
Anthony Rizzo – 1B, CHC vs PIT ($4,100)
Rizzo has a huge differential in his splits so far this season. He is boasting a 0.417 wOBA against righties with two home runs. There are always some offensive fireworks in a Wrigley Field night game and tonight should be much of the same. Expect Rizzo to be a big part of one of the higher scoring games on the slate. 
Josh Donaldson – 3B, ATL vs NYM ($3,200)
My original thought was to take a cautious approach with this game due to the wind factor that we discussed earlier. Donaldson seems to be a very fair value play in this game with his career lefty splits in a matchup against a pitcher who is known to blow up in spots. So far this season in a very small sample size Donalson already has a .417 wOBA , but it is his .409 career wOBA and 19.6% home run rate against lefties that has me very intrigued for this matchup.
Javier Baez – SS, CHC vs PIT ($4,400)
Baez has much of the same hitting splits against both handedness, with identical stats in some categories so this right on right matchup doesn't bother me. In other areas such as wOBA, he has a better number with a sparkling .371 so far this season. The free-swinger has the numbers and a left-field breeze on his side as he tries to drive some balls out towards the ivy tonight.
FanDuel DFS Outfielders
David Peralta – OF, ARI vs SD ($3,700)
Peralta will be getting a very favourable matchup tonight when he takes the field against Pedro Avila, who will be making his Major League debut on the mound for the Padres. Not only will the veteran be facing a pitcher making his debut, but Peralta is coming into the game with outstanding splits against righties with a .438 wOBA. I would look for Peralta to jump all over this matchup early.
Starling Marte – OF, PIT at CHC ($3,400)
Marte had a huge game last night in a game against a solid pitcher with the wind blowing in at Wrigley. Tonight, he has a strong Right vs Lefty matchup against Jose Quintana. Historically, Marte has a 14.7% home-run rate against lefties as opposed to 12.6% against righties, and early weather reports indicate that the wind could be blowing out towards Wrigleyville. The Cubs have struggled to keep runs off the board at times this year, and tonight should not be any different. 
Charlie Blackmon – OF, COL at SF ($3,700)
If there was one person in need of a strong wind gust into McCovey Cove, it is Charlie Blackmon. Struggling so far this year with zero home runs, this could be the game where his slump is broken. Samardzija is more than capable of giving up some hard-hit balls, this coupled with Blackmon's 42.5% pull rate and 44% fly ball rate in his career against righties could have us seeing him put one into the Cove before the night is over.
MLB DFS News and Injury Alerts