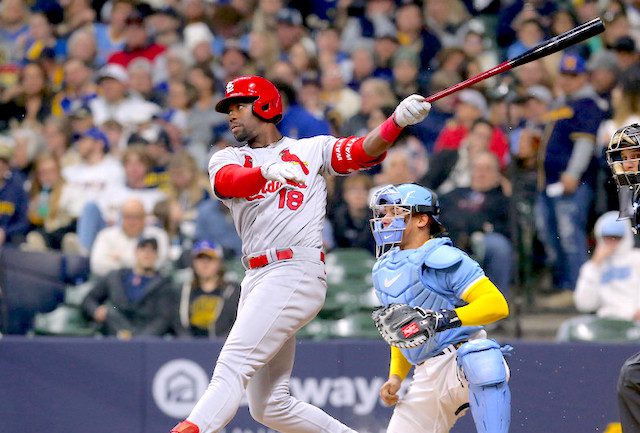 Baseball is back in full swing at all levels and rankings are in full swing as well. We've already seen the top two prospects in Corbin Carroll and Gunnar Henderson graduate, leaving us with a brand new #1 and #2 overall prospect atop my rankings.
These rankings are geared toward standard 5x5 leagues (AVG) and take many factors into consideration, including:
Performance to date
Scouting grades
Future projection
Video & data analysis
While these rankings are more slanted towards long-term fantasy value, proximity and short-term value do play a part in where a prospect lands in my rankings. If you want to see the full Top-500, then head on over to my Patreon!
Top 50 Fantasy Baseball Dynasty Prospects
Prospect Eligibility: Less than 130 MLB AB or 50 IP (I'm ignoring service time)
Updated: April 2023
Prospect Rankings Notes
1. Jordan Walker (OF - STL): Enjoy Jordan Walker in the top spot while it lasts as he's likely going to graduate by the middle of May or so. Walker has fantasy first-round upside and could blossom into the next Aaron Judge given his elite raw power. Walker is also a great athlete with deceptive speed as well and should provide double-digit steals moving forward as well.
2. Elly De La Cruz (SS/3B - CIN): There's not one prospect in baseball with a higher fantasy ceiling than Elly De La Cruz. No, not even Jordan Walker, although he comes close. With De La Cruz, we're talking about Acuña/Tatís levels of power and speed, which was on full display last season with 28 home runs and 47 steals in just 121 games. The swing-and-miss tendencies remain a red flag and will need to be improved upon, but the upside here is enormous. Oh yeah, his future home ballpark is a hitter's haven too.
3. Anthony Volpe (SS - NYY): With elite speed and enough power to flirt with 20 homers annually, Anthony Volpe has the makings of a fantasy star. And while the AVG has fluctuated a bit, he's always demonstrated a solid approach at the plate and I'm a believer in the contact skills allowing him to be in the .260-.275 range. Don't let this slow start scare you off and just try to remember the Volpe we saw in spring training. That wasn't a fluke.
4. Jordan Lawlar (SS - ARI): Once Walker and Volpe graduate, Jordan Lawlar will be one of the frontrunners for the new #1 overall prospect for fantasy purposes. The 2021 #6 overall pick has displayed an exciting blend of power, speed, and on-base abilities that have led to a .303/.404/.510 slash line in 107 career games along with 17 home runs, 43 steals, and a 12.9% walk rate. The upside is here for a 25/25 player at peak.
5. James Wood (OF - WAS): You can't help but envision fantasy superstardom when watching James Wood play. Wood is a 6'6/240 beast on the diamond with massive raw power, an advanced approach, and above-average speed and athleticism as well that could lead to 30/15 seasons to pair with a solid AVG and strong OBP. Like Lawlar, Wood can make a strong case to sit atop fantasy prospect rankings by midseason.
6. Jackson Chourio (OF - MIL): Chourio burst onto the scene in a major way last season, putting up numbers that we hadn't seen (age to level) since Mike Trout. In just 99 games, Chourio racked up 20 home runs and 16 steals, reaching Double-A to end the season at just 18 years old. Simply amazing. As long as he can keep the strikeouts in check (definitely only a minor concern), Chourio's upside is off the charts.
7. Ezequiel Tovar (SS - COL): This is where the list drops off just a smidge. Many have Ezequiel Tovar a bit lower than this, especially with his slow start this season, but I've seen Tovar live several times and I'm certainly a believer in his abilities. Tovar is an above-average or better hitter with plus speed and around fringe-average power that should play up a bit in Coors. If any sort of buy-low window has opened up in your dynasty leagues, I'd try to capitalize on that.
8. Kyle Manzardo (1B - TBR): Out of any name inside this top-10, Kyle Manzardo (or his future Tampa teammate below) probably has the highest floor for fantasy purposes. We're still waiting to see Manzardo struggle at any level, but that doesn't appear to be in the cards. Manzardo is a double-plus hitter with an elite approach and plus power, all of which have shown up consistently throughout his collegiate and professional career.
9. Grayson Rodriguez (P - BAL): Pitching prospects don't usually slot into my Top-10 overall, but that just shows how incredibly high I am on Grayson Rodriguez. The injury last season slowed the hype train slightly, but the upside remains that of a future Major League ace and potential Top 10 overall fantasy arm thanks to his dynamic four-pitch mix and solid command/control.
10. Curtis Mead (2B/3B - TBR): Every time I look at my prospect rankings (which is frequently), Curtis Mead magically jumps a few spots higher. Now, he's risen all the way to my top 10 due to a plus hit tool and plus power that has led to exceptional offensive numbers. While he won't provide a ton of speed, this is a .280/25 caliber bat in the making that could realistically post some .300/30 seasons.
Prospects That Could Be Top-10 By EOS: Evan Carter, Emmanuel Rodriguez, Spencer Jones, Miguel Bleis, Jackson Holliday, Junior Caminero, Elijah Green, Druw Jones (Has been Top-10 previously in my rankings)
If you enjoyed these rankings and want to see the full Top 500 along with additional rankings, analysis, and more, check out Eric's Toolshed Fantasy Patreon.
Download Our Free News & Alerts Mobile App
Like what you see? Download our updated fantasy baseball app for
iPhone
and
Android
with 24x7 player news, injury alerts, sleepers, prospects & more. All free!
More Fantasy Baseball Advice