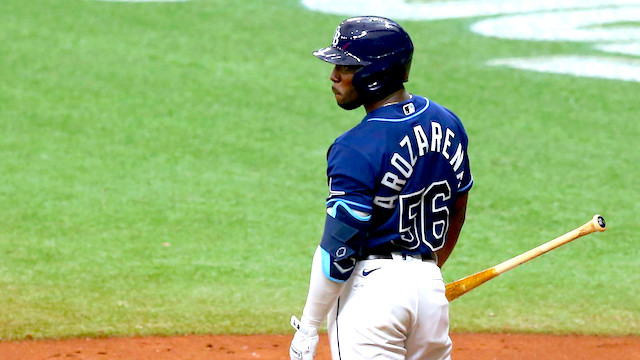 In the dynasty world, news and notes articles take on a whole new meaning. Not only are we discussing short-term value with these players, but we need to look long-term as well. A good dynasty manager is like Crazy Eyes from the movie Mr. Deeds. You have to have one eye on the present and one eye on the future. "I wasn't talking to you, Deeds. I was talking to that squirrel over there. [points at a goat]."
So that's what I'm going to do each week with this Dynasty News and Notes article here on RotoBaller. I'll be going around the league, discussing all the notable storylines and players both from a short-term and long-term perspective. Let's get to it.
In this week's report, I'll be discussing a pair or surging Tampa Bay bats, some arms to sell, longterm expectations for recently promoted prospects, and much more.
Featured Promo: Get any full-season MLB and DFS Premium Pass for 50% off. Exclusive access to our Team Sync platform, Premium articles, daily Matchup Rating projections, 15 lineup tools, DFS cheat sheets, Research Stations, Lineup Optimizers and much more!
Go Premium, Win More!
Fantasy Baseball Dynasty News and Notes
Rays of Fantasy Sunshine
In this Dynasty News and Notes piece three weeks ago, I discussed the rise of Wander Franco this season. This week, I wanted to tough on another pair of Tampa Bay bats with Randy Arozarena and Josh Lowe.
It's time that we consider Arozarena a locked-in top 25 player in dynasty rankings, and I made that adjustment to my rankings last update. Arozarena is coming off back to back 20/20 seasons and is well on his way to his best offensive season to date here in 2023. In his first 185 plate appearances, Arozarena is slashing .310/.395/.544 with 10 home runs and four steals while being on pace for more than 100 runs and 130 RBI.
Two big reasons for Arozarena's success this season have been his improved patience and improved quality of contact. Arozarena has trimmed his chase rate nearly 6% and has a 18.5% barrel rate, 52.1% hard-hit rate, and 93.5 mph AVG EV. All three of those QoC metrics are career-best marks.
With Lowe, the upside has always been there as he projected as a 20/25 player coming up through Tampa Bay's organization, but a bit too much swing and miss in the profile limited him in 2022. But here in 2023, Lowe has made tangible improvements in many areas that have me highly encouraged for his outlook moving forward. Overall, Lowe is currently slashing .300/.364/.608 with nine home runs and seven steals in 132 plate appearances.
To start, Lowe has corrected that swing and miss issue he previously had in the profile, improving his strikeout rate from 33.3% to 23.5% and his whiff rate from 32.6% to 29.2%. He's also improved his zone contact rate from 71% to 77.2% and his walk rate from 7.6% to 9.1%. Given his contact rates, I'm not expecting him to maintain his current .300 AVG, but settling in around his current .273 xBA is certainly possible.
In terms of the power surge, Lowe's exit velocity is still around what it was last year, but we've seen his hard-hit rate jump from 37.1% to 41.6% and his barrel rate from 5.2% to 14.6%, and his .547 xSLG ranks in the top-8% of hitters this season.
Lowe is looking like the 20/20 threat we saw in the minor leagues and could very well go 25/25 this season as well. He's putting himself in the top-100 dynasty mix and could even flirt with top-50 status by the end of the season if this continues.
Time to Sell the Biebs?
On the surface, Shane Bieber is still having a decent season here in 2023. In nine starts, Bieber has a 3.20 ERA, 1.22 WHIP, and has seven quality starts. Pretty good right? Well, on the surface, the waters seem calm. However, there's not a lot to like when you take a deep breath and dive in.
To start, Bieber has a 5.04 xERA this season, nearly two full runs above his surface ERA. This is the 5th year in a row where his xERA has been higher than his surface ERA, but this is the biggest gap that we've seen to date. For pitchers with at least 100 BIP, Bieber is the 8th highest overachiever when it comes to ERA to xERA.
That makes plenty of sense when you see the .258 BAA, .291 xBA, .464 xSLG. On top of that, Bieber is allowing a ton of hard contact, with a 50.9% hard-hit rate and 93.1 mph AVG EV, both of which are in the bottom-6% of pitchers. And to top it all off, Bieber has the worst whiff, chase, strikeout, and zone contact rates of his entire career, and continues to see his velocity dip.
It feels like the bottom is about to drop out sooner rather than later. Do you want to have him on your dynasty rosters when it does?
Any Hope for Alek Manoah?
Going from being a pitcher that was considered a borderline ace before the season to someone that we can't even bring ourselves to start anymore is an impressive drop-off to have in just a month and a half. And when I say "drop-off", that's code for Alek Manoah fell off a cliff Wiley Coyote style this season.
In nine starts, Manoah has posted a 5.40 ERA, 1.80 WHIP, 15% walk rate, and a 16.4% strikeout rate. You don't need me to tell you that all of those marks are career-worst marks by a considerable margin. Manoah's expected stats are evn worse too with a 7.04 xERA and .286 xBA.
When it boils down to it, you can point to three areas of concern. Manoah wasn't a big bat-misser in 2022 to begin with and his bat-missing ability has taken a nose-dive this season. Manoah's strikeout rate has dropped from 22.9% (around league average) to 16.4%, his whiff rate from 24.8% to 20.5%, and hos chase rate from 30.9% to 25.9%. His usually effective slider has also been terrible this season, currently sitting with a .368 BAA, .737 SLG, .508 wOBA, and 25.3% whiff rate along with two fewer inches of horizontal movement.
Another issue for Manoah has been his overall command which has led to him getting his much harder this season than in his first two seasons. Manoah is leaving his sinker over the heart of the plate way too often, his changeup higher and more off the plate, and has been more inconsistent with both his slider and four-seamer. Here are his heat maps from last season for reference.

Overall, there's a lot going wrong in Manoah's profile right now. He's not commanding his pitches well, isn't missing bats, and is walking way too many hitters. Can he turn things around? Sure, to some degree. But I was never a believer in the performance we saw last season, so I'm not expecting him to return to Top 25 SP levels or even close to that. Moving forward, I can see a 3.50-3.75 ERA arm with a 20-22% strikeout rate. That would make him more of a back-end top-50 arm and that's about it. Needless to say, I would personally need the price tag to be extremely low to be willing to acquire him in dynasty leagues right now.
Prospect Promotions
Matt McLain, CIN: You could argue that Matt McLain was having the best all-around offensive season in the minors before his promotion to Cincinnati on Sunday. The former UCLA standout trimmed his strikeout rate and increased his power while still walking a ton and stealing a ton of bags. With his above-average power and plus speed, McLain should have no issues flirting with 20+/20+ seasons long-term to pair with a solid AVG and high OBP.
Mark Vientos, NYM: Vientos was a prime example of a player that obviously had nothing left to prove offensively in the minors but was just thoroughly blocked at the Major League level. Vientos is an above-average hitter with plus power and he flexed that power in his 2023 season debut on Wednesday, cranking four hard-hit BBE in his four plate appearances. If and when he finds himself in an everyday role, Vientos has .260/25+ upside.
Eury Perez, MIA: Then term "Ace" isn't one I toss around lightly, but Eury Perez is definitely an arm I feel comfortable saying has ace upside. The 6'8 right-hander has dominated minor league hitters over the last few seasons and struck out seven in 4.2 innings in his Major League debut, giving fans a glimpse of his immense upside. With his elite four-pitch arsenal consisting of plus or better offerings along with at least above-average command and control, Perez could quickly blossom into an arm we consider a true ace for fantasy purposes.
Dynasty Quick Hits
Can pitchers stop getting injured for bleep sake? The latest pitching casualty this season is Dustin May who will miss time with a flexor pronator strain. I'm no doctor, but it feels like these always turn into a prolonged absence or the dreaded Tommy John surgery.
Christopher Morel is a fun player to roster and watch play. Honestly, I totally understand the allure. Morel has displayed impressive quality of contact metrics with a 29.4% barrel rate and 58.8% hard-hit rate since being recalled. However, Morel also has a 43.3% strikeout rate, 64.3% zone contact rate, 36.7% chase rate, 43.3% whiff rate, and has yet to draw a walk. It's VERY rare for me to invest in a flawed profile like this. If you can use the hot stretch and his torrid performance in Triple-A to sell high, I'd recommend doing so.
I've received many questions on Twitter about Gunnar Henderson and Grayson Rodriguez given their struggles this season and my answer continues to be a resounding "hold". Yes, both of these exciting Baltimore prospects had sky-high expectations entering the season, but I'm not going to let a lackluster six weeks change my thought process on two potential stud players for fantasy. Rodriguez remains my #1 pitching prospect and the best pitching prospect I've ever seen live. He still appears to be working back from missing so much time last season, so I'm expecting better results moving forward.
As for Henderson, he's still walking a ton, posting rock-solid quality of contact metrics, and has recorded a 90th percentile chase rate and 80th percentile sprint speed. The building blocks are there for him to be a super star player for fantasy purposes, but he's simply being too patient at this point and it's hurting him. Both Henderson and Rodriguez are strong holds if you have them and even better buy-lows if their respective price tags have come down at all.
Jose Miranda was a popular sleeper pick this spring, and I'd be lying if I said I didn't have him on a few teams, both for redraft and dynasty. But after a .220/.275/.318 slash line in 142 plate appearances, Minnesota decided to option Miranda down to Triple-A. It's not like he was unlucky either as Miranda's savant page was littered with underwhelming metrics and plenty of blue balls at the top of the page. While Miranda doesn't strike out or whiff at a high rate, his quality of contact metrics were middle of the road and he hit too many balls into the ground. I'm certainly not fully out on him and might even consider buying low if the price has dropped enough, but I'm tempering my expectations for him long-term.
Download Our Free News & Alerts Mobile App
Like what you see? Download our updated fantasy baseball app for
iPhone
and
Android
with 24x7 player news, injury alerts, sleepers, prospects & more. All free!
More Fantasy Baseball Advice