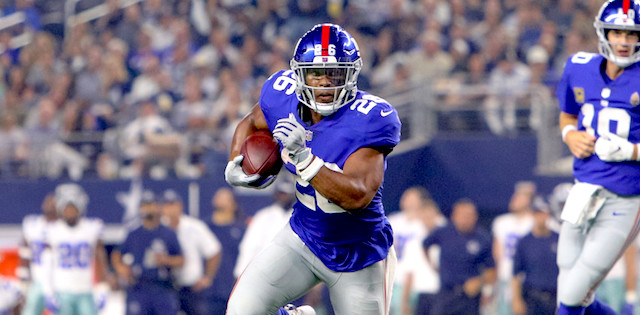 In case you didn't know, Rotoballer's 2019 Dynasty Rankings are here in all of their glory! The running back position isn't rife with bell cow backs that the game has had in recent memory, but there are a number of players at the top of the position or deeper in the rankings that can provide fantasy value.
Unlike last season, there aren't a ton of rookies that are likely to come crashing into these rankings to upset the order, but there are a lot of players on this list that have to be talked about. We're here to build dynasties and make our teams great for the future. These rankings are the exact way to do that with the amount of work that went into it.
Whether you're getting ready to do a startup draft, or you're trying to evaluate players for a trade that you want to make. It's smart to be knowledgeable about everything that's going on in the world of fantasy. So, let's start analyzing these rankings to see what they mean. Note: incoming rookies will be added after the NFL Draft takes place.
Featured Promo: Our friends at RIVAL Fantasy have created fun and unique DFS games including over/under contests and Fantasy Bingo. Use promo code BALLER to get a free year of RotoBaller Premium access ($199 value), and a $50 risk-free deposit.
Play Now!
Running Back Dynasty Rankings

Tier 1
At the top of the heap lies New York Giants' rookie sensation, Saquon Barkley. Barkley is an elite pass-catcher that can make a big play happen at any time. Other players are close to him, but he's in a category of his own. Ezekiel Elliott of the Dallas Cowboys would rival Barkley if he was a couple of years younger, but his age slides him to the second spot. He's also become a better pass catcher as his career has gone on that makes him a valuable asset.
Todd Gurley of the Los Angeles Rams was the NFL's best running back last season. He can maintain that title for the next few years as long as he is able to remain healthy. His dual-threat ability makes him an elite running back in an excellent offense for years to come. Christian McCaffrey set the record for receptions by a running back last season. That's not going to change any time soon. Rounding out the group is Alvin Kamara. He may get all of the snaps to himself this season, which will only push him up the ranks more.
Tier 2
At the top of this second tier is Joe Mixon of the Cincinnati Bengals. Mixon showed some flashes last season, and the team is getting a new head coach to help lead them into the future. He's coming from a team that used running backs to set up the offense as a whole. Mixon is in line for a huge year. Los Angeles Chargers' running back Melvin Gordon was enjoying his best season as a pro before a knee injury slowed him down. He'll push for the top tier if he is able to stay healthy this year.
Dalvin Cook of the Minnesota Vikings comes in really high, thanks to his youth. He has the ability to catch passes and run the ball effectively, but he needs to stay healthy to put it all together which dynasty will allow for multiple years. David Johnson of the Arizona Cardinals hasn't produced as he did three seasons ago, but the team has a new head coach that can better utilize his talented skill set. Johnson still has a few good years left, and he can give you consistent production during that time.
Nick Chubb took some time to find his footing last season, but, when he did, he was one of the NFL's better running backs. With even more experience under new head coach Freddie Kitchens, he'll continue to climb these ranks.
The most polarizing name in fantasy football last season was Le'Veon Bell of the Pittsburgh Steelers. He held out the entire season, effectively shaving a year off his career in an effort to make more money. After injuries and sitting out that year, he'll be fully healthy this year to bring his strong skill set to whatever team he lands with this season.
Last year had a ton of star rookies at the running back spot which included Sony Michel of the New England Patriots. As they continue to keep quarterback Tom Brady upright and limit his workload, Michel will only see his workload increase which gives him even more opportunities to score points. Bell's teammate James Conner silenced doubters early last season with an impressive ability to catch passes while also running well. In an offense that heavily features their running back, Conner could easily push into the top-10 among running backs this season.
Tier 3
If it weren't for an injury that caused the Detroit Lions to shut him down, Kerryon Johnson would have been the fourth rookie to be within the top two tiers. His role as a pass catcher and runner makes him a great player in PPR formats for years to come. Washington's Derrius Guice was poised to be one of the top 20 running backs in the NFL last season before a torn ACL in the preseason shut him down. With a weak spot at quarterback, they'll lean on him this year to be a major pillar of offensive production this year.
Free Aaron Jones! That was the sentiment fantasy owners everywhere were chanting. Jones is getting a new coach this year that wants to establish the ground game. He's been one of the most efficient running backs in NFL history in his young career. He'll get even better this year. Leonard Fournette may not be with the Jacksonville Jaguars next season, but his skill set will be the same anywhere. He bruises opposing defenders, and he wears them down late in games. If he can stay healthy, he can be an effective player.
Tennessee Titans running back Derrick Henry had one of the strongest finishes in the NFL last season. He showed what kind of player he can be when he receives the lion's share of the carries that he'll get this year to help lead this offense. Indianapolis Colts running back Marlon Mack wasn't the most effective or efficient guy last season, but, when he was playing at his best, the Colts offense was extremely dynamic. With another year behind their strong offensive line, he has an even better opportunity this year.
If Phillip Lindsay of the Denver Broncos is able to hold off Royce Freeman again this year, he'll be weekly starting threat. He is a decent pass catcher, and he averaged 5.4 yards per carry last season. Watch for him to have an even better second year after his great first season.
Tier 4
The Seattle Seahawks drafted Rashaad Penny to be their running back of the future. He dealt with some injuries last season that slowed him down, but if he gets the lead back snaps this season, he'll be set up to be a consistent starting fantasy threat for years.
The Cleveland Browns picked up Kareem Hunt from waivers last month. He's a supremely talented player with character concerns that can't be ignored. If he gets past his suspension and sees a good amount snaps, he still has the chance to make an impact for years to come.
Devonta Freeman of the Atlanta Falcons got shut down early last season due to an injury. If it wasn't for that, he likely would have finished in the third tier and in the top 20. He's a perfect fit in the team's offense with his dual-threat ability.
Tarik Cohen of the Chicago Bears is one of the most explosive players in the NFL. He can make a big play happen at any time, and his role is likely going to grow even more this season.
Chris Carson of the Seahawks shared carries and played well with the aforementioned Penny last season. However, he doesn't have the same ceiling that Penny does. He's also three years older which doesn't help him in dynasty formats.
Tevin Coleman finished out his contract with the Falcons this year, so it will be interesting to see where he signs this offseason. If he ends up somewhere that doesn't have a clear lead back, his stock gets boosted, or it could take a hit if he signs as a secondary playmaker.
Damien Williams of the Kansas City Chiefs became the team's lead back after the mistakes of Hunt. He is also the team's lead back for the next two year's after he signed an extension. The team's GM even stated that the job is his to lose.
Jerick McKinnon of the San Francisco 49ers suffered a similar fate to Guice last year when he tore his ACL in practice. He's older which pushes him down the rankings, but he still has a good amount of talent in a great offense.
Mark Ingram isn't the youngest player on this list, but he has looked rejuvenated over the last couple of seasons. Depending on where he lands in free agency, his workload could increase which could lead to him seeing a huge uptick in scoring opportunities.
The aforementioned Royce Freeman was expected to take on the team's lead back role last season. Lindsay held him off, but he will get every opportunity to be successful this year. If he's able to take more carries away this year, he could be a top-15 running back, although his PPR value may be limited.
Kenyan Drake of the Miami Dolphins is probably on his last shot in South Beach, but he has shown plenty of flashes of tantalizing potential. He has the dual-threat ability to be effective in multiple ways, and he is now playing under a coach that is coming from a team that utilizes running backs to their strengths. Drake should thrive.
Tier 5
Jordan Howard of the Chicago Bears was just 65 yards short of his third straight 1000 yard season. He may be traded this offseason, but he's still young with a ton of talent to offer. If he sees more utilization next season, he could only climb higher up these ranks.
Matt Breida of the 49ers got the opportunity to be the lead back last year after McKinnon's injury, and he ran with it. He'll likely take a step back next year, but he was too good not to see consistent work.
James White from New England isn't the best pure runner, but he is a top five running back at catching passes out of the backfield. Since the Patriots continue to increase his usage to save Brady, he'll have a consistent role for a long time.
Lamar Miller of the Houston Texans has been one of the more consistent running backs in the NFL during his career. He's a low-end RB2 with low-end RB1 upside. He still has a few prime years left, and he'll have a consistent workload during that time.
Ronald Jones II of the Tampa Bay Buccaneers fell flat on his face during his rookie season, as he averaged just 1.9 yards per carry. He can bounce back in year two, as he'll likely be given every opportunity to succeed. He showed some flashes in college.
Jay Ajayi of the Philadelphia Eagles is a free agent this offseason. He hasn't put up the crazy numbers he did during his time in Miami, but he can still be a productive player in the right situation.
Dion Lewis saw the main workload last season with the Titans to start the year, but his effectiveness dwindled as the season wore on. The team will likely still want to manage the carries for Henry which will allow them to keep Lewis involved. His pass catching and ability to make big plays happen will make sure he stays active within the offense.
Tier 6
Duke Johnson Jr. of the Browns is going to see a hit to his workload due the addition of Hunt, but he is able to stay on the field because of his ability to catch the ball. Similar to Johnson, Nyheim Hines isn't the best pure runner, but he did a great job as a pass-catcher last year. He nearly broke the Colts' rookie record. When the Colts get behind, he sees more snaps than Mack which keeps his value high.
Austin Ekeler is a solid player for the Chargers, and he's a great backup for Gordon, who has only played all 16 games once in his four-year career. He's mostly a handcuff option, but he's one of the better handcuffs in dynasty formats.
Elijah McGuire of the New York Jets had to split carries once he returned from injury. However, when he was able to rightfully get the carries to himself, he performed well enough to earn some consideration as a third running back in your fantasy lineups.
T.J. Yeldon has shown flashes in his young career, but he has never been given the full opportunity to be the lead back. He's a free agent this offseason, so it will be interesting to figure out where he lands. Similar to other free agents on this list, his landing spot affects his final value a ton.
Tier 7
D'onta Foreman is the future of the running back position for the Texans, but he needs to stay healthy. He's played just 11 games in his career, and he needs to develop his consistency to show that he can be that player for them.
Chris Thompson was one of the hottest names in fantasy football two seasons ago. He made big plays happen at a rate that few others could. He struggled with injuries last season, and they'll likely want to keep Guice fresh as he returns from his injury.
Through two seasons, Kenneth Dixon from the Baltimore Ravens' main enemy has been himself and injuries. He's been suspended, and he's only played 18 of a possible 32 games during that time. The depth chart at that spot has thinned, which opens the door for him.
Jaylen Samuels isn't as talented as his teammate Conner, but he showed some workhorse ability when Conner was injured. As they try to keep Conner fresh, Samuels will see an uptick in his workload this season.
Gus Edwards showed some chemistry with quarterback Lamar Jackson late last season. The Ravens like to run the ball, and that's the area that Edwards excels at the most. He's not an elite pass catcher, but he will keep himself on the field to help Jackson develop, especially now that Alex Collins is gone.
Ito Smith showed a knack for scoring near the goal line last year, and he can fill the role of Coleman if he leaves in free agency. If that happens, his role grows along with his value.
LeSean "Shady" McCoy isn't as elusive or fast as he was earlier in his career. He's in the final year of his contract, and this could be last decently productive season. If you're trying to win now in dynasty, he could be added to help put you over the top.
Jamaal Williams isn't the starring back in Green Bay, but he maintains a decent role alongside Jones. Their new coach has said they are going to maintain that two-back commitment this season which keeps Williams' value up.
As things stand right now, Josh Adams is the Eagles' second running back on the depth chart. He isn't an elite athlete, but he did show some flashes of positive play late last year. The Eagles consistently trot out a running back by committee approach that keeps Adams active if the team doesn't add anyone else.
Tier 8
Alex Collins' value took a big hit last week when he was released from the Ravens. Coming off of a weak final year in Baltimore, there is no way to know what teams will consider Collins as. If he can catch on somewhere, he could snag some value as a touchdown vulture.
Kalen Ballage of the Dolphins is waiting in the wings to take on a bigger role if Drake ever stumbles. He averaged 5.3 yards per carry last year on 36 carries, and he will likely get much more work this year.
Carlos Hyde could be a starting running back depending on what happens with Fournette. If Fournette is gone, Hyde immediately shoots up this board. He's a bit on the older side in dynasty formats, but he still has value for a few seasons.
C.J. Anderson hasn't been the most consistent back in his career. However, he showed late last season that he can be successful in the right situation. As a free agent this offseason, he has a chance to go be a starter somewhere.
Jalen Richard of the Oakland Raiders is another play that's a free agent this offseason. He'll likely end up as a backup somewhere, but his pass-catching and youth will give him value for the next few years.
Latavius Murray hasn't been the workhorse that he was earlier in his career in 2015, but he showed his value as a handcuff to the oft-injured Cook the last two seasons. If Cook is one of your picks, bringing Murray along for the ride would be a wise decision.
Rex Burkhead of the Patriots is one of the more versatile running backs in the NFL. He can line up as a bulky running back or in the slot as a receiver or any other role he is asked to fill. New England keeps their running backs busy, and he just needs to stay healthy to keep value.
Tier 9
As we get further down the rankings, the focus becomes on one of two things, short-term or long-term. Isaiah Crowell of the Jets is an example of a short-term player. Crowell can give a ton of value if he's played in the right matchup.
Chase Edmonds of the Cardinals showed some flashes last season, and he gives the team an ability to spare Johnson throughout the game. He'll see an uptick in workload this season, and he could see more work in the future.
Jordan Wilkins never quite caught on with the Colts last season, but, when he did, he showed some potential for the future. He's the perfect type of player to draft in dynasty. He's young, and he'll be on a good offense for years to come.
Spencer Ware was almost the lead back for the Chiefs, but he dealt with injuries and ineffectiveness. Heading into free agency for his likely final major contract, he'll be looking for a team to maximize his skill set.
Similar to Murray, Giovani Bernard isn't the type of player that you draft to be one of your starters, but, if you draft Mixon, you have to snag Bernard later in the draft. He catches passes, and he sees a huge workload when Mixon is ineffective or injured.
Peyton Barber was not the most talented running back for the Buccaneers, but he was the more effective one last season. As a free agent this year, they could look to bring him back to help Jones if he struggles or to keep the team's running game respectable.
Adrian Peterson is the perfect example of a win-now player in dynasty formats. As a free agent, he'll be looking for the perfect situation after the strong year that he had last season. If you add him, he's only going to be around for a few more seasons.
Another possible handcuff to grab later in the draft is Justin Jackson of the Chargers. In the limited work he saw last season, he was able to provide some value as the team's third running back. He can give you some late-round value in dynasty.
John Kelly would have been in line for a serious uptick in his value late last season if it weren't for an unfortunate injury. As the Rams will likely be trying to lessen Gurley's workload, he should see some low-end flex value for a late draft pick.
Theo Riddick continues to be the perfect third-down back for the Lions. He isn't going to get you a ton of yardage on the ground, but he's going to catch at least 50 passes every year as long as he's healthy until he retires.
Doug Martin is near the end of his line as a productive running back. It will be interesting to see what his value is on the free agency market next week. He can give you some value for a couple more seasons as a depth running back.
Ty Montgomery was traded away from the Packers after a disappointing few seasons. As a free agent this year, he still has some value in the right situation because of his ability to catch passes out of the backfield.
Another player that built some value last season thanks to injuries is Mike Davis from the Seahawks. He ran effectively and caught passes, which should allow him to catch on with a team as the eighth player in this tier that is a free agent.
Corey Clement is currently the number one player on the Eagles' depth chart at the running back spot. If the team doesn't bring in an outside player or re-sign anyone, he'll get the first crack and could move up these ranks in a hurry.
Devontae Booker hasn't been able to carve out an extensive role with the Broncos, but he does have a consistent role on pass-catching downs. He'll be heading into free agency after this year, so he will be able to get into a new situation next year where his role can expand.
Similar to Martin, Bilal Powell is nearing the end of his prime as he heads into free agency. He has always been more of a change of pace back, and that's likely what he will be for the remainder of his career.
Trenton Cannon has become the Jets' second overall back with two free agents ahead of him. He didn't see a ton of work as a rookie, but that should change next season and in the future as he gets more experience. Unless the team lands a big talent to play ahead of him, he'll be the team's second running back for next season.
Tier 10
Marshawn Lynch showed some flashes of the talent that made him one of the NFL's top running backs for a number of years. If he returns next year, his location could allow him a starter role, but a question mark like that can't be considered that strongly in dynasty drafts.
Javorius Allen is a free agent this offseason that may or may not be on a team next year. He's not a great runner, but he can catch passes. His location can decide his value.
Wendell Smallwood is the third of the Eagles running backs, but he is the most experienced of that group. The team runs with a committee mindset that keeps Smallwood active. He's nothing more than a depth guy barring injuries for our purposes.
Rod Smith is a free agent this offseason. He hasn't been overly impactful in any area of the game, and he has been suspended in the past. It will be interesting to see his market this offseason.
Frank Gore has steadily declined as his career has worn on, but he is still chugging along. He averaged 4.6 yards per carry last season. He'll be very particular when picking his destination next season, but it's unlikely he is starting anywhere, especially in dynasty.
Marcus Murphy doesn't do anything particularly impressive, but he does play behind the oft-injured and aging McCoy. With no other heir in sight, Murphy could be the team's short-term future at running back.
Jeff Wilson was solid for the 49ers last season, but he's about to be buried on the depth chart with the return of McKinnon. He's a deep handcuff or future stash late in startup drafts.
Malcolm Brown was buried behind Gurley for much of his career, but he can go be a number two running back somewhere. For a team like the Cowboys that runs the ball a lot, he could be a good handcuff for owners that draft Elliott in the first round.
Wayne Gallman is technically the second running back on the Giants' depth chart, but the gap between he and Barkley is massive. Gallman is older and less talented. He should only be drafted by people that fear Barkley will be injured often.
Tier 11
We're getting into deep dart-throw territory now, even for deep dynasty leagues. Corey Grant has been a backup running back throughout his entire career, and he hasn't been good enough to give teams a reason to make him a starter or give him regular work. Mark Walton is who you draft if you miss out on Bernard a few rounds earlier. He had just 19 touches last season, and he wasn't overly effective with the touches he did have. He does have youth on his side as he's only 21.
Alfred Blue showed the ability to be a lead back at times during his tenure with the Houston Texans, but, as a largely unproven free agent at 28 years old, he'll be looking to catch on with any team that he can when free agency kicks off.
C.J. Prosise came out of college with a ton of excitement, but he has never put it all together due to injuries in each of his three seasons. He's played just 16 games through three seasons. He'll likely be buried on the team's depth chart next year if he even makes the final roster.
Chris Ivory was the running back the Bills would lean on the most when McCoy wasn't healthy or ineffective, but he's a little up there in age at nearly 31 years old. He can be a short-term option, but he shouldn't be viewed highly in dynasty.
ith the three players ahead of him on the depth chart heading into free agency, DeAndre Washington is technically the lead running back for Oakland right now. That will likely change though due to his limited skill set.
Darren Sproles is up next, and he could quickly get removed if he fully commits to retiring. If not, he's still nothing more than a rare flex play in a perfect matchup and nearly undraftable in dynasty formats due to his high age.
Ameer Abdullah showed some potential during his time with the Lions, but he couldn't put it all together. He's still young enough that he could sign with the right team this offseason to recoup some value for the next few years.
Jacquizz Rodgers has maintained a steady amount of value throughout his career thanks to his pass-catching ability. As a free agent, he'll try to find the right situation to give him one last good contract for the remainder of his career.
LeGarrette Blount is just three years removed from scoring 18 touchdowns for the Patriots. Battering rams that can score touchdowns on a consistent basis are always useful, so Blount will always have vulture value until he retires.
De'Angelo Henderson has played just eight games through two seasons, and he has totaled just 11 touches. There are other options available. Samaje Perine dealt with injuries last year that limited him to just five games. He's deep on the team's depth chart which minimizes a lot of his value, especially with a younger player in Guice in front of him.
Tier 12
We're in the home stretch now, and there isn't a ton of value to be had at this point in the rankings. Zach Zenner is a free agent this year, and he likely won't be carving out a consistent role any time soon... Detrez Newsome is his team's fourth-string running back, and, while he is young, the other guys in front of him are also young and more talented... With Ingram possibly on his way out, Dwayne Washington could actually see his value rising as the second running back behind Kamara. If they bring in another running back though, he'll likely continue to be just a depth guy... Taquan Mizzell could be moving up the team's depth chart if they ship out Howard like the rumors have been showing as of late. He hasn't done much, but he is still young enough to develop... Jeremy McNichols has four carries in two seasons, and he has played just four games. He can be avoided... Elijhaa Penny falls into the Gallman gorge. He's behind Barkley on the depth chart, and he will be for the foreseeable future.
Check out all of RotoBaller's fantasy football rankings. Staff rankings are updated regularly for all positions and include standard formats, PPR scoring, tiered rankings and dynasty leagues.