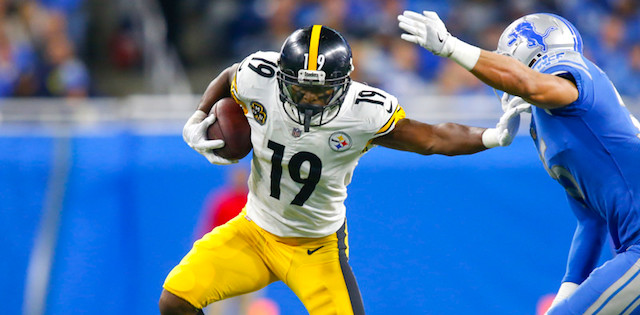 A bumper slate greets us for Week 17 as all but one game is available to us. However, there are also a lot of caveats to that. We have a complete mix of situations in these games, with some teams playing for nothing, which could be good or bad for DFS, some teams with everything to play for, generally good, and some teams in a situation where they may at some point sit players. Now the last of those three is a nightmare. There is a conceivable situation where if the Chiefs get up big they sit some of their offense. We could also see the Steelers mail it in if they hear the Ravens are winning big against Cleveland. Similar situations could arise for New England, Chicago and the Los Angeles teams.
That has left us looking more for defenses to pick against this week than looking at explosive offenses. Some prime examples are the Falcons and Bengals who have struggled to stop teams at all this year and have looked pretty ugly on defense. Below are my DraftKings DFS Lineup Picks for Week 17.
These DraftKings lineup recommendations are based on matchups, performances so far, overall upside/talent levels, opportunity, and other factors such as Vegas odds, home field advantage, and more. There are quite a few great value plays available, so read on to find out which players are the best for Week 16. Good luck with your DraftKings DFS lineups!
Editor's Note: Get any rest-of-season NFL Premium Pass for 50% off. Our exclusive DFS Tools, Lineup Optimizer and Premium DFS Research through the Super Bowl.
Sign Up Now!
DraftKings DFS Quarterbacks - Week 17 Picks
Ben Roethlisberger - PIT vs. CIN (DK $7,000)
I do not see the Steelers simply bailing on the year. There is every chance the Ravens will be playing a tight game in some form with the Browns, and even if they are winning I think the Steelers will play to send a message against the Bengals. Chuck in the Bengals defense just seems like one that can be walked over relatively at ease and you have a pretty sweet matchup. Oh, and as a kicker, I have a bet on Patrick Mahomes to be the passing yards leader so Roethlisberger is sure to have a monster game to ensure I lose that bet!
Sam Darnold - NYJ @ NE (DK $5,200)
Not ideal with him playing in New England but Darnold has looked great lately. Over the last two weeks, he has averaged 25 fantasy points per game and has thrown five touchdowns without a single interception in those games. The Patriots secondary has been fairly solid this season, so I would not target a specific receiver to go with Darnold but I think he can spread the ball around and have success. Finally, the Jets have no love for the Patriots and therefore they are going to be going hammer and tong to cost the Patriots the #2 seed if they possibly can.
DraftKings DFS Running Backs - Week 17 Picks
James Conner - PIT vs. CIN (DK $7,500)
I have mixed feelings about Conner. On one hand, Jaylen Samuels has been good enough to earn more work, but at the same time, Conner should be fresh after missing the last three weeks. In addition, the Steelers have won just one of the three games while Samuels has been the lead back. That is not Samuels' fault but it is the kind of crazy thing that might make the Steelers give Conner the bulk of the work again this week. Whoever gets the ball this week should be in line for a ton of success against a Bengals team who struggle with their tackling and pretty much everything on defense right now.
Chris Carson - SEA vs. ARI (DK $6,500)
Carson is on a great run right now with over 20 carries in each of his last three games. In those three games, he has scored four touchdowns and an average of 23 fantasy points. This week there is the concern that if the Seahawks get up big early they may decide to rest him given his fragility. However, this is a division game and generally, divisional teams do not just simply roll over, especially when a coaches job is on the line. Hopefully, this will be a hard-fought game right to the end, which the Seahawks need to win to avoid having to go to Chicago the following weeks.
Doug Martin - OAK @ KC (DK $4,400)
Martin is coming off a 21 point week against the Denver Broncos last week, in which he had 107 yards and a touchdown on the ground. This week he goes into Arrowhead to face a Chiefs team he had 61 yards and a touchdown against in Week 13. The Chiefs have been allowing 18.4 fantasy points to opposing #1 running backs at home this season, not one of the worst marks in the league but at this price definitely a good return on investment.
DraftKings DFS Wide Receivers - Week 17 Picks
JuJu Smith-Schuster - PIT vs. CIN (DK $8,300)
With Antonio Brown having been held out of practice a couple of times this week Smith-Schuster becomes a really interesting play. Last week against the Saints Smith-Schuster had 15 targets and caught 11 of them for 115 yards. The Bengals have allowed 16.5 fantasy points to opposing #1 receivers on the road and that is the role I expect Smith-Schuster to play this week.
Robert Woods - LAR vs. SF (DK $6,900)
Woods has scored double-digit fantasy points in 14 of the 15 games and has scored touchdowns in three of the last five. With Cooks and the offense struggling the last few weeks, Woods has been fairly consistent. This season the 49ers defense is allowing over 40 fantasy points on average to wide receivers. Hopefully, Woods can get the vast majority of those points this season.
Jordy Nelson - OAK @ KC (DK $4,900)
Nelson is on a really good run the last few weeks. Since Week 13 he has had double-digit fantasy points in each week and has 75 or more yards in three of those games. The only thing that has been missing is a touchdown and with this potentially being the last game of his career I can see the Raiders making an effort to get him the ball. The Chiefs defense has not been terrible against wide receivers but they have had bad games and I expect Nelson to be able to exploit it.
DraftKings DFS Tight Ends - Week 17 Picks
Vance McDonald - PIT vs. CIN (DK $4,200)
I do not feel great about any tight end options this week and if you are against any of the top six then I can only really find one option. McDonald has not done anything particularly impressive the last few weeks and has not scored double-digit fantasy points in any of the last five weeks. However, he has a good matchup, against a team allowing 15.8 fantasy points to opposing tight ends on the road. Personally, I would probably go for one of the top-five and if Jared Cook is healthy then it would be him for me. However, this might be a decision you need to take if you are short on cash.
DraftKings DFS Defenses - Week 17 Picks
Atlanta Falcons @ Tampa Bay Buccaneers (DK $2,600)
This is a Falcons defense who has gone from joke to interesting very quickly. They were always going to improve as the season went on and the return of Deion Jones will have helped the situation for sure. Now they go into Tampa to face a team whose offense has been better recently but is still prone to turnovers. I feel like there is a good opportunity that the Falcons take a couple of balls away in this game and force Jameis Winston to make some critical errors.
More Weekly DFS Analysis