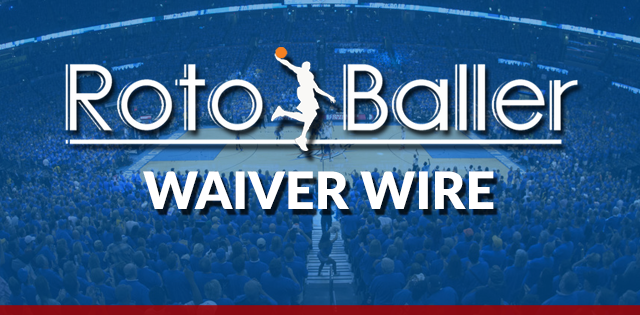 What Appears In This Article?
hide
Not as exaggerated of an introduction this time around, but that doesn't change anything about this article. There will always be deep waiver picks that need to be picked up before the consensus figures out their value. Looking at Week 7, with so many players resting and dealing with injuries, don't be afraid to take the chance on someone who you will only roster for this week. It happens and those streamer plays can make a drastic difference.
One thing struck me as worth pointing out. Over the past two weeks, both Pascal Siakam and Fred Vanvleet have cracked the top 10 in terms of production, coming in at nine and ten respectively. While there have been a ton of concerns about VanVleet's production when Kyle Lowry returns, I wouldn't necessarily jump ship. VanVleet will be solid all year long, but if you are looking for the best time to trade him, the time is now.
Make sure to stay updated on injuries and return times, but as far as I'm concerned, these next three players will see the biggest benefit. As a reminder, for standard (10-12 team) league adds, we use a general rule of thumb of an ownership rate of under 50% on Yahoo. All position eligibility based on Yahoo leagues. If you have any questions find me in the NBA Chat Room or @HalfCourtJester on Twitter.
Featured Promo: Our friends at Sharp App have created the ultimate tools for sports bettors. Download the FREE app to track bets, compare odds, get daily picks from the most accurate models in the industry, and identify the sharp side of any bet. Use promo code BALLER to get a month free of Sharp Pro access.
Get The App!
Free Agent Waiver Adds for Week 7
George Hill, G  – Milwaukee Bucks

Ownership: 11%
9.7 PPG /  3.2 APG /  .530 FG% /  1.6 3MPG
Giannis Antetoukounmpo is in his MVP form once again, but this is going to be one of the heaviest stretches of the year in terms of usage and minutes. If he keeps this up, good for him. What matters to us is whether or not a drop in production is coming, and will that impact Hill's value. The Bucks are cruising right now and while Giannis will not just start sitting games for load management, the Bucks next week of games looks promising for Hill. He faces frontcourts with stingy defenses and that should force a bump in production across the Milwaukee backcourt.
Glenn Robinson III, SG/SF – Golden State Warriors

Ownership 33%
 11.9 PPG /  1.3 3MPG /  4.6 RPG / .462 FG%
Glenn Robinson III's upside is still present, but it is quickly disappearing. He will continue to be a valuable asset to the Warriors and his usage shouldn't go down because honestly, the Warriors can't find anyone to rely on. Ky Bowman will have a good game here and there, the same goes for Eric Paschall and Marqueese Chriss. What separates Robinson from the rest is that he is the generic wing player. His athleticism makes him valuable on defense and his shooting is just good enough to let him jack up a few threes every single game. If he hits, he goes off. If he misses, he puts together a more well-rounded statline. Regardless, his upside is there but it's not crazy high like it was when the season started.
Christian Wood, C – Detroit Pistons

Ownership 4%
9.0  PPG /  4.5 RPG /  .612 FG% /  1.0 BPG
Plenty of people, including myself, saw Christian Wood's value taking a massive hit when Blake Griffin returned. And it did. But it also had some weird reverse effect that is clearly helping him figure things out in the NBA. Believe it or not, over the past week Wood has his highest usage rate of his career and he posted his career high in scoring in just 22 minutes. This type of upside is usually unprecedented for someone that just got moved to the bench and his minutes stricken. Moving forward, the Pistons seemed to have found their ideal frontcourt support player. Look for Wood and Langston Galloway to dominate the Pistons second unit usage.
More Fantasy Basketball Analysis
By popular demand, RotoBaller has aggregated all of our fantasy basketball NBA waiver wire pickups into a running list of NBA waiver options, so bookmark the page and check back often for updates.