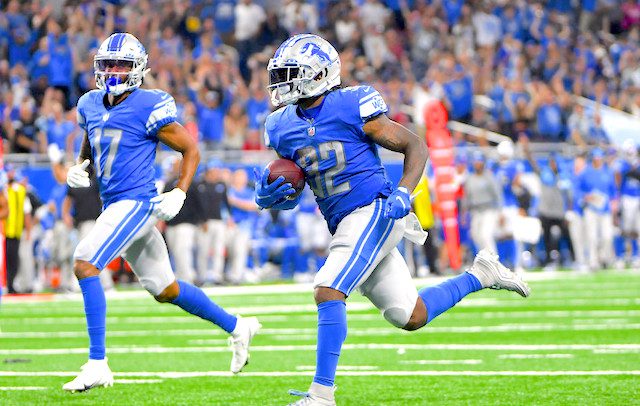 The Philadelphia Eagles had one of the best rushing attacks in the NFL last season. It was spearheaded by now-Carolina Panther, Miles Sanders. The Eagles have since rebuilt their running back room by signing free agent Rashaad Penny and trading for former Detroit Lion, D'Andre Swift. At first glance, this has the look of a full-blown running back by committee approach, making it one of the more interesting fantasy football backfields.
Here are some of the previous Fantasy Football outlook articles covering some of the biggest NFL free agency moves this offseason:
The Eagles have one of the best offenses and offensive lines in all of football, so there is a lot of value to be had in this backfield. However, there are legitimate concerns about the workload distribution and if anyone will get a big enough piece of the pie to be fantasy-relevant. Let's dive in and please be sure to use promo code "BOOM" for 10% off of any premium purchase.
Featured Promo: Battle it out on Bettle with your season-long lineups! Join the free RotoBaller weekly contests on Bettle -- just important your season-long lineups and enter! Winners get a free year of RotoBaller Premium access for all sports ($450 value) plus another free $50 in Bettle credits!
Join Now!
Meeting the Newcomers: D'Andre Swift and Rashaad Penny
The Eagles needed to revamp their backfield this offseason after Miles Sanders signed with the Panthers. His exit opened up 279 touches that are likely to be split up between D'Andre Swift and Rashaad Penny. Their addition also seems to indicate the team does not feel comfortable with Kenneth Gainwell in any sort of prominent role. Boston Scott will continue being what he's always been, a dependable backup that knows the system, but his role could be shrinking a bit with these two additions.
Swift and Penny have both been two of the more efficient running backs in the NFL over the past few years. The problem for both has been their ability to stay on the field. However, there's no denying either player's talent when they're healthy.
| | | | | | |
| --- | --- | --- | --- | --- | --- |
| Player | YAC/Attempt | BrkTkl/Att | True YPC | Yards Created Per Touch | |
| D, Swift | 1.63 | 15.8 | 4.25 | 4.01 | 6.04% |
| R, Penny | 2.65 | 13.5 |  4.99 | 2.64 | 9.49% |
The table above includes their career averages in these categories. While Swift lags behind Penny regarding yards after contact per attempt, he's graded out very well in yards created per touch. Both of their broken tackles per attempt and breakaway run rates are exceptional with Penny holding an advantage in both.
There's no denying Penny has been the more efficient rusher throughout their respective careers. However, due to injuries Penny has averaged just 67 carries per season and has just one year with more than 100 rush attempts. He'll also be working his way back from yet another major injury, this time a fractured fibula. While the term "injury-prone" gets thrown away much too frequently in fantasy football, even the biggest Penny fan would have a hard time disputing the moniker being attached to the former Seahawk.
Even though Swift's rushing metrics aren't anything to scoff at, Penny still has been the better runner throughout their careers. However, in terms of catching the football, there simply is no debate. This is a huge advantage for the former Lion.
| | | | | |
| --- | --- | --- | --- | --- |
| Player | Yards Per Reception | YPRR | TS % | YAC/R |
| D, Swift | 7.7 | 1.65 | 15.4% | 8.3 |
| R, Penny | 8.2 | 0.89 | 3.6% | 9.4 |
You might be inclined to look at their yard per reception average and think Penny has been just as effective, but Penny's receiving stats are working off of an extremely small sample. He has just 36 targets and 27 receptions in his five-year career. On the flip side, Swift has never had fewer than 57 targets or 46 receptions in any of his three years.
Swift has a significant advantage in their career yard-per-route run (YPRR) averages, as well as their target shares. Simply put, Swift has been incredibly more efficient when asked to catch the ball out of the backfield, evidenced by his YPRR, and has earned targets at a considerably higher rate than Penny has.
New Challenges for the Eagles
While most of the Eagles' starting offense is returning in 2023, fantasy managers might still be in store for a minor change to Philadelphia's
offensive system. Last year, they had the third-most rush attempts in the NFL with 544. They ranked just 23rd with 536 pass attempts. However, with the addition of Swift, one of the best pass-catching backs in the NFL, and with an assumed full-season from tight end Dallas Goedert, we could see the Eagles pass the ball more this season.
There are other reasons for this as well. Last year, Sanders handled 259 carries and in an attempt to keep both Penny and Swift healthy, they may opt to lean on star quarterback Jalen Hurts a bit more this season. Especially with his plethora of high-end pass-catchers.
The other reason for this is a more difficult schedule. Last year, the Eagles won seven games by more than one possession and finished with one of the easiest strengths of schedule for the 2022 season.
This year, however, their schedule looks considerably more difficult. Their 2023 opponents actually have the best winning percentage from the 2022 season, coming out to a 161-123-4 record. By this metric, they have the hardest strength of schedule this year. However, using Las Vegas' projected win totals for their 2023 opponents, they have the 16th-most difficult schedule. Still, a far more difficult slate than the one they faced last year, which was one of the three easiest schedules.
In fact, from Week 6 to Week 18, they'll face nine playoff opponents from last year, which includes the Seahawks, Dolphins, Cowboys (twice), Chiefs, Bills, 49ers, and Giants twice. One of their other 11 opponents during this 12-week stretch that includes their bye week is the playoff-hopeful, New York Jets.
The challenging schedule could result in the Eagles playing in more high-scoring and more closely contested games that keep their passing offense in attack mode more than they were last season.
The defense will also be starting two new starters at inside linebacker and two more new starters at both safety spots. They'll also be working in possibly as many as three rookies. All these new faces could result in growing pains for a defense that allowed the eighth-fewest points last season.
2023 Expectations
As good as Sanders was last year, there are plenty of red flags for Penny and Swift going into 2023. For starters, the Eagles' running backs had just 61 targets and had an 11.3% target share. With Hurts always a threat to run with the football, there aren't many reasons for him to dump the ball off as there might be for other more stationary quarterbacks.
While Sanders finished the 2022 season as a very valuable fantasy player, he received the vast majority of the running back carries and handled most of the red-zone work that Hurts didn't do himself. This creates part of the problem for Swift and Penny. They are not going to see the same workload as Sanders had and there's a good chance the red-zone work is split between them as well. Of course, Hurts isn't going anywhere either and is going to continue to be a sizeable thorn in the side of every Eagles' running back.
The D'Andre Swift - Eagles dream RB landing spot thing isn't as great as you'd think. Allure was if a true three-down baller landed there (Bijan) and REALLY took over everything, but as it stands once again looks like a committee and when you have the dual-threat QB — it's tough https://t.co/YxpnlT8Q7x

— Ian Hartitz (@Ihartitz) May 1, 2023
Fantasy managers should expect the Eagles to have to pass the ball more this season for the reasons mentioned above. Last year, they had a 536/544 pass-run split, but here we'll be working with a 500/580 pass-run split. This would have resulted in the Eagles finishing 10th for most rushes last season, but they'd climb to 13th in pass attempts.
For this exercise, we'll be projecting a 45% share of the RB carries for Penny, and 40% for Swift, which would leave 15% for Gainwell and Scott. Hurts would still finish with 160 carries, slightly down from the 165 he had last year. With the increased passing volume and the addition of a truly elite pass-catching back in Swift, the RB target share is going to increase. Here, we'll project a 15.0% target share, up from last year's 11.3%. This is still lower than the league average.
Swift should be expected to lead the way as the team's primary pass-catcher out of the backfield. We'll be giving him a 70% share of the RB targets. Gainwell will have 20% with Scott and Penny each having 5%. Below is a table for what this kind of workload would result in.
| | | | | | | | |
| --- | --- | --- | --- | --- | --- | --- | --- |
| Player | Carries | Rushing Yards | Targets | Receptions | Receiving Yards | Total TDs | Half-PPR PPG |
| D, Swift | 136 | 646 | 62 | 47 | 376 | 7 | 9.86 |
| R, Penny | 153 | 765 | 4 | 3 | 21 | 7 | 7.18 |
| Backups | 51 | 217 | 21 | 16 | 112 | 3 | 3.46 |
The table above seems to be the most likely in terms of how these players will be used. Penny will be the team's early-down and short-yardage back, while Swift will be the team's pass-catcher and secondary rusher. Scott and Gainwell will primarily operate as backups and depth.
Penny's current Underdog ADP is 113.9, which is right in the middle of round nine. He's ranked as the RB36. However, his PPG average above would've finished in the mid-40s, which is a fairly negative investment.
With his absolute zero in the passing game and his lengthy injury history, it's hard to get too excited about Penny now that Swift has been added to the backfield. Due to the very minimal number of targets that he's going to see in 2023, Penny needs to have a majority share of the rushing workload, which he's unlikely to get with Swift, Scott, and Gainwell.
Swift is currently being drafted as the RB22 and his Underdog ADP is 69.9, which is the back half of round five. His 9.86 half-PPR PPG average would've finished RB26 last season, making him slightly overpriced, as well. However, due to Swift's work in the passing game, it wouldn't be a surprise to see him lead the backfield in overall touches and snaps. The fact that he's guaranteed to be the primary pass-catcher makes him the most appealing option.
Like Penny, fantasy managers would be best waiting on Swift to see if they can get him a little bit cheaper. Both their current valuations are somewhat high, but it's important to note that the workload distribution is unknown, which does create some level of opportunity and upside. It also makes some risks as well.
Fantasy managers are best treating this backfield as a full-blown committee where even Scott and Gainwell are likely to sneak a few touches each game. If you are able to get Swift or Penny at a cheaper cost than they're currently being priced at, it makes sense. If not, it might be best to let an opponent assume the risk.
As a reminder, if you're interested in purchasing any of our premium packages for the upcoming fantasy football season, use promo code "BOOM" to receive a 10% discount.
Download Our Free News & Alerts Mobile App
Like what you see? Download our updated fantasy football app for
iPhone
and
Android
with 24x7 player news, injury alerts, rankings, starts/sits & more. All free!
Win Big With RotoBaller
Be sure to also check out all of our other daily
fantasy football articles
and analysis to help you set those winning lineups, including this new RotoBaller YouTube video:
More Fantasy Football Analysis